Home

chevron_right

Nairabet
Nairabet Sportsbook Overview
Updated 12 June 2023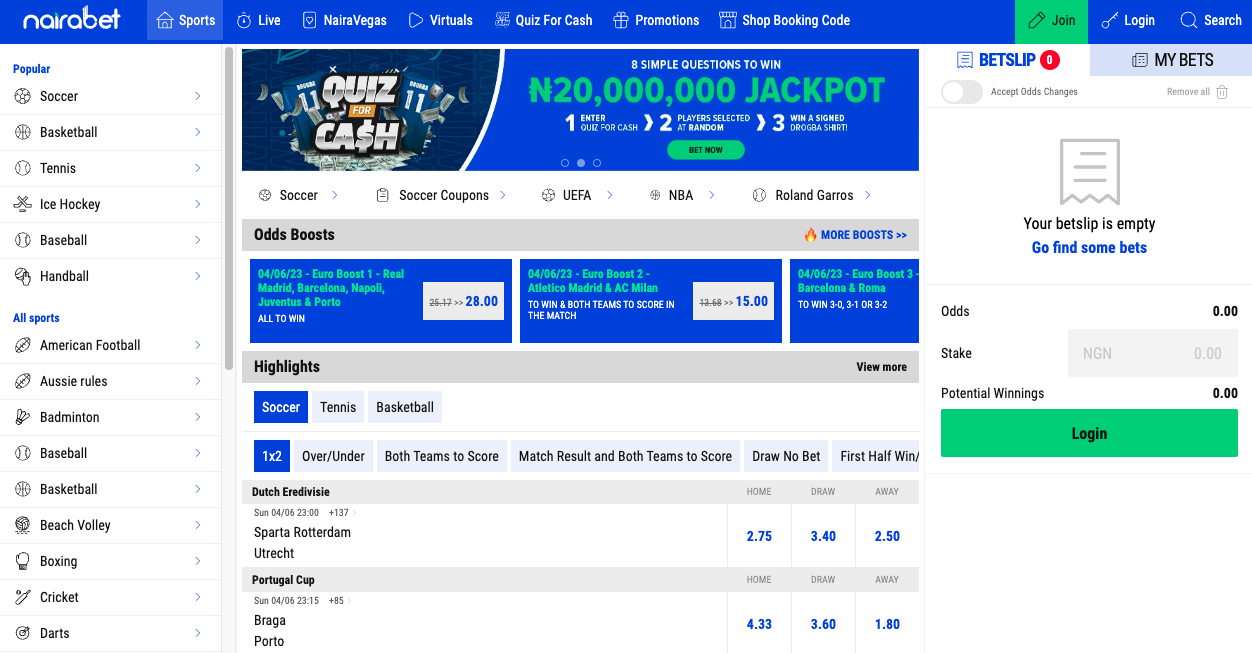 Nairabet is a leader in the bustling world of online sports betting, setting trends in Nigeria and Africa. As a pioneering platform, Nairabet offers an immersive gaming experience, seamlessly blending sports betting, virtual, and casino games.
With its innovative features, Nairabet continuously changes the betting landscape, empowering users to make strategic decisions for maximum gains. The platform's user-friendly interface and secure environment provide an unmatched online betting experience. With Nairabet, the thrill of sports and the joy of winning are brought to your fingertips.
Nairabet Licencing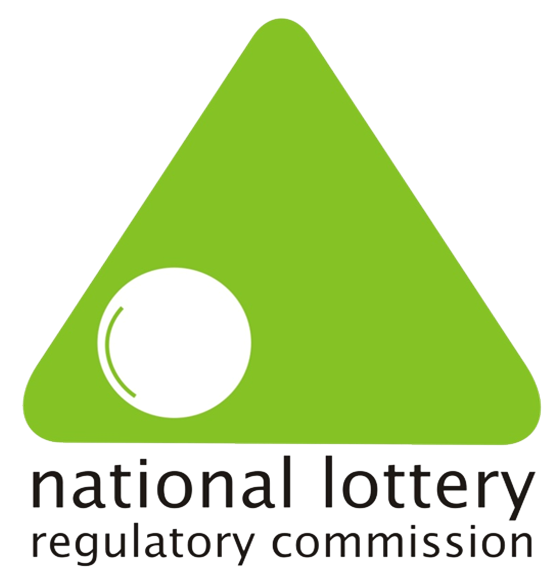 Ensuring a trustworthy betting environment, Nairabet operates under the auspices of the National Lottery Regulatory Commission, abiding by the highest standards of legality and fairness.
This robust regulation underscores the platform's commitment to providing its users with a secure and responsible gaming platform. Furthermore, Nairabet's membership in the Association of Nigerian Bookmakers adds a layer of credibility, adhering to the industry's principles of fair play and integrity.
These endorsements add legitimacy and infuse user confidence in the Nairabet brand. Nairabet is a testament to regulated, fair, and responsible online betting in Nigeria.
Nairabet Bookmaker Review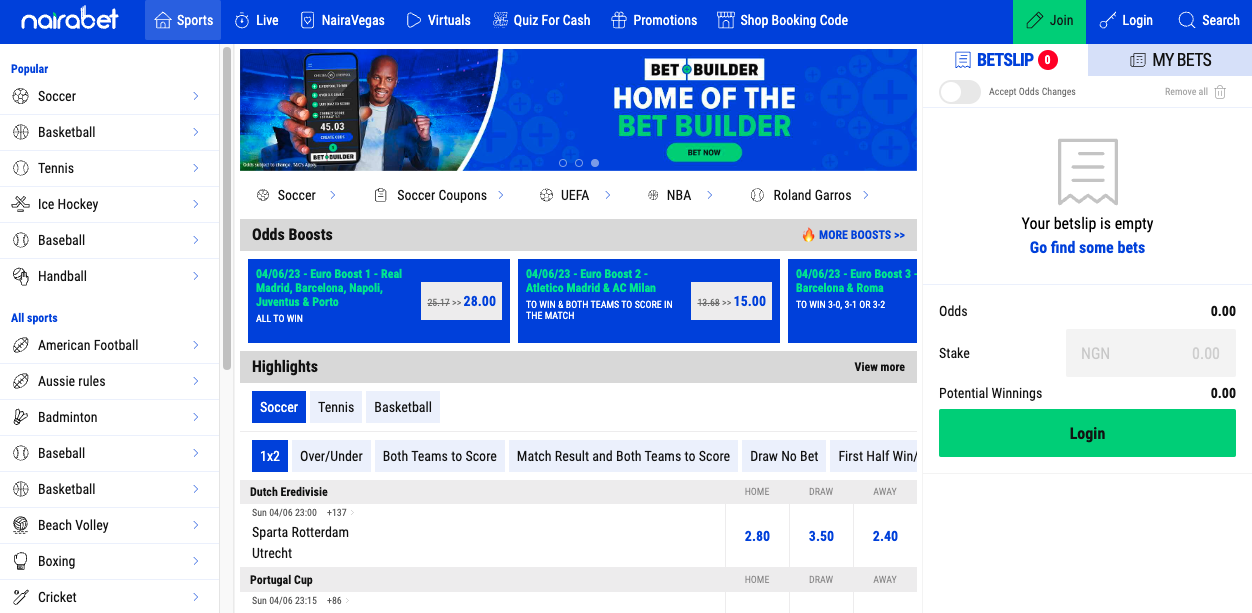 Nairabet stands out as one of Nigeria's premier online sports betting platforms. Founded by Akin Alabi, the platform has expanded beyond the boundaries of Nigeria, becoming an influential player in the African betting industry. Nairabet holds a distinguished reputation for its diverse betting offerings, ranging from popular sports like football and basketball to less mainstream events.
The platform is a proud Association of Nigerian Bookmakers member, further validating its credibility. Nairabet is renowned for its intuitive user interface, making online betting a breeze even for first-timers.
NairaBet has gained recognition as the official African Partner of esteemed figures Didier Drogba and AC Milan. This affiliation signifies NairaBet's commitment to providing top-notch services and positions them as a trusted choice for betting enthusiasts.
With a legacy that spans two decades, NairaBet has firmly established itself as a prominent player in the African market. Initially operating through physical retail outlets, they have now transitioned into a leading online platform, offering the best Nigeria's online betting scene offers. NairaBet takes immense pride in its African heritage and proudly represents the continent's spirit.
NairaBet's ambition revolves around delivering an unparalleled sports betting and casino experience in Nigeria. They accomplish this by offering attractive promotions, competitive odds, an extensive collection of games, and an overall exceptional user experience.
The platform focuses on catering specifically to the African player, aiming to enhance their enjoyment and engagement on the website. With a presence in 25 African countries, NairaBet represents Nigerian players, ensuring their needs and experiences are met to their preferences.
What We Like About Nairabet
Variety of Betting Options: Nairabet provides a wide range of sports and events to bet on, offering something for everyone, from mainstream sports like football and basketball to less common events.
User-Friendly Interface: The platform's design is intuitive, making it easy for users, whether veterans or novices, to navigate and place bets.
Innovative Features: Nairabet is known for its industry-leading features, such as live betting and 'cash out' options, offering a more dynamic and engaging betting experience.
Security and Regulation: Nairabet operates under the strict oversight of the National Lottery Regulatory Commission and is a member of the Association of Nigerian Bookmakers, which underscores its commitment to providing a secure and responsible betting environment.
Excellent Customer Service: Nairabet's customer support is responsive and helpful, which greatly enhances the user experience on the platform.
What We Don't Like About Nairabet
Limited Global Reach: While Nairabet is a leading platform in Nigeria and Africa, it has a limited presence on the global stage, which might restrict access for users from specific regions.
No Live Streaming: Nairabet does not offer live streaming of sports events on its platform by far, so users cannot watch games live as they bet on them. This feature that many users appreciate and is offered by some of the top betting platforms.
Nairabet Registration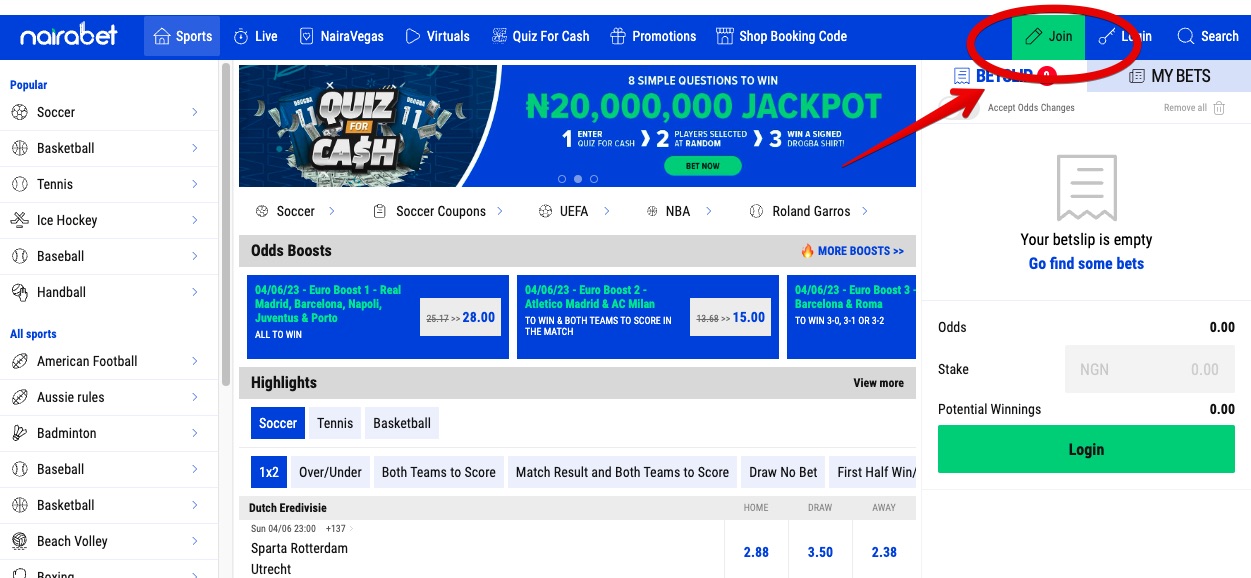 To join Nairabet Nigeria, follow these steps:
Visit the Website: Navigate to the official Nairabet website https://www.nairabet.com/ using your preferred web browser.
Register: Locate and click on the 'Join' button, usually found at the top right corner of the homepage.
Fill Out the Registration Form: You will be redirected to a registration page. Here, you will be asked to provide details like your full name, email address, phone number, and date of birth.
Create a Username and Password: Choose a unique username and a strong password. Ensure that your password is something you can remember and secure enough to protect your account.
Accept the Terms and Conditions: A checkbox will confirm that you have read and agree to Nairabet's Terms and Conditions. Please make sure actually to read them to understand the company's policies.
Complete Registration: Once you have filled in all the necessary information and agreed to the terms and conditions, click on the 'Send Registration Code' or 'Join Secuerly' button, depending on whether you use quick or complete registration forms.
Verify Your Account: You'll typically receive a confirmation email after a successful registration. Click the link in that email to verify your account.
Login: After account verification, you can log in to your account using the username and password you created.
Remember, you must be 18 to register on Nairabet or any online betting platform. Always gamble responsibly.
By following these steps, you will successfully register as a new player on Nairabet Nigeria and gain access to their online sports betting platform. Remember to provide accurate and valid information during the registration process.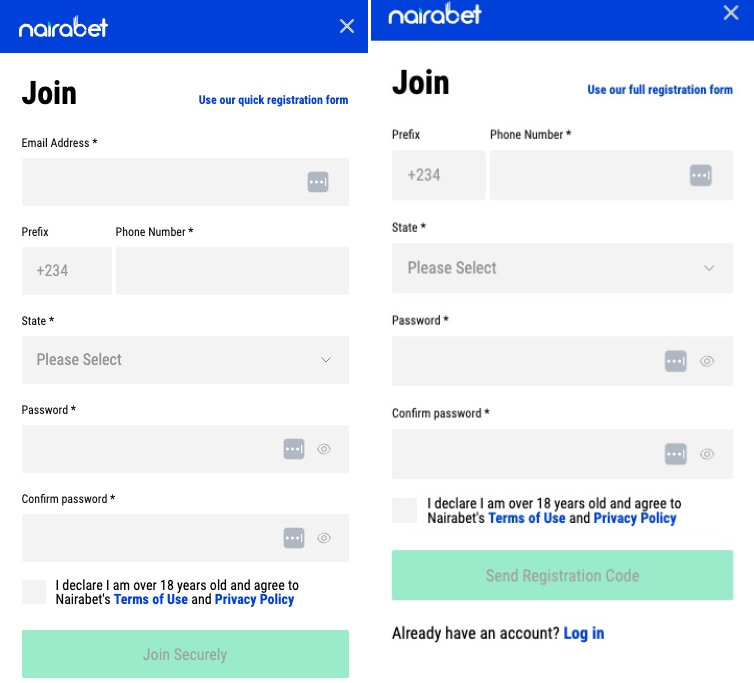 KYC Prosses and Account Verification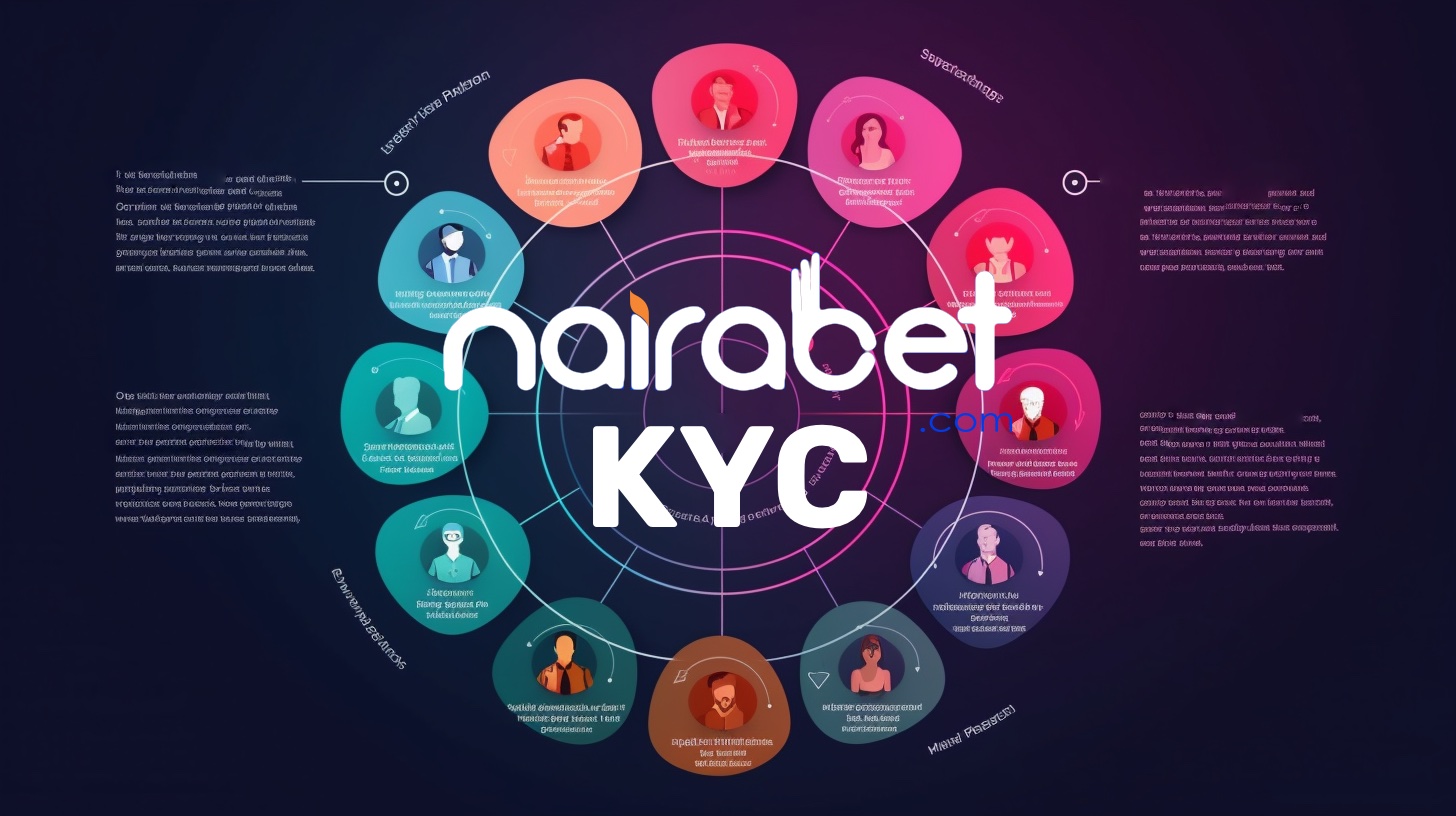 Please be aware that the KYC (know your customer) process is essential for validating your account. It lets you fully participate in our promotions, place bets, make deposits, and successfully withdraw funds.
It is important to note that if your KYC process is not completed, you cannot benefit from certain promotions, such as the one-game cut ticket promotion.
To complete the KYC process, please log in to your Nairabet account. After logging in, you may receive a prompt asking you to fund your account. Simply click on the X sign to cancel this prompt.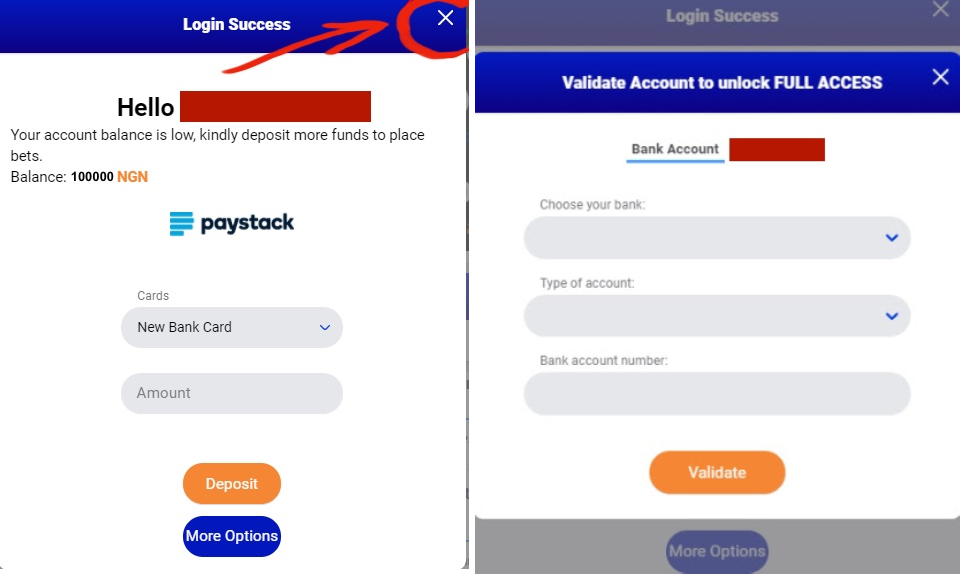 Next, you will receive another prompt requesting you to validate your account using your bank account details. Follow the instructions and click "validate" to complete the validation process.
Please ensure that the bank account details you provide for withdrawal purposes contain at least two names that match the names on your Nairabet account. This is necessary to initiate a successful withdrawal.
By completing the KYC process and validating your account, you will have access to all the features and benefits of your Nairabet account.
Depositing Money on Nairabet
NairaBET offers an array of deposit methods to cater to the varying needs of its users, ranging from ATM card payments to internet banking and via popular payment gateways such as Quickteller and OPay. Here's an in-depth exploration of these funding options available on the platform:
Paystack
A highly convenient way of depositing funds into your NairaBET account is via Paystack, a leading payment gateway. When you select Paystack on the deposit page, you must specify the deposit amount and provide your ATM card details. If this is your first time using your card, you will be prompted to enter a One-Time-Password (OTP) code sent to your registered contact details. Notably, there's an option to save your card details on the site for faster future transactions. The minimum deposit via Paystack is N100, with no set maximum limit.
Online Banking
Directly transferring funds from your bank account to your betting account is another secure option, omitting the need for third-party portals. Currently, this method is only available to Guarantee Trust Bank and Polaris Bank customers. To use this feature, log into your online banking account, navigate to the NairaBET payment page, and provide your NairaBET customer ID and the deposit amount.
Quickteller
This widely recognised payment platform offers a seamless way to fund your NairaBET account. Simply select Quickteller from the deposit methods on NairaBET, follow the provided link to the NairaBET payment section, and fill in the necessary details. You can finalise the transaction with your ATM card or via the QR Code method. A nominal fee of N100 applies to each transaction.
OPay
OPay offers a cost-effective deposit method without any service charges and even provides transactional discounts! Users can enjoy up to a 10% discount on their first five deposits and weekday discounts of up to 2% and 5% on weekends. To use this service, download and install the OPay app, locate the betting icon, select NairaBET, and follow the prompts to complete your transaction.
ATM Deposits
Depositing funds via an ATM is another option advantageous for those without an internet connection. Despite being less convenient as it requires physical presence at an ATM, it remains an alternative for users with limited internet access.
Bank Deposits
NairaBET also accepts in-person deposits at select affiliate banks, including First Bank, FCMB, UBA, Sterling Bank, Union Bank, Stanbic IBTC Bank, Access Bank, and Fidelity Bank. To proceed, request a deposit slip, fill in the required details, and instruct the cashier to process the transaction via "paydirect online"
Payment Systems Nairabet Accepts
The platform directly accepts these payment methods: Paystack, Online Banking, Quickteller, OPay, ATM Deposits. Bank Deposits:
First Bank
FCMB
UBA
Sterling Bank
Union Bank
Stanbic IBTC Bank
Access Bank
Fidelity Bank
How to Bet on Sports at Nairabet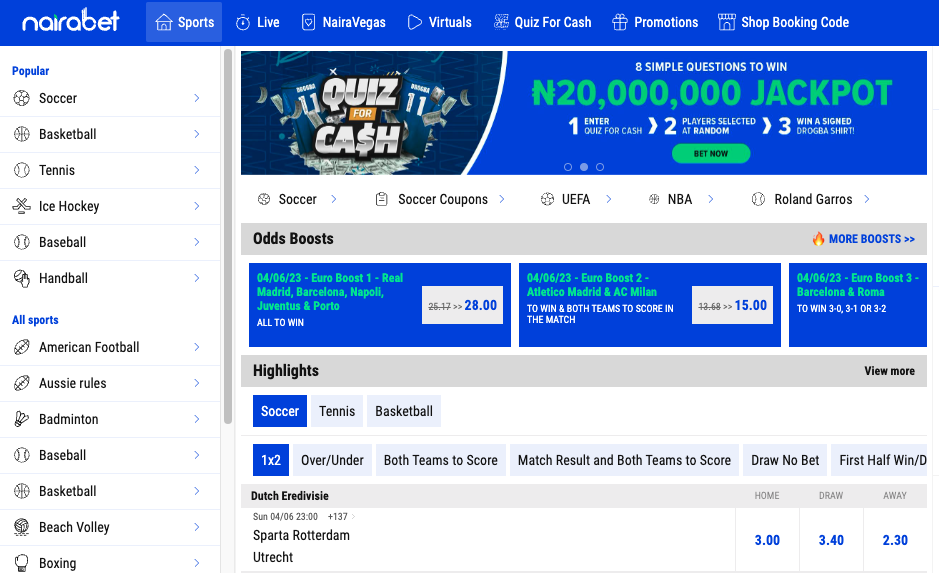 To place a bet on Nairabet Nigeria, follow these steps:
Click on the "Sports" tab to browse the available sports events.
Use the filters to narrow the events by time, sports, and league.
Check the "Popular" events area on the home page for recommended events, including "Today's Football" and "English Premier League."
Look for critical prematch games in the "Highlights" area.
Browse the ongoing live betting games or scheduled virtuals to find events to bet on.
Select the events you wish to play by clicking on the odds. The selected odds will be automatically added to the betslip.
You can add up to 50 selections to the betslip.
The total stake amount should be between NGN 10 and NGN 6,000,000; each stake should be at least NGN 10.
After selecting your bets, click "Place Bet" and confirm the bet to finalise it.
A message will be displayed to inform you whether the bet has been successfully placed or not.
General Terms and Conditions for Placing Bets on Nairabet
Understanding and accepting the Terms and Conditions before initiating a betting venture with NairaBET is crucial. All bettors are expected to exercise sound judgement when placing a bet and must not rely on the company's employee statements when making decisions.
NairaBET reserves the right to refuse any part or all of a bet. The established Terms and Conditions must pay for all placed bets, and bettors are held solely responsible for any bets placed on their accounts. NairaBET only accepts wagers through an individual's account concerning its services. Any winnings will be credited to the bettor's account, and future bets will be debited from this balance.
The amount that can be bet is limited to the balance in the bettor's account or according to the limits set in the Betting Rules. NairaBET has exclusive authority to determine the minimum and maximum bets per selection. For guidance on placing a bet or accessing a service, bettors can refer to the Help section on NairaBET's website.
Accuracy in any bet or transaction details is the bettor's responsibility. NairaBET retains the right to refuse any part or all of a transaction at its discretion, particularly in cases where Terms and Conditions have been breached. A transaction is only considered accepted once NairaBET has received appropriate confirmation.
Bets may be placed until the scheduled start time of an event or a pre-set time, whichever is earlier. If bets are accepted after the betting period has closed, after an event has been resolved, or when an outcome is known, they will be voided and stakes refunded.
In the case of a dispute over an event's start time where the governing sports body hasn't provided an official start time, NairaBET's decision on the event's start time and the bet placement time as per their transactional logs will be the final authority for settling or not settling all bets related to that event.
NairaBET urges bettors to familiarise themselves with betting and gaming terminologies and how they operate. The company is always ready to help with any queries. However, NairaBET will only be held responsible if a bettor places a bet with a full understanding of the terms involved and how the bet or game operates.
In the event of any false representation made by a bettor, NairaBET will forfeit the stake and will not be obliged to pay any winnings that might have otherwise been payable. The maximum return per bet and aggregate winnings (maximum payout) per customer per day are both capped at ₦ 50,000,000.
Let's take a closer look at Nairabet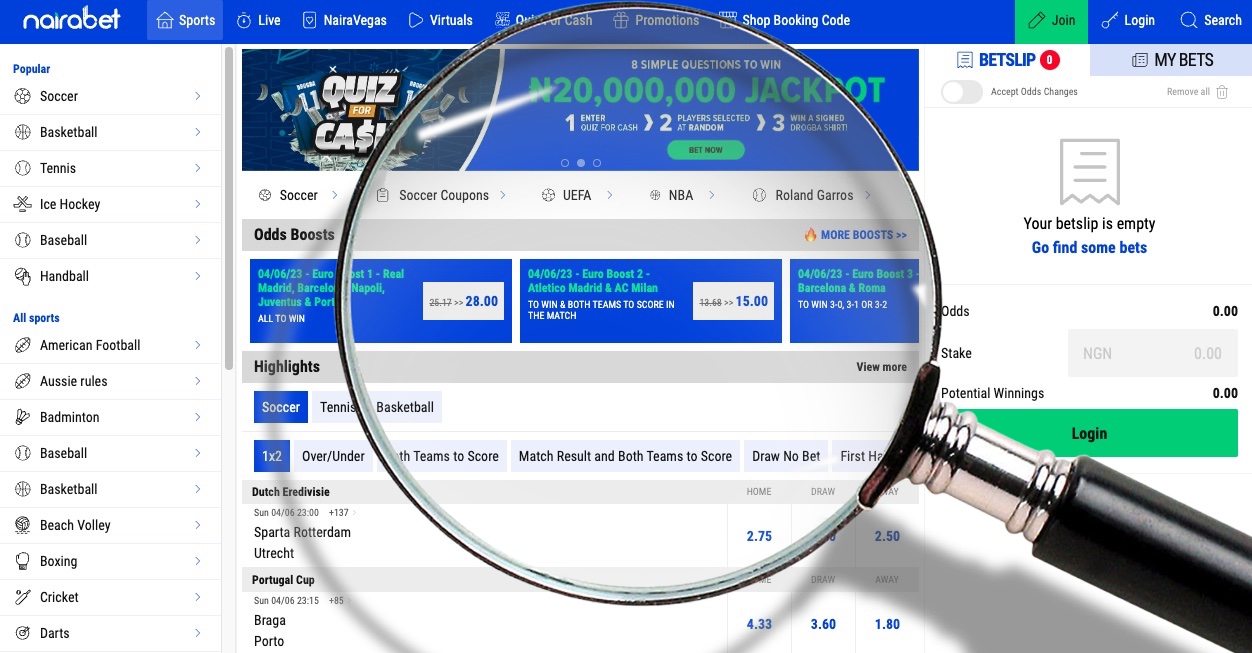 NairaBET, a significant player in the world of sports betting, which has an intriguing backstory and unique characteristics that distinguish it from its competitors. Established by the renowned Nigerian entrepreneur, philanthropist, and politician, Akin Alabi, the company benefits from the visibility and public trust associated with its founder's prominent status.
As Nigeria's pioneer sports bookmaker, NairaBET set the groundwork for the development of the online betting industry in the country. It didn't limit its reach to Nigerian bettors only but extended its service to accommodate bettors worldwide, demonstrating its global appeal.
What sets NairaBET apart from many other platforms is its diversified betting markets. For instance, it includes options to place bets on political outcomes, an unusual offering not found on many betting platforms.
More than just a betting platform, NairaBET has a commendable social contributions record. It has provided numerous employment opportunities, sponsored sports teams, and contributed to local economic growth, making it a genuinely impactful enterprise.
Nairabet Sportsbook
NairaBET is a top-tier sportsbook that has firmly established its presence in the online betting world. Originating from Nigeria, it offers a comprehensive range of sports betting options to a global clientele, enabling bettors to stake everything from football, tennis, and basketball to less common sports.
It prides itself on offering competitive odds, a user-friendly platform, and unique features that set it apart. By constantly evolving and expanding its offerings, NairaBET continues to solidify its reputation as a reliable, innovative, and socially responsible sportsbook.
NairaBET provides a broad range of sports betting disciplines to cater to the diverse interests of its users. With 29 different sports disciplines available for wagering, the platform ensures that bettors have ample choice, whether they are fans of mainstream sports like football, tennis, and basketball or niche sports.
Moreover, NairaBET recognises the rising popularity of eSports and caters to this trend by offering betting options for leading eSports games like League of Legends (LoL), Dota 2, and Counter-Strike: Global Offensive (CS:GO). This wide selection of betting options is a testament to NairaBET's commitment to providing users with a comprehensive and diverse betting experience.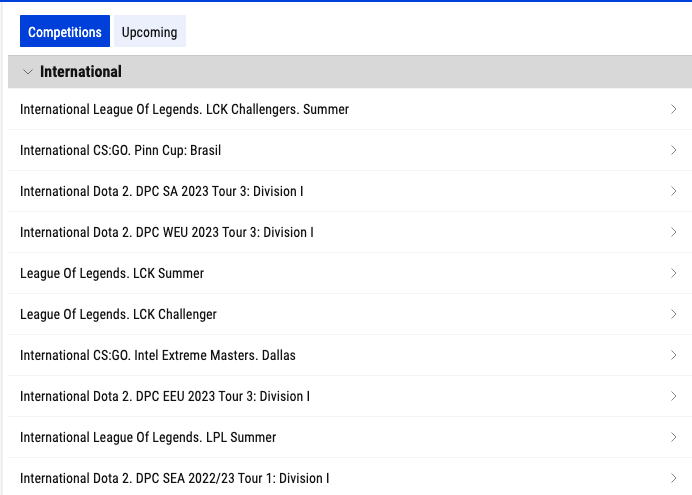 Nairabet Live Betting
The live betting section of NairaBET is a dynamic and exciting feature that sets it apart from many other betting platforms. Live betting, also known as in-play betting, allows bettors to place bets on ongoing sports events in real time. This provides an added layer of excitement as the odds change with the ebb and flow of the game, offering new opportunities for wagers throughout the event.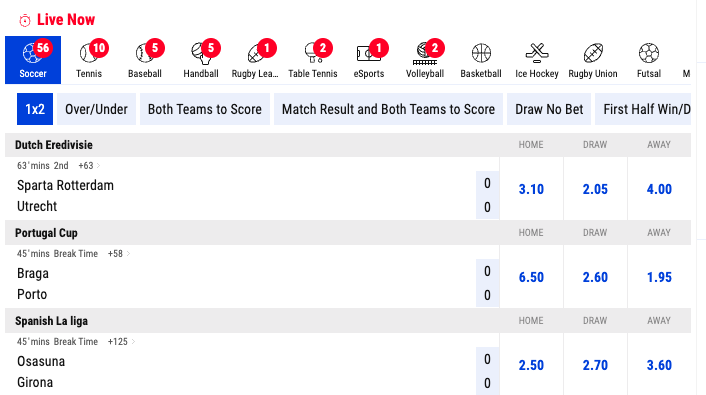 NairaBET's live betting section is well-organized and user-friendly, offering a seamless experience even for novice bettors. It covers various sports, from football and basketball to tennis and more niche sports, catering to various preferences.
In addition to traditional sports, NairaBET's live betting extends to eSports, allowing fans of games like League of Legends, Dota 2, and CS: GO to bet on their favourite teams and players in real-time.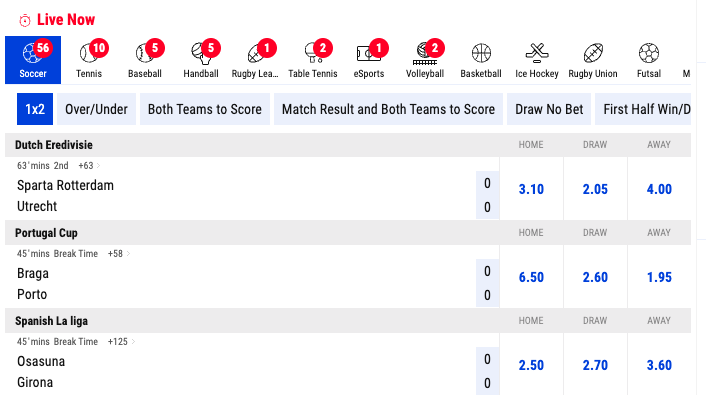 NairaBET has shown an impressive performance regarding live odds, particularly for various sporting events. During our review, the platform offered real-time odds for 49 different sports events, showcasing its commitment to providing a diverse live betting experience.
While this number may appear slightly below average compared to some industry giants, it's important to note that NairaBET outperforms several globally recognised bookmakers. The live betting feature allows users to engage in exciting, real-time wagering across various sports, enhancing their betting experience.
Virtual Sports Betting

NairaBET recognises the growing interest in virtual sports and has thus incorporated various betting options on its platform. Users can place bets on six virtual sports, including soccer, horse racing, dog racing, steeplechase, motor racing, and table tennis.
The virtual sports betting section provides a fantastic alternative for those who enjoy the thrill of betting but do not want to wait for real-time sports events. Virtual sports games simulate real sports and run at all times of the day, ensuring that bettors always have exciting opportunities to place their wagers.
Virtual soccer simulates the unpredictability and excitement of real-life football games, while virtual horse and dog racing brings the excitement of the tracks to the users' screens. Virtual steeplechase mirrors the excitement of horse jumping races.
For speed enthusiasts, virtual motor racing provides the thrill of fast-paced races, and virtual table tennis replicates the fast-paced exchanges of this popular indoor sport.
In racing, NairaBet accepts bets solely on the winner of the race. Players can predict which participant will cross the finish line first.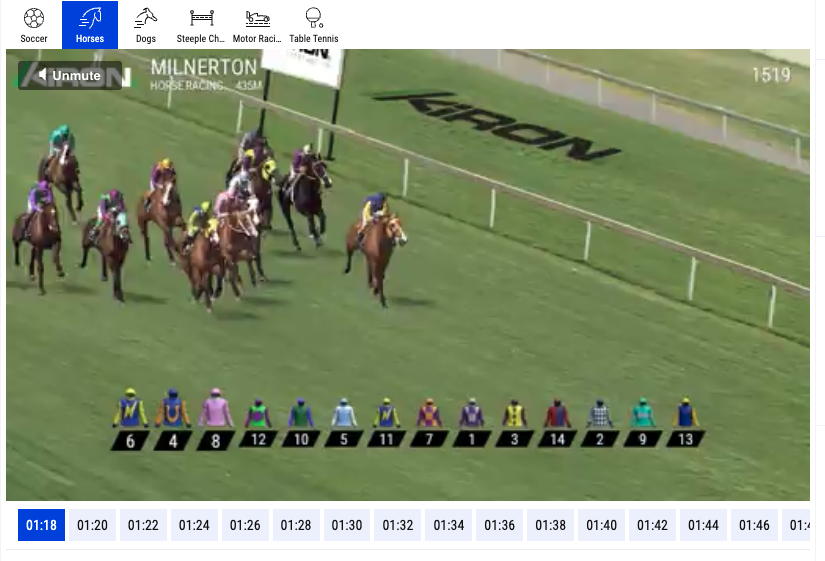 For virtual soccer, NairaBet provides an extensive selection of 16 markets for players to bet on.
These markets include:
Match Result: Predict the outcome of the match—Home Win (1), Away Win (2), or Draw (X) at full time.
Correct Score: Predict the match's final score for both the home and away teams.
Double Chance: Predict two possible outcomes of the match—either Home Win or Draw (1X), Home Win or Away Win (12), or Draw or Away Win (X2).
Both Teams To Score Half Time: Predict whether both teams will score a goal in the first half—either Yes (both teams score) or No (neither or only one team scores).
Both Teams To Score: Predict whether both teams will score a goal in the match—either Yes (both teams score) or No (neither or only one team scores).
Double Result [Half-time / Full-time]: Predict the team that will be leading at half-time and the team that will win the match—Home (1), Draw (X), or Away (2).
Half-Time Result 1X2: Predict the result of the match at half-time—Home (1), Draw (X), or Away (2).
Half-Time Score: Predict the match's score at half-time for both the home and away teams.
Full-Time Handicap (1 Goal): Predict the result of the match when the favourite team is handicapped by one goal—Home Win (1), Draw (X), or Away Win (2).
Full-Time Handicap (2 Goals): Predict the result of the match when the favourite team is handicapped by two goals—Home Win (1), Draw (X), or Away Win (2).
Goals: Under / Over 1.5, 2.5, 3.5: Predict whether the total number of goals scored in the match will exceed the specified number.
Total Goals: Predict the exact number of goals scored in the match.
Team 1 Goal/No Goal: Predict whether Team 1 will score a goal in the match—Yes (Y) or No (N).
Team 2 Goal/No Goal: Predict whether Team 2 will score a goal in the match—Yes (Y) or No (N).
Team 1 Under/Over 1.5 Goals: Predict whether Team 1 will score under or over 1.5 goals in the match.
Team 2 Under/Over 1.5 Goals: Predict whether Team 2 will score under or over 1.5 goals in the match.
These markets offer various options for players to engage with virtual soccer matches and place their bets accordingly.
Nairabet Cash Out
Nairabet offers a cash-out feature, which allows users to settle their bets before the completion of the sporting event. This feature allows users to secure a portion of their potential winnings or minimise their losses based on the current status of the bet. Users can take control of their bets and make strategic decisions to lock in profits or reduce risks by utilising the cash-out feature.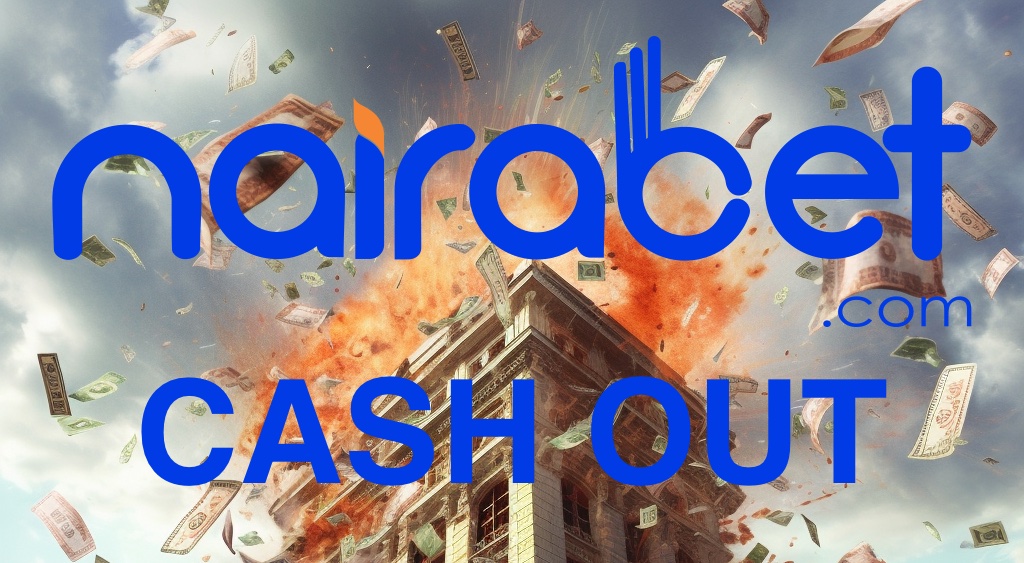 The early cash-out feature is an exciting aspect of NairaBET's offerings. This feature allows bettors to cash out before all the games on their bet slip have concluded. Essentially, it enables players to minimise potential losses or secure a win if the outcome of the remaining games seems uncertain.
Here's how it works: If you've placed a multi-game bet and some of your selections have won but are unsure about the remaining games, you can cash out early. NairaBET will offer you money to close the bet, thereby avoiding the risk of losing everything should your remaining selections not win.
It's important to note that the early cash-out amount will depend on the live state of play and could be higher or lower than your original stake. This feature brings a new level of strategy and decision-making to sports betting and can often be a safety net for bettors.
Full and Partial Cash Out NairaBET offers full and partial cash-out options. A full cash-out allows you to completely close your bet and take the current cash-out value, while a partial cash-out allows you to take out a portion of your winnings and leave the rest of the stake to run.
Availability: Cash Out is available on various sports and markets, both pre-match and live, including single and accumulator bets. However, it's not available for all events. Cash Out availability is indicated on your bet slip.
Cash Out Value: The cash-out value depends on the odds and the likelihood of your bet winning at the time of your cash-out request. It can be less or more than your original stake. This value changes as the event progresses, and the likelihood of your bet winning increases or decreases.
How to Cash Out: If Cash Out is available for your bet, you'll see a Cash-Out button with the current cash-out value on your bet slip. To cash out, simply click on the button and confirm your decision.
Withdrawing money from Nairabet
Withdrawing your winnings from NairaBET is straightforward and can be quickly done from your account.
To initiate a withdrawal, navigate to the 'My Account' section and select 'Withdraw Funds'. You'll need to click on your account number and scroll down to where it asks for the withdrawal amount.
Withdrawals are typically processed within one business day, excluding weekends or public holidays.
NairaBET sets minimum and maximum withdrawal limits for player protection and security. You can withdraw a minimum of ₦1000, with the maximum limit capped at ₦500,000. Also, it's important to note that withdrawals can only be made once a day.
Sometimes, withdrawal requests might be declined and reversed back to your NairaBET account. This could be due to issues with your bank or because part of your deposit is included in the withdrawal request.
Regarding deposits, on the NairaBET platform, all deposited funds must be used for betting. Let's say you deposit ₦10,000 and place a bet of ₦1,000, leaving you with ₦9,000. If you win ₦20,000 from your bet, your total account balance becomes ₦29,000. However, only the ₦20,000, representing your winnings, can be withdrawn. The remaining ₦9,000, part of your initial deposit, must be used to place bets.
Step-by-Step Guide
Withdrawing from your NairaBET account is a simple process. Here's a step-by-step guide on how to go about it:
Log into your NairaBET account.
Click on 'Account', which can be found at the top of the screen.
From the drop-down menu, select 'Withdrawal'. This will take you to the withdrawal page.
On the withdrawal page, choose the bank from your list of approved banks that you'd like the withdrawal to be paid.
Enter the amount you wish to withdraw in the provided field.
Click on 'Withdrawal' to submit your request.
After you have completed these steps, you can track the status of your withdrawal request in the 'Withdrawals History' section of your account. This allows you to stay updated on the progress of your payment.
Bank Accounts Accepted for Withdraw on Nairabet
Access Bank
Guaranty Trust Bank (GTB)
Zenith Bank
United Bank for Africa (UBA)
First Bank of Nigeria
EcoBank
Union Bank
Sterling Bank
Polaris Bank
Fidelity Bank
Nairabet Promotions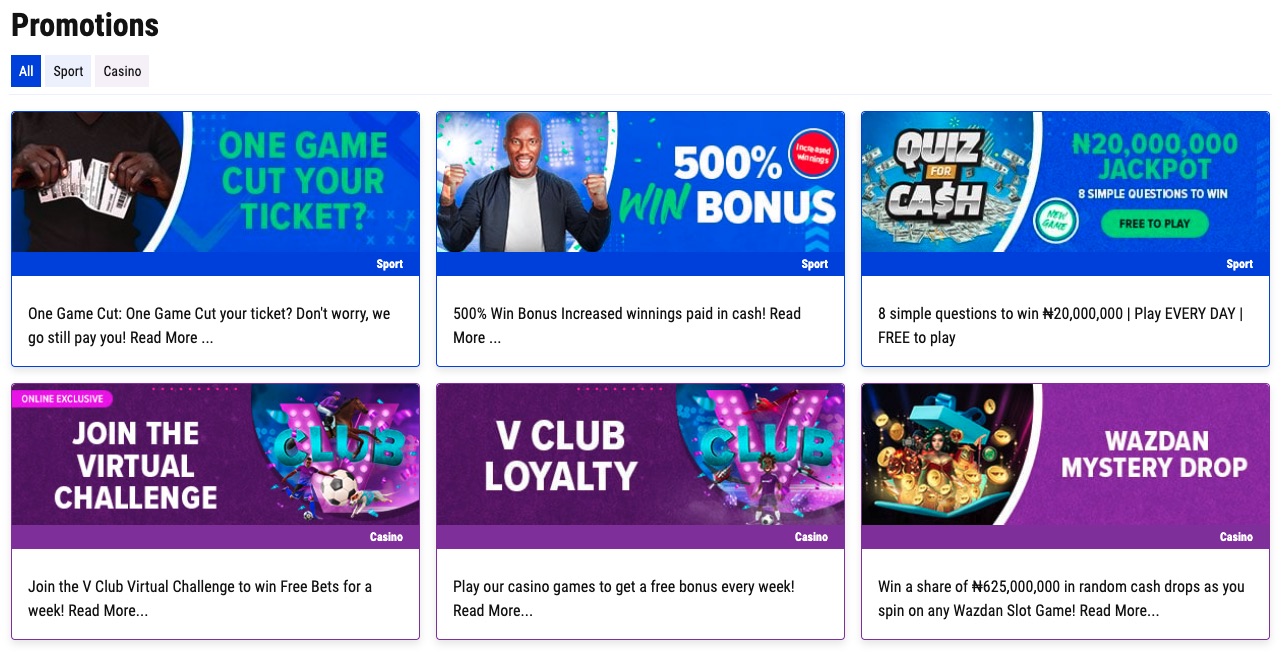 NairaBET offers a variety of promotions to its users, both in its sportsbook and casino offerings. Here are the details:
Sports Promotions
Accumulator Bonus: This promotion allows users to increase their winnings by up to 500% when they place an accumulator bet. To qualify, the bet must contain five or more selections, each with minimum odds of 1.20. The larger the number of selections on a betslip, the bigger the win bonus.
Daily Prize Quiz: NairaBET offers a daily quiz with eight simple questions. Players can participate every day, free of charge, with the opportunity to win up to ₦20,000,000.
Assurance Offer: This unique offer ensures a payout even if one game on your betslip lets you down. To qualify, place a bet with ten or more selections, each with minimum odds of 1.20. If your bet fails due to one selection, NairaBET will still pay you.

Casino Promotions
Wazdan Slot Game Cash Drop: Players of any Wazdan Slot Game can win a share of the ₦625,000,000 Cash Drop. This sum is divided into 12,500 Mystery Box prizes. As you play, you could become a random winner of a Cash Drop prize of up to ₦50,000 on a single spin! Multiple random prizes can be won, and any spin can trigger a prize from the prize pool.
V Club Rewards: Joining the V Club allows players to earn weekly rewards of up to ₦3,150. Additionally, playing the Game of the Week will earn double points for larger rewards. For every ₦6,000 you stake, you will earn 1 point.

Nairabet Mobile App
NairaBET does not offer dedicated iOS or Android apps. However, the platform functions efficiently on mobile devices via a browser. To optimise data usage, NairaBET provides two mirror websites with streamlined interface versions: https://www.nairabetshop.com/ and https://mobile.nairabetshop.com/lite.
These lighter versions are especially suitable for older mobile device models as they use fewer data and load faster while still offering the full functionality of the main website. Therefore, you can enjoy all of NairaBET's offerings on the go, no matter the age or model of your device.
How Nairabet Compares with Other Betting Sites
Range of Betting Markets: Compared to other betting platforms, NairaBET provides a broad spectrum of betting markets spanning 29 disciplines, including popular sports and esports. While this is impressive, some global platforms may offer a slightly wider variety.
Virtual Sports Betting: NairaBET excels in offering virtual sports betting, which includes six different sports – soccer, horse racing, dog racing, steeple chase, motor racing, and table tennis. This gives it an edge over many betting sites that may not offer such diverse virtual sports.
Live Betting: NairaBET offers a solid live betting section, providing odds on many sporting events. This puts it in competition with many top-tier betting sites, although there are platforms with more comprehensive live betting coverage.
Mobile Accessibility: Unlike some betting sites, NairaBET doesn't offer dedicated mobile apps for iOS or Android. Instead, it focuses on a mobile-friendly website and lighter versions for older mobile devices. While some users may prefer a dedicated app, the site's mobile compatibility is generally adequate.
Cash Out Feature: NairaBET's early cashout feature is a big plus for bettors who want to secure a win or limit a loss before a match concludes. While this feature is increasingly common on betting sites, NairaBET's cash-out conditions tend to be favourable.
Customer Support
NairaBET has a comprehensive customer support system to assist users with issues or inquiries. They offer various means of contact to suit different user preferences:
Feedback Form: Users can submit queries or report problems through a dedicated feedback form available at this link. This allows a detailed description of the issue and ensures the concern reaches the correct department.
Telephone Support: NairaBET provides telephone support for immediate assistance. Users can reach them at the following number: 0700 6247 2238. This is particularly useful for urgent issues that require a swift response.
Email Support: Users can also contact NairaBET at [email protected]. This can be helpful for less urgent concerns or when detailed information or attachments need to be sent.
Live Chat: NairaBET offers a live chat feature for real-time assistance. This instant messaging service is helpful for quickly resolving simple queries or issues and getting immediate responses.
These different methods ensure that NairaBET's customer support is accessible and responsive, catering to a wide range of user needs and preferences.
NairaBET's online casino, NairaVegas, is a vibrant gambling platform that offers various casino games to entertain and engage its users. Providing a wide array of game categories such as slots, table games, and live casino experiences, NairaVegas serves as an exciting extension to NairaBET's sportsbook services.
NairaVegas – In-House Nairabet Casino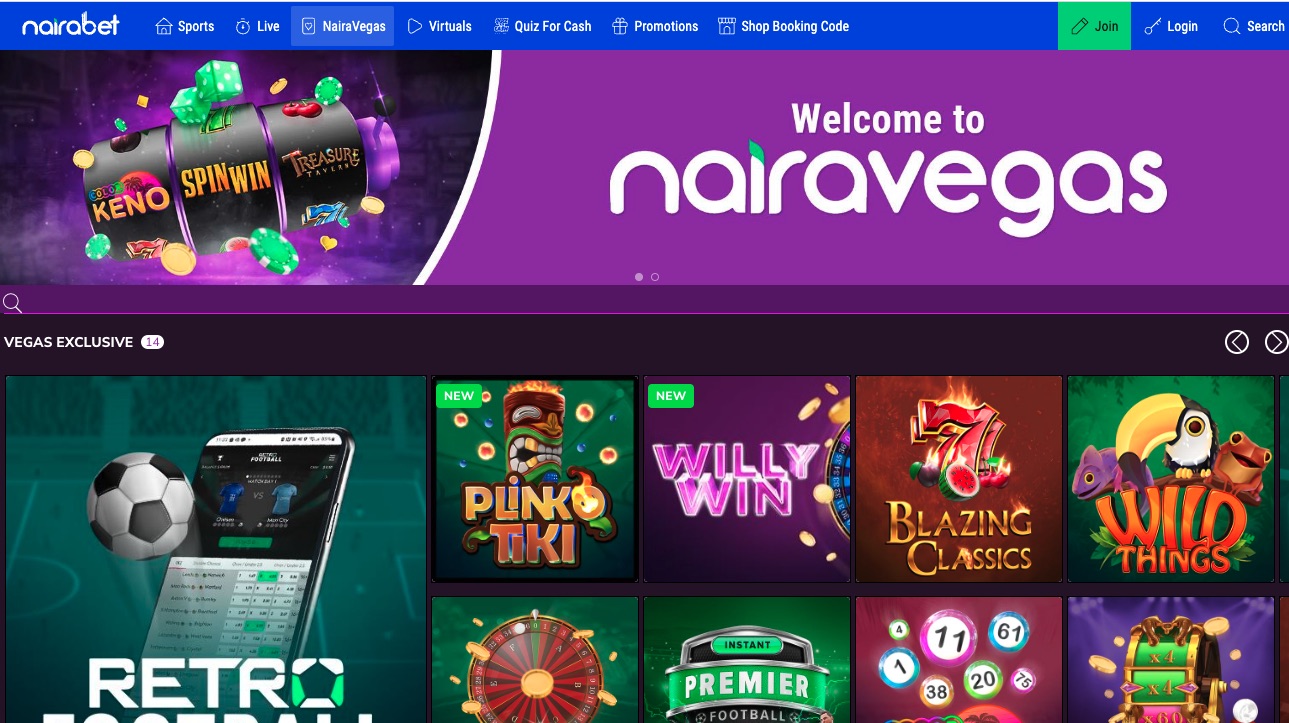 Variety of Games: NairaVegas features an extensive range of games, allowing users to choose from classic casino games like blackjack, roulette, and poker to an array of modern and themed slots.
User Experience: The platform is designed to mimic the feeling of a real-life Vegas casino, offering high-quality graphics and interactive features to ensure a seamless and immersive gaming experience.
Live Casino: The live casino feature allows players to experience the thrill of real-time gaming. You can join tables hosted by live dealers for a more realistic and social gaming experience.
Secure Transactions: NairaVegas maintains the same level of security as NairaBET, ensuring all transactions and user data are protected.
24/7 Access: Like its sportsbook counterpart, NairaVegas is available to players round the clock, offering non-stop entertainment at any time of day.
Customer Support: NairaVegas users can access NairaBET's comprehensive customer support options for any assistance they may need while gaming.
Whether you're a seasoned casino player or a novice looking to explore the excitement of online casino gaming, NairaVegas provides a dynamic platform tailored to suit all players.
FAQ
What is Nairabet?
expand_more
Nairabet is a popular Nigerian online sports betting platform that allows users to bet on various sports, including football, basketball, tennis, and more.
How do I create an account on Nairabet?
expand_more
To create an account on Nairabet, visit their website and click the "Join" button. Fill in the required information, including your details and contact information, and follow the instructions to complete the registration process.
What sports can I bet on with Nairabet?
expand_more
Nairabet offers a variety of sports to bet on, including football, basketball, tennis, rugby, cricket, and more. They also provide betting options for virtual sports and casino games.
What types of bets are available on Nairabet?
expand_more
Nairabet offers various bets, including match winners, over/under totals, handicaps, correct scores, and more. They also provide options for live betting, where you can place bets on ongoing matches.
How can I deposit money into my Nairabet account?
expand_more
Nairabet supports different payment methods for depositing money into your account, including bank transfer, card payments, and online payment platforms such as Quickteller and Paystack. Visit the Nairabet website or contact customer support for specific instructions on depositing funds.
How can I withdraw my winnings from Nairabet?
expand_more
To withdraw your winnings from Nairabet, login, navigate to the "My Account" or "Withdraw" section, and follow the instructions provided. Depending on the withdrawal amount and method, you may need to provide additional verification documents.
Is customer support available on Nairabet?
expand_more
Nairabet provides customer support services to assist users with inquiries or issues. You can reach their customer support team through various channels, including live chat, email, or phone.