YangaSport Registration: Your Journey to Betting Excitement Begins
YangaSport Registration: Your Journey to Betting Excitement Begins
YangaSport has emerged as a beacon for betting enthusiasts in Nigeria in the vast landscape of online sports betting platforms. Established in 2018, it has swiftly climbed the ranks to establish itself as a trusted and reliable name in the gaming sector.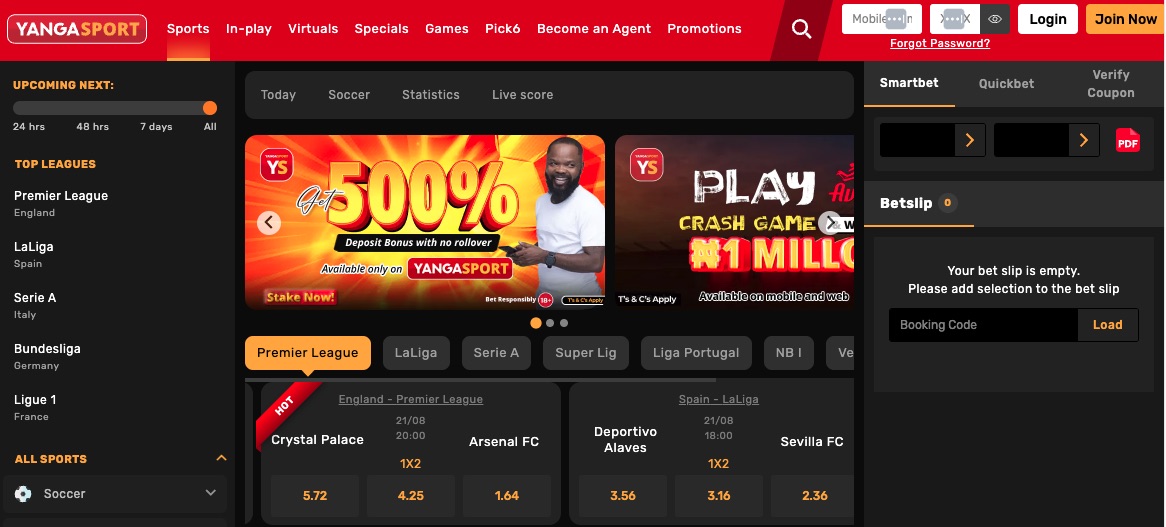 Owned and operated by the reputable YangaGames Technology Ltd., this platform proudly showcases its licensing credentials, not only from the National Lottery Regulatory Commission (NLRC) within its home territory but also from South Africa — a clear testament to its ambitions of pan-African operations.
Featuring an extensive array of sports categories and top-notch odds with an impressive average payout of 96%, YangaSport is undeniably setting the bar high in the industry. Whether you're a seasoned bettor or a novice looking to dip your toes into the world of sports betting, this review aims to furnish you with all the insights, intricacies, and offerings of YangaSport — a front-runner in Nigeria's digital betting arena.
How to Register on YangaSport

Start the Process: Navigate to the 'Join Now' section on the YangaSport website.
First Name: Input your first name exactly as it appears on your bank account.
Last Name: Similarly, enter your surname as it's reflected on your bank account.
Email: Although it's an optional step, you can provide your email address (for example, [email protected]) to enhance the services you receive and to keep abreast of any updates or offers.
Mobile Number: Prefix your phone number with +234 and then enter the remaining 10 digits without any spaces (e.g., 8067594321).
Date of Birth: Fill in your date of birth using the format dd/mm/yyyy.
State: Choose your state from the dropdown menu labelled 'Select'.
Password: Create a 4-digit numerical password for your account. Ensure it's something you can remember yet difficult for others to guess.
Confirm Password: Re-enter the 4-digit password to ensure there's no mistake.
PromoCode: If you have a promotional code, enter it in the 'PromoCode (Optional)' section. This is not mandatory but can offer additional benefits if available.
Promo Code: If an affiliate has referred you or has an affiliate code, input it here, though this step is optional.
Terms & Conditions: Before finalising your registration, you must confirm that you're above 18 and agree to YangaSport's Terms and Conditions and Privacy Policy.
Complete Registration: Click the 'Sign Up' button to finalise your registration and embark on your YangaSport betting journey.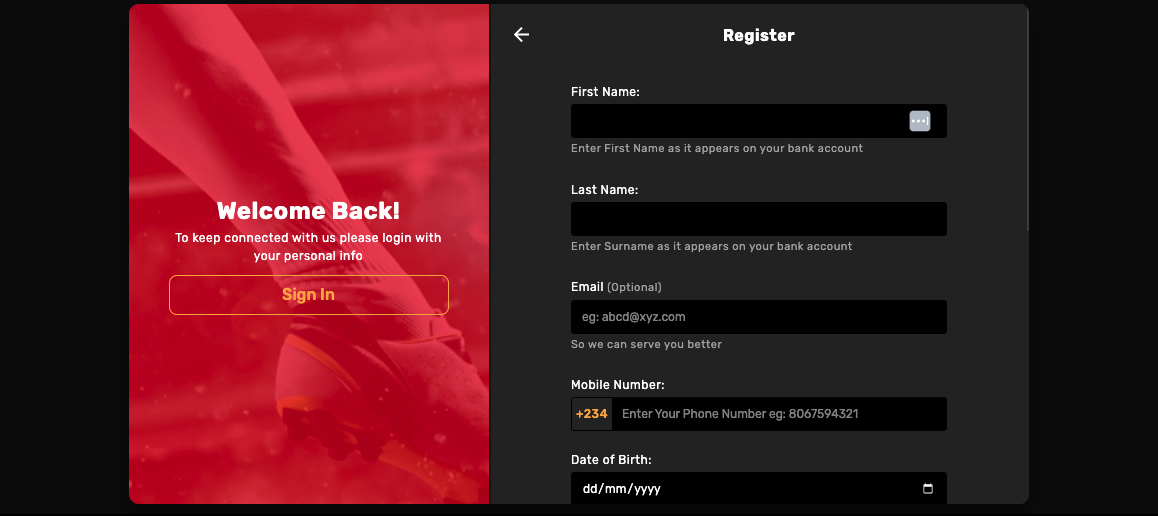 Remember, ensuring the accuracy of the details you provide during this process is crucial, as discrepancies might lead to challenges, especially during withdrawals. Enjoy your betting experience with YangaSport!
How to Create a YangaSport Account on a Mobile
Launch YangaSport Mobile: Open the YangaSport mobile website on your browser.
Tap 'Login/Register': Spot the 'Sign Up' option, usually at the centre of the screen, and tap on it.
First & Last Name: In the provided fields, type in your first name and surname as they appear on your bank account.
Email (Optional): You can enter your email address (like [email protected]) for enhanced service, though it's not mandatory.
Mobile Number: Prefix +234 and input your 10-digit phone number (e.g., 8067594321).
Date of Birth: Use the mobile date selector or type in your birthdate in the dd/mm/yyyy format.
State Dropdown: Tap on 'Select' to pick your residing state from the dropdown list.
Set a 4-Digit Password: Choose a memorable yet secure 4-digit pin.
Confirm Your Password: Re-type the 4-digit pin for verification.
PromoCode & Affiliate Code: If you possess a promotional or affiliate code, key them into the optional fields for additional perks.
Age Verification & Terms: Tick the box to verify you're over 18 and agree to the platform's Terms and Conditions and Privacy Policy.
Final Step: Tap the 'Sign Up' button to complete your mobile registration.
Always double-check the details you've entered for accuracy, as it's pivotal for hassle-free transactions and interactions on YangaSport. Dive into your mobile betting adventure!
YangaSport Terms and Conditions on Opening Account
YangaSport Account Opening Guidelines
1.1 Age Restrictions: Players must be 18 to open an account. In Estonia, the minimum age is 21.
1.2 Geographic Limitations: Residents outside our designated service areas are encouraged to register on our platforms.
1.3 Player Commitments: Upon registering, players agree to:
Not use funds from criminal activities.
Refrain from unauthorised access or alteration of company systems.
Not press criminal charges against the company or its affiliates and other players.
1.4 Account Closure: Should a player violate guidelines 2.1, 2.2, or 2.3, the company reserves the right to close the account and seize any funds present.
1.5 Law Adherence: Players must ensure their activities with the company are lawful and adhere to age restrictions in their jurisdiction.
1.6 Registration: Prospective customers must complete the registration form at www.yangasport.com and accept the Terms and Conditions.
1.7 Accurate Information: Players must provide accurate registration details and promptly update any changes.
1.8 Single Account Policy: Players are allowed only one active account.
1.9 Company Discretion: The company can decline account openings or close existing ones without explanation, honouring prior obligations.
1.10 Currency: All accounts will operate in Naira.
1.11 Interest: The company isn't a financial institution and won't pay interest on any funds, regardless of the amount.
1.12 Taxation: Players report winnings to tax authorities where applicable.
1.13 User Credentials: Players choose a username and password during registration, which can be changed anytime.
1.14 Confidentiality: Players should safeguard their login details. The company recommends using strong passwords and not leaving devices unattended when logged in.
1.15 Bets: Any bet placed using a player's credentials is deemed valid and made by that player.
1.16 Fair Play: Collusion between players or using game-altering devices/programs is prohibited.
1.17 Identity Verification: The company can request verification anytime, including certified identity cards, bank statements, etc.
1.18 Non-transferability: Accounts cannot be sold or given to others.
1.19 Dormancy: Accounts inactive for 30+ months will have funds returned to the source account.
FAQ
What is the minimum age requirement to register on YangaSport?
The minimum age is 18. However, for players in Estonia, the required age is 21.
I reside outside the designated service area. Can I still register?
Residents outside our specified regions are advised against registering. Check the terms and conditions for a list of supported countries.
How can I ensure my account's security on YangaSport?
Always use a strong password with a mix of letters, numbers, and symbols. Don't leave devices unattended when logged in; never share your login details.
In which currency will my YangaSport account operate?
All accounts with YangaSport operate in Naira currency.
Can I maintain multiple accounts with YangaSport?
No, players can only have one active account with YangaSport.
What happens if my account remains inactive for an extended period?
Accounts inactive for 30 or more months will have their funds transferred back to the source account.
Will YangaSport ever ask for identity verification?
Yes, the company reserves the right to request identity verification at any point. This may include certified copies of identity cards, bank statements, and more.
Only authorized users can leave comments.
No Comments Yet
Be the pioneer! There are no comments so far, your insightful thoughts could lead the way. Share your perspective!