Cashing Out Your YangaSport Winnings: A Comprehensive Guide
Cashing Out Your YangaSport Winnings: A Comprehensive Guide
In the competitive Nigerian online sports betting arena, Yangasport has sprinted to the lead since its 2018 kickoff.
Under the expert coaching of YangaGames Technology Ltd. and backed by the seal of approval from the National Lottery Regulatory Commission (NLRC), Yangasport is the embodiment of fair play and integrity in the gaming world.
With a playbook sourced from South African licensing, they're clearly setting their sights on dominating the African league.

On the field, Yangasport showcases an impressive roster of sports categories. Punters are in for a treat with many pre-match and in-game betting opportunities. And with a staggering average payout rate of 96%, it's no wonder they're on a winning streak.
Our deep dive into Yangasport examined everything from its sleek game-day interface and sign-up strategy to its locker room of promotions and payment plays.
From our sidelines analysis, it's undeniable: Yangasport is shaping up to be a major league player in Nigeria's betting championship. Lace-up and join us for a comprehensive play-by-play on this rising star in the bookmaking game.
YangaSport Supported Payment Systems in Nigeria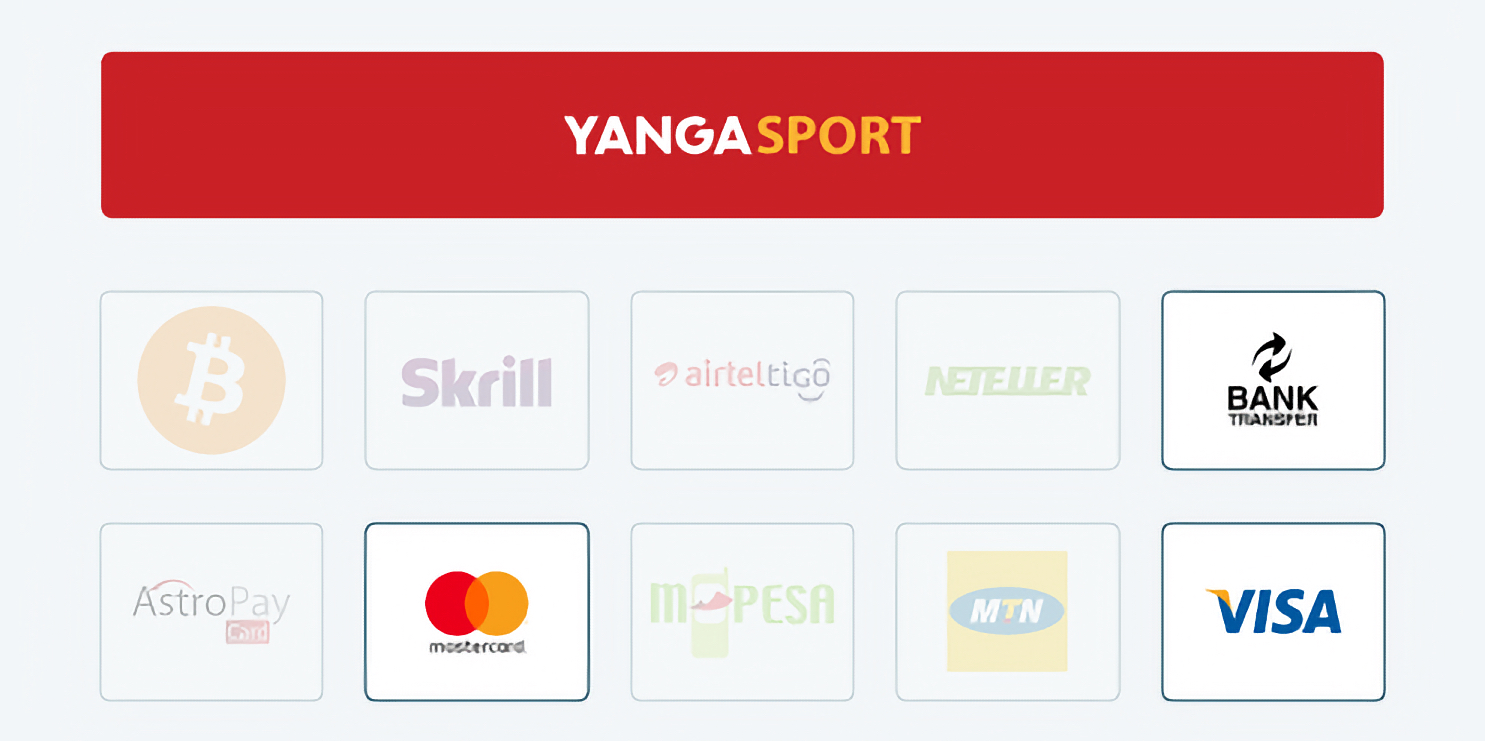 Visa/Mastercard: Yangasport supports both Visa and Mastercard – a staple for online transactions. The transaction process is smooth, with the assurance of worldwide acceptance and stringent security measures.
Monify: A newer entrant in the digital payment space, Monify ensures quick and hassle-free transactions. It's a refreshing addition for those who prefer emerging payment gateways.
Paystack: A homegrown Nigerian solution, Paystack is renowned for its seamless integrations and user-friendly interface. The platform's local presence ensures swift resolutions and understanding of the Nigerian market, making it a preferred choice for many.
Skrill: With its global reputation, Skrill is a welcome addition to Yangasport's payment arsenal. It's especially favoured by international bettors who appreciate its multicurrency support and low transaction fees.
Neteller: Another giant in the e-wallet space, Neteller's presence confirms Yangasport's commitment to offering varied and reliable payment options. It's known for its fast transaction times and robust security features.
Bank Transfer: This option is invaluable for those who prefer traditional methods or want to transfer sizable amounts directly from their bank accounts. Yangasport ensures its bank transfer process is streamlined, with minimal waiting times.
Mpesa: A dominant force in mobile money in parts of Africa, Mpesa's inclusion speaks to Yangasport's intent to cater to a broad African audience. It offers the convenience of mobile payments, allowing users to transact anytime, anywhere.
Yangasport's diverse payment methods showcases its dedication to catering to local and international bettors. Whether you're a fan of traditional banking or emerging e-wallets, there's something for everyone. It's a testament to their commitment to ensuring a seamless betting experience for their users.
How to Withdraw Money on YangaSport: Step-by-Step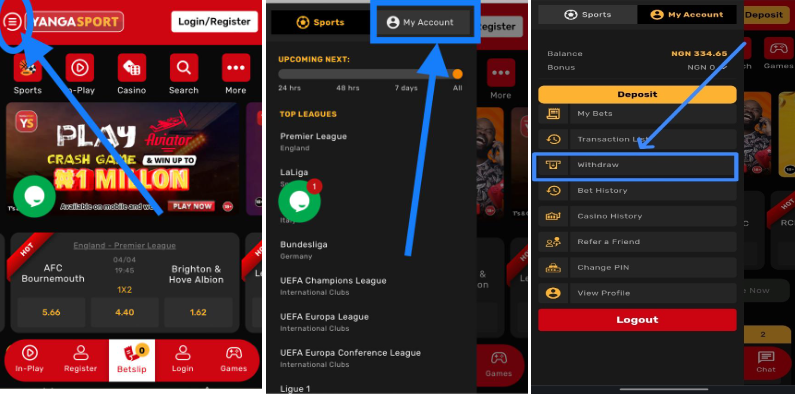 At YangaSport, cashing out is streamlined via bank transfers, ensuring that users swiftly lay hands on their winnings. You must, however, have a functioning bank account to kick-start the process.
YangaSport sets the withdrawal floor at ₦1,000, accommodating those wishing to pull out modest amounts. Conversely, for those aiming to extract larger chunks, the ceiling per transaction stands at ₦500,000.
Although YangaSport boasts of near-instant withdrawal processing, there are rare occasions where it might stretch to 24 hours. It's vital to underline that these scenarios are outliers and not the norm.
To cash out from YangaSport, here's your playbook:
Sign in to YangaSport using your login details.
Tap the icon on the upper-left of your display to unveil the menu. Navigate to and choose "My Account."
Within the "My Account" terrain, pinpoint and select "Withdrawal."
Upon landing on the withdrawal dashboard, there's a prominent "Add Bank Account" touchpoint. Engage it to advance.
Elect your preferred bank from the list and key in your account digits in the designated area. Afterwards, hit "Add Bank" to memorialise your banking details.
Post-banking detail addition, pick a preset withdrawal quantum or dial your custom amount. Once settled, tap "Withdraw" to launch your cashout request.
Possible Problems and Troubleshooting on Withdrawal at YangaSport
1. Delayed Withdrawals
Problem: Withdrawals taking longer than the usual processing time.
Troubleshooting: Check if the bank itself is experiencing delays. If the delay extends beyond 24 hours, contact YangaSport customer support for assistance.
2. Incorrect Bank Details
Problem: Entered bank details must be corrected, leading to failed transactions.
Troubleshooting: Re-check the bank details you provided on YangaSport. Update any incorrect information and attempt the withdrawal again.
3. Minimum/Maximum Withdrawal Error
Problem: Trying to withdraw below ₦1,000 or above ₦500,000.
Troubleshooting: Ensure your withdrawal amount aligns with YangaSport's limits. Modify the amount and re-initiate the withdrawal process.
4. Withdrawal Button Greyed Out/Not Clickable
Problem: Cannot initiate withdrawal due to an inactive "Withdraw" button.
Troubleshooting: This could be a site glitch or browser issue. Refresh the page, clear your browser cache, or try accessing your account from a different browser.
5. Missing Funds After Successful Withdrawal
Problem: Funds have been deducted from the YangaSport account but aren't reflected in the bank account.
Troubleshooting: Wait for a few hours, as bank transfers sometimes take time. If the problem persists beyond 24 hours, contact YangaSport's customer service and your bank.
6. Multiple Failed Withdrawal Attempts
Problem: Continuous failure when trying to withdraw.
Troubleshooting: There could be an issue with YangaSport's withdrawal system. Reach out to their customer service for clarity and assistance.
7. Forgotten Bank Account Details Linked with YangaSport
Problem: I need help remembering which bank account is linked with the YangaSport account.
Troubleshooting: View linked bank account details in the "My Account" section. If you still need clarification, contact YangaSport customer support.
8. Withdrawal Rejection Notifications
Problem: Receive a notification that your withdrawal has been rejected.
Troubleshooting: Ensure that all account verification processes have been completed. In some cases, incomplete verification can lead to withdrawal issues. If everything seems in order, contact YangaSport support.
FAQ
How long does it usually take to reflect a withdrawal from YangaSport in my bank account?
Typically, YangaSport processes withdrawals instantaneously. However, in rare cases, it may take up to 24 hours.
I entered incorrect bank details during the withdrawal process. What should I do?
Navigate to "My Account" and update your bank details. If you've initiated a withdrawal with incorrect details, contact YangaSport's customer support immediately to rectify the situation.
What's the minimum and maximum amount I can withdraw from YangaSport?
The minimum withdrawal amount is set at ₦1,000, while the maximum per transaction is capped at ₦500,000.
I tried withdrawing, but the "Withdraw" button seems inactive. How can I resolve this?
This might be a site glitch or browser issue. First, try refreshing the page. If the problem persists, clear your browser cache or switch to a different browser.
It's been over 24 hours, and my withdrawn funds have yet to appear in my bank account. What should I do?
Contacting YangaSport's customer service and your bank is advisable. Sometimes, bank delays might be the cause, but confirming with both parties is essential.
I'm facing continuous failures when attempting to withdraw. Why is this happening?
Multiple reasons can cause this. Ensure all account verification processes are complete. If the issue persists, reach out to YangaSport's customer service for clarity.
I'm not sure which bank account I've linked with my YangaSport account. How can I check?
Visit the "My Account" section on YangaSport. Your linked bank details should be displayed there. If you still face issues, contact their support team for assistance.
Only authorized users can leave comments.
No Comments Yet
Be the pioneer! There are no comments so far, your insightful thoughts could lead the way. Share your perspective!