Exploring the Frapapa Casino Experience: Games and More
Exploring the Frapapa Casino Experience: Games and More
From its debut in the competitive Nigerian online gaming industry, Frapapa Casino swiftly rose, establishing itself as a reputable and dependable gaming platform.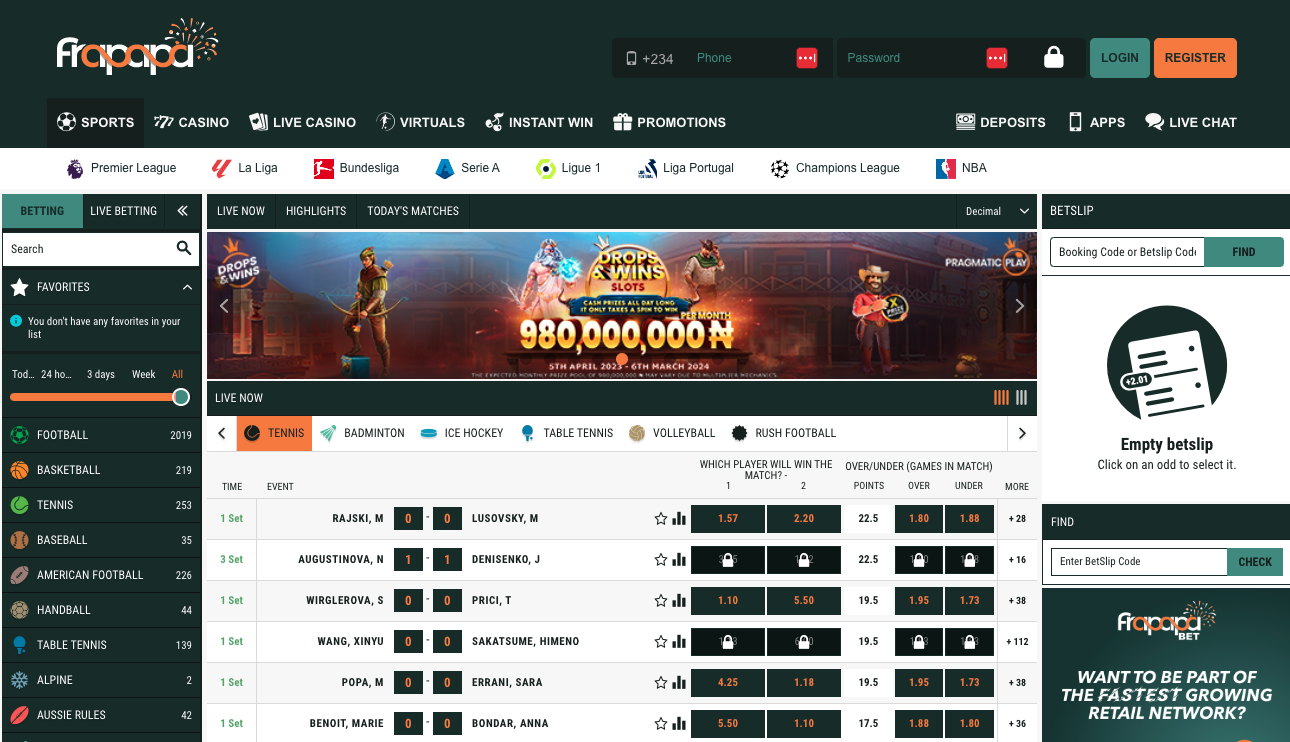 This casino isn't just about transient gaming moments; it's also a haven for those seeking immersive, extended gaming sessions. With many modern entertainment offerings, it stands out boldly among its competitors.
The Signup Process
For newcomers eager to embark on this adventure, let's demystify the registration process:
Navigate to the site and opt for the "register" button.
Populate the registration form with details such as name, email, and contact number.
Devise a secure password.
Confirm your registration by clicking on the verification link dispatched to your email.
You're set to initiate your first deposit.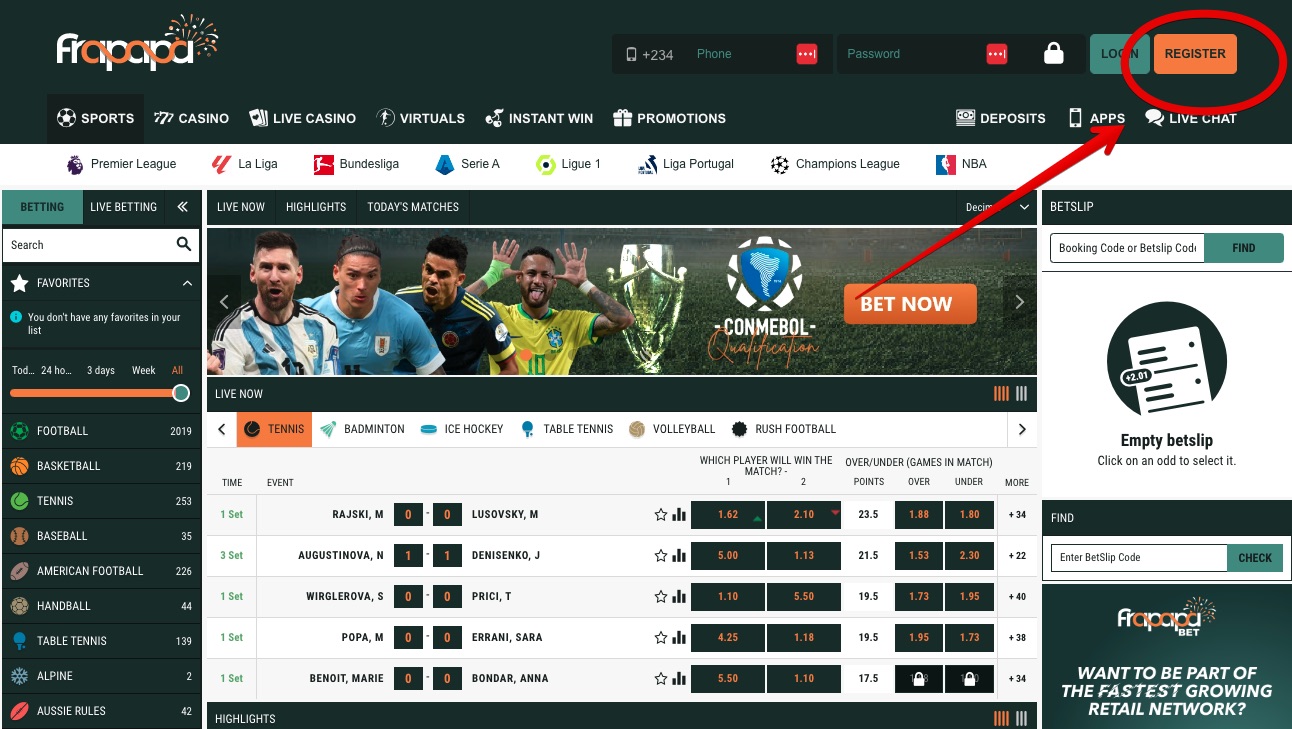 Banking Dynamics at Frapapa Casino
Deposits: Choose from an array of options including:
Direct money transfer
VISA/MasterCard
Interswitch
Paystack
USSD
Verve
Withdrawals: Processing withdrawals at Frapapa is streamlined with options like:
Direct money transfer
VISA/MasterCard
Interswitch
Verve
Frapapa Casino Gaming Portfolio
Every casino stands tall with a comprehensive gaming collection. Recognising this, Frapapa Casino lavishes its players with diverse games, spanning online slot machines, card games, and more.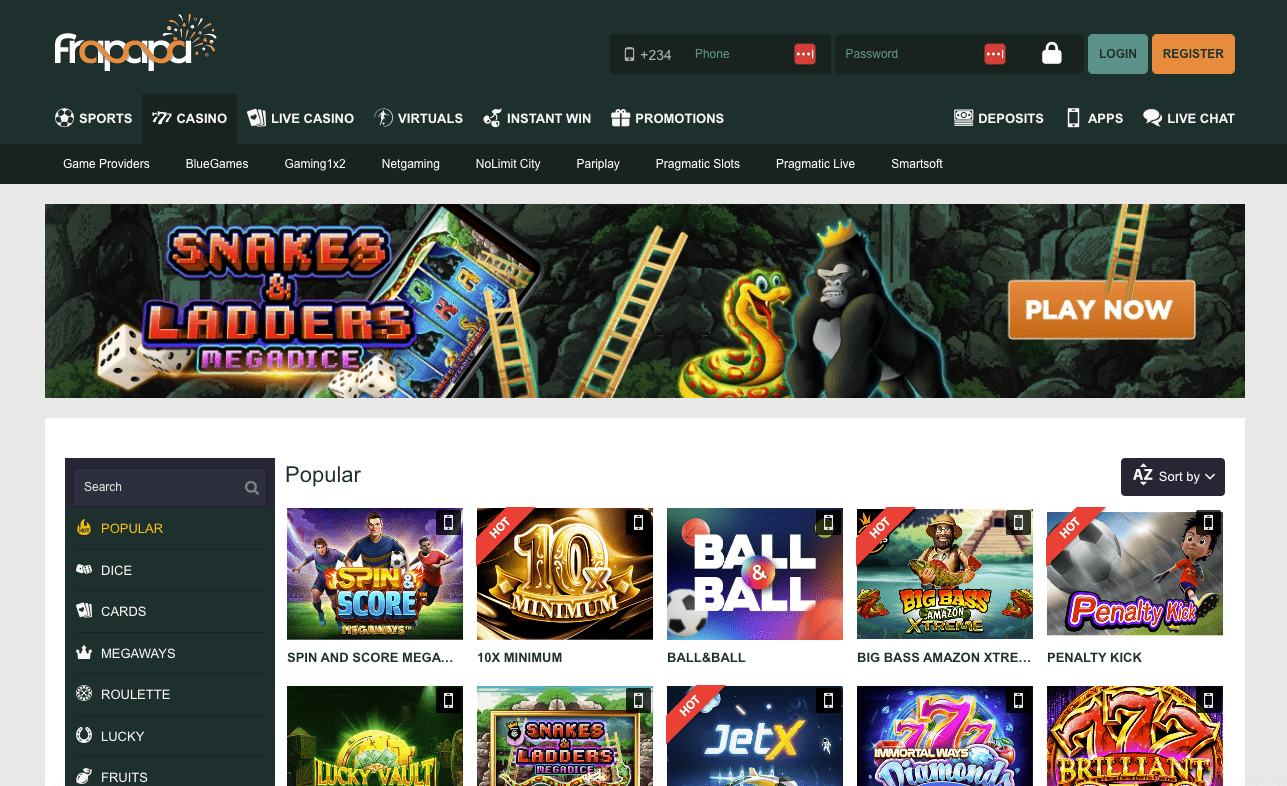 Slots: Dive into an exciting assortment of slot machines featuring titles from industry giants like Play'n GO, Wizard Games, Spinmatic, 1×2 Gaming, and Iron Dog Studio. Although progressive jackpots aren't part of the offering, the existing options promise generous returns.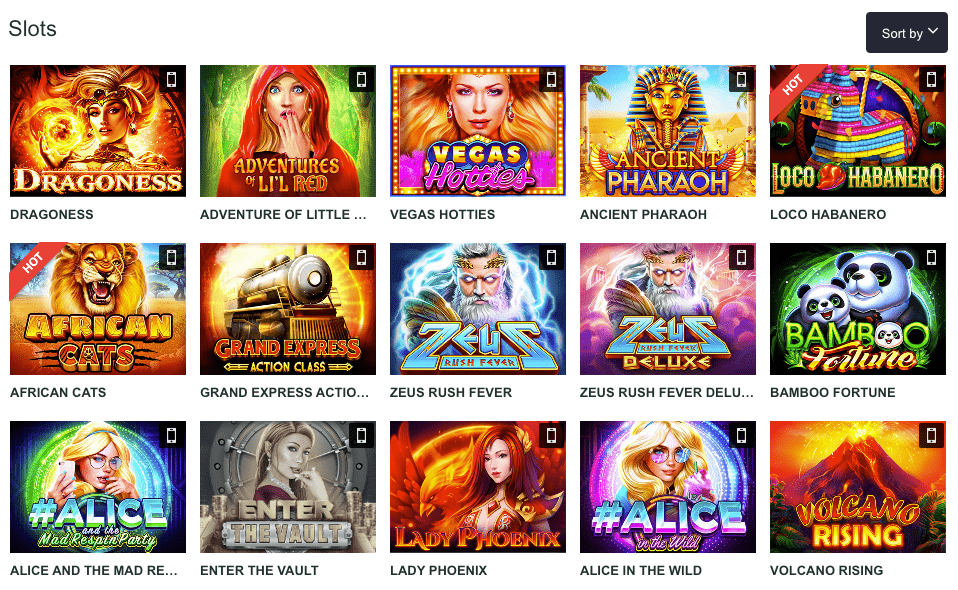 Table Games: Players are treated to a refined selection, including baccarat, blackjack, and Jack or Better, augmented by various roulette variants.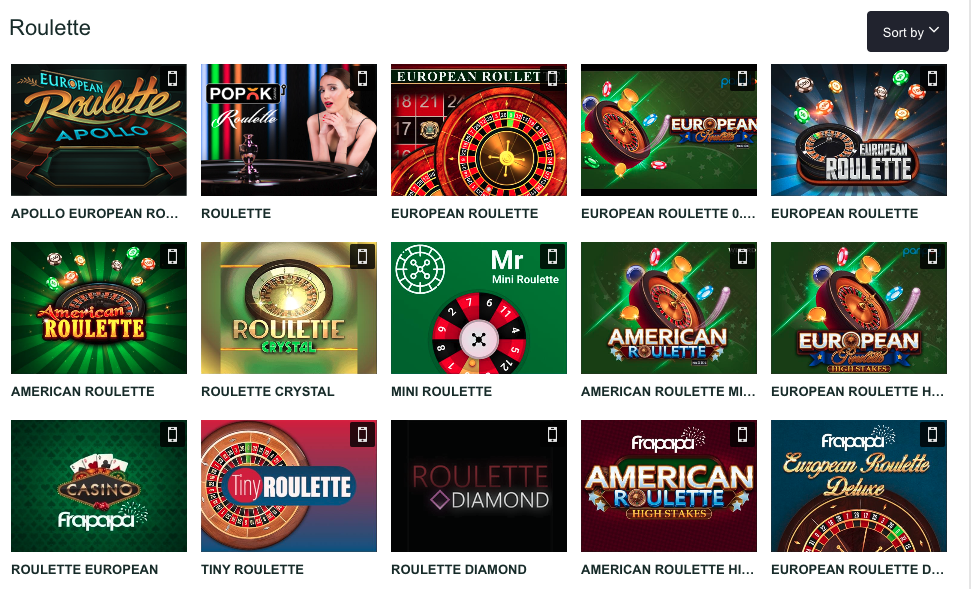 Live Dealer Games: While live dealer games remain conspicuously absent, the available computer-controlled card and table games do a commendable job of filling the void.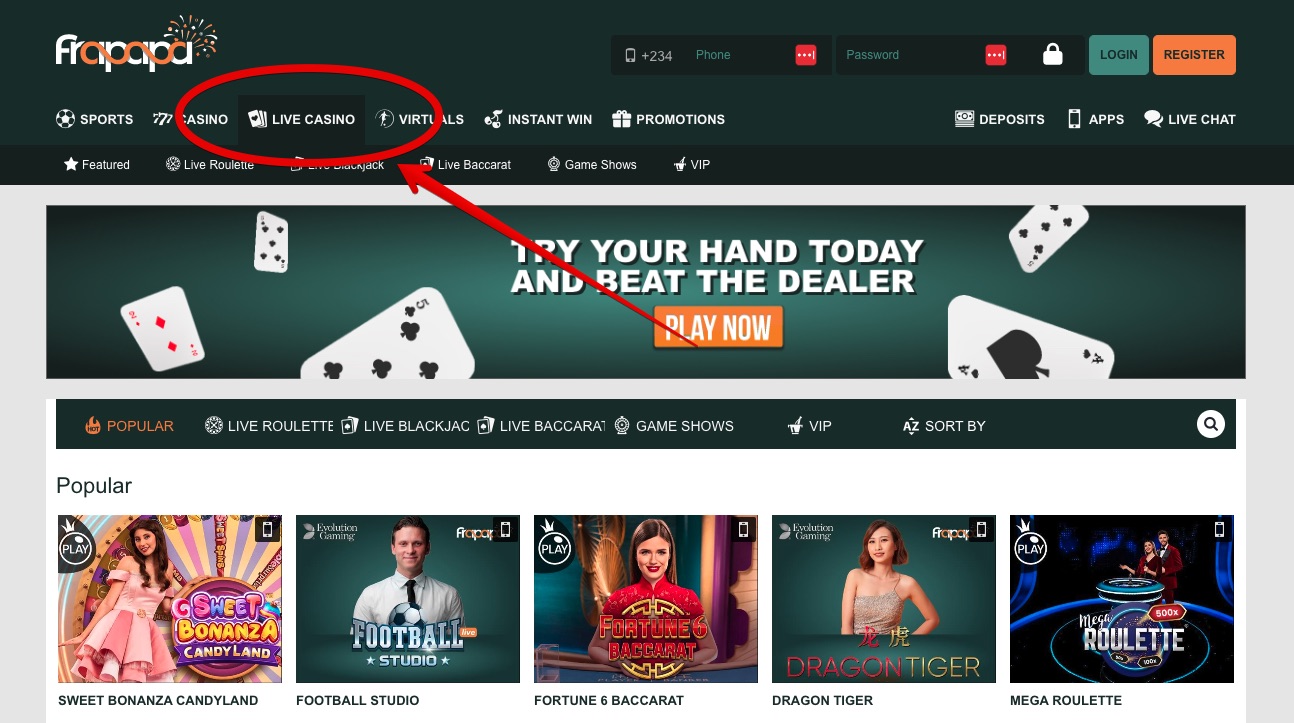 Mobile Application
Stay connected on the go with Frapapa's robust mobile application. iOS fans can download it effortlessly via the website, ensuring a user experience paralleling the desktop counterpart.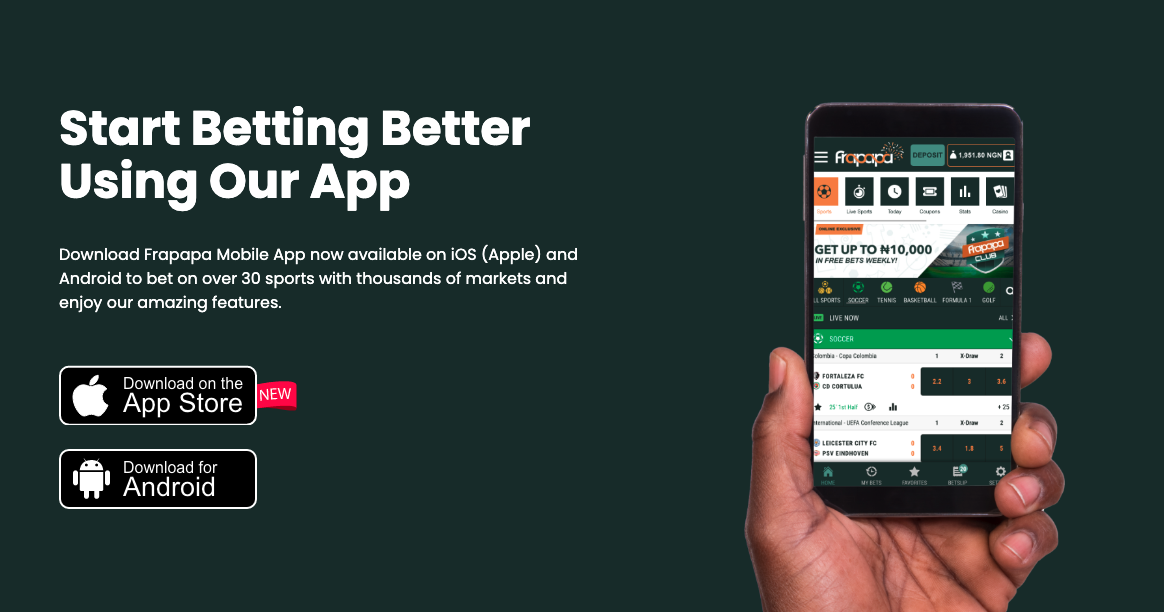 Ensuring User Trust
Frapapa Casino prioritises its users' security and privacy. The platform operates under licenses from the Nigerian Lottery Regulatory Commission and the Lagos State Lotteries and Gaming Authority.

As for user inquiries, Frapapa Casino's customer support is exemplary. Expect a comprehensive response if you prefer a swift chat interaction or a detailed telephone conversation.
Concluding Thoughts
With its distinctive design complemented by vibrant colours and a robust support system, Frapapa Casino certainly beckons promising prospects. While we've delved deep into its offerings, the final verdict, as always, rests with the user.
FAQ
Frapapa Casino is a reputable online gaming platform established in Nigeria. It offers games, including slots, table games, and more, serving short-term and long-term players.
How do I register at Frapapa Casino?
To register:
Visit the Frapapa Casino website.
Click on the "register" option.
Fill out the form with your name, email, and contact number.
Set a password.
Confirm your registration through the verification link sent to your email.
What deposit methods are available?
Frapapa Casino offers multiple deposit methods, including Direct money transfer, VISA/MasterCard, Interswitch, Paystack, USSD, and Verve.
How can I withdraw my winnings?
You can process withdrawals via Direct money transfer, VISA/MasterCard, Interswitch, and Verve.
Does Frapapa Casino have a mobile application?
Yes, Frapapa Casino offers a comprehensive mobile application. iOS users can download it directly from the website, providing an experience comparable to the desktop version.
Is it safe to play at Frapapa Casino?
Absolutely! Frapapa Casino prioritises user security and privacy. The Nigerian Lottery Regulatory Commission and the Lagos State Lotteries and Gaming Authority license it.
How can I reach customer support if I have issues?
Frapapa Casino provides robust customer support. You can use the live chat feature on their website or opt for a telephone conversation. Their support team is trained to provide swift and satisfactory responses to inquiries.
Only authorized users can leave comments.
No Comments Yet
Be the pioneer! There are no comments so far, your insightful thoughts could lead the way. Share your perspective!