Zebet Sportsbook Overview
Updated 21 August 2023
Zebet, one of the emerging bookmakers in the sports betting industry, has carved a niche through its unique features, user-friendly interface, and wide range of betting markets.
Established with the modern punter in mind, Zebet provides a seamless online betting experience, offering competitive odds on various sports and events around the globe.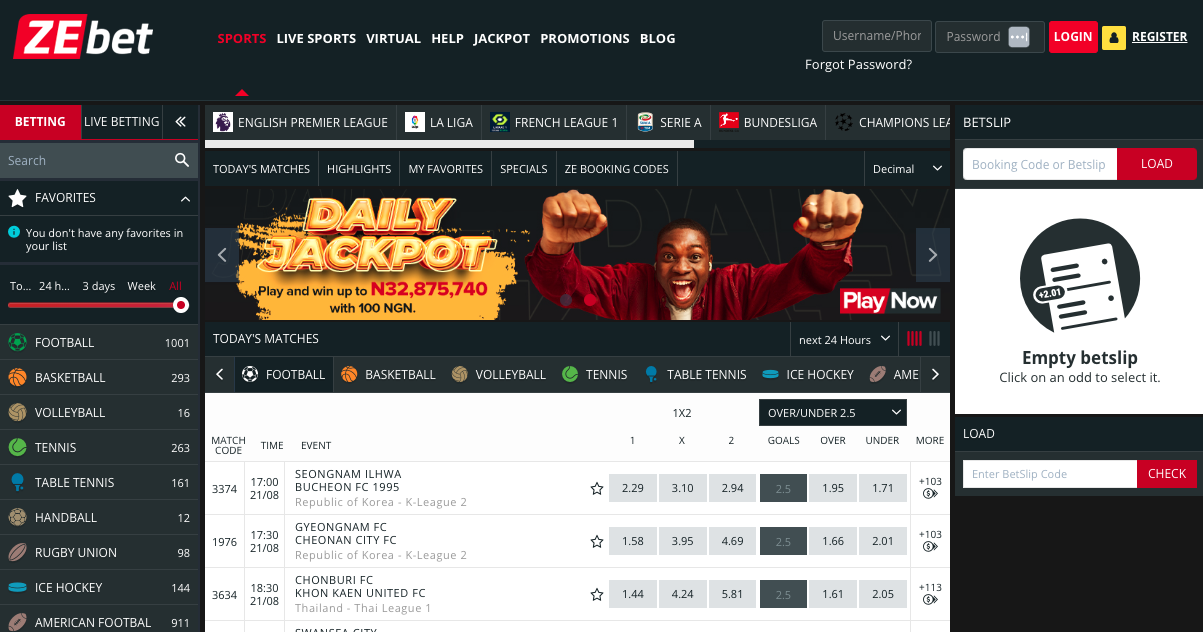 Committed to maintaining integrity and transparency, the platform prioritises user security and responsible gambling, setting it apart from many of its counterparts.
As the world of sports betting continues to evolve, Zebet positions itself as a frontrunner, keen on innovation and meeting the ever-changing demands of its growing user base.
What We Like About Zebet
Wide Range of Betting Markets: Zebet offers a comprehensive list of sports and events to bet on, catering to mainstream sports enthusiasts and those with niche interests.
User-friendly Interface: The platform is designed to be intuitive, making it easy for both seasoned bettors and newcomers to navigate and place bets easily.
Competitive Odds: Zebet consistently offers odds that are on par with, if not better than, many of the top bookmakers in the industry.
Robust Security Measures: The platform uses advanced encryption and other security measures to secure user data and transactions.
Responsible Gambling Initiatives: Zebet actively promotes responsible gambling, offering tools and resources to help users bet responsibly and avoid potential gambling issues.
What We Don't Like About Zebet
Limited Promotions: Compared to some established bookmakers, Zebet may offer fewer promotional offers and bonuses, which can be a deciding factor for some bettors.
Customer Support Response Time: Although they assist, there have been instances where the customer support response time could have been quicker than users would have liked.
Zebet Licencing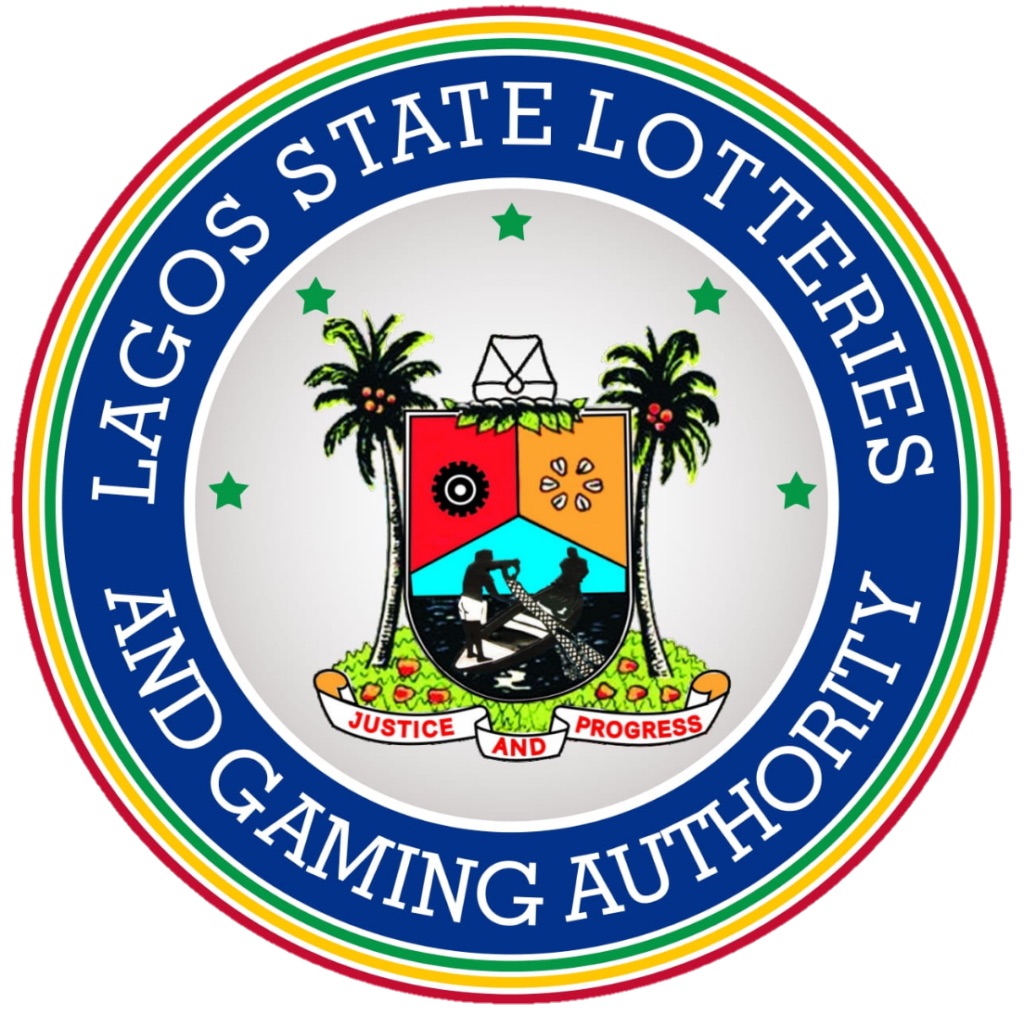 ZEbet operates under the registered trading name of ZEgaming Nigeria Limited. Their operations and services are duly licensed and overseen by Nigeria's National Lottery Regulatory Commission (NLRC).
This ensures they adhere to strict guidelines and regulations the governing body sets, ensuring a fair and transparent betting environment for their customers.
Further establishing its credibility and broad reach, ZEbet Nigeria is a proud member of the ZEturf Group. The group initially embarked on its journey in 2004 as a challenging force in the horseracing betting sector. A decade later, in 2014, they diversified their portfolio by delving into sports betting with the ZEbet brand.
This expansion has been marked by success and growth, with the group now having an influential presence in several countries, including France, Malta, Belgium, The Netherlands, Spain, and, most recently, Nigeria. This international footprint is a testament to their commitment to providing top-notch betting services globally.
Zebet Registration Guide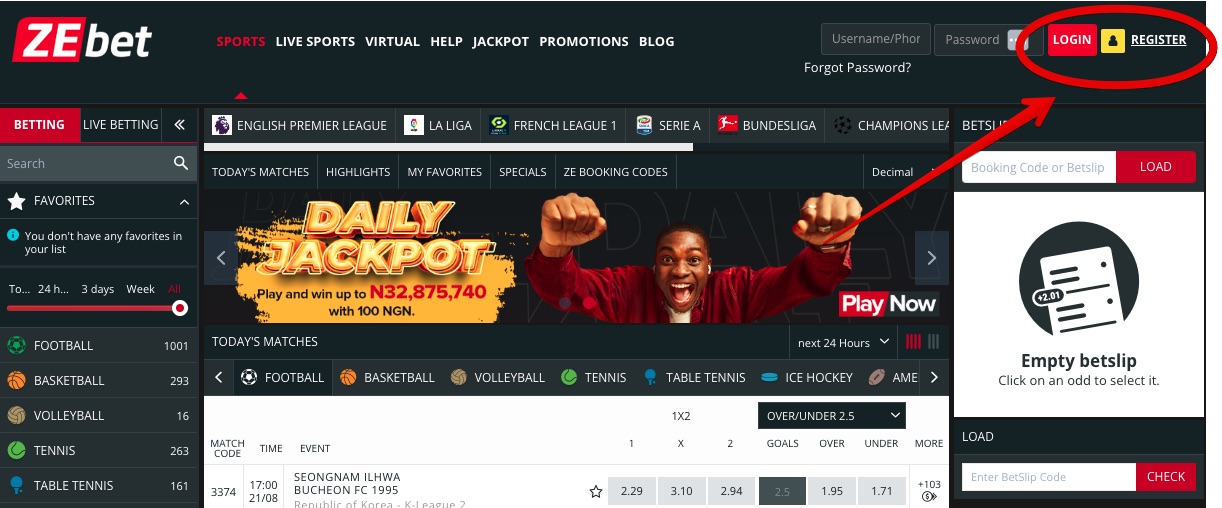 First Name: Enter your first name in the provided field. It's crucial to input the name exactly as it appears on your bank account to ensure smooth transactions.
Last Name: Similarly, enter your last name in the designated field, making sure it matches the name on your bank account.
Email Address: Provide a valid email address where you will receive notifications and account-related information from ZEbet.
Phone Number: Input a functional phone number. This might be used for verification purposes or to contact you for account-related concerns.
Password: Choose a strong password for your ZEbet account. Including a mix of letters, numbers, and special characters is recommended for enhanced security.
Promotional Code: If you have a promotional code, enter it in the 'Promotional Code' field. This is optional and may provide bonuses or special offers.
Acknowledgement and Agreement: Ensure you are 18 or older before finalising your registration. Review, understand, and agree to ZEbet's Terms & Conditions, Rules, Privacy Policy, and Cookies Policy. This step is crucial as it indicates you're legally compliant and informed about the platform's operating rules.
Note: It's imperative to ensure the consistency between your provided name and the name on your bank account. Any discrepancy might lead to delays when you wish to withdraw your winnings.
Once you've completed these steps, you can submit your registration and begin your betting journey on ZEbet.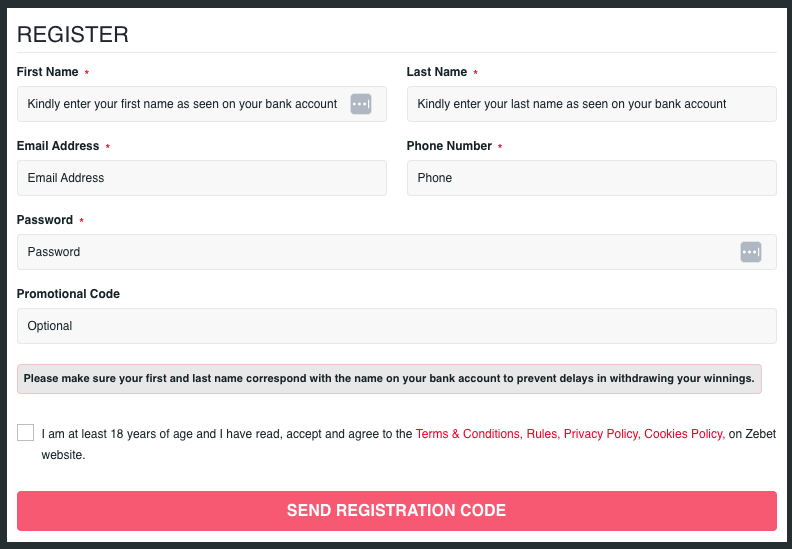 Deposits and Withdrawals on Your Zebet Account
Available Payment Options on ZEbet:
Banks:
First Bank
Guaranty Trust Bank
Sterling Bank
United Bank for Africa
Zenith Bank
Fidelity Bank
Access Bank
Diamond Bank
Kuda Bank
Note: Ensure that when making a deposit, you switch to the leading mobile site or deactivate data savings mode on your device.
How to Deposit on ZEbet:
Access the Site: Navigate to www.zebet.ng, and log in using your username and password.
Initiating Deposit: Click on the "deposit" button, and select your preferred payment provider from the list provided.
Payment Providers:
Interswitch
Quickteller
Paystack
Deposit Using Paystack:
a. Card Payment:
Select "pay with Card".
Input your Card Number, Expiry Date, and CVV (the 3-digit number at the back of your card).
Click on the "Pay" button to finalise.
b. USSD Code: You can dial the USSD code generated on your device for users of specific banks. For instance:
UBA: Dial the provided code (e.g., 91927*80850#) via UBA's 919.
GTB: Dial the provided code (e.g., 73733493176#) via GTB's 737.
Sterling: Dial the provided code (e.g., 82226*26286#) via Sterling Bank's 822.
Zenith: Dial the provided code (e.g., 96626*26286#) via Zenith Bank's 966.
After dialling the respective code, click the "Confirm payment" button to complete the process.
c. Bank Payment:
Choose the "pay through the bank" option.
Select your bank from the list.
Input the 10-digit number of your bank account.
Click "Verify Account" and follow the on-screen instructions to finalise the payment.
d. Transfer:
Opt for the "transfer" option.
You'll be prompted to transfer funds to a unique Zenith bank account explicitly linked to your ZEbet wallet.
Follow these steps carefully to ensure a smooth depositing experience. Keep your banking details secure; never share your password or CVV with anyone.
Let's take a closer look at Zebet
As the world of sports betting continues to evolve, new platforms emerge, each promising unique offerings and competitive odds. In our quest to provide you with comprehensive reviews of the industry's leading players, we turn our attention to one such bookmaker that's been making waves recently.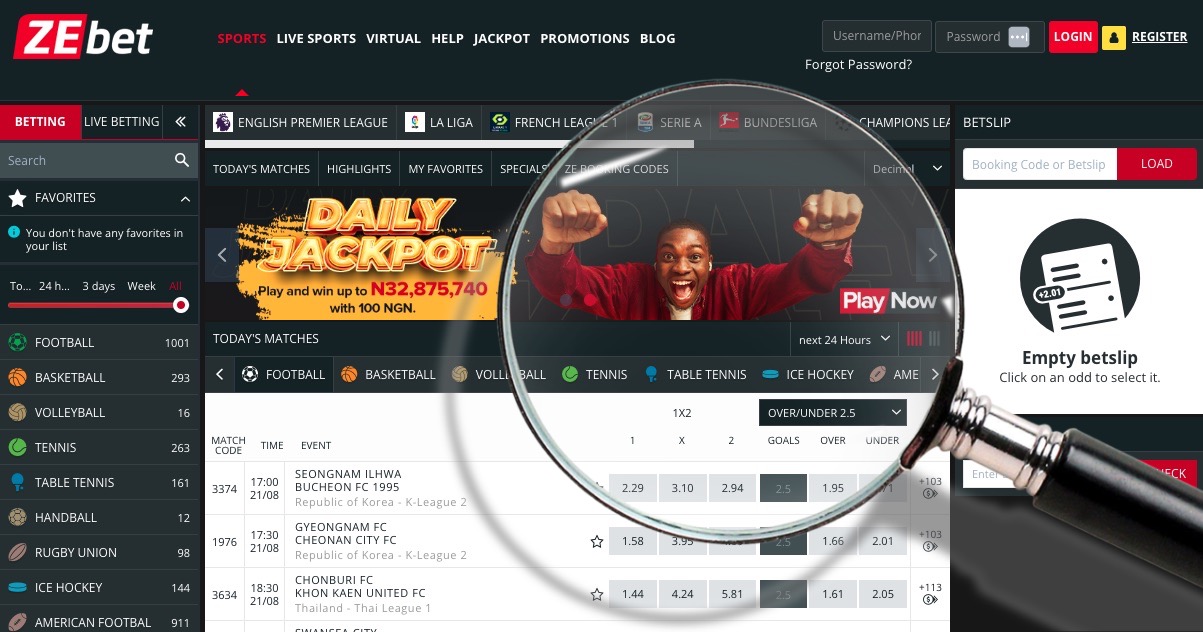 In the ensuing segments, we will take a closer look at this bookie, diving deep into its features, advantages, and potential areas of improvement.
Whether you're a seasoned punter or a novice exploring the betting terrain, our detailed examination will equip you with the insights needed to make informed decisions. Join us on this journey as we unravel what truly sets this platform apart from the rest.
Zebet Sportsbook
Zetbet has firmly positioned itself as a leading sportsbook in the betting landscape, offering an expansive range of sports and betting markets to cater to the diverse preferences of punters worldwide. Football enthusiasts will be delighted with a whopping 974 markets, closely followed by substantial offerings in basketball and tennis, with 285 and 262 markets, respectively.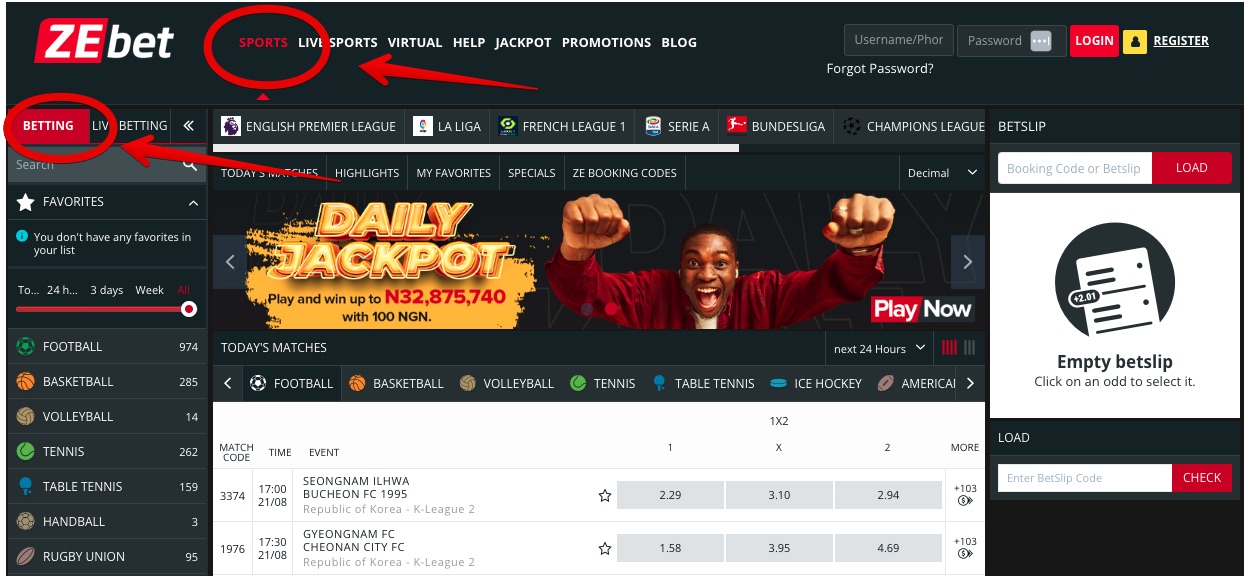 Those with a penchant for racquet sports can also indulge in table tennis and badminton markets. Not to be outdone, American sports fans have a rich selection, too, from American football's impressive 663 markets to the 44 in baseball.
Traditional sports like cricket, rugby, and boxing find their representation, while enthusiasts of niche sports are included, with options ranging from darts and MMA to Aussie Rules.
Furthermore, Zetbet ventures beyond conventional sports, presenting betting opportunities in specials, snooker, golf, and even athletics. In essence, Zetbet's sportsbook showcases a dynamic blend of mainstream and offbeat sports, ensuring that there's something for every type of bettor.
Zebet Football Betting
Zebet is recognised for its rich and diverse sports betting portfolio. The platform embraces an international approach, featuring betting prospects on renowned leagues such as the English Premier League, La Liga, Serie A, and the Champions League.
Whether you're keen on predicting match outcomes, total goals, individual player metrics, or diving into the thrill of live in-play betting, Zebet has got you covered. Designed with users in mind, the platform's intuitive interface is complemented by detailed statistics, ensuring that novices and seasoned bettors have all they need to craft strategic wagers.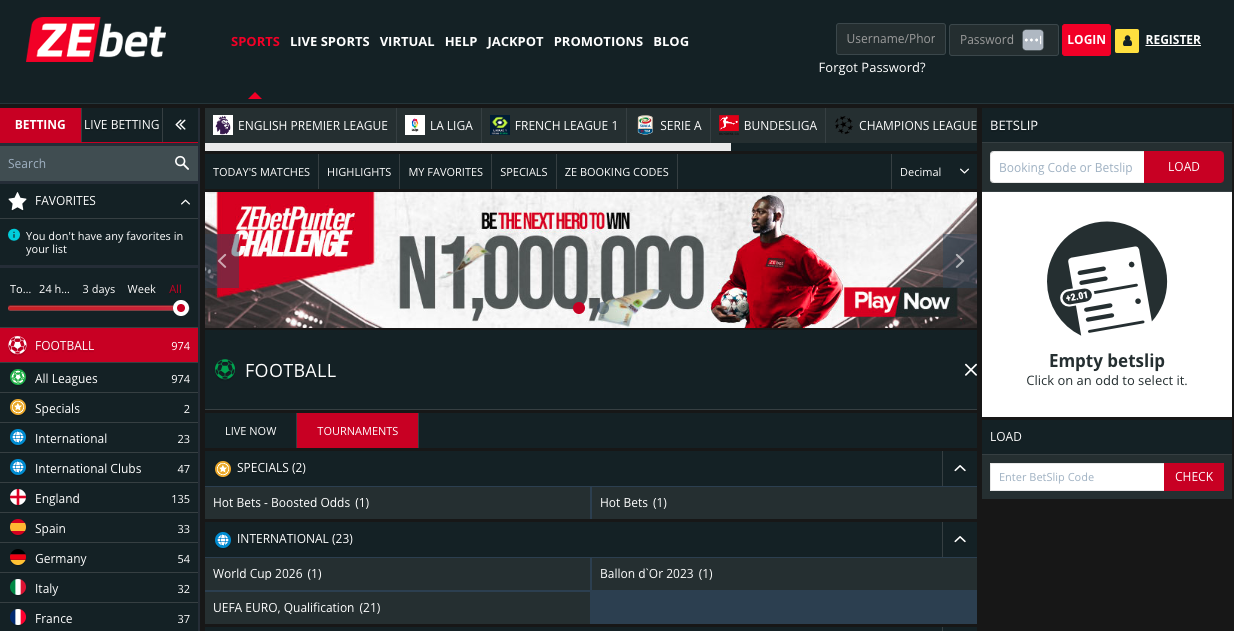 Zebet Basketball Betting
Zebet's prowess in basketball betting is nothing short of spectacular. Recognising the sport's global appeal, the platform has curated an exhaustive selection, spotlighting giants like the NBA and EuroLeague while also giving due attention to various national championships.
This comprehensive approach ensures bettors have an extensive canvas, with options to predict outcomes based on team strategies like point spreads or delve into the intricacies of over/under totals and specific player metrics.
The thrill of basketball is often encapsulated in its dynamic, on-court shifts, and Zebet amplifies this by offering a robust live betting feature. As the court action unfolds, bettors can react in real-time, placing wagers that mirror the game's ebbs and flows.
The immediacy of these updates and the platform's broad basketball palette cements Zebet's reputation as an unmatched hub for basketball betting fans. Whether you're a seasoned pro or a newbie keen on exploring the hoops world, Zebet promises a basketball-betting odyssey that's both exhilarating and rewarding.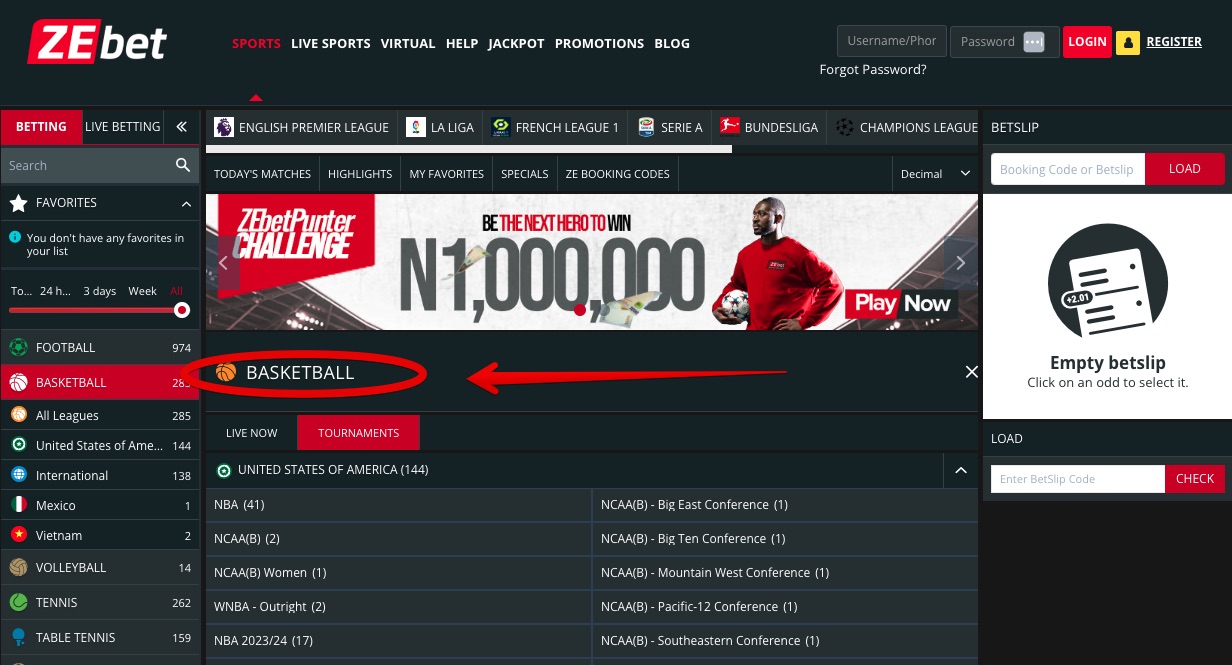 Zebet Tennis Betting
Zebet's tennis betting market serves as a prime destination for fans of the sport, offering a rich tapestry of wagering opportunities across grand slams, ATP, WTA tours, and even challenger events.
The platform elegantly caters to both seasoned bettors and newcomers, presenting options from outright tournament winners and match results to intricate point-by-point live betting.
Complemented by a sleek interface, up-to-the-minute statistics, and live scores, Zebet ensures that tennis enthusiasts are equipped with all the tools they need for an informed and thrilling betting experience.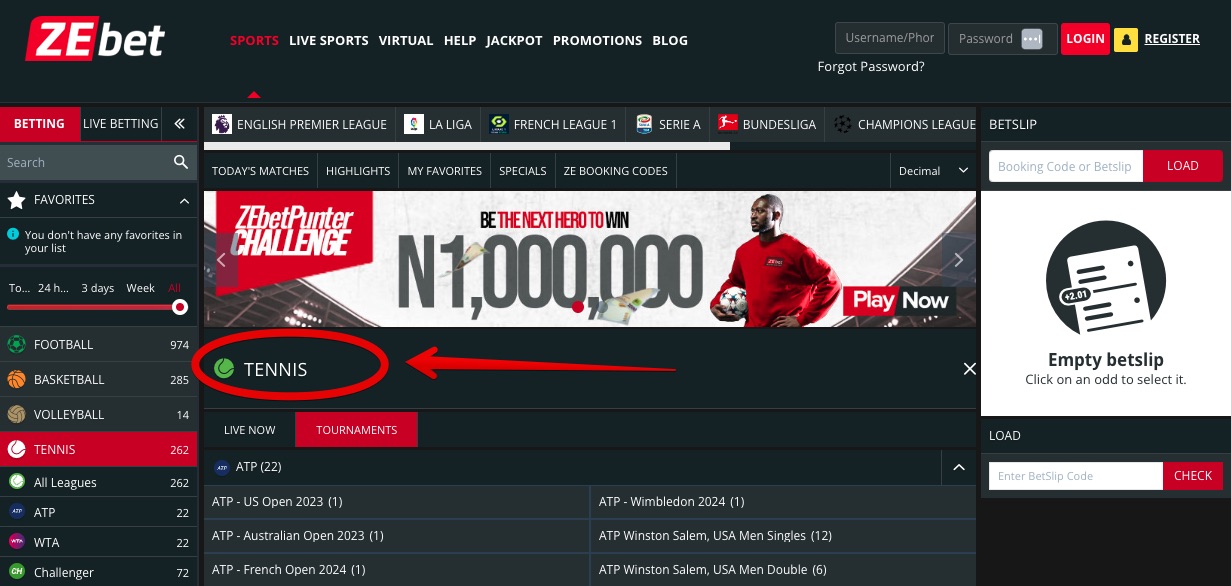 Zebet Live Betting
With Zebet's live betting platform, the line between spectator and participant blurs, thrusting bettors into a realm where every second counts. The real-time nature of this betting system means that every pass, shot, or serve can influence the trajectory of a wager. As a soccer player positions himself for a penalty or a basketball player lines up for a clutch shot, the odds shift and evolve, mirroring the unpredictability and dynamism of live sports.
This fluid betting environment presents a unique challenge, requiring bettors to think on their feet and adapt their strategies in sync with the unfolding drama. It's a game of quick reflexes and sharper wits, where past predictions might be tossed aside in favour of new, on-the-spot decisions based on the game's most recent twists and turns.
But Zebet needs a lifeline to throw its bettors into the deep end. The platform ensures that live bettors are well-equipped in this high-paced arena, offering them a continuous stream of updated stats and insights.
This data, fresh from the field or court, serves as both a guide and a companion, helping bettors navigate the choppy waters of live betting. In essence, Zebet's live betting experience is not just about the thrill of the unpredictable but also about arming bettors with the tools to make calculated, informed decisions in the heat of the moment.

Zebet Cash Out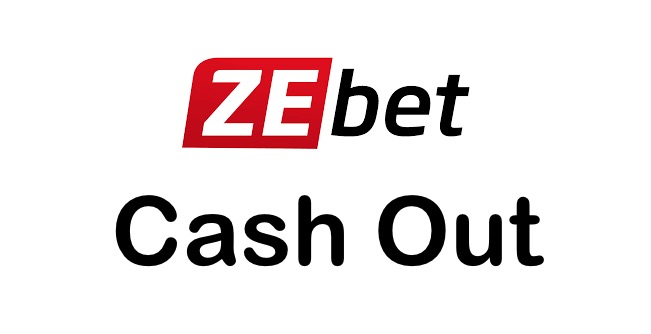 In sports betting, maintaining control over your wagers even after they have been placed is a game-changer. Zebet's early cash-out feature exemplifies this empowerment, offering bettors the flexibility to settle a bet before the event has concluded.
Whether it's to lock in a profit during favourable circumstances or mitigate potential losses when the tides seem to turn, this feature puts the reins of decision-making squarely in the hands of the bettor.
Guide to Using the Early Cash Out Feature on Zebet:
STEP 1: Begin by logging into your account.
STEP 2: Navigate to the "MY BETS" section.
STEP 3: Beside each of your placed bets, you'll find an option for cash out. Click on it, and you can then proceed with the cash-out process.
Important Points to Remember
When requesting a cash-out, be aware that its acceptance might be slightly delayed. This can occur due to various reasons, such as fluctuations in odds, temporary market suspensions, or system errors detected, potentially leading to the rejection of the cash-out request.
The bet slip is settled once you've successfully processed the cash-out. The amount you receive will be based on the current status of your bet, irrespective of the eventual outcome of the original event. This means the final result won't affect the cashed-out sum in any way.
With this early cash-out feature, Zebet underscores its commitment to delivering an adaptable and user-centric betting experience.
Virtual Sports on Zebet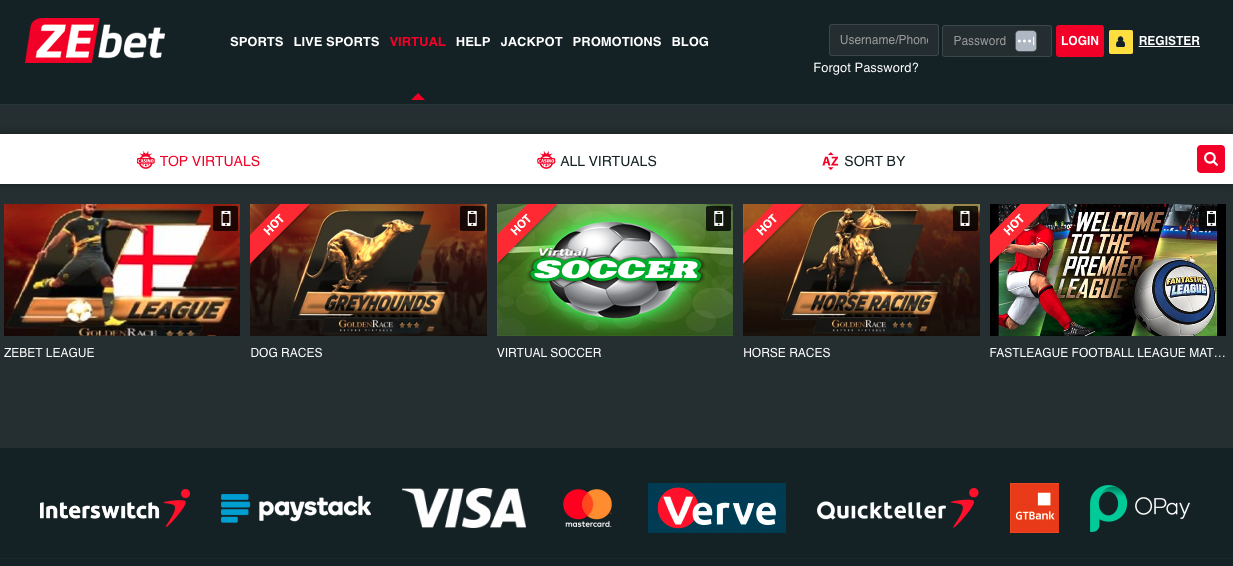 Virtual sports have quickly become a staple in online betting, offering punters a unique blend of high-paced action and frequent wagering opportunities. Zebet, ever attuned to evolving market trends, has robustly embraced this digital sporting revolution.
ZEBET LEAGUE: An exciting innovation, the Zebet League brings simulated team dynamics and strategies to the forefront. Rooted in sophisticated algorithms, this league offers a captivating blend of unpredictability and strategy, capturing the essence of real-world football leagues in a condensed format.
DOG RACES: The thrill of the chase comes alive with Zebet's virtual dog races. Punters can experience the rush of watching agile greyhounds sprinting around tracks, vying for the top spot. It's a race against time and competitors, and with each race being brief, the action never stops.
VIRTUAL SOCCER: Moving away from traditional sporting timelines, virtual soccer on Zebet condenses the exhilaration of a 90-minute match into a matter of minutes. With rapid match sequences and dynamic gameplay, bettors are treated to a non-stop footballing carnival, where each game brings surprises.
HORSE RACES: Emulating the grandeur and unpredictability of real-world horse racing, Zebet's virtual horse races offer the thrill of the gallop without the wait. Each race, brimming with virtual jockeys and their steeds, ensures punters are on the edge of their seats, rooting for their chosen horse to cross the finish line first.
FASTLEAGUE FOOTBALL LEAGUE MATCH: Taking the excitement of virtual soccer up a notch, the FastLeague Football League Match serves up a feast of back-to-back games in rapid succession. Ideal for those who crave continuous action, this league keeps the adrenaline pumping, making every moment count.
Zebet's virtual sports lineup offers a refreshing mix of traditional sporting spirit and cutting-edge technology. For bettors who seek frequent action, varied options, and the convenience of round-the-clock availability, Zebet's virtual sports arena is a veritable playground.
Zebet Mobile Version and Apps
Zebet is keenly aware of the modern bettor's preference for on-the-go wagering, and in response, they have meticulously crafted mobile applications to cater to this demand. Under the adept development of ZEturf Group, Zebet's mobile apps have been optimised for both iOS and Android platforms, ensuring a seamless betting experience across a vast array of devices.
Guide to Install the Zebet App from the App Store (iOS devices):

Open the App Store: Locate the App Store icon on your iOS device and tap on it.
Search for Zebet: Use the bottom search bar and type "Zebet." Look for the app developed by ZEturf Group.
Download & Install: Once located, tap the 'Get' button next to the Zebet app. Authenticate the download (using Face ID, Touch ID, or your Apple ID password).
Open & Start Betting: Once the app is installed, you'll find its icon on your home screen. Tap on it to launch and start your betting journey!
Guide to Install the Zebet App from Google Play (Android devices):

Access Google Play: On your Android device, find the Google Play Store icon and tap to open.
Search for Zebet: Utilize the search bar at the top to type in "Zebet." Ensure you select the app associated with the developer ZEturf Group.
Install: After finding the Zebet app, click the 'Install' button. The app will automatically download and install onto your device.
Launch & Wager: Find the Zebet icon in your app drawer or home screen. Click on it to open and immerse yourself in sports betting.
Regardless of the platform, both mobile applications promise a user-friendly interface, intuitive navigation, and a rich feature set that mirrors the desktop experience. With Zebet in your pocket, betting is just a tap away.
General Information
Types of Sports
Football (soccer), Basketball, Tennis, Rugby, Cricket, Ice Hockey, Boxing, American Football, Handball, Volleyball, Snooker, Darts, Table Tennis, Futsal, Water Polo, Cycling, MMA (Mixed Martial Arts), Golf, Motorsports (Formula 1, NASCAR, etc.), Baseball
Licenses
Issued by
Nigeria's National Lottery Regulatory Commission
Licensed Countries
Nigeria
FAQ
What is Zebet?
expand_more
Zebet is a renowned online bookmaker offering a vast range of sports betting markets. It is a part of the ZEturf Group, with a significant presence in several countries.
Is there a mobile app for Zebet?
expand_more
Yes, Zebet offers a mobile app available for both iOS and Android devices. The apps are developed by ZEturf Group and can be downloaded from the App Store and Google Play, respectively.
How do I use the early cash-out feature on Zebet?
expand_more
After logging into your account, navigate to the "MY BETS" section. Here, you'll see an option for cash out beside each bet. Click on it to initiate the cash-out process. Do note that cash-out requests can sometimes experience delays due to fluctuating odds or system errors.
What virtual sports does Zebet offer?
expand_more
Zebet provides a variety of virtual sports, including ZEBET LEAGUE, DOG RACES, VIRTUAL SOCCER, HORSE RACES, and FASTLEAGUE FOOTBALL LEAGUE MATCH.
How do I deposit funds into my Zebet account?
expand_more
After logging in, click on 'deposit' and choose your preferred payment provider. Zebet offers multiple deposit methods, including bank transfers, card payments, and USSD codes, among others.
What should I do if I face issues installing the Zebet app on my device?
expand_more
Ensure you have sufficient storage space and a stable internet connection. For Android users, make sure to allow app installations from unknown sources (if downloading from outside the Play Store). If issues persist, contact Zebet's customer support for guidance.
Are my personal and financial details secure with Zebet?
expand_more
Yes, Zebet employs advanced encryption technologies to ensure user data remains confidential and secure. They adhere to international standards of online security to protect both the personal and financial details of their users.
We hope these answers provide clarity on common queries about Zebet. For more detailed inquiries or support, it's always recommended to reach out to Zebet's official customer service channels.