Home

chevron_right

Yangasport
Yangasport Sportsbook Overview
Updated 04 July 2023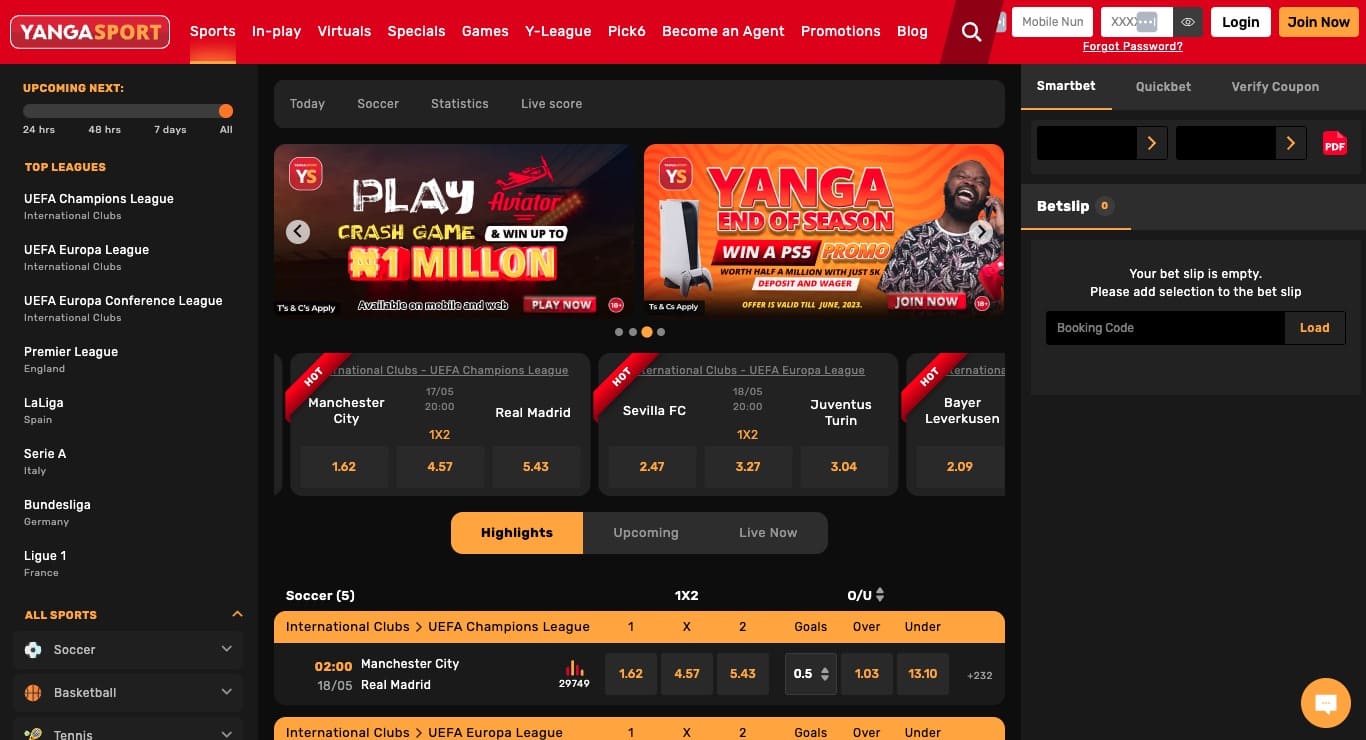 Yangasport is an established online sports betting platform based in Nigeria. Since its inception in 2018, it has gained a reputation for providing excellent gaming services. YangaGames Technology Ltd. owns and operates the website and holds a domestic license from the National Lottery Regulatory Commission (NLRC). Additionally, they possess licenses from South Africa, indicating their intention to expand their operations across various African territories.
With a wide range of sports categories available, Yangasport offers comprehensive pre-match and in-play betting options. Their odds are competitive, boasting a high average payout of 96%.
Through our extensive testing, we have evaluated various aspects such as website layout, registration process, welcome offers, payment methods, and more. Based on our findings, we confidently assert that Yangasport is one of Nigeria's top betting sites. In this review, we will provide you with all the essential information you need to know about this rapidly growing bookmaker.
Yangasport Licencing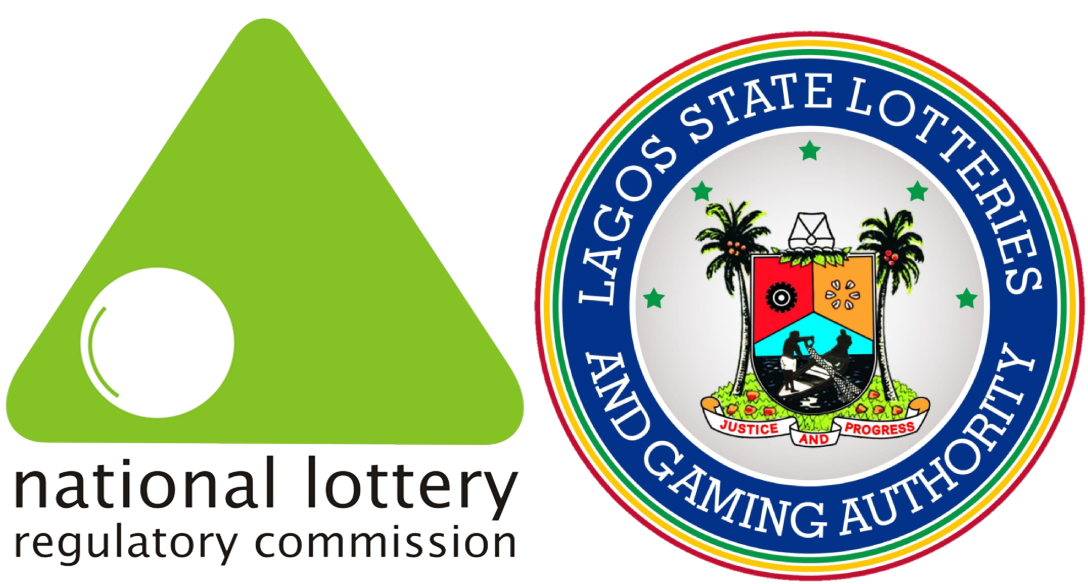 Yangasport holds a domestic license from the National Lottery Regulatory Commission (NLRC) in Nigeria, which allows them to operate legally within the country. This license ensures that Yangasport complies with the regulatory requirements and standards set by the NLRC to ensure fair and transparent gambling practices.
In addition to the Nigerian license, Yangasport has obtained licenses from South Africa. While the specifics of these licenses may vary, they generally indicate that Yangasport aims to expand its services into additional African territories.
Licensing is an important aspect to consider when choosing a bookmaker, as it ensures that the platform operates within a regulated framework and offers a level of protection to customers. By holding licenses, Yangasport demonstrates its commitment to providing a safe and trustworthy betting environment.
Yangasport Bookmaker Review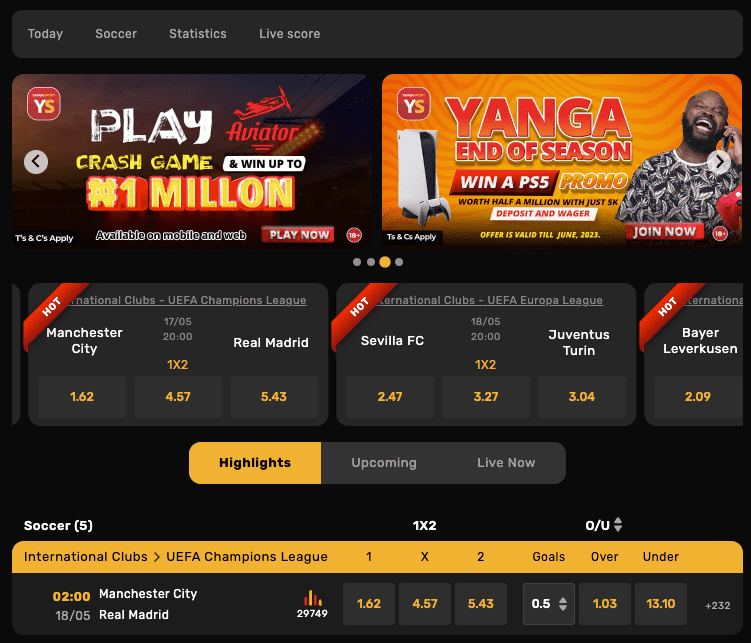 In this review, we will delve into the key features that make Yangasport NG stand out in the crowded online betting market. From their licensing and regulatory compliance to their diverse sports offerings, competitive odds, and user-friendly interface, we will explore all aspects of this fast-growing bookmaker. Join us as we look closer at what sets Yangasport NG apart and why it has garnered such praise from seasoned bettors and newcomers alike.
What We Like About Yangasport
Wide Range of Sports Offerings: Yangasport provides a comprehensive selection of sports categories for betting, catering to the diverse interests of users. Whether you're a football enthusiast or prefer niche sports, you'll find an array of options to choose from.
Competitive Odds: One of the standout features of Yangasport is its competitive odds. With an average payout of 96%, they offer attractive odds that can enhance your potential winnings and provide value for your bets.
User-Friendly Interface: The website is designed with user convenience in mind, offering a seamless and intuitive interface. Navigating through the platform, placing bets, and accessing account information is effortless, even for beginners.
Secure and Licensed: Yangasport holds a domestic license from the National Lottery Regulatory Commission (NLRC), ensuring that they operate within the legal framework and meet regulatory standards. This license provides users with a sense of security and trust when engaging with the platform.
Growing Reputation: Despite being relatively new, Yangasport has been gaining a positive reputation within the Nigerian betting community. Their commitment to delivering excellent gaming services and responsive customer support has contributed to their growing popularity.
What We Don't Like About Yangasport
Limited Promotions: Yangasport's promotional offerings might be relatively limited compared to some other bookmakers. While they may have occasional bonuses or promotions, the range of ongoing promotions and bonuses available to users might be more limited.
Geographic Restrictions: Yangasport's services may be restricted to specific geographic regions. Users outside of those regions may not be able to access the platform or participate in betting activities
Yangasport Registration

To complete the registration process on Yangasport, follow these steps:
Visit the Yangasport website.
Click the "Join" button at the page's top.
Fill in the required details on the registration form, such as your name, date of birth, email address, phone number, and preferred password.
If you have a promo code, enter it in the designated field.
Choose whether you want to receive the One-Time Password (OTP) via email or SMS.
Click on the "Sign Up" button to proceed.
If you selected to receive the OTP via email, check your email inbox for the OTP. If you choose to receive it via SMS, wait for the OTP to be sent to your provided phone number.
Enter the OTP in the designated field on the registration page.
Read and accept the terms and conditions of Yangasport by clicking on the checkbox.
Click on the "Complete Registration" button to finalize the registration process.
Once you have completed these steps, your Yangasport account will be created, and you can start exploring the platform and placing bets. It's worth noting that after registration, you may be required to verify your account by providing identification documents. This verification process helps ensure the security and integrity of your account.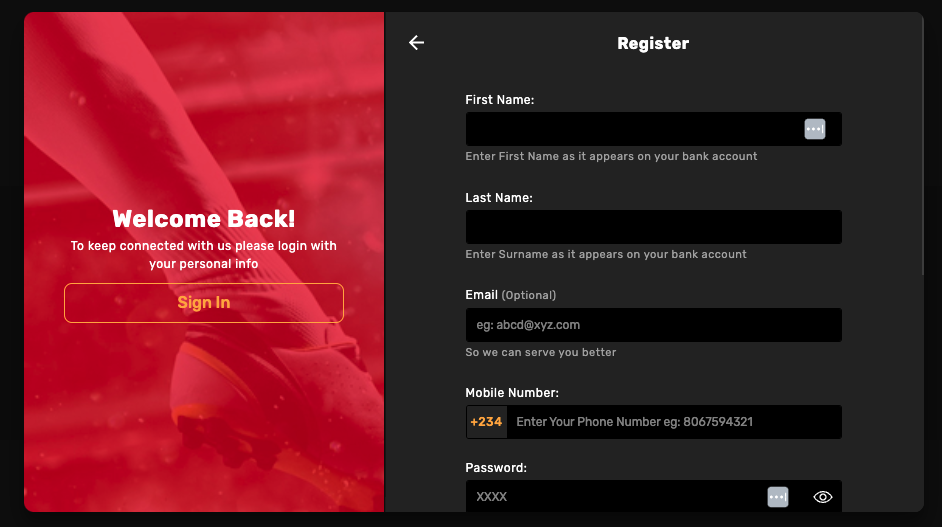 Remember to provide accurate and up-to-date information during the registration process, as any discrepancies may cause issues during the verification or withdrawal process.
KYC Prosses
After completing the registration process on Yangasport, it is highly recommended to proceed with the mandatory Know Your Customer (KYC) process. This process ensures compliance with regulatory requirements and helps prevent limited transactions or activities on your account. To complete the KYC process, you will need to upload one of the following valid and legible identification documents:
International passport (1st and 2nd page)
Driver's license (Front and Back)
Voter's card (Front and Back)
National ID Card (Front and Back)
Ensure that the uploaded documents are not expired and clearly show the necessary information for verification purposes. By providing the required identification documents, you will fulfil the KYC requirements, enabling you to enjoy a wider range of transactions and activities on your Yangasport account.
Once the registration and KYC verification processes are completed, you can proceed to explore the welcome bonus offer available to new customers on Yangasport. The details of the welcome bonus, such as the specific offer and any associated terms and conditions, will be provided by Yangasport.
Depositing Money on Yangasport
To fund your YangaSport account, follow these steps:
Log in to your YangaSport account using your credentials.
Once logged in, locate and click the "Deposit" button. This button is usually found on the main page or in the account or cashier section.
On the deposit page, you may be presented with various payment options or payment gateways. Select the payment gateway that you prefer to use for your deposit.
After selecting the payment gateway, you will be prompted to enter or select the deposit amount. Enter the desired deposit amount in the provided field.
Click the "Deposit" button to initiate the deposit process.
Depending on your chosen payment option, you will be redirected to the corresponding payment platform. Follow the prompts and instructions provided by the payment platform to complete the deposit transaction.
If you chose to use a card, bank transfer, USSD, or Visa QR, you may need to provide additional details or follow specific instructions for each payment method. Ensure that you provide accurate information and follow the prompts until the deposit is successfully processed.
Congratulations! You have successfully funded your YangaSport account funds should now be available for you to use for placing bets on the platform. Remember to check for any deposit fees, minimum deposit requirements, or additional terms and conditions associated with your chosen payment method or YangaSport's deposit policy.
Payment Systems Yangasport Accepts

It is understandable that the limited deposit options offered by Yangasport NG may be disappointing for some customers. However, it's important to note that the availability of payment methods can vary depending on the platform and region. Yangasport NG has integrated Monify and Paystack payment gateways, which allow customers to make deposits using bank transfers and card payments.
The minimum deposit amount on Yangasport NG is ₦100, providing a low-entry option for users. On the other hand, the maximum deposit amount is set at ₦1,000,000, offering flexibility for customers who wish to deposit more significant amounts.
While it would benefit Yangasport NG to expand its range of payment options in the future, it's important to consider that its current offerings still provide viable and convenient ways to deposit funds into your betting account.
How to bet on Yangasport

YangaSport excels in usability, providing a delightful experience for punters. Whether you access the platform on a desktop or mobile device, the betting experience is consistently excellent. The website's architecture is designed with simplicity, allowing users to navigate effortlessly. On the homepage, the left panel lists all the available sports categories, while icons provide quick access to various website sections.
Although YangaSport does not have a dedicated mobile app, its website has been optimised for mobile devices. Regardless of your device, you can still enjoy a seamless betting experience. The user interface is visually appealing, blending yellow and red colours that add to its aesthetic value.
When selecting events to bet on, they are neatly displayed in the top section of the website, ensuring easy access and visibility. YangaSport provides a rewarding betting experience with a user-friendly interface and attractive platform design.
To place a bet on Yangasport, follow these step-by-step instructions:
Log in to your Yangasport account using your credentials.
Once logged in, navigate to the sports betting section. This is accessible through a tab or menu item on the website.
Browse the available sports categories and select the sport you want to bet on. For example, if you want to bet on football, click on the football category.
Within the selected sports category, you will find a list of upcoming matches or events. Choose the specific match or event you want to bet on.
Once you have selected a match, you will see various betting markets or options for that particular event. For example, you may find options for the match winner, over/under goals, or specific player performances in a football match.
Click on the desired betting market or option to add it to your bet slip. The bet slip is located on the right-hand side of the page.
On the bet slip, enter the amount you wish to stake on your bet. The potential payout or winnings are displayed based on the selected odds.
Double-check your bet slip to ensure all the details are correct, including the selection and stake amount.
If you are satisfied with your bet, click on the "Place Bet" button to finalise the betting process.
After confirming your bet, you will receive a confirmation message indicating that your bet has been successfully placed. The bet will be deducted from your account balance.
You can track the progress of your bet and view the outcome by accessing your account history or bet slip. Remember to gamble responsibly and ensure that you are familiar with the terms and conditions of the specific bets and betting markets you choose.
Let's take a closer look at Yangasport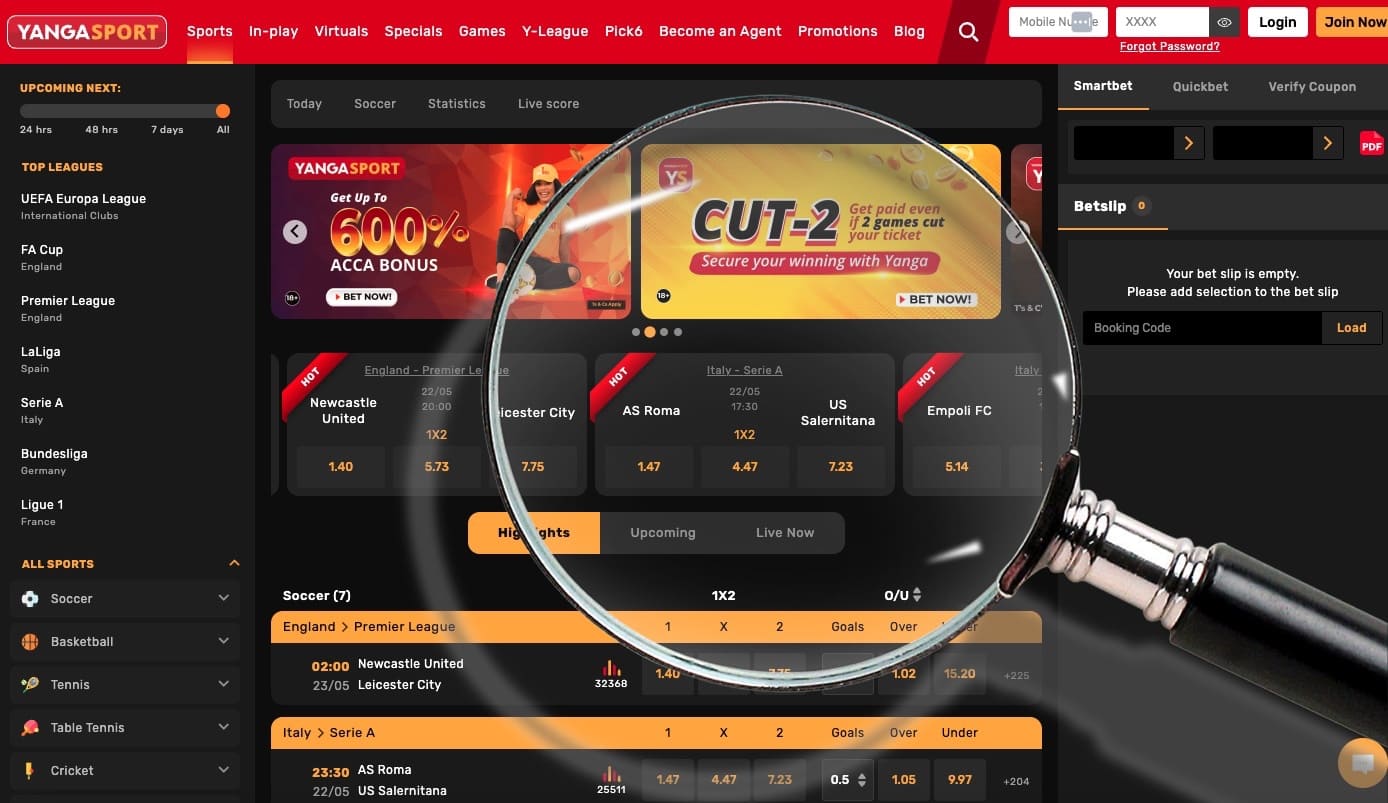 Yangasport offers a wide range of sports categories, with over 20 options available for users. While football is the predominant sport in their Sportsbook, accounting for more than half of the events, other sports categories are also well-represented. This variety caters to the diverse interests of users, allowing them to bet on popular and lesser-known sports like handball and darts.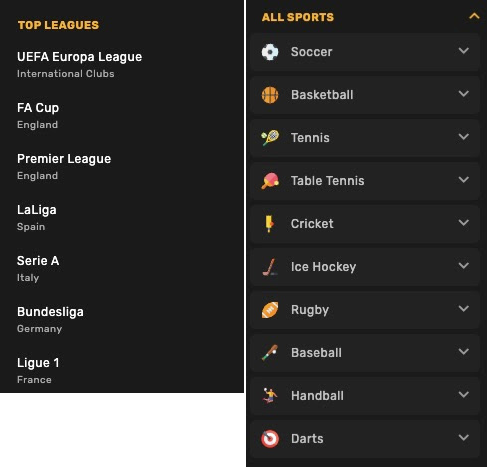 The depth of the Sportsbook is decent, providing a range of betting events and options. One notable feature is the Cash Out feature, which gives users control over their bets by allowing them to cut losses or certain winnings before the completion of an event. This feature enhances the flexibility and risk management capabilities of bettors.
Another exciting feature of Yangasport is the up to 210% accumulator bonus. This bonus allows users to boost their potential winnings when placing accumulator bets, increasing the chances of maximising returns.
For those interested in a simulated reality and virtual football games, Yangasport offers these options as well. The platform caters to virtual betting enthusiasts and provides a variety of virtual sports events to bet on.
The in-play betting section is well-organized, offering a selection of ongoing events. While football continues to dominate in events and betting options, other sports are also represented. Real-time score updates are provided for live games, allowing users to track their bets and make informed decisions.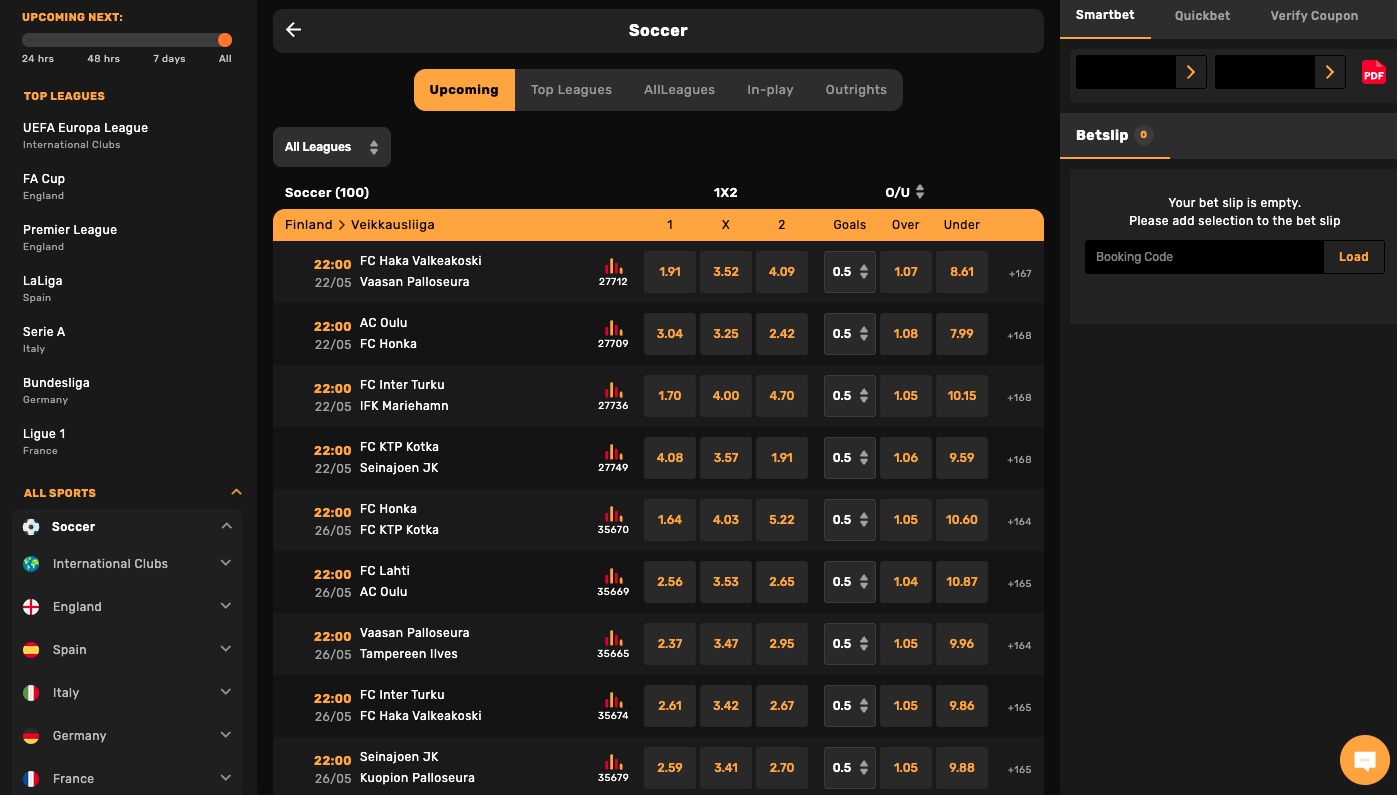 Yangasport Cash Out
In addition to the extensive sports coverage, YangaSport introduces a new feature called Cash Out, which gives users more control over their accumulator bets. The Cash Out feature allows users to decide whether to wait until the final outcome of their accumulator bet or to close the bet early and secure a profit or minimise potential losses.

With Cash Out, users can terminate their bets before all the games in their accumulator have concluded. This feature is particularly beneficial when a significant portion of the accumulator bet has already been successful, and the user wants to secure some winnings rather than risk losing everything.
The Cash Out feature works in two scenarios: when a bet is close to winning or on the verge of losing. In both cases, YangaSport offers users the option to cash out and receive a sum of money, which may be slightly lower than their potential winnings if the bet is close to winning or significantly lower if the bet is likely to lose.
Ultimately, the Cash Out feature allows users to have more control over their bets and ensures that they can secure a return even if the final outcome of their bet is uncertain.
Withdrawing money from Yangasport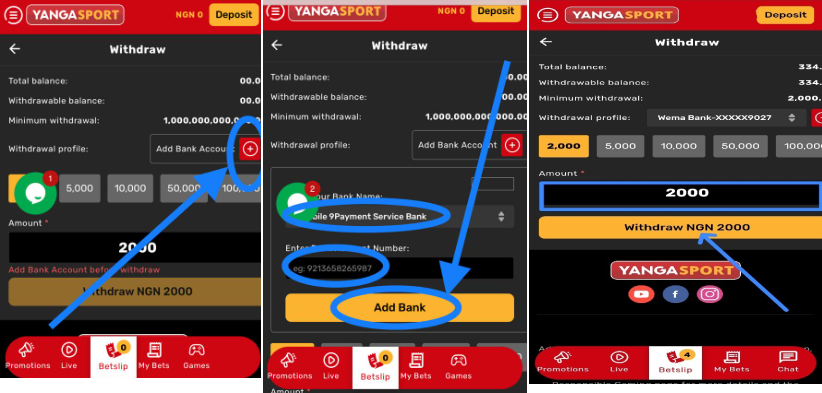 Withdrawals on YangaSport can be made through bank transfers, allowing users to access their winnings quickly. To initiate a withdrawal, it is necessary to have an active bank account.
The minimum withdrawal amount on YangaSport is set at ₦1,000, enabling users to withdraw smaller amounts from their betting accounts. On the other hand, the maximum withdrawal limit per transaction is ₦500,000, providing flexibility for users who wish to withdraw larger sums.
Typically, withdrawals on YangaSport are processed instantaneously, ensuring that users can access their funds promptly. However, in isolated cases, processing a withdrawal may take up to 24 hours. It is important to note that such instances are exceptions rather than the standard processing time.
To initiate a withdrawal on YangaSport, follow these step-by-step instructions:
Log in to your YangaSport account using your credentials.
Click on the icon in your screen's top left corner to access the menu. Select "My Account" from the menu options.
In the My Account section, locate and click the "Withdrawal" option.
On the withdrawal page, you will see an "Add Bank Account" button. Click on this button to proceed.
Select the bank you wish to withdraw to and enter your account number in the provided field. Once entered, click the "Add Bank" button to save the bank account details.
After adding your bank account, you can select the withdrawal amount or manually input the amount you want to withdraw. Once you have entered the desired withdrawal amount, click the "Withdraw" button to proceed with the withdrawal request.
Sports Betting Bonuses

Welcome Bonus
As a new user, you can enjoy a welcome bonus on Yangasport. This bonus typically involves a match deposit bonus, where the bookmaker matches a percentage of your first deposit up to a specified limit. This bonus provides you with additional funds to bet with, allowing you to explore the platform and its various sports events and markets.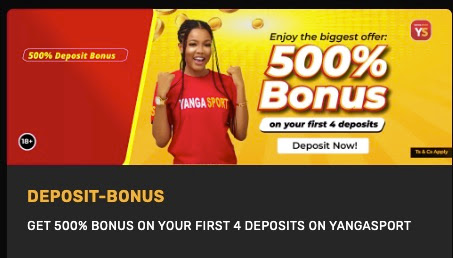 Cash Out Bonus
Yangasport offers a cash-out bonus feature that allows users to take control of their bets. This feature allows users to cash out their bets before the outcome, whether to secure profits or minimise potential losses.
With the cashout bonus, users can choose to end their accumulator bets if they don't want to wait for the final game or if the last game may result in a loss. It offers flexibility and allows users to make strategic decisions during their betting journey, providing an added layer of control and excitement to the overall betting experience on Yangasport.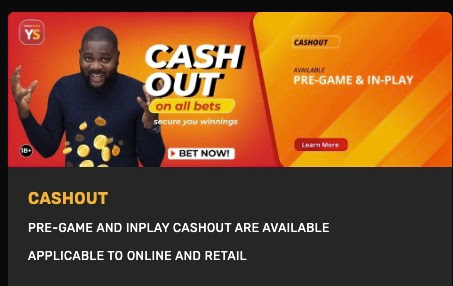 Accabonus
Yangasport offers an exciting accumulator bonus feature that allows users to boost their potential winnings. With the accumulator bonus, users can increase their returns by earning a bonus percentage on top of their winnings when placing accumulator bets.
This means that the more selections you include in your accumulator bet, the higher the potential bonus you can receive. The accumulator bonus adds an extra layer of excitement and reward for users who enjoy placing multiple bets on different events, providing an incentive to maximise their potential winnings on Yangasport.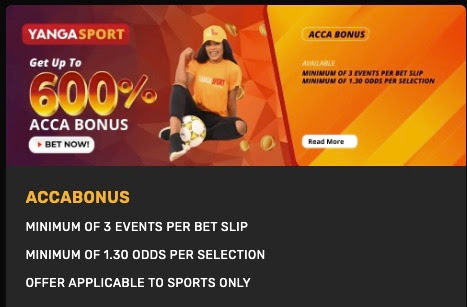 Yangasport Mobile App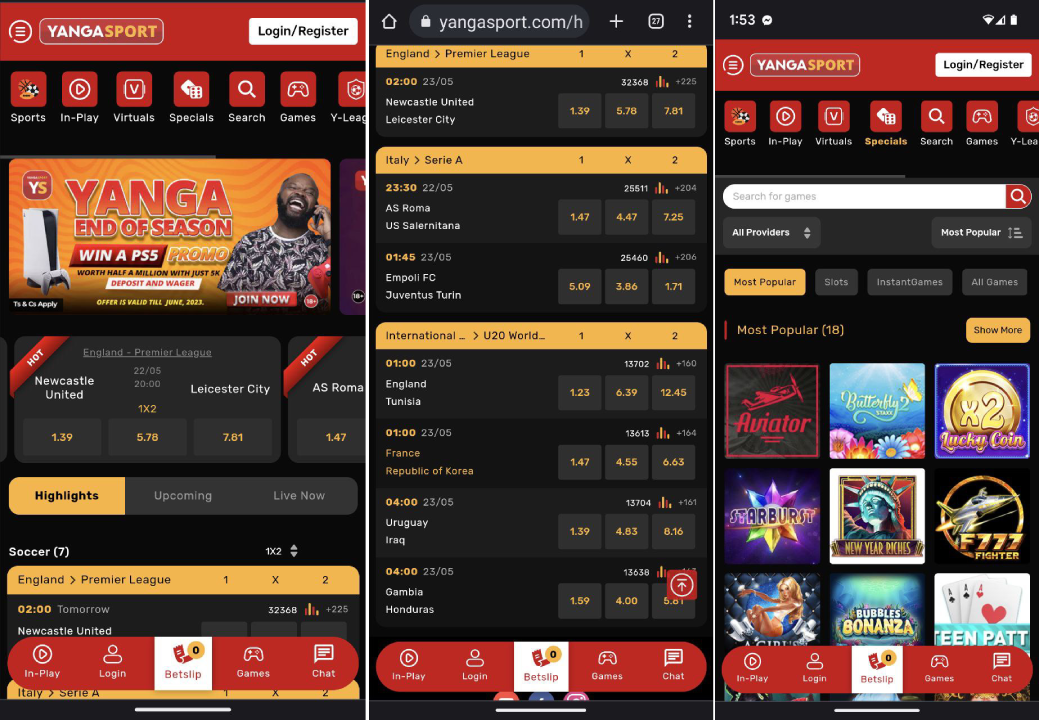 While Yangasport does not currently have a dedicated mobile app, they have a responsive mobile website version. This means that users can access Yangasport's platform and services directly from their mobile devices through a mobile-optimized website.
The responsive design ensures that the website adapts and adjusts to different screen sizes, providing a seamless and user-friendly experience for mobile users.
By accessing Yangasport through the mobile website version, users can enjoy all the features and functionalities of the platform on their smartphones or tablets, allowing them to bet on sports events and manage their accounts conveniently while on the go.
How Yangasport Compares with Other Betting Sites
When comparing Yangasport with other betting sites, the following factors can be considered based on your VP-Bet team's opinion and personal experience.
Sports Coverage
Yangasport offers a wide range of sports categories, including popular sports like football, basketball, and tennis. Compared with other sites, we wouldn't say that the variety of sports for betting is their distinguishing feature.
Odds
The competitiveness of odds is a crucial aspect of betting. Yangasport's odds are considered competitive, which is proved by direct comparison with other bookmaker platforms offered to Nigerian bettors.
User Experience
Yangasport receives praise for its user-friendly interface and ease of navigation. Compared to other websites, it stands out for its well-designed layout and responsiveness. However, the absence of a mobile version or an option to access it might be frustrating.
Promotions
Yangasport offers welcome bonuses, cash-out features, and accumulator bonuses. When comparing it to other platforms, it appears to be quite competitive, but nothing more than that.
Customer Support
Evaluating the quality and responsiveness of customer support is essential. Our team can confirm that the customer support is adequately responsive and doesn't make you wait long for a response. The availability of an online chat is a pleasant addition.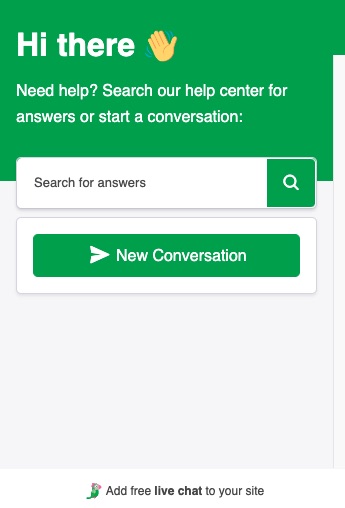 Casino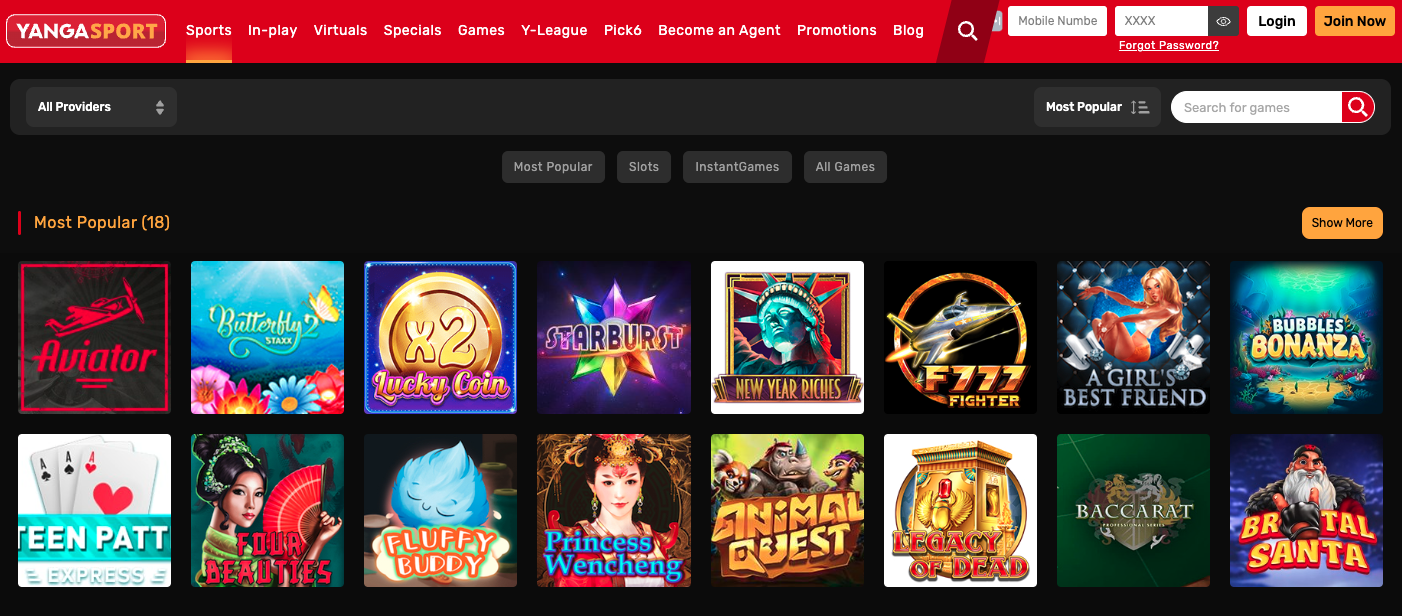 Yangasport provides a comprehensive casino experience with a wide selection of games to cater to the diverse preferences of its users. While their primary focus remains sports betting, the casino section offers an exciting array of options for players. The game selection is extensive, featuring a variety of slot machines, table games, card games, and live dealer games.
Slots Machines
The slot machine category offers an impressive range of titles (1038 different slot games by far), encompassing both classic fruit machines and modern video slots with captivating themes and engaging bonus features. Players can explore a multitude of options, each with its unique gameplay mechanics and potential for big wins. Additionally, the inclusion of progressive jackpot slots adds an extra layer of excitement for those seeking substantial jackpot prizes.

Instant Games
Yangasport offers a selection of instant games in its casino section (30 arcade games by far), providing quick and entertaining options for players looking for immediate gaming gratification. These instant games are designed to be fast-paced and easy to play, making them ideal for those seeking instant thrills and excitement.

The range of instant games on Yangasport includes scratch cards, arcade-style games, and virtual sports.
Scratch cards allow players to reveal hidden symbols and win instant prizes. These games often feature various themes and designs, adding an element of fun and anticipation to the gameplay.
Arcade-style games provide a nostalgic gaming experience reminiscent of classic arcade cabinets. These games typically involve skill-based challenges, quick reflexes, and high scores. Players can enjoy various arcade games, such as shooting games, racing games, or puzzle games, each offering unique gameplay mechanics and objectives.
Virtual sports, another popular category of instant games, simulate various sports events, allowing players to place bets and experience the excitement of virtual competitions. Whether it's virtual football, horse racing, or tennis, these games offer realistic graphics and immersive gameplay, providing a dynamic and engaging experience.
The availability of specific instant games may vary over time as Yangasport updates its game library to provide fresh and engaging options for its players. By offering instant games, Yangasport ensures that players can enjoy quick and entertaining gaming experiences alongside their sports betting activities.
General Information
Address
3A Bola Ademuyiwa Street, off Aswani Bustop, Osolo way, Isolo Lagos
Types of Sports
Soccer, Basketball, Tennis, Table Tennis, Cricket, Ice Hockey, Rugby, Baseball, Handball.
FAQ
Is Yangasport a legitimate betting site?
expand_more
Yes, Yangasport is a trusted and legitimate betting site. They have obtained an operating license from the National Lottery Regulatory Commission, ensuring their legaliHow can I join Yangasport?ty.
How can I join Yangasport?
expand_more
Joining Yangasport is easy. Simply fill in the registration form with your basic details and verify your identity through email or phone number.
How much is the Yangasport bonus?
expand_more
Yangasport offers a generous 500% welcome bonus for new players, one of Nigeria's largest sign-up bonuses.
How do I claim the Yangasport bonus?
expand_more
To claim the bonus, you must create a Yangasport account, make an initial deposit of at least N500, and the 500% welcome bonus will be credited.
How do I deposit money on Yangasport?
expand_more
Depositing money on Yangasport is convenient. You can use various payment methods such as ATM cards, bank transfers, or USSD. They have partnered with payment channels like Paystack and Monify, providing easy deposit options for Nigerian players