Home

chevron_right

William Hill
William Hill Sportsbook Overview
Updated 16 May 2023
Pros
check_circle
High odds for top hockey and tennis tournaments
check_circle
Vast variety of gambling games
Cons
cancel
Customers may experience occasional connection breaks with the server while using the platform
William Hill was founded in 1934. The bookmaker operates under licenses from both Gibraltar and the United Kingdom and is considered one of the top companies in its industry in terms of revenue.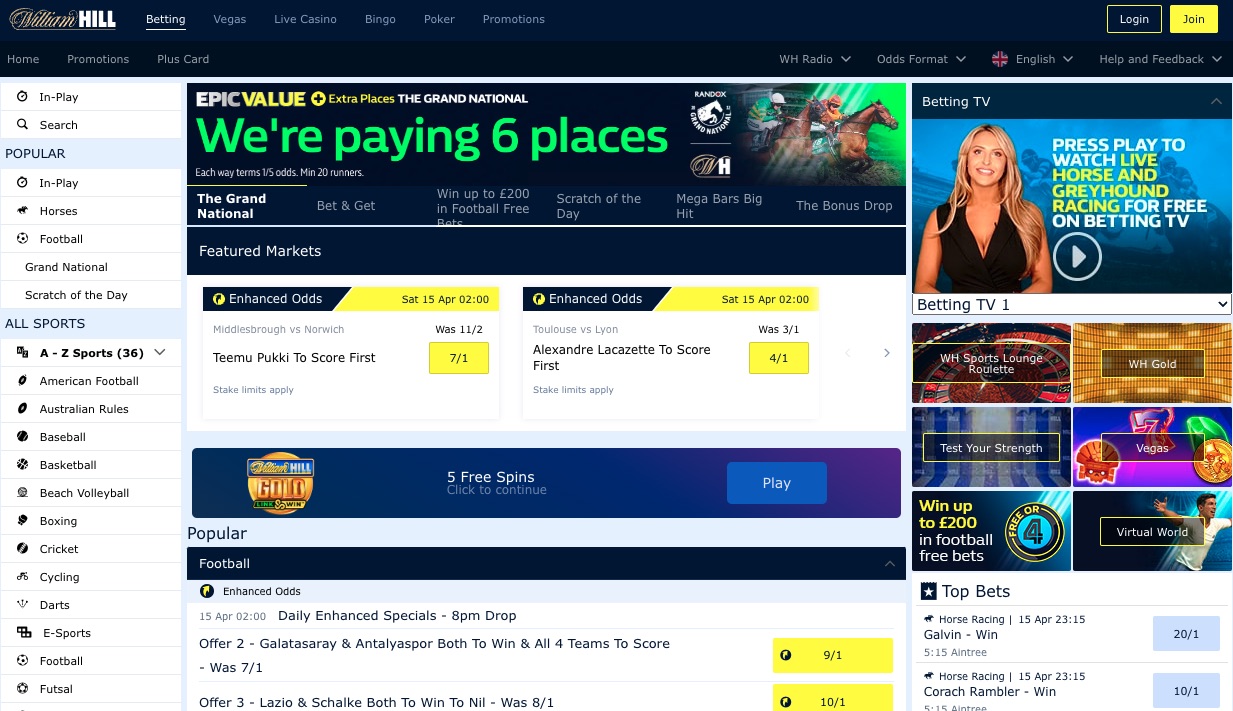 The digital platform includes three main sections, namely sports betting, casino, and slot machines. These sections can be accessed through both desktop and mobile applications, which are available for iOS and Android devices.
Odds
The bookmaker William Hill sets a low margin only on top football, hockey, and tennis competitions. This makes placing bets on the English Premier League, National Hockey League, and Wimbledon quite profitable. We have calculated the margin size for common sports and tournaments:
Sport
Tournaments
Margin size
Football
Top championships
5%
European mid-level competitions
7%
Other competitions
10%
Hockey
NHL and international competitions
3-4%
Other tournaments
5-6%
Basketball
NBA
8%
Other championships
9%
Tennis
Most popular competitions
3-4%
Less popular matches
7-8%
Esports
CS:GO, Dota 2, LoL, and others
8%
Betting Line
The bookmaker provides betting options for popular sports, esports, politics, and cultural events.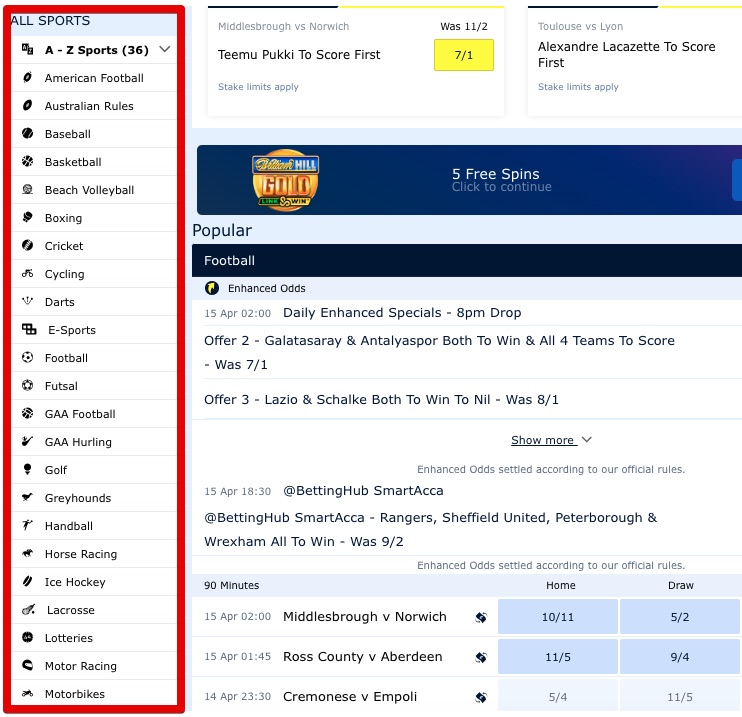 Live Betting
William Hill provides a user-friendly Live section that lets customers easily place bets in-play. The bookmaker offers various features, such as the ability to sort games by sport and view live streaming of competitions. With an extensive event schedule, customers can enjoy over 30 different betting options for tennis matches, more than 100 for football, and up to 90 for hockey on William Hill's platform.
Esports
The esports section on William Hill's website includes eight different popular disciplines:
CS:GO
Dota 2
League of Legends
StarCraft 2
Valorant
Rainbow 6
Overwatch
King of Glory
William Hill allows customers to place bets on all major esports competitions. However, the company typically only accepts bets on the main outcomes of the game and the match. While this may be limiting for customers who prefer more diverse betting options, William Hill's focus on it ensures that the platform remains accessible and easy to use for customers who might be new to esports betting.
Payment systems
The bookmaker supports all the most commonly used methods for depositing and withdrawing winnings. Additionally, the company has established high limits on the maximum transaction amount.
Deposit
You may use a bank card or an electronic wallet such as PayPal, QIWI, WebMoney, Eco, MuchBetter, Neteller, or Skrill to add funds to your account. The bookmaker has also introduced an option to deposit funds using vouchers sold at the company's trading points and betting shops. Depending on the selected payment service, you can add funds to your account ranging from $10,000 to $125,000 in a single transaction.
Withdrawal
William Hill bookmaker provides payouts for winnings through the following payment instruments:
bank cards;
electronic payment system wallets (such as PayPal and QIWI);
bank account.
The company will process withdrawal requests within a maximum of five business days. The minimum payout amount ranges from $10 to €30.
Deposit
| Option | Min Deposit | Max Deposit | Processing Time | Commission Fee |
| --- | --- | --- | --- | --- |
| PayPal | $10 | - | instant | no fee |
| Webmoney | $10 | $200 | instant | no fee |
| MuchBetter | $10 | - | instant | no fee |
| Neteller | $10 | - | instant | no fee |
| Skrill | $10 | - | instant | no fee |
| Visa | $10 | - | instant | no fee |
| Mastercard | $10 | - | instant | no fee |
Withdrawal
| Option | Min Withdrawal | Max Withdrawal | Processing Time | Commission Fee |
| --- | --- | --- | --- | --- |
| PayPal | $10 | - | up to 5 days | - |
| Webmoney | $10 | $200 | up to 5 days | - |
| MuchBetter | $10 | - | up to 5 days | - |
| Neteller | $10 | - | up to 5 days | - |
| Skrill | $10 | - | up to 5 days | - |
| Visa | $10 | - | up to 5 days | - |
| Mastercard | $10 | - | up to 5 days | - |
Bonuses and promotions
Customers can enjoy some exciting bonuses and promotions on William Hill's platform. For instance, the company allows the odds of an accumulator consisting of three or more events to be increased once a day, offering customers the potential for higher payouts. Additionally, William Hill offers new casino users a bonus of up to 300 euros on their first deposit, giving them more value for their money.
Slot enthusiasts can also use the platform's daily gift generator, which provides free spins or the chance to win a cash prize. These promotions and bonuses enhance the betting experience for customers and provide additional incentives to join and continue using the William Hill platform.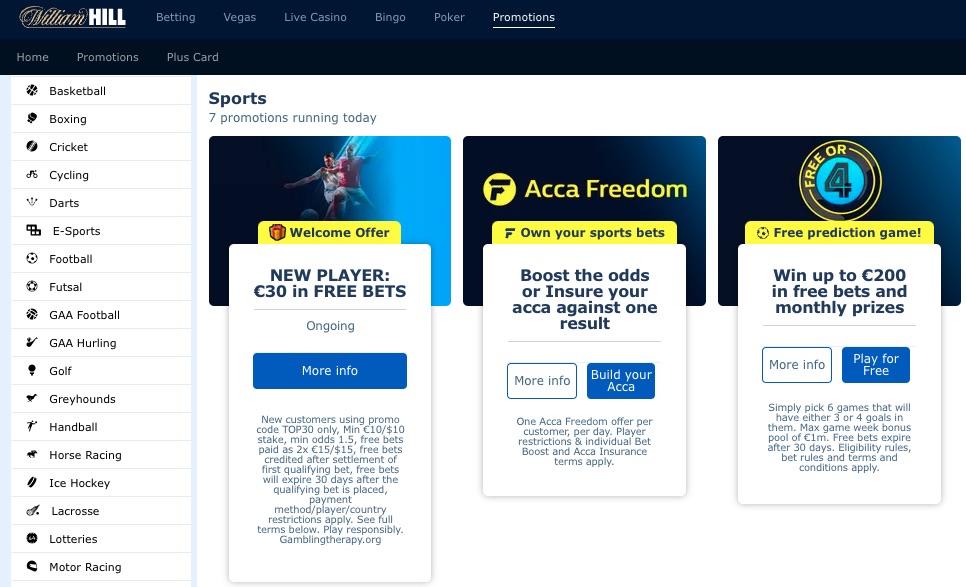 Customer support
William Hill offers an online chat option for customers to contact their technical support team through their official website. However, customers may experience a wait time of at least five minutes to receive a response from the support team.
Additionally, it's worth noting that the company's support team only provides consultation services in English, which may be limiting for customers who prefer support in other languages. Despite these limitations, William Hill's online chat support provides customers with a convenient way to quickly resolve issues and get answers to their questions.
Personal account
The "William Hill" website's personal account menu comprises five items:
betting and financial operations history;
section for depositing and withdrawing funds;
account settings;
contacting technical support and service usage guide;
bonus promotions.
Mobile version
While the mobile version of William Hill's website offers a similar experience to the full version, the platform is not optimized for small device displays, making it less convenient for smartphones and tablets.
The company offers a mobile app for both Android and Apple devices. The iOS app is available for download on the App Store, but in some countries, customers should use a VPN to connect to the server.
Cash Out
The bookmaker purchases individual and accumulator bets on various sports, including football, racing, tennis, baseball, basketball, boxing, cricket, darts, golf, and snooker. Customers can choose from options for the full or partial sales of their bets, giving them more control over their betting strategy.
Additionally, the bookmaker offers the Cash Out function for both pre-match and Live mode bets, allowing customers to cash out their bets early and secure a guaranteed payout, regardless of the event's outcome. These features enhance the flexibility and convenience of betting on the platform and give customers more options for managing their bets.
Live broadcasts
William Hill's official website provides live streaming of sports and esports competitions for its customers. To access the list of live streams, customers can navigate to the "Live Betting" menu and select the "Only events with live streaming" option.

This will display a list of live events streamed live on the platform, allowing customers to watch and bet on their favourite sports and esports events in real time. The live streaming feature offers customers a more immersive and engaging betting experience. It is a valuable tool for staying up-to-date with the latest events and trends in sports and esports.
Accumulator bet
At William Hill, a minimum of two match outcomes is required to place an accumulator bet. The bookmaker displays the overall odds and the potential winnings on the parlay coupon. Customers can enhance the odds of a single bet once a day, which must consist of a minimum of three events. This feature allows customers to increase their potential payouts and adds more excitement to their betting experience.
General Information
Helpline
+4 (4870) 600-04-79
Types of Sports
American Football, Baseball, Basketball, Bowls, Boxing, Cricket, Cycling, Darts, eSports, Football, GAA Football, GAA Hurling, Golf, Greyhounds, Handball, Horse Racing, Ice Hockey, Lottery, MMA, Motor Racing, Motorbikes, Politics, Rugby, Snooker, Tennis, TV, UFC, Virtual Betting, Volleyball, Winter Sports
Licenses
Issued by
Gibraltar Gambling Commissioner
License Number
RGL 034 & 042
Licensed Countries
Gibraltar
Issued by
Gambling Commission
License Number
000-039225 R-319373-001
Licensed Countries
United Kingdom
FAQ
Do I need a passport to register with William Hill bookmaker?
expand_more
No, a passport is not required for registration with William Hill. However, after creating an account, the player will receive an email requesting a document to confirm their identity. Once identification is confirmed, the client can then add funds to their account with the bookmaker.
How quickly are the odds calculated at William Hill?
expand_more
William Hill's odds calculation is based on various factors, including the sporting event's popularity and customers' betting activity. These odds are valid for up to 24 hours and may be subject to change based on new information and developments in the event being bet on. By offering dynamic and constantly updated odds, William Hill ensures that customers can access the latest information and make informed betting decisions in real time.
Have there been any complaints lodged against William Hill bookmaker?
expand_more
Customers have reported that William Hill takes significant time to calculate bets, causing inconvenience and delays. Additionally, in 2009, the bookmaker faced many complaints for refusing to pay out winnings, making it a record holder for such complaints.
These issues have caused frustration and distrust among some customers and have impacted the bookmaker's reputation in the industry. However, it's worth noting that William Hill has since taken steps to improve its services and address these concerns, demonstrating a commitment to providing a fair and transparent betting experience for its customers.
Is the bookmaker responsible for ensuring the confidentiality of customer data?
expand_more
William Hill takes the responsibility of ensuring the confidentiality of customer data seriously. The bookmaker employs various measures, including legal standards, advanced security technologies, and modern technical equipment, to protect the privacy and confidentiality of personal data.

By implementing these measures, William Hill provides customers with a safe and secure betting environment where they can confidently enjoy the platform's offerings without worrying about the safety of their personal information.
Does William Hill offer tote services?
expand_more
William Hill does not offer tote services. The bookmaker specializes in interactive sports betting and online casino services, providing customers with a wide range of betting options and gaming experiences.