MSport
Updated 04 September 2023
In the dynamic world of online sports betting, finding a platform that balances user experience, odds variety, and trustworthy operations can be challenging.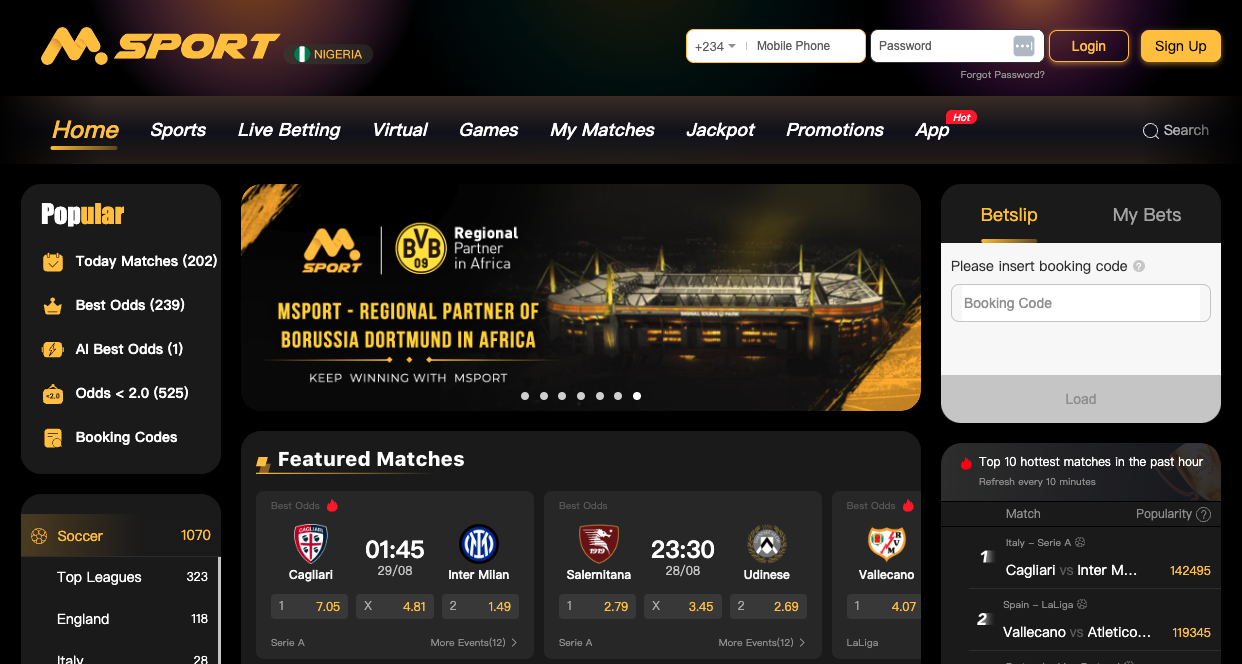 MSport, which has recently caught the attention of both seasoned punters and novices alike, promises a blend of these critical elements.
This review delves into the nitty-gritty of MSport's offerings, assessing its features, ease of use, and overall credibility to determine whether it lives up to the growing buzz.
What We Like About MSport
User-Friendly Interface: A clean and intuitive design makes navigation and placing bets straightforward, even for beginners.
Diverse Betting Options: From popular sports like football and basketball to niche events, there's something for every bettor.
Competitive Odds: Offering better odds than many competitors, giving bettors potential for higher returns.
Reliable Customer Support: Quick and effective assistance through multiple channels, ensuring users' queries are addressed promptly.
Secure Transactions: State-of-the-art encryption and security measures protect users' personal and financial data.
What We Don't Like About MSport
Limited Promotional Offers: Fewer bonuses or promotions compared to other major platforms, limiting incentives for new and existing users.
Regional Restrictions: The platform might not be available in certain countries or regions, limiting its reach and accessibility.
MSport Licencing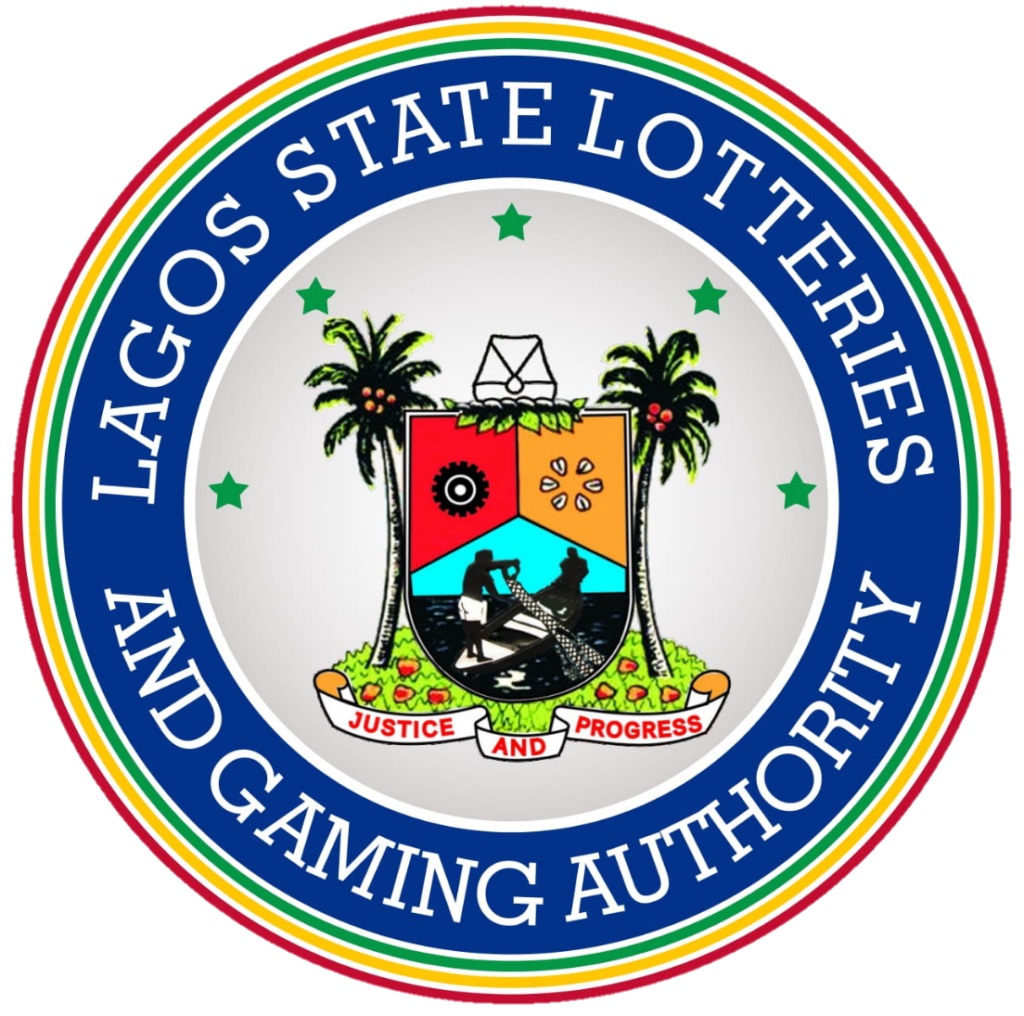 MSport Nigeria's licensing by the National Lottery Regulatory Commission (NLRC) is crucial in determining its legitimacy and trustworthiness within the region. Licensing ensures that the platform operates under a specific set of rules and regulations to guarantee fair play and the protection of its users. Here's a brief overview of the significance:
National Lottery Regulatory Commission (NLRC) Licensing:
The NLRC is the body responsible for regulating and overseeing lottery operations in Nigeria. A license from the NLRC lends credibility to the operations of the lottery or betting platform in the country.
Implications of the License:
Legitimacy: Being licensed by the NLRC indicates that MSport Nigeria has met specific criteria and standards set by the Nigerian government, ensuring that its operations are legitimate.
Consumer Protection: Licensed operators are bound to adhere to regulations that safeguard the interests and rights of the consumers. This includes fair gameplay, protection of player funds, and responsible gaming measures.
Transparency and Accountability: A license usually mandates the platform to maintain transparency in its operations, undergo periodic audits, and demonstrate fiscal responsibility.
Economic Contributions: Licensed entities often contribute to the country's economy by paying licensing fees taxes, and sometimes allocating a portion of their revenue to social or community initiatives.
Knowing that MSport Nigeria is licensed by the NLRC should comfort users regarding its operations there. However, as with all betting and gambling platforms, players should exercise caution, bet responsibly, and be aware of the risks involved.
MSport Registration Guide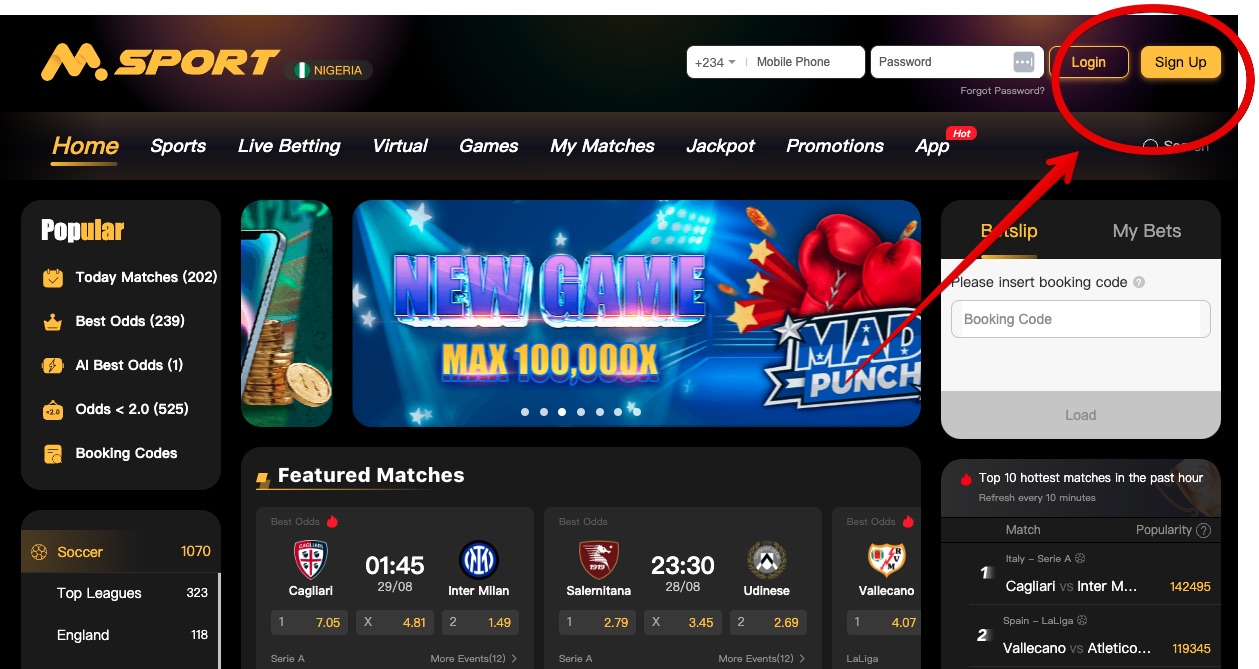 Registering on MSport is a straightforward process designed to get you started in no time. Here's a step-by-step guide on how to create a new MSport account: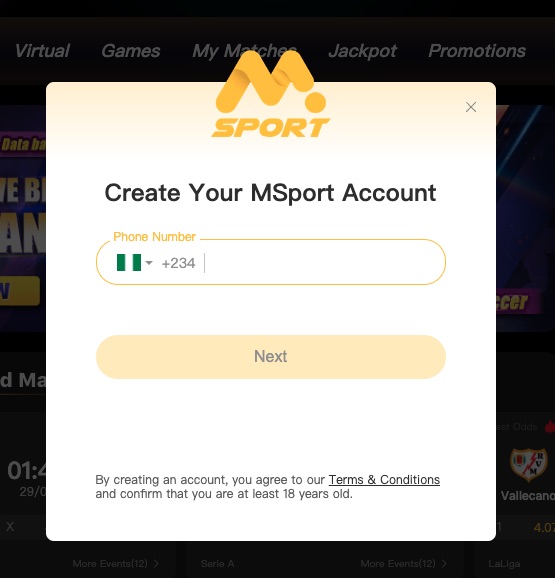 Visit the Website:
Open your preferred browser on either your mobile device or PC.
Navigate to the official MSport website.
Locate the Register Icon:
Once on the homepage, locate the "Register" icon. This is typically found in the top right corner of the website.
Enter Your Phone Number:
A registration form will appear. Begin by entering your cell phone number in the provided space.
Set a Password:
Choose a strong password for security purposes. Ensure it's memorable so you can easily access your MSport Nigeria account whenever needed.
Verify Your Account:
After entering your details, you'll receive a verification code via SMS on your provided phone number.
Input this verification code in the designated space on the registration form.
Complete the Registration:
Once you've keyed in the verification code, press the "Register" button to finalise your account creation.
Update Your Profile:
With your account now created, you can proceed to edit your profile. Add relevant personal and financial details to personalise and secure your account.
And there you have it! Your MSport account is now active and ready for use. As always, ensure that you keep your account details secure and remember to gamble responsibly.
MSport Sportsbook Registration Terms and Conditions
When joining the MSport community as a punter, it's essential to understand and comply with their registration terms and conditions. These guidelines ensure a secure and fair environment for all users. Here are the primary conditions set forth by MSport for anyone wishing to register:
Age Requirement:
Punters must be at least 18 to create an account on MSport.
Genuine and Accurate Data:
All information, especially banking details, must be provided truthfully and accurately. Misrepresentation or false data could lead to account suspension or other consequences.
Data Verification:
MSport collaborates with authorised credit reference agencies to verify the details provided by users. This is a standard practice to ensure the integrity of financial transactions and prevent fraudulent activities.
Address Confirmation:
To further validate user data and ensure the authenticity of accounts, MSport might send confirmation letters to the address provided during registration. This step aids in the verification process and provides an additional layer of security.
One Account Rule:
Each customer is permitted to have only one MSport account. Multiple accounts are prohibited and may result in the suspension or termination of all related accounts.
Right to Terminate:
MSport reserves the right to close or delete your account for any reason and at any time, based on their discretion.
As with all platforms, it's vital to familiarise yourself with these terms and conditions before registering. By adhering to MSport's guidelines, punters can enjoy a safer and more enjoyable betting experience.
Deposits and Withdrawals on Your MSport Account

Navigating the deposit process on MSport can be seamless if you understand the options available. Here's a comprehensive guide to ensure you fund your MSport account efficiently.
1. Pay using a Bank Card
Step 1: Input your ATM Card number, Expiry date, CVV (the three-digit code on the back of your card), and the amount you wish to deposit. Click "Deposit."
Step 2: Input your PIN, Bank Token, or OTP (sent to your mobile phone, depending on the verification method) and confirm the transaction.
Step 3: Once the transaction is successful, you'll be redirected to a confirmation page.
2. Pay using a Bank Account
Step 1: Choose your Bank Name, input your Account Number and the amount to deposit, then click "Deposit."
Step 2: Enter your Birthday Date or OTP (might be sent to your mobile) and validate the transaction.
Step 3: You'll be redirected to a confirmation page after a successful transaction.
3. Bank Transfer
Step 1: Input the amount and select 'Top Up Now.'
Step 2: Obtain a temporary transfer account (expires in 30 minutes).
Step 3: Use online banking or USSD to transfer funds.
Disclaimer: Ensure you input the correct bank/card details. MSport isn't responsible for deposits made to incorrect accounts or if you input the wrong withdrawal details.
Types of Accepted Payment Methods
Bank Cards: Visa, Mastercard, and Verve are supported.
Bank Accounts: Deposits can be made from United Bank For Africa, Sterling Bank, Zenith Bank, and ALAT by WEMA.
Bank Transfer: Virtually all Nigerian banks supporting transfers can process the payment. For unsupported banks, consult MSport's customer service.
Deposit Limits and Fees
Minimum: NGN 100.00
Maximum: NGN 9,999,999.00
Bank Card and Bank Account deposits are free. Bank Transfer fees vary; the Central Bank of Nigeria stipulates a maximum of NGN 10 for transfers below NGN 10,000 and a maximum of NGN 50 for transfers above NGN 50,000. Note: MSport does not impose these fees; they're from the transfer platform.
Transaction Timing
Transactions are typically instant. Review your transactions or contact MSport's customer service if your balance doesn't reflect the deposit.
Issues with Balance
If funds are deducted but not reflected, contact the MSport Customer Service team with relevant confirmation details (screenshot, email, bank slip, etc.).
Remember always to keep a record of your transactions and play responsibly.
Let's take a closer look at MSport
As the world of sports betting continues to evolve, new platforms emerge, each promising unique offerings and competitive odds. In our quest to provide you with comprehensive reviews of the industry's leading players, we turn our attention to one such bookmaker that's been making waves recently.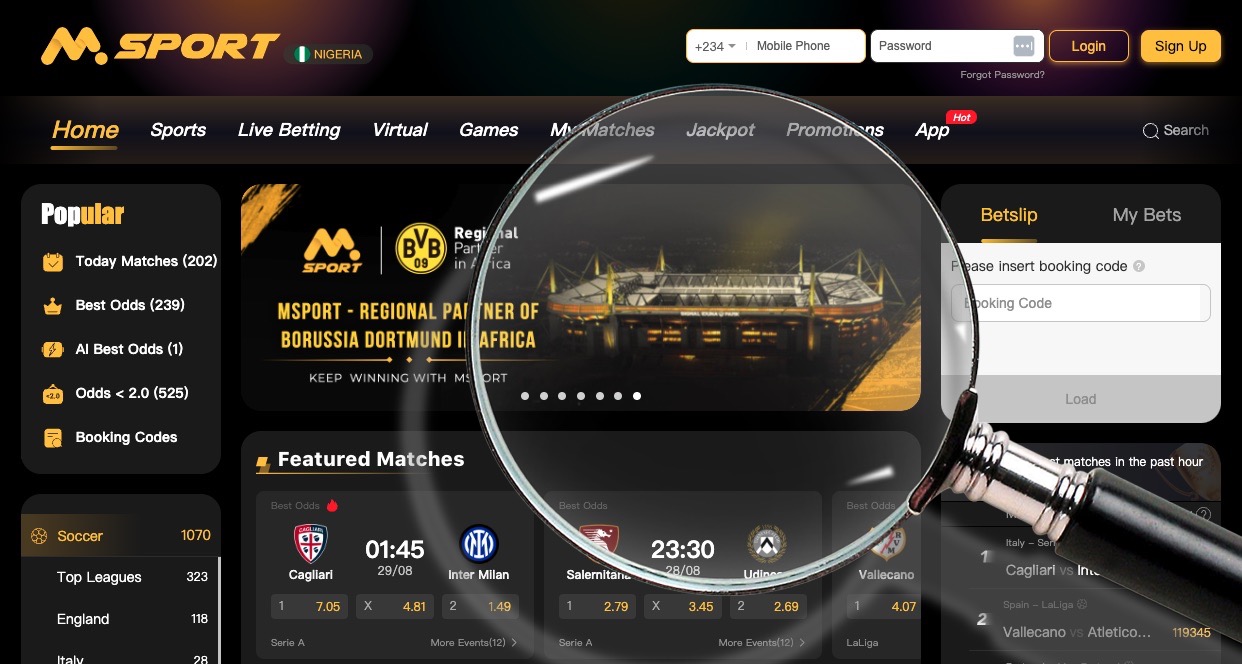 In the vast world of online sports betting, certain platforms stand out, drawing punters in with their unique offerings and features. One such platform that has garnered attention in the Nigerian betting scene is MSport.
As we delve deeper into its services, features, and user experience, let's look at MSport to discern what sets it apart in a crowded market and why it might be your next go-to betting destination.
MSport Sportsbook
Msport has firmly positioned itself as a leading sportsbook in the betting landscape, offering an expansive range of sports and betting markets to cater to the diverse preferences of punters worldwide. Football enthusiasts will be delighted with a whopping 974 markets, closely followed by substantial offerings in basketball and tennis, with 285 and 262 markets, respectively.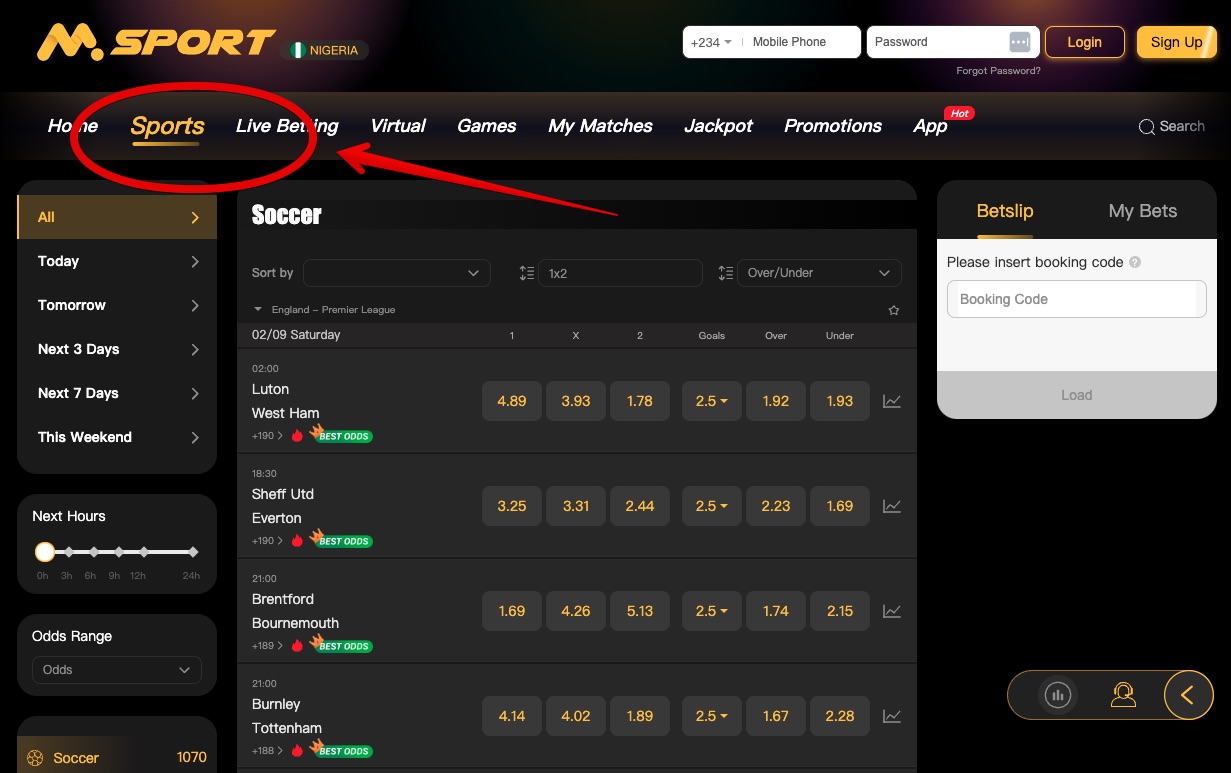 MSport's sportsbook is a diverse arena that offers a wide array of sporting events, catering to the varied interests of its large user base.
From the world's most beloved game, soccer, to the fast-paced action in eSports and the precision of darts, there's a game for everyone. Here's a breakdown of what MSport brings to the table:
Soccer: The global passion, soccer is at the heart of most betting platforms, and MSport is no exception.
V-Soccer: Virtual soccer brings continuous action for those who love the game but want quicker results.
ESports Soccer: Digital soccer competitions pit the best e-teams against each other.
Basketball: Dunk your way to victory, whether it's the NBA or other global leagues.
Table Tennis: Rapid rallies and quick reflexes define this indoor sport.
Tennis: From grand slams to local tournaments, tennis offers thrilling matchups.
American Football: Experience the rush of touchdowns and tactical plays.
Volleyball: Spike, serve, and score in this high-flying sport.
Ice Hockey: The chill of the rink brings hot competition among teams.
Darts: Precision and concentration are key in this target sport.
Cricket: Bat, bowl, and field your way to victory in this classic game.
Boxing: Punch by punch, round by round, boxing is a test of endurance and strategy.
Rugby: Tackle, scrum, and try your way to rugby success.
Baseball: America's pastime brings home runs and strikeouts.
Handball: Goals galore in this fast-paced team sport.
CS:GO: Counter-Strike: Global Offensive remains a favourite in eSports.
League of Legends: Dive into the world of LoL, where strategy and skill collide.
Dota2: Command your heroes in the battlefields of Dota, another eSports titan.
This extensive sportsbook ensures that no matter your preference, MSport provides a platform where every punter can find a game that resonates with them, amplifying the thrill of sports betting.
MSport Football Betting
In online betting, diversity ensures the continuous engagement of punters, and MSport demonstrates this by offering a broad spectrum of football leagues and tournaments. Let's explore their rich football market:
All: Covering a broad spectrum, encompassing 323 global events from various leagues and tournaments.
England:
Premier League: The apex of English football, featuring 20 top-tier teams.
EFL Cup: A prominent knockout competition.
Championship: The second tier of English football with 24 competing teams.
Spain:
LaLiga: Spain's premier football league, consisting of 12 prominent teams.
Italy:
Serie A: Italy's top-flight league featuring 12 elite clubs.
Germany:
Bundesliga:
Home to 18 of Germany's premier football teams.
France:
Ligue 1: The pinnacle of French football with 9 teams in contention.
International Clubs:
UEFA Champions League: Europe's elite club competition with 6 teams.
UEFA Europa League: Featuring 10 top European clubs.
UEFA Europa Conference League: Hosting 22 teams, this is another European club competition.
Copa Libertadores:
A prestigious South American club competition with 4 participating teams.
Portugal:
Liga Portugal: Portugal's top league with 11 challenging teams.
Netherlands:
Eredivisie: Showcasing 19 of Netherlands' finest football teams.
Turkiye:
Super Lig: Turkey's primary football league featuring 10 teams.
Russia:
Premier League: Russia's top-tier league consisting of 16 clubs.
Greece:
Super League 1: A league with 6 of Greece's top football teams.
Belgium:
Pro League: Belgium's leading football league comprises 8 teams.
Simulated Reality League:
Serie A SRL & LaLiga SRL: Digital simulations of real-world leagues.
International:
WC Qual, CONMEBOL: The World Cup qualification games from the South American confederation with 10 matches.
UEFA EURO, Qualification: The European Championship qualifiers with 22 fixtures.
Brazil:
Brasileiro Serie A: Brazil's premier league featuring 10 top teams.
USA:
Major League Soccer: US's premier football league, home to 27 teams.
Finland:
Veikkausliiga: Finland's top football league with 6 participating teams.
Norway:
Eliteserien: Norway's premier league consisting of 8 teams.
Ireland:
Premier Division: The top-flight of Irish football.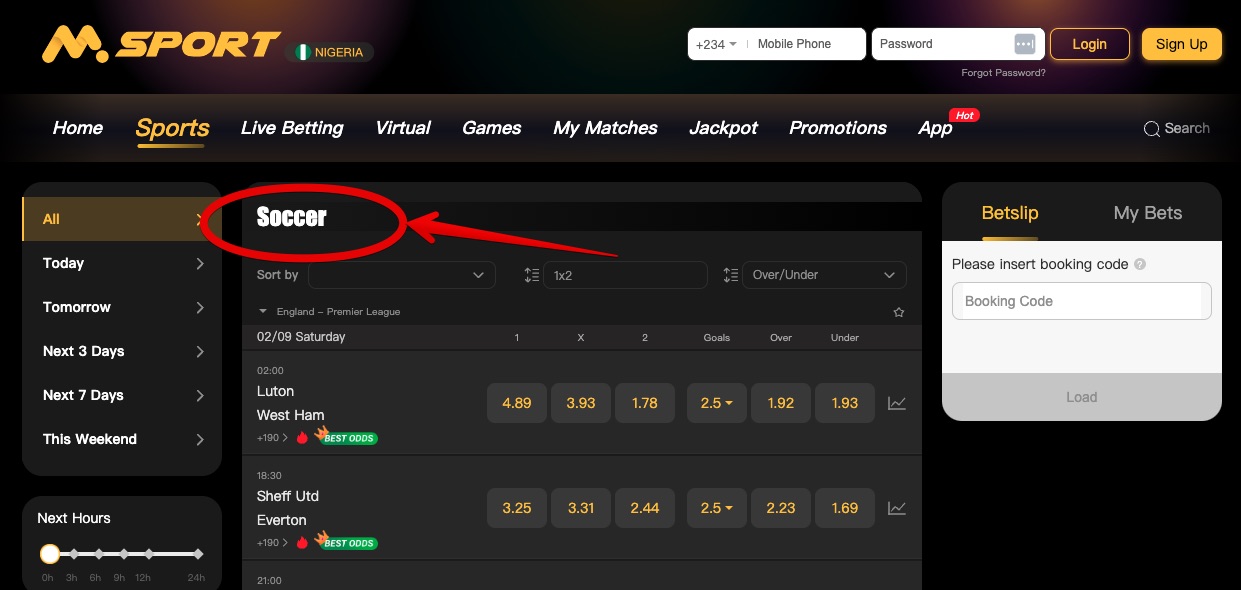 This vast array of options ensures that football enthusiasts have many choices, making MSport's platform engaging for both seasoned punters and newcomers alike.
MSport Basketball Betting
MSport's expertise in basketball betting is truly remarkable. Acknowledging the worldwide allure of the sport, they have crafted an expansive assortment, featuring powerhouses like the NBA and EuroLeague, while also highlighting various national leagues.
This holistic collection ensures that bettors are presented with a broad spectrum, allowing them to make predictions based on team tactics such as point spreads, or delve deeper into bets concerning over/under totals and individual player performances.

Basketball's excitement is deeply rooted in its rapid, on-court transitions, and MSport elevates this experience by providing a comprehensive live betting option. As the action heats up on the court, gamblers can engage at the moment, placing bets that reflect the game's ever-changing momentum.
The promptness of these live updates, combined with the platform's vast basketball offerings, solidifies MSport's standing as a premier destination for basketball betting enthusiasts. Whether you're an experienced bettor or just beginning your journey into the world of basketball, MSport offers a betting experience that's both thrilling and gratifying.
MSport Basketball Leagues
MSport showcases a diverse range of international basketball betting markets, underscoring its commitment to cater to a global audience. From the broader International category, which includes several countries, to more specific regions like Mali, the platform provides avenues for various betting interests.
The USA, with its renowned basketball leagues, understandably dominates the offerings, ensuring ample opportunities for bettors. Even nations like Uruguay, with a budding basketball scene, find representation. This spectrum of choices reiterates MSport's dedication to offering an inclusive basketball betting experience for fans worldwide.
MSport Tennis Betting
MSport's tennis betting arena stands out as a top-tier hub for aficionados of the game, boasting a plethora of betting prospects spanning from grand slams and ATP, WTA circuits, to the more grassroots challenger tournaments.
Welcoming both veteran gamblers and those new to the scene, MSport lays out a range of betting options: from predicting overall tournament victors and individual match outcomes to the intricate dynamics of live point-by-point wagering.
With a seamless interface, real-time statistics, and constantly updated live scores, MSport ensures that tennis devotees are well-prepared with all the resources they need to embark on an insightful and exhilarating betting journey.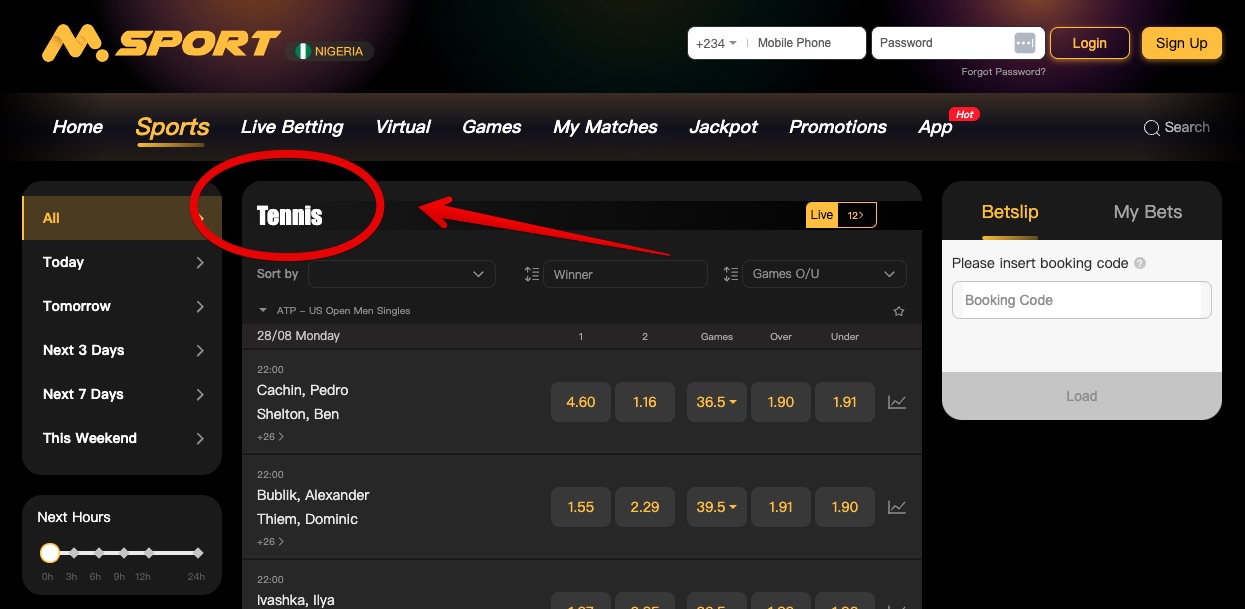 MSport Live Betting
MSport's live betting realm blurs the distinction between observer and active participant, drawing bettors into a high-adrenaline space where each tick of the clock carries weight. This instantaneous wagering model means every dribble, strike, or serve can reshape a bet's trajectory. As a footballer steps up for a crucial penalty or a basketball star preps for a game-changing three-pointer, the odds dance in tandem with the pulse of live-action.
This dynamic betting backdrop demands agility, pushing bettors to adapt and reformulate strategies in response to the unfolding game drama. It's not just a test of rapid decision-making but also a battle of wits, where pre-game forecasts might get benched in favour of split-second judgments reacting to unexpected game developments.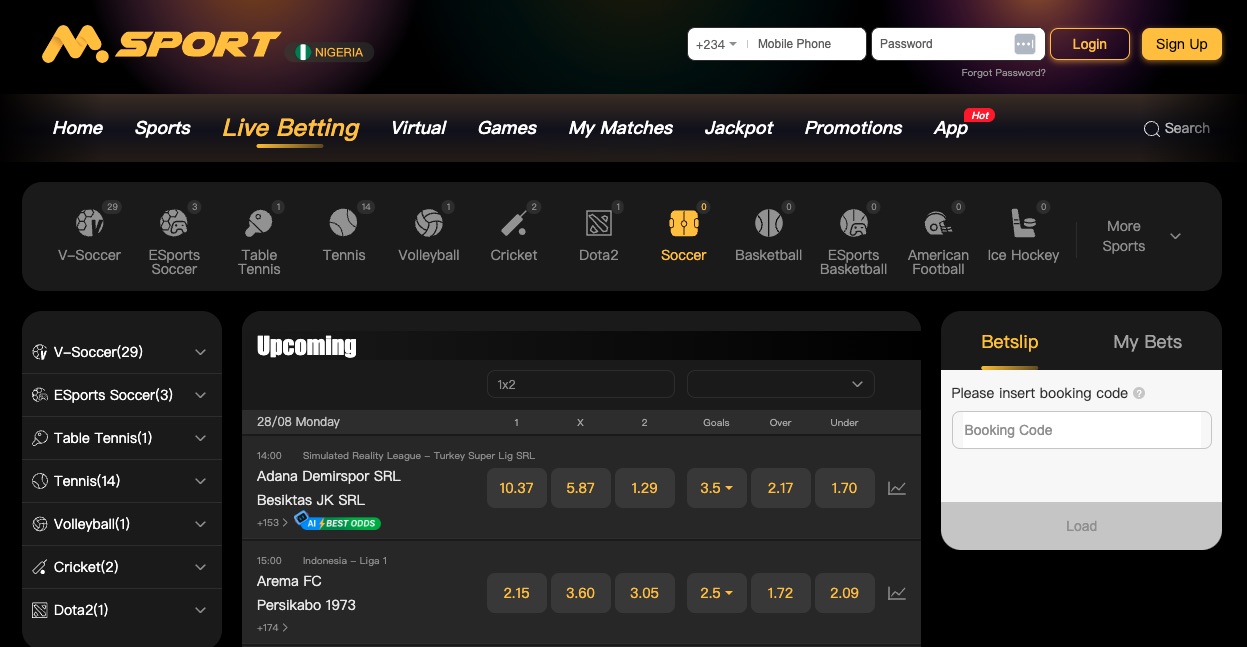 MSport Cash Out
What Exactly is Cashout?
Cashout is an innovative feature that allows you to take control of your bet in real-time. It offers the flexibility to either lock in a profit or mitigate potential losses before the conclusion of the event.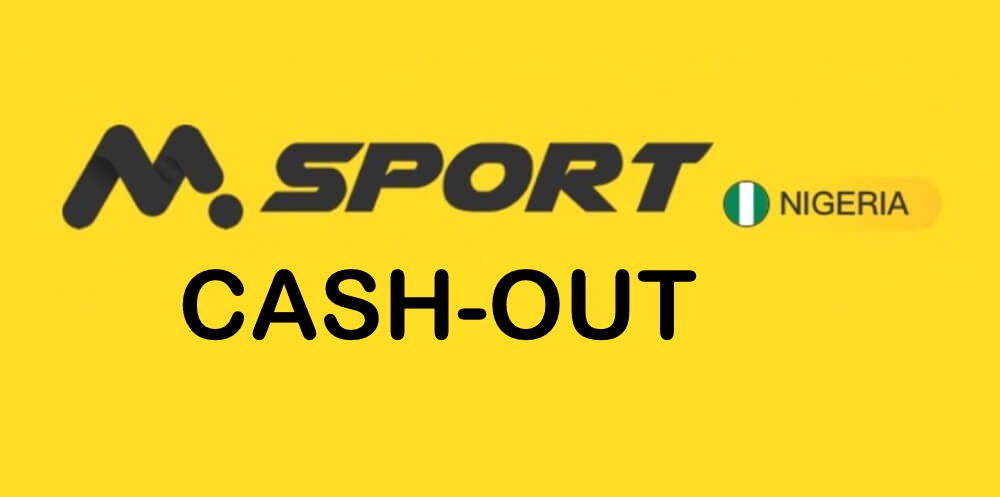 Steps to Cashout
Log in to your MSport account.
Navigate to "My Bets".
Choose the relevant bets and opt for "Cashout".
Do note, Cashout becomes accessible only for amounts exceeding NGN 40.00. Moreover, bets made using vouchers don't qualify for Cashout.
The amount available for Cashout is directly tied to the current likelihood of your bet winning. As your bet inches closer to being a winner, your potential Cashout value increases accordingly.
Key Points about Cashout
Cashout is applicable across a broad spectrum of markets. But, MSport retains the discretion to exclude specific games, sports, or competitions from this feature without prior notification.
There's a brief delay when processing a Cashout request. If the odds shift or a market halts during this time, the Cashout might not go through.
If your Cashout request processes successfully, it gets reflected immediately, irrespective of the final outcome of the market/event.
The quoted Cashout value, if accepted, is the definitive amount credited to your account.
MSport has the authority to nullify a bet if there's evidence to suggest that Cashout was executed after the result of an event was known.
Remember, bets placed using vouchers are not eligible for Cashout.
While MSport endeavours to consistently provide the Cashout feature, its availability can't be guaranteed due to potential technical glitches.
MSport holds the prerogative to modify, halt, or eliminate the Cashout feature for any event or market at any point. In such instances, all corresponding bets will be upheld as they were initially made.
If MSport discerns that a Cashout has been mistakenly processed, it holds the right to reverse such transactions.
In essence, MSport's Cashout feature revolutionizes the betting experience, granting you a heightened level of control and flexibility.
Virtual Sports on MSport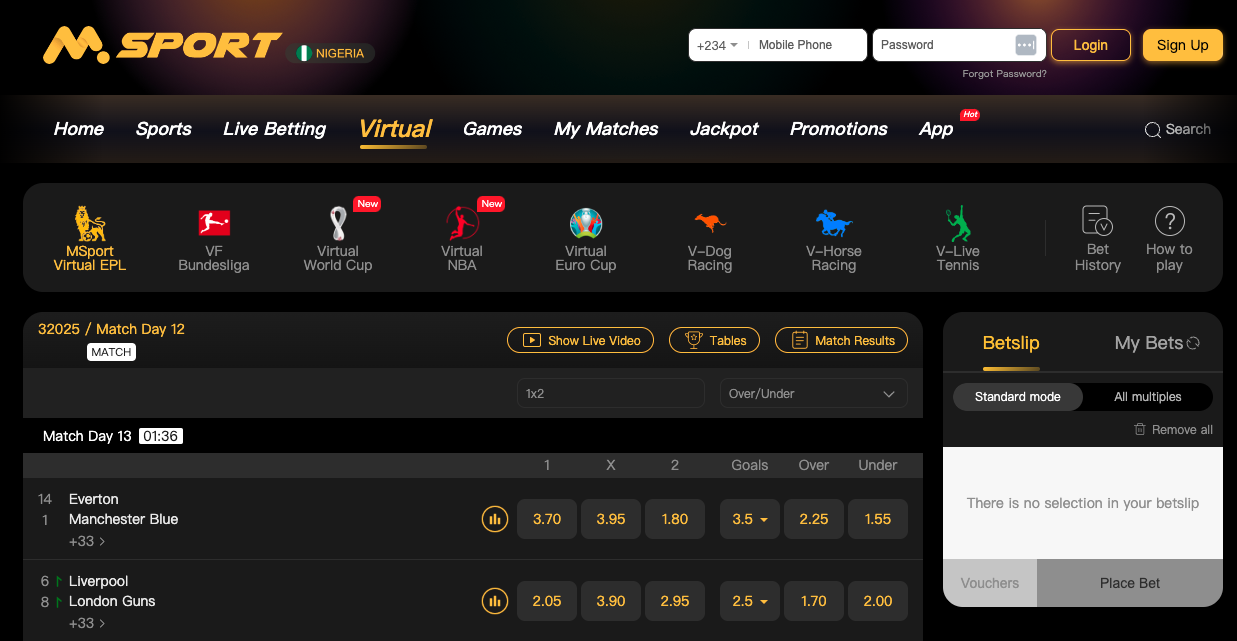 In the digital age, sports betting has taken a transformative leap with the introduction of virtual sports. MSport, always at the forefront of innovation, offers an exciting array of virtual betting opportunities, allowing bettors to engage with their favourite sports and events around the clock.
1. MSport Virtual EPL: Experience the thrill of the English Premier League in its virtual avatar. A condensed version of the real deal, this offers non-stop action and numerous betting opportunities.
2. VF Bundesliga: The electrifying German football league goes virtual! With top teams clashing in a digitized environment, you get to witness a fast-paced football spectacle.
3. Virtual World Cup: Relive the global football carnival with the Virtual World Cup. With matches streamlined and outcomes generated within minutes, it's the World Cup experience on fast forward.
4. Virtual NBA (New): Basketball enthusiasts, rejoice! The Virtual NBA brings the slam dunks and three-pointers to your screen, emulating the high-energy games of the NBA.
5. Virtual Euro Cup: Europe's elite football nations face off in a virtual battle for continental supremacy. Enjoy the tournament vibes without waiting for four years!
6. V-Dog Racing: Get your adrenaline pumping with virtual dog races. A unique blend of speed and unpredictability, it's perfect for those looking for swift results.
7. V-Horse Racing: A timeless classic, virtual horse racing brings the racetrack's excitement and suspense directly to you, sans the mud and noise.
8. V-Live Tennis: Witness gripping tennis matches in a virtual realm. With fast-paced rallies and tiebreakers, it's tennis at its dramatic best.
With MSport's virtual betting suite, you're never too far from the action. These simulated sports events, powered by cutting-edge graphics and algorithms, ensure you enjoy an immersive betting experience any time of the day or night. So, gear up and dive into the dynamic world of virtual sports with MSport!
MSport Mobile Version and Apps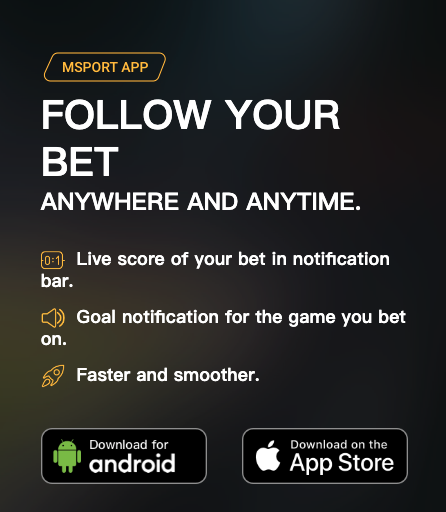 MSport recognizes the need for seamless betting on-the-go. To ensure that every user has the best possible experience, MSport has developed dedicated mobile apps for both Android and iOS platforms.
For Android Users:
The MSport Android app is not available on the Google Play Store due to their policies on betting apps. However, worry not! You can directly download it from the MSport website.
How to Install the MSport Android App:
Visit the direct download link: https://www.msport.com/ng/web/m/mkt/download.
Click on the download button to start downloading the APK file.
Once downloaded, open the APK file from your notifications or download folder.
If prompted, go to your phone settings and allow installations from unknown sources.
Proceed with the installation. Once installed, open the app and log in to start betting!
For iOS Users:
For Apple aficionados, the MSport app is available on the App Store, ensuring a smooth and secure experience.

How to Install the MSport iOS App:
Open the App Store on your iPhone or iPad.
Search for "Mobile Sport Group". MSport's app is listed under this name.
Look for the app ranked 4th in the Sports category.
Tap on "Get" to start the downloading process.
Once downloaded, it will automatically install on your device.
Open the app, log in, and dive into the world of sports betting!
Both apps are designed with the user in mind, ensuring easy navigation, swift betting processes, and a plethora of features to enhance your betting experience. So, whether you're team Android or team iPhone, MSport has got you covered!
General Information
Website
https://www.msport.com/ng/
E-sports
LOL, Dota 2, Counter Strike, Star Craft, COD, rainbow Six, King of Glory
Types of Sports
Football (soccer), Basketball, Tennis, Rugby, Cricket, Ice Hockey, Boxing, American Football, Handball, Volleyball, Snooker, Darts, Table Tennis, Futsal, Water Polo, Cycling, MMA (Mixed Martial Arts), Golf, Motorsports (Formula 1, NASCAR, etc.), Baseball
Licenses
Issued by
Lagos State Lotteries Board
Licensed Countries
Nigeria
FAQ
What payment methods does MSport accept?
expand_more
MSport offers a range of payment methods. While popular options like OPay, PayPal, and Skrill may have restrictions or are not supported, there are other convenient options like Quickteller available for transferring funds into your betting account.
What sports does MSport offer for betting?
expand_more
MSport provides a broad spectrum of sports betting options including soccer, basketball, tennis, American football, volleyball, ice hockey, cricket, boxing, rugby, and eSports titles like CS:GO, League of Legends, and Dota2, among others.
Can I bet on live sports events on MSport?
expand_more
Yes, with MSport's live betting platform, bettors can place wagers in real-time, responding to the dynamic changes and events of ongoing matches across various sports.
What is the Cashout feature on MSport?
expand_more
Cashout is a real-time feature that lets you take control of your bet, allowing you to either lock in a profit or cut your losses before the match outcome is finalized. The feature offers both full and partial cashouts.
Are there virtual sports betting options on MSport?
expand_more
Yes, MSport offers a variety of virtual sports betting choices including MSport Virtual EPL, VF Bundesliga, Virtual World Cup, Virtual NBA, and more.
How can I download the MSport mobile app?
expand_more
For Android users, the app can be directly downloaded from the MSport website. iOS users can find the app under "Mobile Sport Group" in the App Store, ranked 4th in the Sports category.
Are there any restrictions on using the Cashout feature?
expand_more
Yes, there are certain terms and conditions to be aware of. For instance, Cashout is only available over NGN 40.00, bets placed with vouchers cannot be cashed out, and MSport reserves the right to amend, suspend, or remove the Cashout feature at any time for any event, fixture, or market.