Melbet.ng Sportsbook Overview
Updated 30 August 2023
Pros
check_circle
Wide variety of bets on 40+ sports
check_circle
Competitive odds with an average commission of 4-6%
check_circle
Convenient deposit and withdrawal methods
check_circle
Profitable welcome bonus on the first deposit
Cons
cancel
Illegal status in most of the CIS countries.
Melbet has only been here for less than five years but has already become a leading sportsbook. Sports bettors can access lucrative features and bet on different sports categories from home on the platform. The site is available to Nigerians interested in betting, as it allows them to bet on sports with the naira.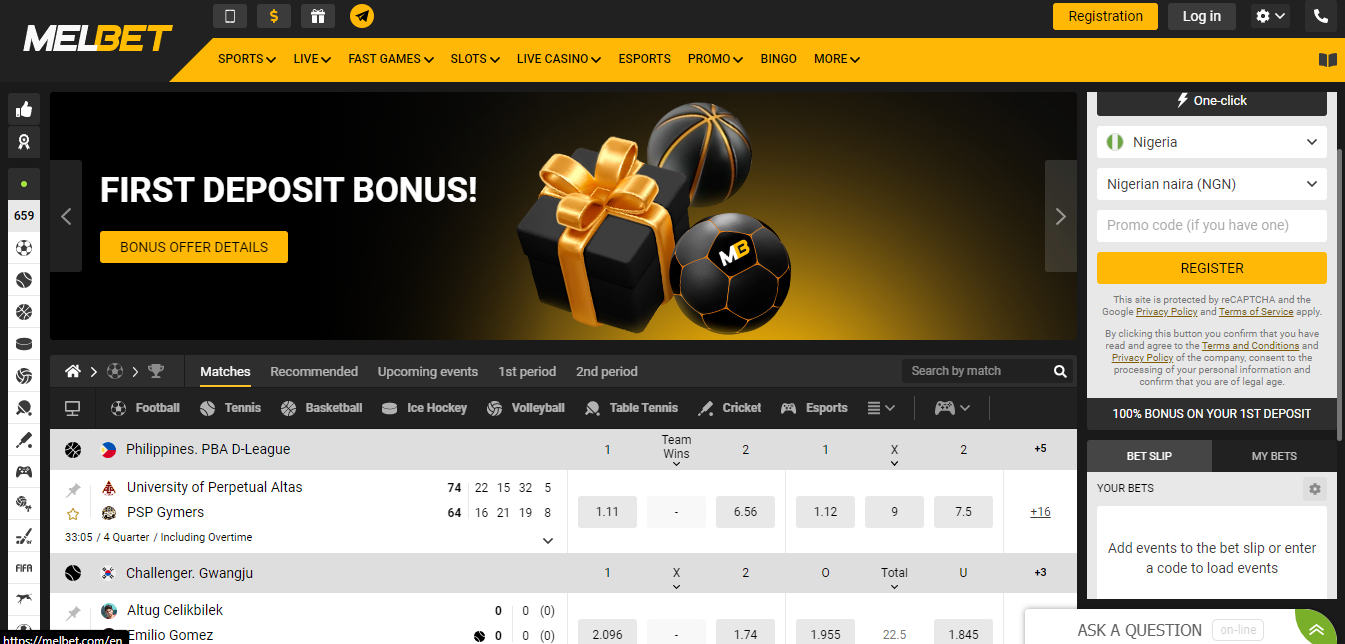 Melbet is among the best-rated sportsbooks thanks to access to an endless list of bonuses, with virtually all the sports categories having specific bonuses. The terms and conditions on many of the bonuses are also flexible, ensuring easy access to bonuses for all categories of bettors.
Registering an account on Melbet.ng sportsbook is also stress-free; the intended customer only needs to fill out a short form to start having instant access to the games available on the platform. This overview will inform potential customers about the features that make the betting site stand out.
Melbet Nigeria Licence
Melbet Nigeria is a licensed sportsbook in line with the country's laws. The site belongs to Ostrada Hospitality Limited, and the Anambra State Gaming Company issued its sports betting permit. The Melbet Nigeria license, on the other hand, is issued by the Oyo State Gaming Board.
Oyo and Anambra are just two states in Nigeria, but Melbet's operations are wider than just these. Interested sports bettors from any other part of the country can bet on sports on this platform. Since the Melbet Nigeria license came from reliable state government authorities, the site is safe and secure for Nigerian sports bettors. Betting on the platform will not put you on the wrong side of the law.
Melbet Nigeria possesses two licenses from the following authorities:
Oyo State Gaming Board

National Lottery Regulation Commission, Abuja, Nigeria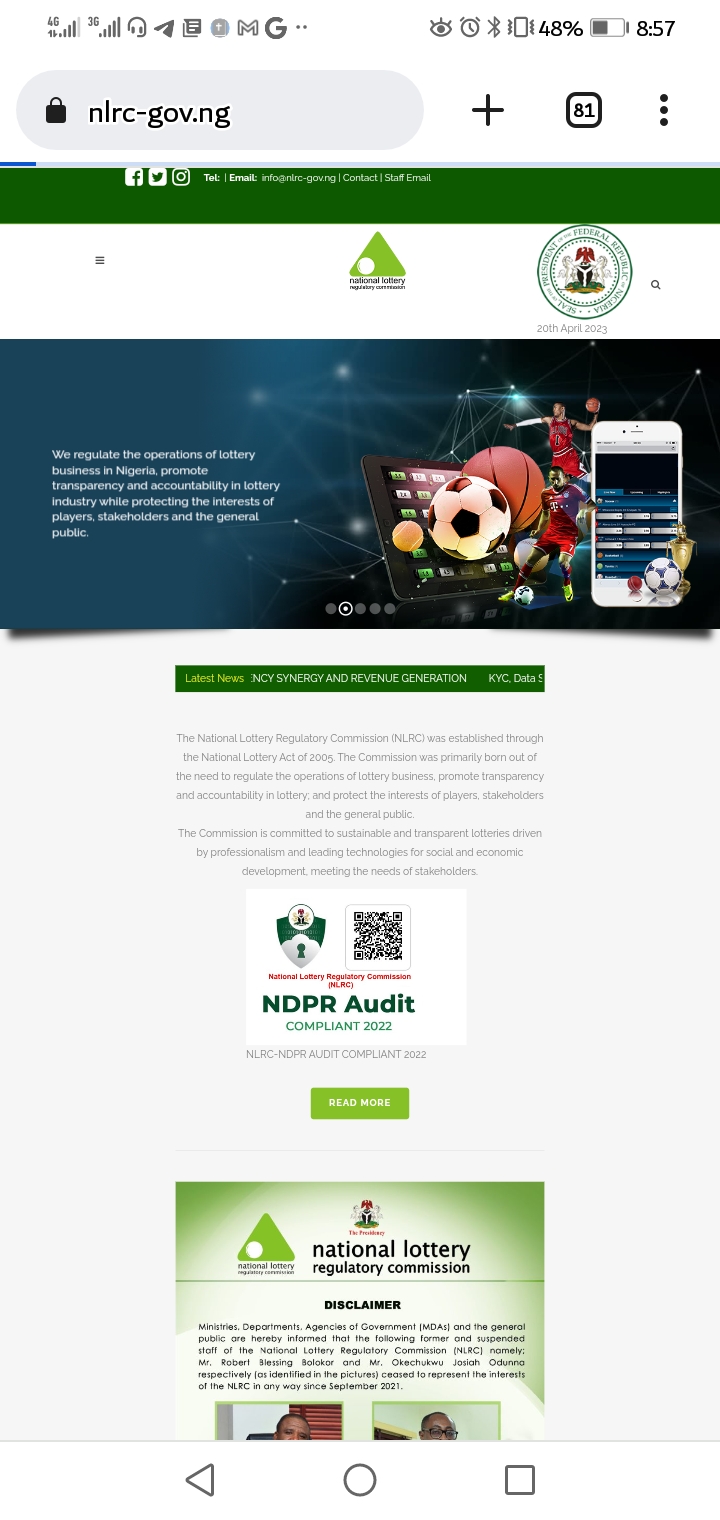 Melbet partnered with a bank in Switzerland. The sportsbook has a customer payout fund of 458,015,000 nairas, ensuring customers' payouts will be hitch-free. The sports betting platform is licensed in Curacao, enabling it to spread its wings outside Europe.
The Nigerian government frequently reviews the laws guiding the operations of sports betting sites in the country, assuring that the activities under Melbet Nigeria's license will be subjected to future reviews. The site is aware of this and dedicates itself to improving its services to customers, lest it loses its operating license in the country.
Melbet Nigeria Review
Melbet.ng sportsbook is an extension of Melbet International, which started in Europe in 2012. The platform boasts many markets, giving its customers several choices. Customers can equally access several bonuses, including welcome bonuses, promotions, and offers, many of which are unique. For example, customers can access up to a 45,000 naira bonus to bet on any sports events on the site.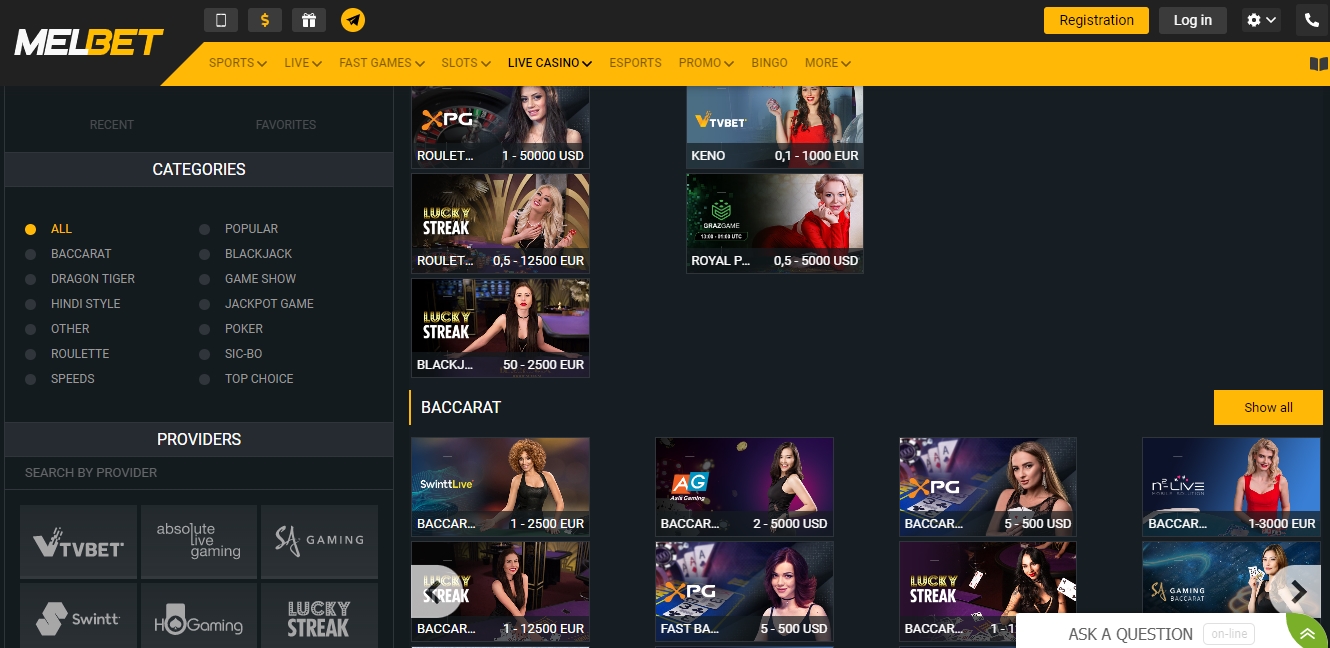 In addition, the site offers highly competitive odds, enabling sports bettors to make a massive return on each game they win. Customers can access more than 200 Melbet live betting events on the site daily and bet on more than 1000 matches across different sports, including football, basketball, tennis, etc. The site, therefore, promises its customers an inspiring moment every time.
Melbet Nigeria has a formidable reputation, and its customer service quality is out of this world. Melbet offers an exciting mobile app too. The mobile app and web platform respond quickly, making navigation easy for the customers. Payment processing on the site is equally straightforward, and customers can deposit and withdraw their money hassle-free.
While the sportsbook offers so many bonuses to its customers, it is safe to first read the terms and conditions of the bonuses before accepting them. This way, you can determine if the bonus is right for you. Some terms and conditions can be challenging, making your sports betting experience less exciting.
Not to worry; Melbet Nigeria has the interests of its customers at heart, and many of the terms surrounding the bonuses are easy to attain.
What we Like about Melbet
Melbet is an exciting site with outstanding features, some of which are highlighted below:
Bettors can access many betting options.

The site also offers live betting.

You can access multi-live features here.

The mobile app is easy to download and use.

Deposits and withdrawals are fast. While the deposit is processed instantly, withdrawal requires 15 minutes to 24 hours.
What We Don't Like about Melbet
Melbet has a few not-so-exciting features, and they will be highlighted below.
The Asian handicap offers very low odds.

You cannot deposit or withdraw using PayPal.

The site does not offer a separate poker section.
Melbet Registration
You can only access the services offered on Melbet if you have an account. The registration process will also not take a long time. You must only provide a few details when registering an account here. You can also register without providing any details. The site is equally secure and has never experienced hacking before. So, you can register an account here without the fear of unscrupulous elements stealing your details.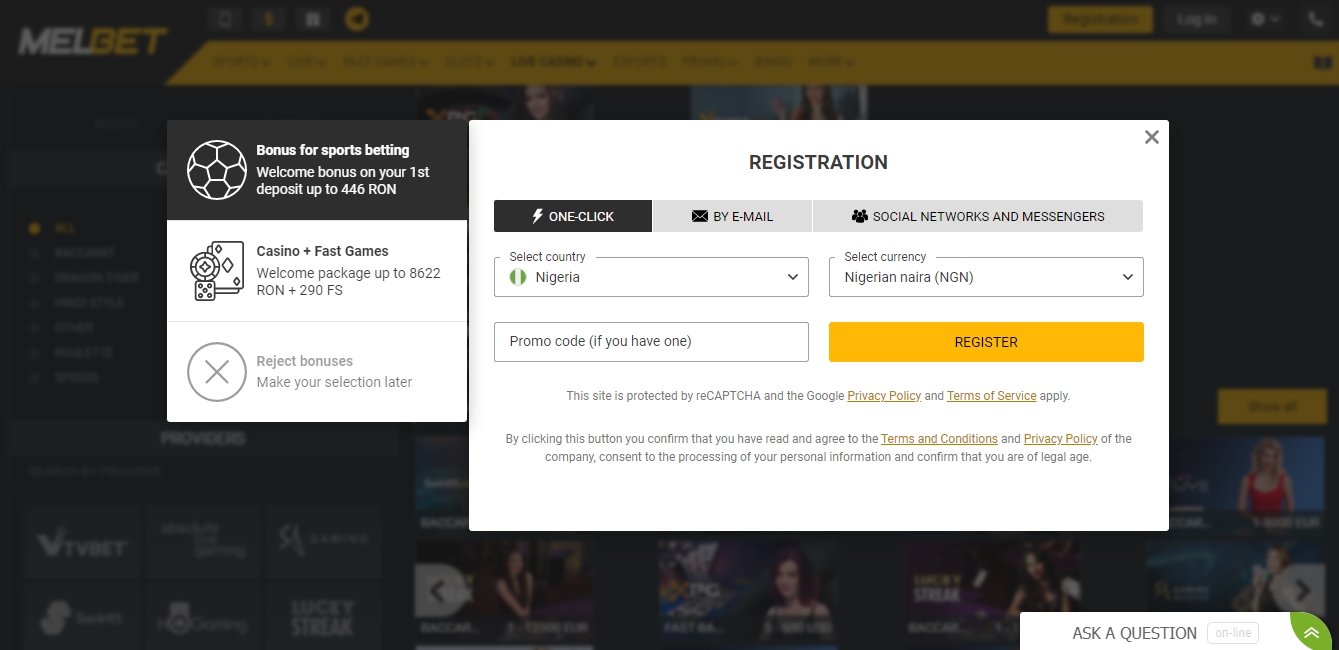 Since this site involves depositing money, you will be asked to verify your account to avoid money laundering issues. Account verification also helps to protect your identity on the site. As a Nigerian, you can verify your account using several documents, including:
National ID card

Drivers' license

International passport
You may also be asked to verify your address on the site before accessing all the services and functions.
How to register on Melbet.ng
Follow the steps below to complete your Melbet registration:
Visit the website or the mobile app and click on "register".

A drop-down menu will come up, and you will be requested to required fields in the form. Select your city, region/state, and country.

Input your name in the space provided on the site; make sure the name tallies with the name arrangement on your national identity card.

Next, select your preferred betting currency.

Input a password containing eight digits; only create a password you can easily remember in the future. Provide your cell phone number in the allotted space.

Choose the one you prefer among the welcome bonuses and provide the bonus code, if available.

After providing all the required details, click Register to submit the completed form.

Your registration will be processed instantly, and the account will be available for betting without delay.
Depositing Money on Melbet
Depositing money on Melbet is straightforward, and you can do so via several payment methods, including card, bank wire, and cryptocurrencies.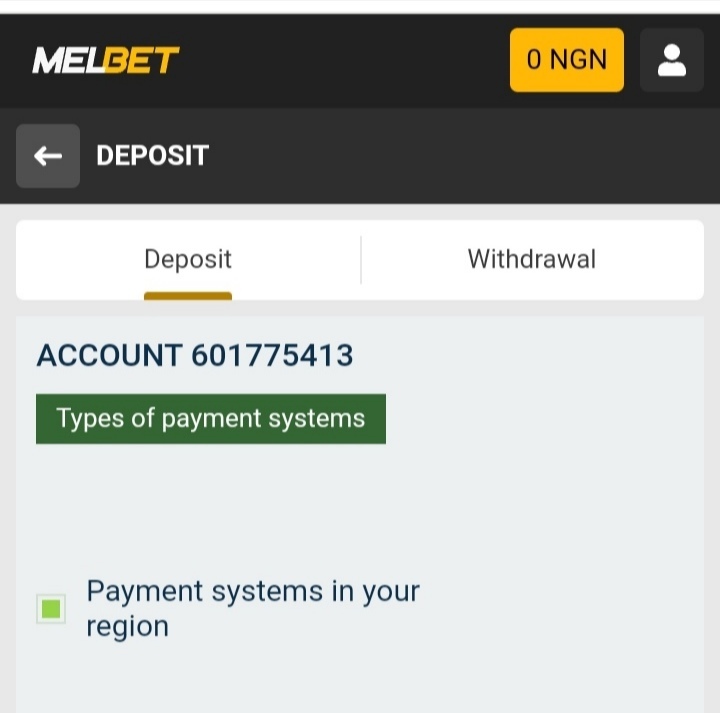 The Melbet payment methods are also easy to use, and payment processing is instant in most cases. You can deposit money into your account on the site free of charge. Irrespective of your chosen payment method, the minimum deposit is 250 Naira.
Payment Methods
Melbet offers several deposit methods, highlighted below:
Visa

MasterCard

Bank wire transfer

EcoPayz

Cryptocurrency

Bitcoin

Litecoin

Dogecoin

Perfect Money

Sticpay

Online bank transfer

Astropay Card

Quickteller
How to deposit money on Melbet.ng
The steps below will guide you on how to deposit money on Melbet
Launch the Melbet homepage and sign into your account using your login details.

Locate the Deposit tab on the top of the page and click on it

On the page that comes up, pick your preferred payment method among the available ones, like bank transfer, card payment, or cryptocurrencies.

Next, indicate the amount you want to deposit and other payment details

Once completed, the amount will instantly reflect in your Melbet betting account.
How to bet on Melbet
Betting on Melbet is straightforward, making the site welcoming to beginners. The steps provided below will guide you on how to do that.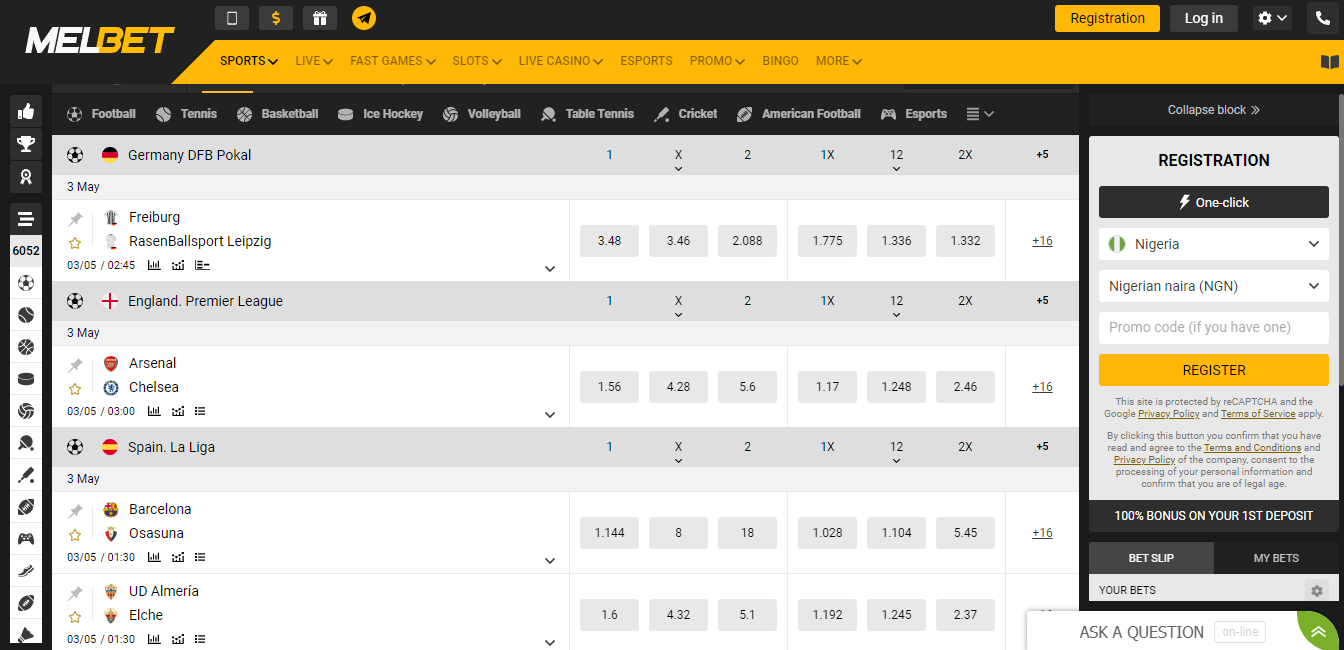 Sign up on Melbet
You can only access the sports betting opportunities offered here after you have signed up for an account on that site. The signup process will take a little time; you can complete it in under a few minutes. You only have to provide a few details to sign up on Melbet. Your account will be ready immediately after you have signed up, giving you access to all the fun and entertainment accessible on the site without restriction.
Make a Deposit on Melbet NG
After signing up for an account, it is time to deposit Melbet NG. The site offers many deposit methods, enabling customers to choose the most convenient option. You can deposit money on the platform using cards, bank transfers, and even cryptocurrencies; you can deposit money on the platform.
Some of the accepted cryptocurrencies are Bitcoin, Litecoin, and Dogecoin. You can also pay using e-currencies, such as Perfect Money. However, the site does not support PayPal deposits. Deposits are free, and they are processed instantly. Therefore, the deposited amount will be available for betting on Melbet immediately. The minimum deposit on the site is 250 naira.
Start Betting on Melbet
You can begin your Melbet betting football experience immediately after completing the deposit process since the deposited amount will instantly be available in your account. The site offers various sports categories, including football, basketball, and tennis, and you can also bet on live sports events on the platform.
Let's take a closer look at Melbet
The platform is accessible in many other countries, offering the residents great opportunities to wager on their favourite sport. The other countries where Melbet operates are Kenya, Zambia, Uganda, and Ghana.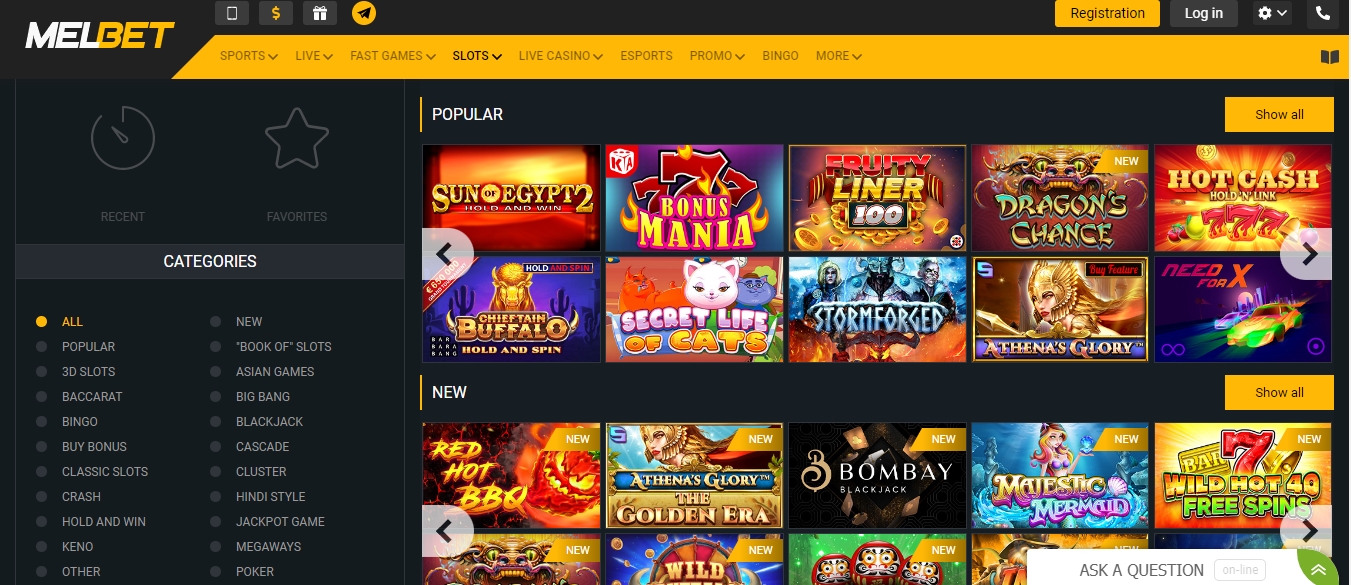 Sports bettors in all the countries where Melbet operates can access the same betting opportunities from sports activities in the United States, United Kingdom, Europe, China, Russia, Australia, southeastern Asia, and Africa. Consequently, Melbet betting tennis options are similar across all countries.
Note, however, that the payment methods accessible on the platform differ from one African country to another. In Kenya, for example, sports bettors on Melbet can deposit using MPESA Mobile Money, an option not available to Nigerian bettors on the site.
Zambian sports bettors on Melbet can deposit using mobile money and bank cards, while Ugandan sports bettors can access e-wallets, debit/credit cards, and payment systems like EcoPayz. Ghanaian bettors on the platform can access mobile money, Vodafone, MTN, and Airteltigo cash.
Regulation and licensing of the site in each country also differ, depending on the government authorities saddled with the responsibility in each country. Betting on sports on this site is 100% legal in each country where it operates. So, sports bettors can access Melbet basketball betting without fear of breaking the law in any country.
Melbet.ng sportsbook
Melbet offers an endless list of sports events. Findings show that sports bettors can access over 1,000 sports events daily, making the site one of the most entertaining in Nigeria and beyond. The Melbet odds are also good on each of the events available to customers, enabling the bettors to accumulate profit faster over a short period. The chance of making money is, therefore, high on the platform.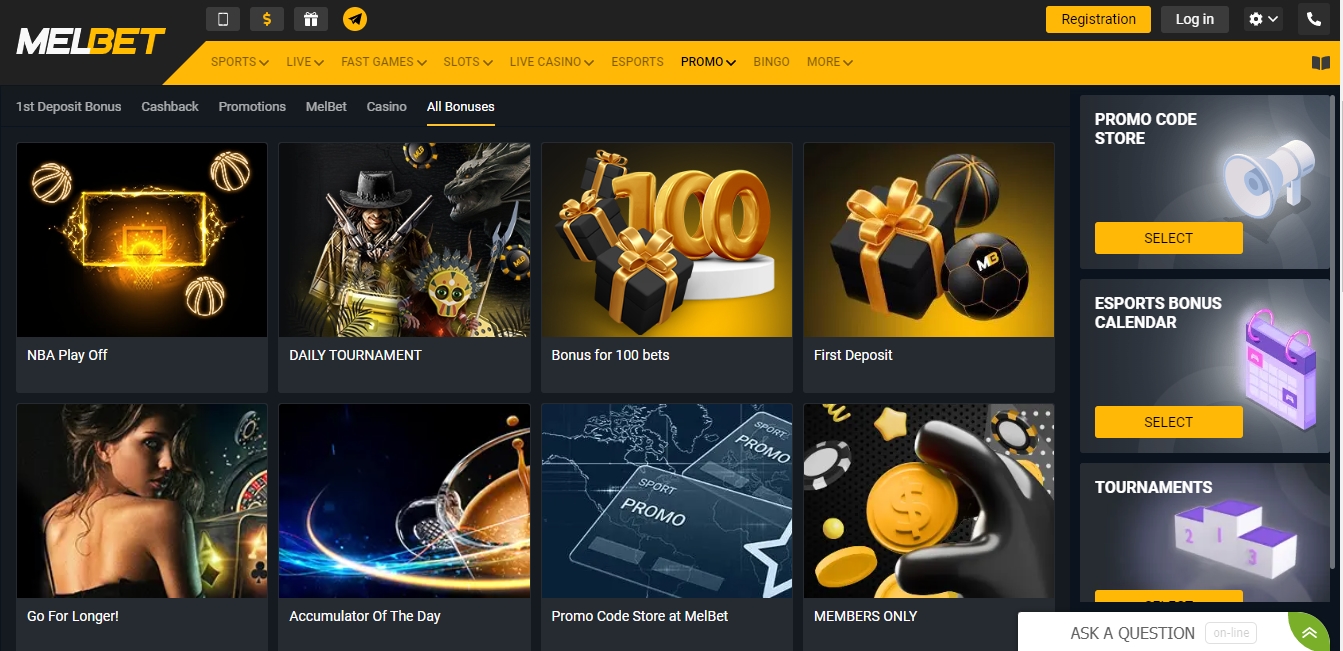 The platform is also straightforward to navigate. Its design is simple and highly functional. You can access special bets that can earn you a lot of money. Football lovers can bet with ease on Melbet Nigeria. You can also have fun here with Melbet betting basketball and Melbet betting tennis. Each sports event has a Melbet sports betting bonus that you will find beneficial. Aside from football, basketball, and tennis, you can also bet on ice hockey on the site. Other sports betting opportunities include volleyball, handball, esports, and live sports.
Melbet football
Do you enjoy betting on football? On this platform, you can easily place bets on various football events. The sportsbook offers football events from different countries worldwide, including Europe, North America, South America, Central America, Russia, Asia, Australia, New Zealand, the Middle East, and Africa. The entertainment available is endless.
Sports bettors on the site can access each country's local and international sports events. You can bet on the local leagues in each country and international football events like FIFA World Cup qualifiers, FIFA World Cup finals, Olympic football events, and continental football events.
Bet on the premier league champions on Melbet
You can bet on all English Premier League events on Melbet Nigeria from home or any other remote location. The site also offers to bet on Premier League Champions Melbet, allowing punters to bet on their favourite league worldwide. Some leagues you can wager on include the England Championships, the FA Cup, and football events in the First and Second Leagues. Other league events you can access on the site include the following:
England National League

England Northern Premier League

Women England Championship

Women England Super League
Melbet Tennis
Tennis betting is another money-making opportunity at Melbet Nigeria. You can bet on the following categories of events on the website:
ATP

WTA

Challenger

ITF

World tournaments
Each category has an extended list of subcategories, meaning there is a long list of betting opportunities under tennis on Melbet Nigeria.
Melbet basketball
Basketball lovers will have a lot of betting options on the site. You can bet on basketball events from different continents, including international events. You can also bet on live basketball events on the site.
Melbet live betting
As its name implies, live betting enables you to bet on sports while the events are underway. You can bet on any live event on the platform, including football, tennis, volleyball, handball, basketball, etc. If you cannot bet before the event starts, you can take advantage of the live betting opportunity to bet on the event already in session.
>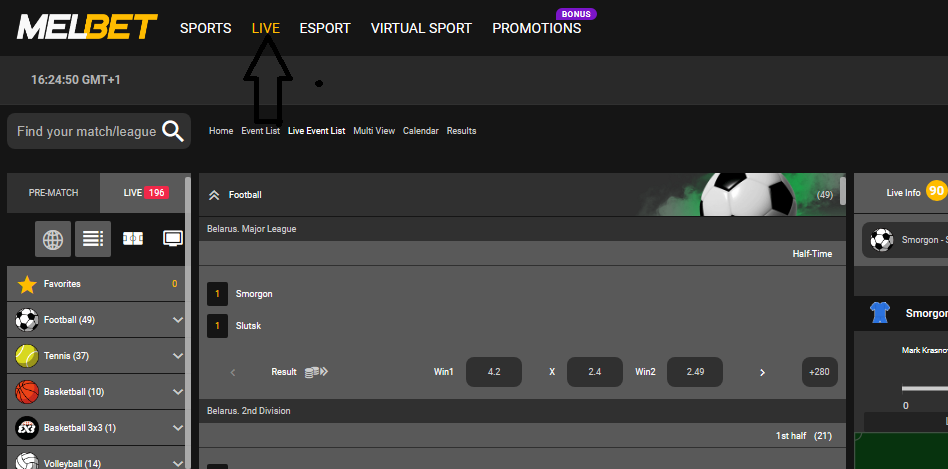 The live betting market on Melbet is extensive, covering sports betting and casino games. It is available 24/7, removing limits to winning on the platform. In live football betting, the odds consistently change as the match progresses, depending on the team's performance.
Melbet early cash-out
On Melbet, you can cash out your winnings before the event ends. This feature offers an opportunity to close your outstanding bets to enable you to lock in your win or cut your losses.
If the game is in your favour so far, but your team may not survive the barrage of attacks from the opponent, the early cash-out feature will help you lock in the profit you already have before things go south.
However, the early cash-out payout will be less than the amount you will get if the game is in your favour after running its entire course.
Follow these steps to cash out when playing on the Melbet website:
Launch the Melbet website or mobile app.
Look for 'My Bet' at the bottom of the screen and tap on it.
This will show you your running bets.
If cashout is available for any bets, you will see 'Cashout' written against it.
Tap the 'Cashout' tab to cut your losses or secure your profit for that event.
Melbet odds
Melbet odds are among the highest in the Nigerian betting industry. The odds are highly competitive, making the site attractive to sports bettors across the globe. The site offers several markets for sports bettors, and each market has good odds. Even live sports events are included in the enviable odds offered on the platform.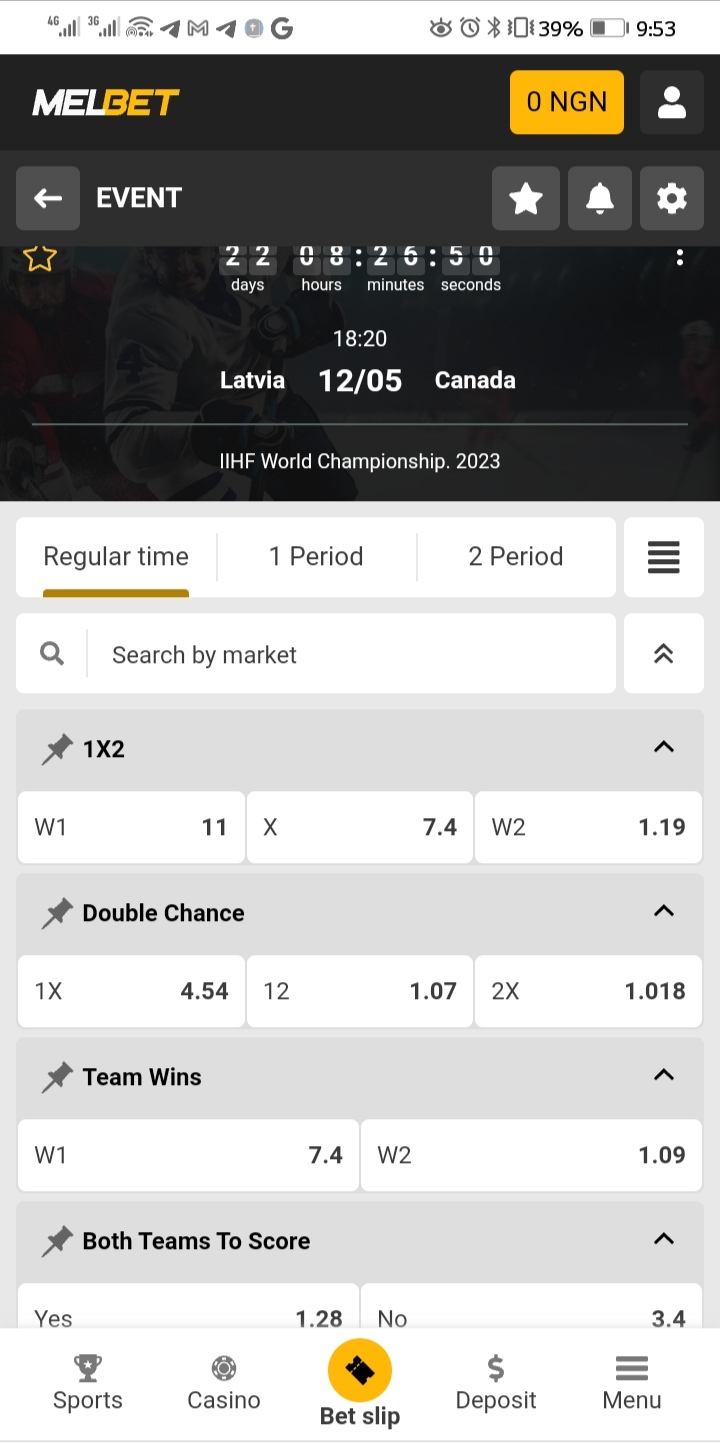 The odds on each game determine how much you can win when you stake in the event. Note, however, that the odds tend to change with time as events unfold in the particular sports event under consideration. If the team's chance of performing well in that event increases, the odds against it will reduce. The reverse is true if the team's chances tend to drop as the time of the event draws closer.
The change in odds will continue until the end of that event. If one side scores three goals in the first half of a football match, for example, the odds for that team to lose the match will increase, and its odds of winning the match will reduce. Melbet is not alone in this change in odds, as it happens on all sports betting sites. Nevertheless, the reduction is more favourable to players on Melbet than many other sports betting sites.
Melbet offers excellent bonuses to top players who bet on enormous odds. The bonus increases as the number of odds increases. For example, someone betting on accumulation odds up to 100 will enjoy more bonuses than someone betting on total accumulated odds of 20.
Sports betting bonus
Bettors at this sportsbook can access several bonuses. Each Melbet sports betting bonus is designed to make the betting experience more exciting for the customer. They also come with simple terms and conditions, enabling individual customers to access and use them efficiently. This review section will show you the available sports betting bonuses on this site.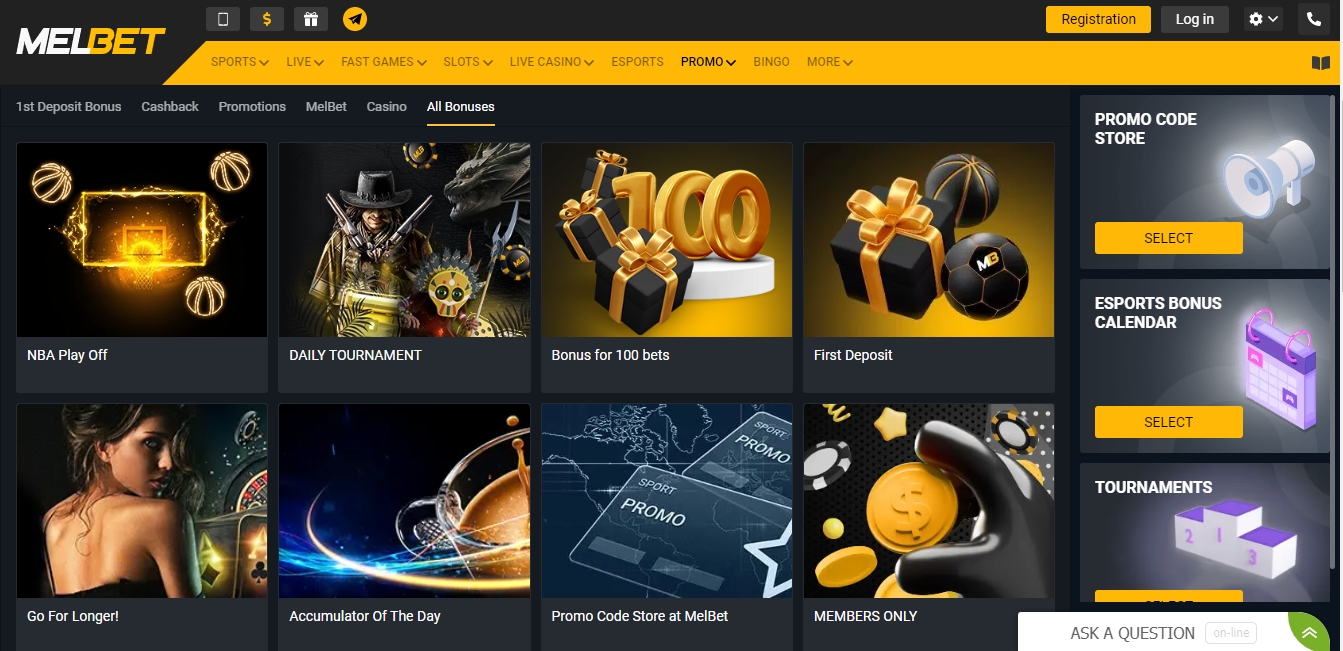 200% first deposit bonus
This offer can earn you a 100,000 naira bonus on your first deposit. It is a first deposit bonus, and the amount you can get depends on your deposit. However, the wagering requirement is 12x for 30 days. You must also make a minimum deposit of 450 nairas before accessing the bonus. For example, if you deposit 1000 naira, the bonus will be 2000. Note that the bonus is only available to new members.
Multibet bonus
The bonus requires placing multiple bets on any set of events. The events can be in any category, including esports, live games, and conventional sports. Multibets will help to increase your total odds and, therefore, how much you can win. The extra odds increase as the number of games in your accumulation bet increases.
Multibet Cashback
This bonus is for those who place multiple bets or accumulations. They can get cashback if they lose the bet. Melbet Nigeria will pay them a cashback of 20% of the amount they placed on the bet.
Loyalty bonus
You can access the loyalty bonus as a platform member. The bonus rewards customers for their loyalty to the site. The Melbet loyalty bonus is given in the first week of the month to reward the customers for their loyalty in the previous month. The amount you receive as a loyalty bonus depends on the amount you spent in the previous month on betting.
Withdrawing money from Melbet
The withdrawal process on Melbet is straightforward, even for first-timers. All the deposit methods at the sportsbook can also be used to withdraw your winnings.
The minimum withdrawal on Melbet is 550 naira. Customers can easily attain the minimum withdrawal level.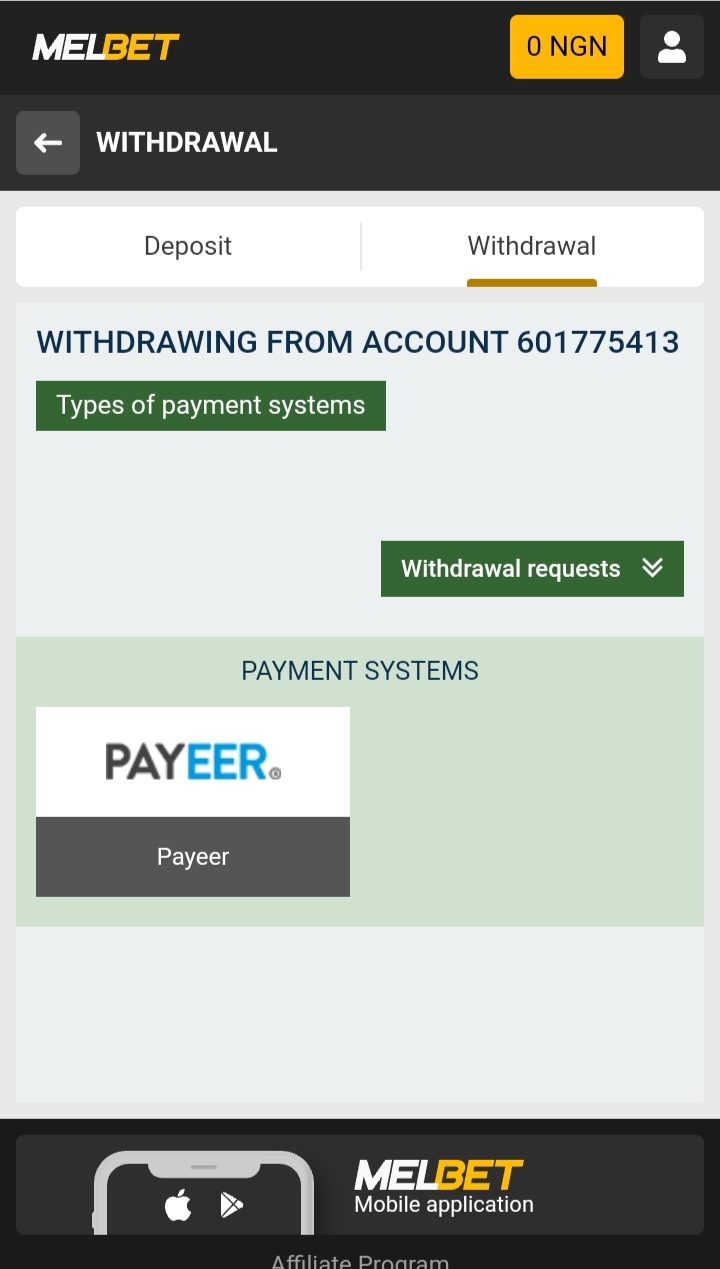 This low minimum requirement is one of the many factors that place the sportsbook ahead of others; many other sportsbooks in the country insist on 2000 naira as the minimum withdrawal amount.
Withdrawal processing takes little time, but your chosen method can determine how long you will have to wait until the money arrives in your account. Withdrawals via bank transfer can take up to 7 business days, while other withdrawal methods can take between 15 minutes and 24 hours.
Check below for steps to take when withdrawing money from Melbet:
Launch the site
Open the website or launch the Melbet mobile app. You can visit the site at www.melbet.ng. Log into your account and navigate to the bottom of the page. Check the information category and choose payments.
Open payment page
Clicking "payment" will bring up the payment page, where you can deposit and withdraw. Since you are interested in withdrawing your winnings, click on the withdrawals tab. This will present the available withdrawal options, including Easy Wallet, Payment Systems, Internet Banking, and Bank Transfer.
Choose withdrawal method
Choose one of the methods and provide the required details about the withdrawal, including the amount you want to withdraw and the account to which the money should be sent.
Ensure safe withdrawal
Melbet sports bettors can only withdraw money using the same method they used to deposit on the site for security reasons. You can only successfully withdraw money if you have verified your account on the site earlier.
Melbet mobile app
The Melbet mobile app makes it easier for bettors to access the site and its many betting options. You can access the site on your desktop computer and via the mobile browser, but the mobile app quickens the process.
Every feature accessible on the desktop computer and mobile browser is also accessible on the Melbet mobile app, including depositing, withdrawing, and betting. You can verify your account or contact customer service via the mobile app.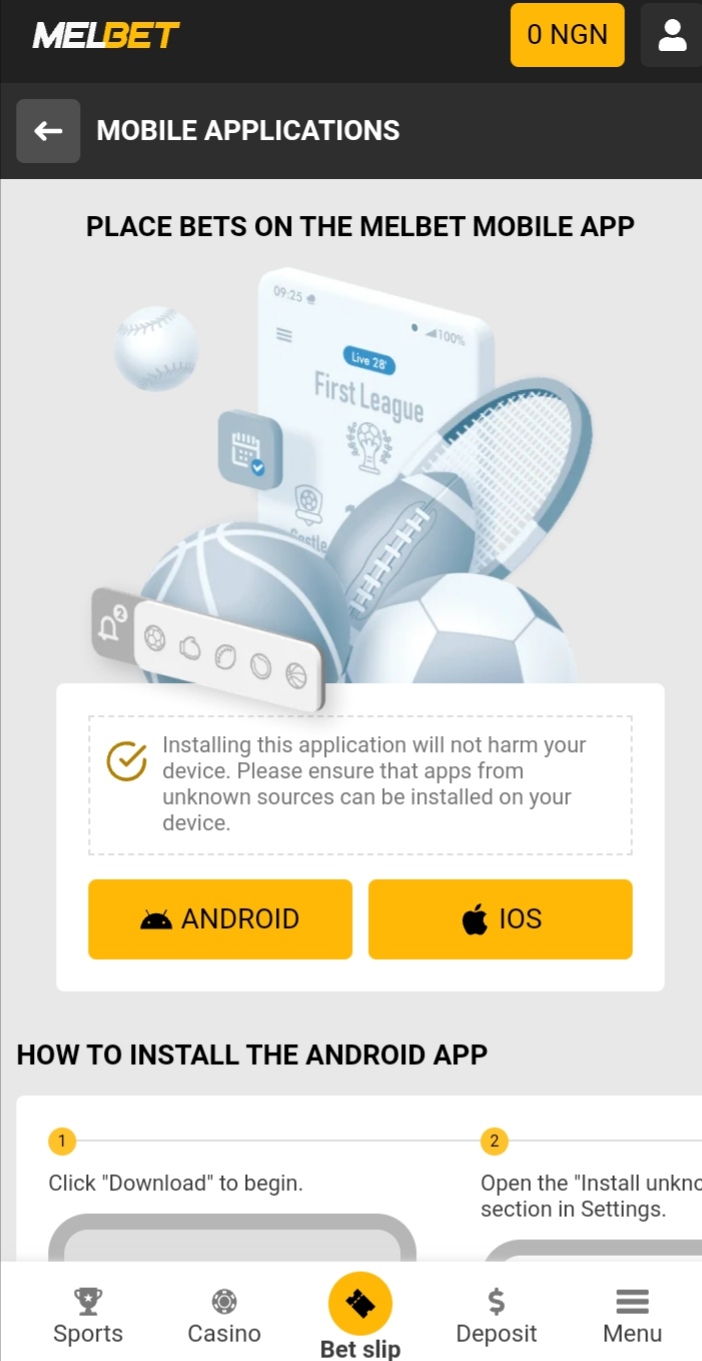 Melbet offers a mobile app for both Android and iOS devices. The Melbet Android app functions just like its iOS counterpart.
The app will only occupy a little space on your mobile device. It is also frequently updated to help prevent bugs and viruses from invading your device. The site has 100% data safety, and the data provided will not be shared with a third party. Customers provide financial, personal, and many other details when using the app.
The data you provide on the site is encrypted for complete protection. Customers can request their data to be deleted. You will get a notification from the site when a new app version is available. Downloading the new version will not delete your details or require you to sign in again.
How to download the Melbet mobile app
Check below for helpful information on how to download the Melbet mobile app
Android app download
Launch the Melbet homepage on your Android device
Check the right-hand corner of the homepage for the menu and tap on it.
The new page contains links to download the Android and iOS apps.
Select the tab labelled "Android" to download the Android version of the
Melbet mobile app.
iOS app download
Launch the App Store on your iOS device to download the Melbet iOS app
Search for the Melbet app
Click on the app to start the downloading
How Melbet Compares with Other Betting Sites in Nigeria
Low minimum deposit
The minimum deposit on Melbet is 250 naira, which is far lower than you can ever find in any other sportsbook. Consequently, you will only risk a little money when betting on sports on the site.
Low minimum withdrawal
Melbet's minimum withdrawal is 750 naira, irrespective of the withdrawal method. Customers will, therefore, only have to bet briefly before reaching the withdrawal threshold. Many other sportsbooks raise the stake.
Multibet cash out
Melbet offers a cashout of 20% to customers if they lose their accumulation bet. Many sportsbooks do not offer such an opportunity.
45,000 nairas first deposit bonus
New customers can enjoy a 100% first deposit bonus of up to 45,000 nairas. This amount is higher than what many other sites offer.
Multiple payment methods
Melbet offers multiple payment methods to customers for deposits and withdrawals. The number of payment methods on many other sites is limited.
How can I enjoy cash back on Melbet?
You can only get the 20% cash back if you place an accumulator bet and it loses. The minimum odds for the accumulation bet must be 1.7.
General Information
E-sports
Virtual Soccer, Virtual Greyhounds, Virtual Motorbikes, Virtual Speedway, Virtual Horse Racing, Virtual World Cup Soccer, Virtual Real Fighting.
Types of Sports
American Football, Auto Racing, Awards, Basketball, Bowls, Boxing, Chess, Cricket, Cycling, Darts, Entertainment, Floorball, Football, Formula 1, Futsal, Golf, Greyhounds, Handball, Horse Racing, Ice Hockey, MMA, MotoGP, Motor Sports, Motorbikes, NASCAR, Politics, Pool, Rugby, Specials, Table Tennis, Tennis, Trotting, TV Shows and Movies, Volleyball, Water Polo, Baseball.
FAQ
Does Melbet offer a second deposit welcome bonus?
expand_more
No, the site only offers new members a first-deposit welcome bonus. New members can enjoy a 100% first deposit bonus of up to 45,000 nairas.
How can I get in touch with Melbet customer service?
expand_more
You can find customer service contact details on their website. Customers can communicate with them via various methods, including email, live chat, and phone calls.
Can I access live betting on Melbet?
expand_more
Yes, the site offers over 200 live betting opportunities to sports bettors, and the odds on the games are considerably high.
Is Melbet licensed to operate in Nigeria?
expand_more
Yes, Melbet is licensed to operate in Nigeria. The sportsbook also possesses two licenses in Nigeria, one in Oyo State and the other in Abuja. The two license-issuing agencies are:
Oyo State Gaming Board
National Lottery Regulation Commission, Abuja, Nigeria
What sports are available on Melbet for betting?
expand_more
You can bet on an endless list of sports activities on this site, including football, tennis, basketball, hockey, and many more. You can also bet on live events. The site offers over 1,000 events each day.
How fast is withdrawal processing on Melbet?
expand_more
The withdrawal process on Melbet depends on the withdrawal method you choose. Other withdrawal methods, aside from bank transfers, require 15 minutes to 24 hours for processing. A bank transfer, on the other hand, can take 5 to 7 days.