iBet NG
Updated 10 July 2023
iBet, a leading entity in the betting industry, paves the way for fair play while simultaneously driving innovation in technology. This stalwart brand boasts a team with a cumulative experience of over a century. iBet's stated objective is to usher in a new era of sports betting and casino entertainment by providing a gaming service that is intelligent, transparent, and responsible. They champion a lean, efficient approach and employ flexible, real-time automated processes in their operations.
Understanding the game is a cornerstone of iBet's services. They employ a transparent and equitable Rewards system. Notably, iBet's iCash Cashback feature distinguishes itself by rewarding users in real time during their gameplay, avoiding the pitfall of hidden terms or wagering requirements.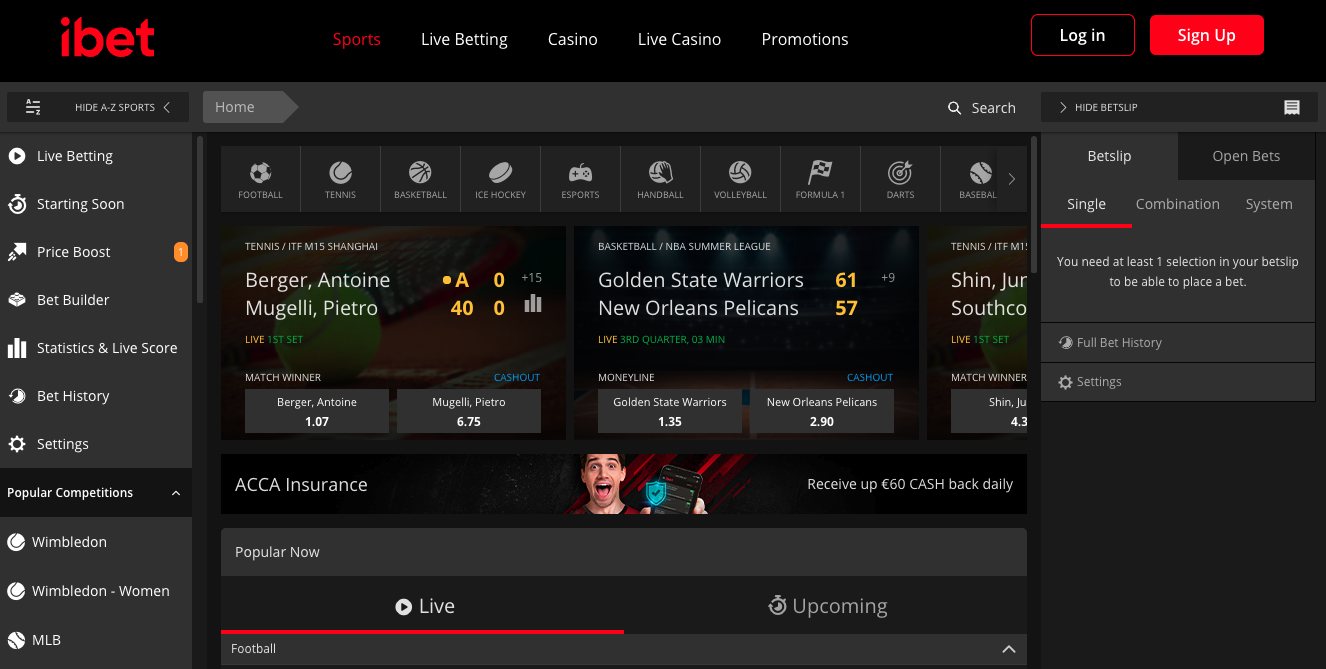 iBet prides itself on prioritizing responsible gaming in Nigeria. They've raised the bar with their products by offering unparalleled transparency that gives customers unique insights into their betting habits. While treating their customers as responsible adults, iBet ensures the availability of necessary tools to take breaks and set limits when required.
Ease of use is a key focus of iBet's services. They offer a secure payment system that enables customers to benefit from an automated and immediate withdrawal experience. The real-time Know Your Customer (KYC) verification process and simple payment methods offered are designed with a keen eye on improving user experience.
What We Like About iBet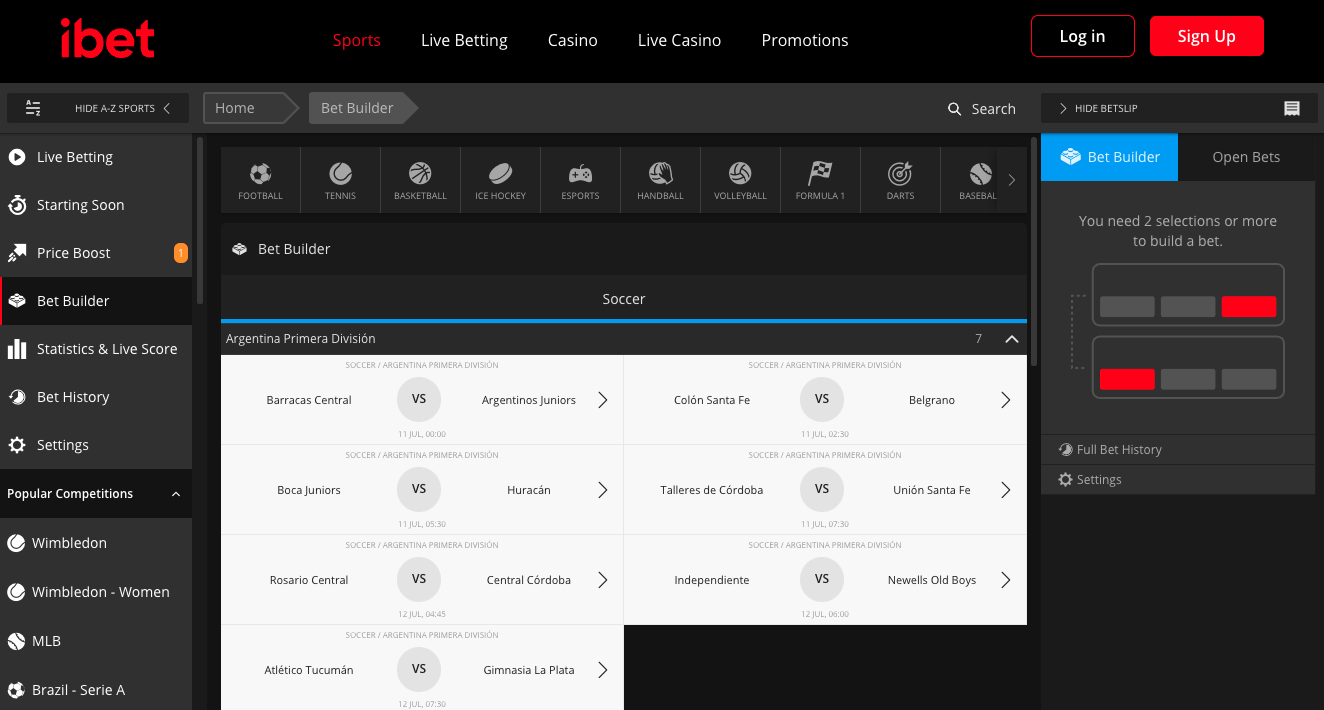 Industry Experience: With over 20 years of collective industry experience, iBet is helmed by seasoned veterans, which suggests a high level of understanding of the industry's ins and outs.
Transparent Rewards: The iBet iCash Cashback feature offers real-time rewards during gameplay, with no hidden terms or wagering requirements, ensuring a fair and straightforward system for users.
Responsible Gaming Advocacy: iBet places a strong emphasis on responsible gaming, providing users with the tools necessary to monitor their betting habits, take breaks, and set limits when required.
Efficient Payment System: iBet has automated processes for withdrawals and real-time Know Your Customer (KYC) verification, which makes for an easy and seamless user experience.
Adaptive Strategy: iBet actively seeks customer feedback and makes ongoing improvements, indicating a customer-centric approach to its services.
What We Don't Like About iBet
Potential Over-reliance on Tech: While automated processes and real-time systems can be efficient, there can also be downsides if the technology fails or if customers prefer more personal, human customer service.
Limited Information on Betting Options: While iBet emphasizes many of its service features, there isn't much detail about the actual betting options available, such as the sports they cover, the types of bets users can place, or the competitive nature of their odds.
iBet Licencing

In the sphere of licensing, iBet's credibility stands unmatched as it holds dual accreditation. Firstly, it operates under the license of Claymore Malta, a licensee of the Malta Gaming Authority (MGA), a public regulatory body responsible for overseeing all forms of gaming based in Malta. The official MGA license number is MGA/B2C/748/2019, issued on December 3rd, 2020. More about the MGA can be learned at their official site, www.mga.org.mt.
In addition to this international recognition, iBet is acknowledged by the local authorities and listed by the Nigerian Lottery Regulatory Commission (NLRC), similar to well-established entities such as Promoserve Inter Links Ltd. This dual licensing, both at an international and a local level, underscores iBet's commitment to adhering to regulated standards and providing users with a secure and trustworthy betting platform.
iBet Registration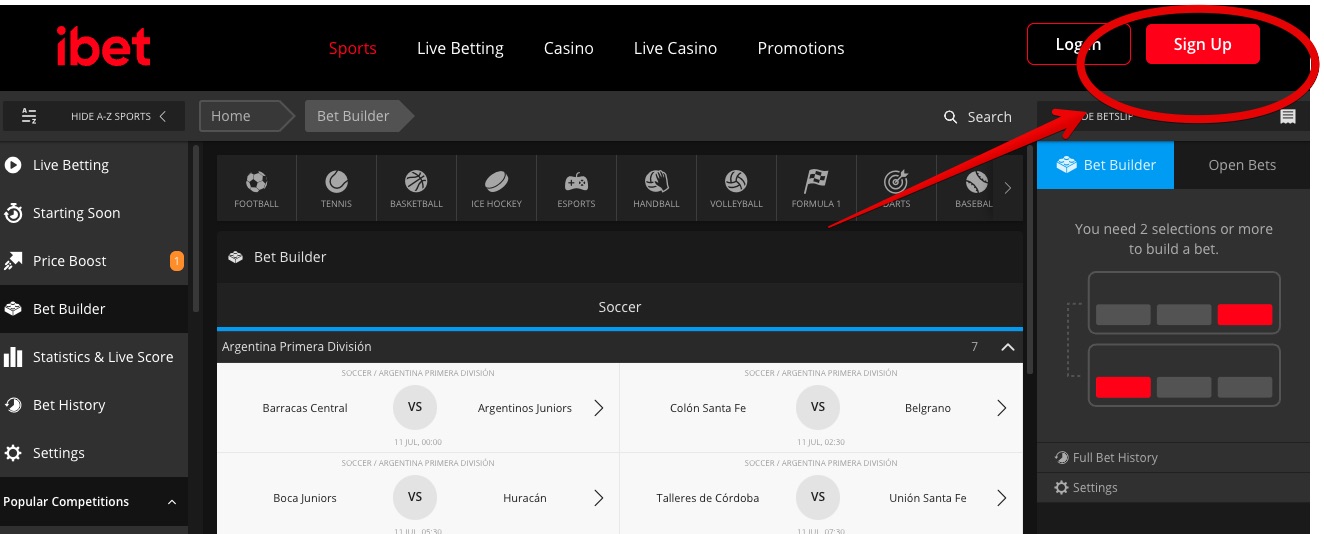 Embarking on your iBet journey begins right at their homepage. Simply search for the "Sign Up" button, conveniently located at the top right corner of your screen, and give it a click.
Your journey into the world of iBet is paved by your mobile number. Upon entering it, hit the "Continue" button. A unique code will be swiftly dispatched to your inbox, serving as the key to unlocking the subsequent phase of your registration process.
During this stage, a few more details are required to complete your registration. These details include your email address, date of birth, residential address, and the chosen password for your account. Each piece of information you provide plays a pivotal role in tailoring your iBet experience to your preferences.
Once these steps are successfully completed, your account is set up. To plunge into the exhilarating world of sports betting, click on "Login". You will then be prompted to key in your username and password that you established during the registration process. With these steps done, you are now fully equipped to navigate the thrilling universe of sports betting with iBet.
Deposit to Your iBet Account
iBet, as an international operator catering to a global customer base, presents several payment options to its users.
Various deposit methods are available on the platform, including
Credit/Debit Cards (such as VISA and Mastercard)
Neteller
Skrill
Trustly
Bank Transfer

One of the key features of the iBet platform is its commitment to security, providing users with the assurance that their payment details remain confidential and are not shared with unauthorised entities.
Although the bookmaker's current deposit and withdrawal currency isn't Naira, this does not present a hurdle for Naira cardholders. This is because the conversion to dollars is executed at the deposit point. Deposits are processed instantly, with the minimum deposit amount being set at 10 (or its equivalent in Naira).
The withdrawal methods echo the aforementioned deposit options. The withdrawal times vary - specific payment systems facilitate instant withdrawals, some reflect in approximately 15 minutes, while bank transfers may take up to 2 business days.
One of the standout features of iBet's payment methods is the absence of additional fees, further enhancing the user-friendly nature of the platform.
Let's take a closer look at iBet
In the ever-evolving landscape of sports betting, iBet is setting a strong pace in Nigeria's thriving market by utilising automation and AI to streamline operations, notably in areas like the KYC procedure.
With its steadfast commitment to providing secure, reliable, and varied betting opportunities, iBet is fast carving a niche for itself as a trustworthy haven for sports aficionados. Its credibility is further bolstered by its licensing and regulation under the National Lottery Regulatory Commission.
Upon closer examination of this burgeoning betting platform, it becomes evident that iBet extends beyond its role as a mere bookmaker. Instead, it emerges as a pulsating community hub that draws together sports enthusiasts and bettors, offering them a platform for engagement and a playground for their passion.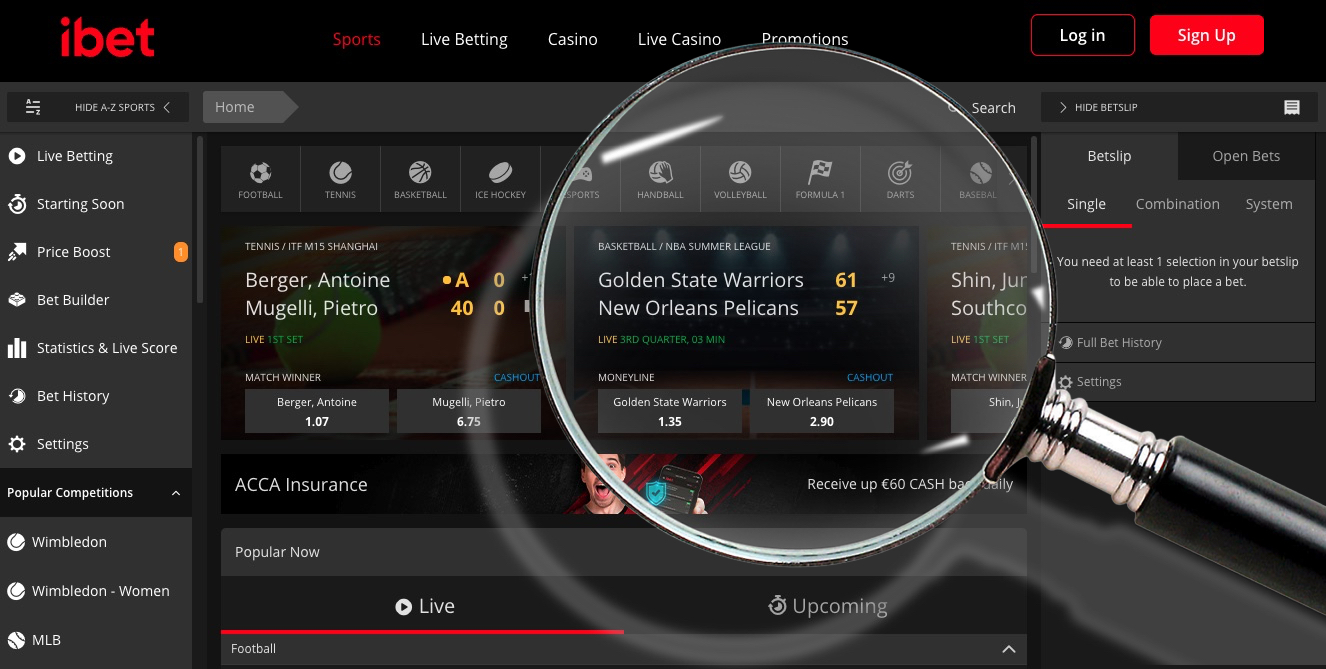 Analyzing reviews is a great way to understand the real-world experience of users on the platform. Trustpilot, being a popular review website, can provide valuable insights. However, keep in mind that the nature of reviews can be quite subjective - some users might have had a great experience, while others might have encountered issues.
Looking at the 71 reviews for iBet on Trustpilot, it appears that the user experience is quite controversial. In such cases, it's important to delve deeper into these reviews to identify common themes or concerns raised by users.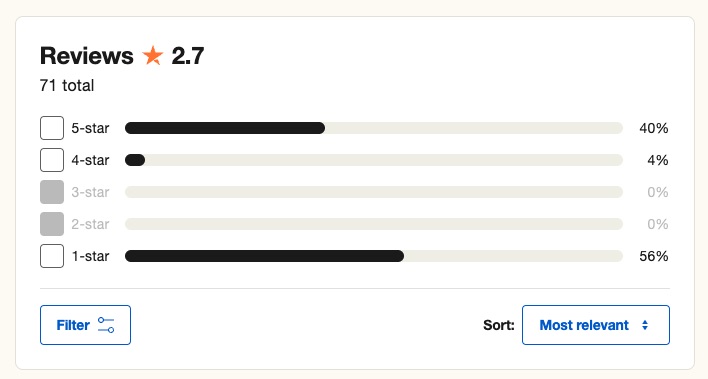 iBet Sportsbook
Brandishing Nigeria's cherished national green and white hues, the iBet sportsbook is a vibrant testament to its strong local roots. You can delve into this exciting domain by selecting "Sports" from the primary navigation bar at the top of the webpage.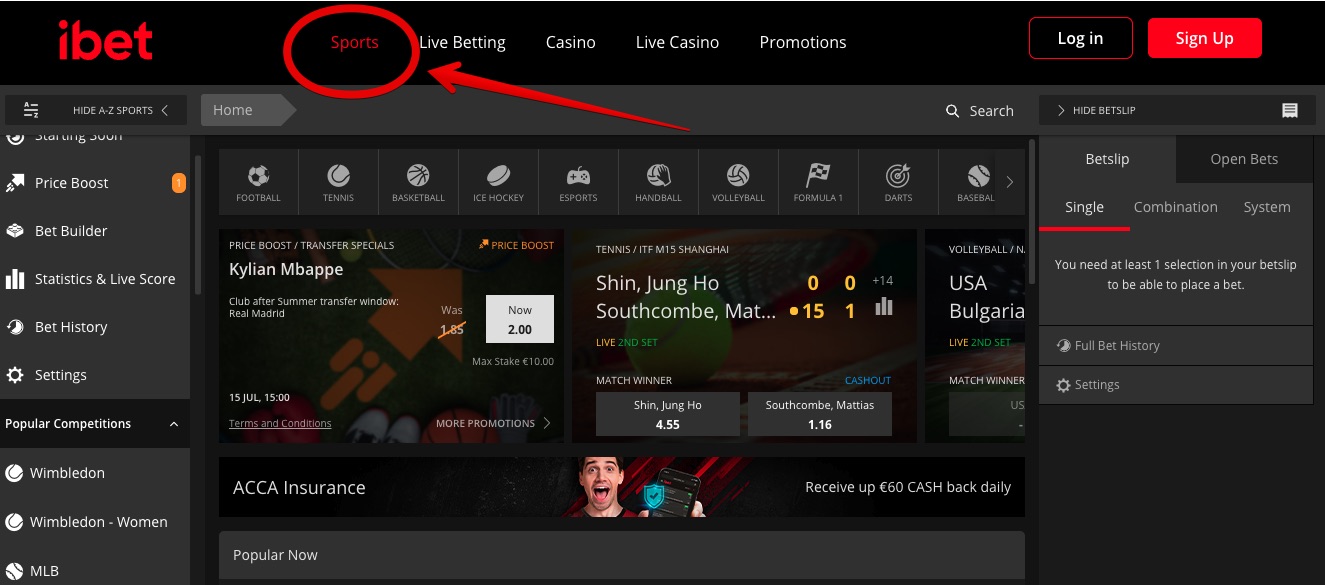 While iBet maintains a steadfast allegiance to its Nigerian heritage by prioritising football betting, it also caters to various sports interests. From the swift rallies of tennis and table tennis to the dynamic plays of basketball, iBet showcases a broad spectrum of betting opportunities.
A closer examination of the iBet sportsbook reveals an impressive array of about 28 sports, with more unique offerings such as water polo, golf, and darts. This wide variety is designed to satiate a wide array of betting preferences, offering something for every kind of sports enthusiast.
With iBet, whether you're a football fanatic or a darts devotee, you'll find a betting experience tailored to your tastes. For instance, you can adjust and fine-tune your own game settings such a odds format.
iBet Football
In football betting, iBet truly distinguishes itself by offering an extensive and globally diverse selection to accommodate all kinds of football fans.
Whether your attention is riveted by the pulse-racing action of prominent European leagues from countries like England, Spain, Germany, Italy, and France, or you're captivated by the lesser-known leagues in remote locations such as Peru and Iceland, iBet ensures your interests are catered to.
iBet elevates the betting experience by presenting many options for every match. This abundance is illustrated in an average Soccer section on iBet, which offers hundreds of distinct betting options!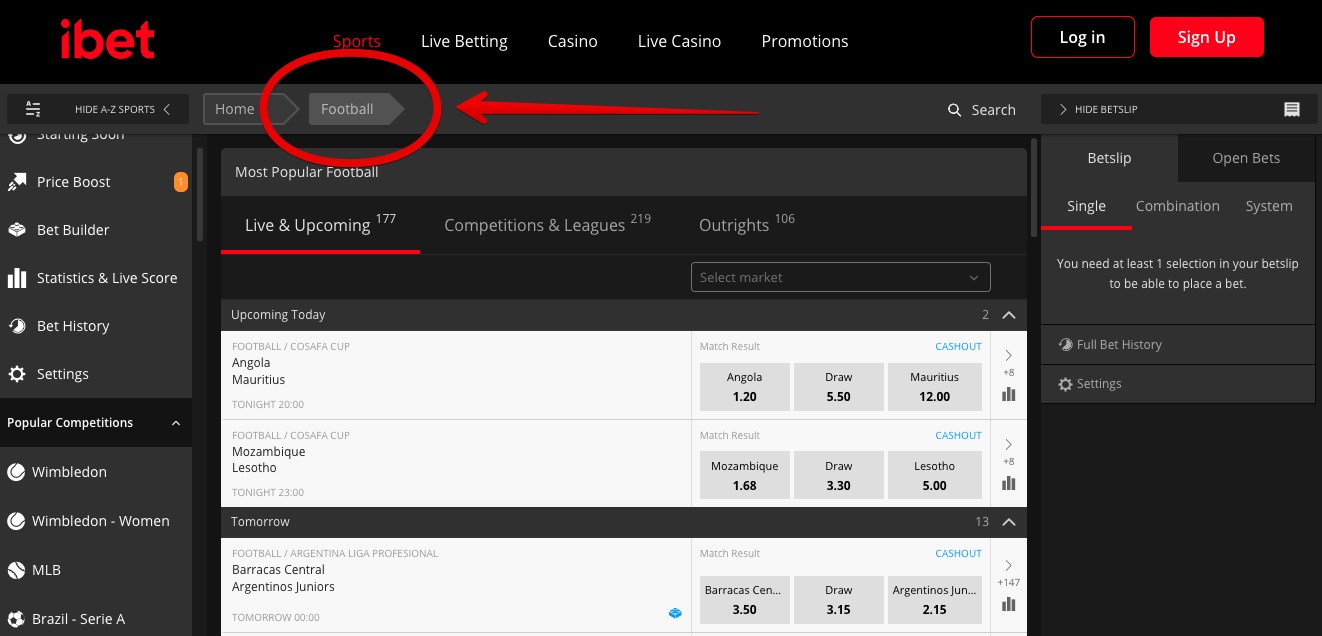 While conventional betting markets such as goals scored, and match results are easily accessible, iBet also caters to the more audacious bettors with various unconventional betting options. These include European handicaps, Asian handicaps, anytime goal scorers, and many other exciting bet combinations.
For the prescient bettors who enjoy forecasting tournament outcomes, iBet features an "outrights" section. Here, you can place long-term bets on esteemed tournaments like the World Cup, the English Premier League, the Africa Cup of Nations, and the European Championships. So, irrespective of your betting preferences, iBet's football section is geared to provide an unrivalled experience.
iBet Tennis
While football undoubtedly holds the spotlight at iBet, the platform also offers a solid and comprehensive range of tennis betting options. Covering the full breadth of this high-energy sport, iBet's tennis offerings span from grassroots tournaments like the ITF Tour and Challenger events right through to the globally celebrated ATP and WTA tours.

Whether your passion aligns with the grand spectacle of the US Open or the timeless charm of Wimbledon, iBet delivers a multitude of betting markets to enrich your experience. Tennis fans can place their bets on a host of game elements, including match results, number of sets, games, handicaps, and numerous other engaging options.
Are you in the mood to back a clay-court virtuoso like Rafael Nadal at Roland Garros? Or perhaps you're cheering for Roger Federer to mount a victorious return at Wimbledon? iBet enables you to transform your fandom into tangible bets, adding an extra layer of excitement to every match. No matter what your tennis tastes might be, iBet promises a premier tennis betting experience.
iBet Live Betting
With iBet, the excitement of betting endures well beyond the first whistle. Not only does the platform provide a broad selection of pre-match betting options, but it also vivifies the game's thrill with real-time, in-play wagering possibilities.
The live betting feature of iBet spans an array of sports, appealing to aficionados of the world's most popular games such as football, tennis, and basketball, among others.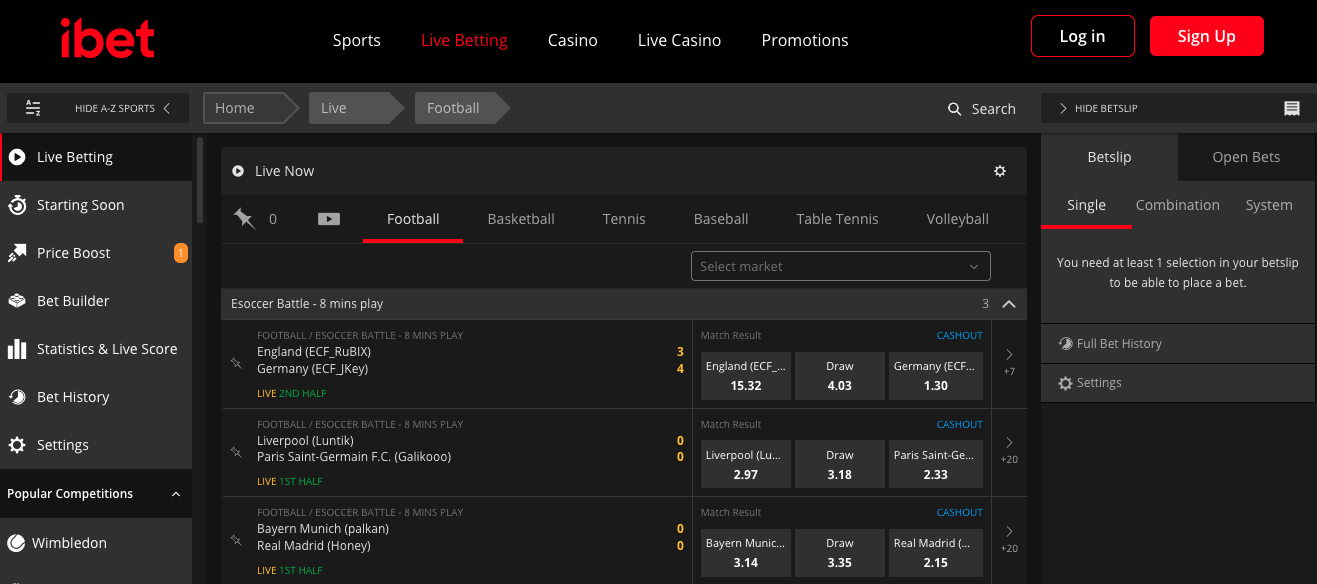 To enhance your live betting adventure, iBet arms you with potent resources like real-time statistics and virtual live feeds. These tools allow you to keep track of the dynamics of your live matches, fine-tune your predictions, and potentially escalate your winnings!
So, if you're keen to make agile, in-play bets on an English Premier League match, or wish to put your NBA in-play prediction abilities to the test, iBet delivers a superior live betting platform that places you directly in the midst of the action.
iBet Cash Out
With iBet, the thrill of live betting is further enriched by the inclusion of the iBet Cash Out feature, complementing its robust live sports betting offerings, particularly for football.

The Cash Out service provides users with the opportunity to conclude bets before the actual end of a game. This capability allows bettors to either lock in their profits early if they feel their bet is likely to lose or to limit their losses if they predict their bet is unlikely to win.
Whether you're keen to make dynamic, in-play bets on an English Premier League match, test your NBA in-play prediction skills, or strategically cash out early, iBet offers a comprehensive live betting platform. Equipped with real-time statistics, virtual live feeds, and the Cash Out feature, iBet ensures you're always at the heart of the action, allowing for an informed and immersive betting experience.
iBet Odds
One of iBet's standout features that truly separates it from the crowd is its diverse range of sports betting markets, complimented by highly competitive odds. A crucial element for both seasoned bettors and beginners, iBet's odds stand confidently alongside and often surpass those offered by leading betting platforms in Nigeria.
The extensive range of markets, especially within football, provides bettors with numerous opportunities to find attractive odds that could lead to substantial winnings. This combination of a broad selection of betting options and appealing odds amplifies the excitement of betting and heightens the potential for impressive returns.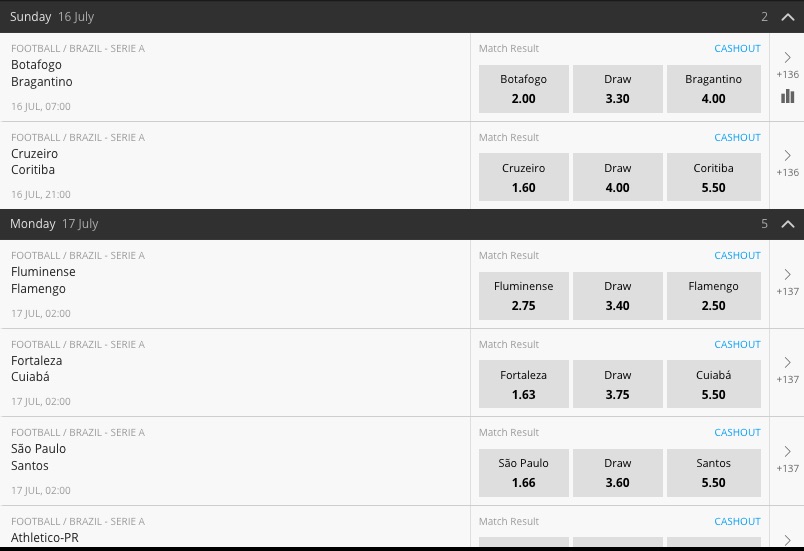 Whether you're placing a wager on an English Premier League blockbuster or backing an underdog in a less renowned league, iBet equips you with a platform where you can discover promising odds for all your betting pursuits. The blend of thorough market coverage and tempting odds solidifies iBet.ng as a favoured destination for many Nigerian bettors.
During our review of iBet, we found that iBet's odds are typically higher for niche sports such as hockey and darts as opposed to more mainstream sports and events like football.
All-Time High Odds:
⚽ Football: 91.27%
🏀 Basketball: 93.82%
🎾 Tennis: 92.91%
🏏 Cricket: 91.18%
👍 Overall: 94.72%
Nevertheless, iBet's odds for popular sports such as football consistently outshine those of most other sportsbooks.
Price Boost Specials
iBet stands out by offering a popular feature known as the Price Boost. Common amongst virtually all online bookmakers, a Price Boost, as the name implies, amplifies the price or odds on a particular bet, giving bettors an opportunity to achieve greater returns on the same wager.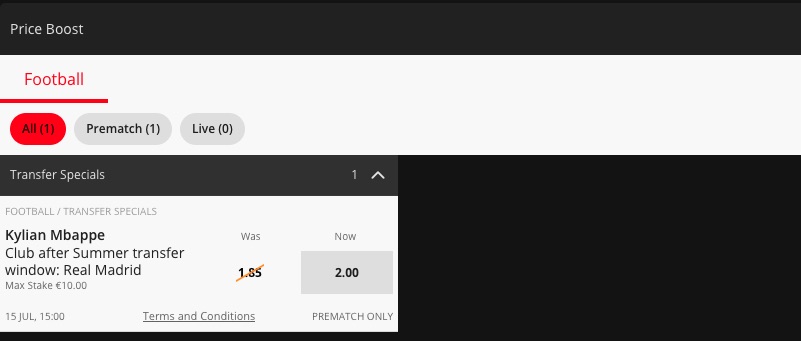 The online sports betting marketplace is highly competitive, and to attract and retain bettors, bookmakers continually roll out enticing bonuses and promotions. One such punter-friendly offer is the Price Boost. The beauty of this offer lies in its simplicity and effectiveness. It presents no additional risk to the bettor but promises a chance for higher profits.
This feature may go by several names across different platforms, including Odd Boost, Enhanced Odds, Price Pumps, and Price Blasts, to name a few. Despite the varying nomenclature, the goal remains the same - to inflate the odds on a specific market, thus offering punters an enhanced potential for profits. With iBet's Price Boost feature, bettors have the opportunity to maximise their winnings and make their betting journey even more rewarding.
iBet Builder Option
ed by major bookmakers. This feature allows bettors to assemble a series of customised bets into one personalised larger bet, providing them with the opportunity to fully tailor their betting experience.
Bet Builder functions in a user-friendly manner. To use this feature, a bettor would open the Bet Builder tool on iBet and start selecting their preferred markets. These markets could include options like both teams scoring, the total number of goals, the total number of corners, and a specific player to be carded, among others. After selecting the desired markets, usually up to a maximum of six, iBet will automatically calculate the odds for this unique, custom bet.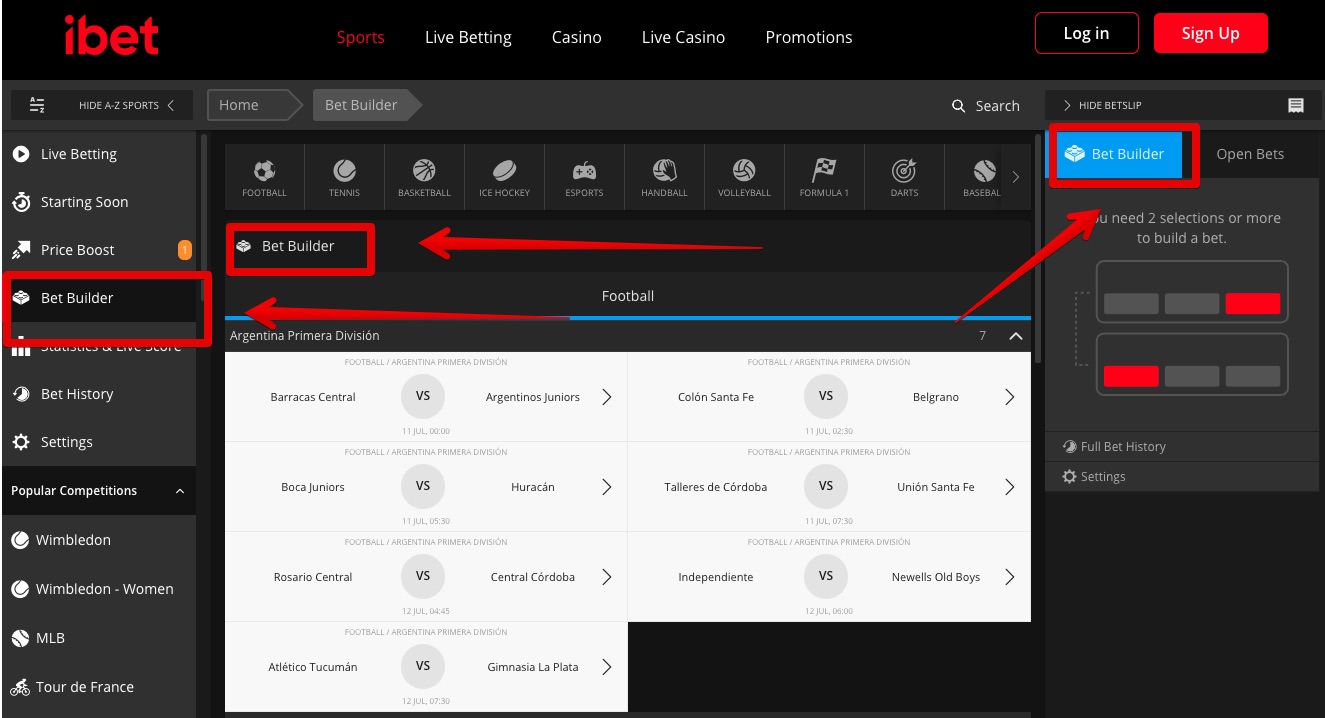 While at first glance, a Bet Builder may seem similar to an accumulator, there is a distinct difference, largely due to 'related contingencies.' These occur when one component of a bet influences the final outcome of the rest of the bet.
For instance, an accumulator might include both a specific score prediction for a Man U match and a bet on Man U losing the match. In traditional wagers, these related contingencies aren't permitted, but Bet Builders allow you to add multiple markets to one bet, adjusting the odds accordingly. With iBet's Bet Builder, you can build your bet the way you want it, adding a personal touch to your betting experience.
iBet Casino
iBet.com Casino stands as a compelling choice for those seeking a safe, reliable, and diverse online casino experience. Its High Safety Index places it amongst the most trustworthy platforms in the gaming industry, offering a secure environment for players to enjoy their favourite casino games.
From the novice to the seasoned player, iBet.com caters to all, offering an impressive repertoire of game types. It hosts a rich variety of Slots, Roulette, Blackjack, Betting, Video Poker, Bingo, Baccarat, Jackpot games, and Live games. This diversity makes it a one-stop destination for any casino game enthusiast, bringing the thrill of the casino floor right to your screen.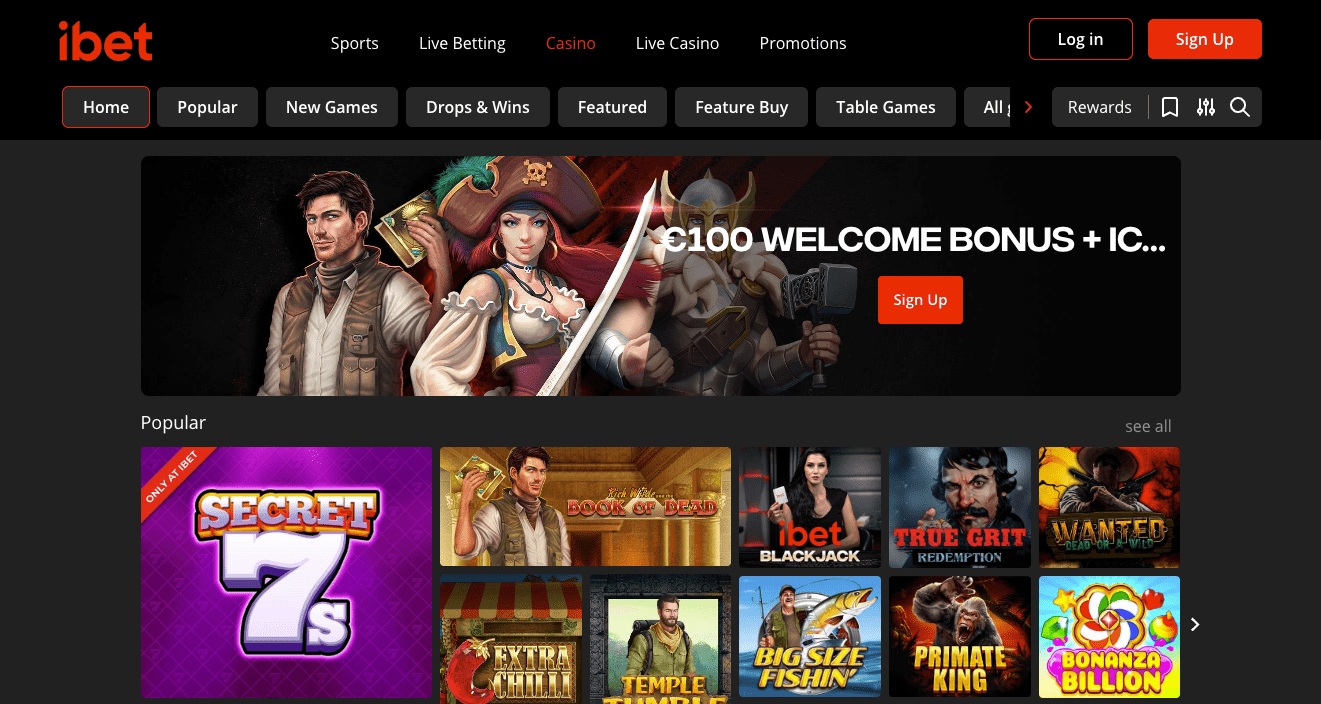 an array of top-tier game providers in the industry powers iBet.com Casino's gaming selection. Renowned names such as NetEnt, Evolution Gaming, Pragmatic Play, and Quickspin, amongst many others, ensure that the games you play are engaging but also fair and reliable. This wide variety of game providers ensures an ongoing supply of new and exciting games to discover.
One of the standout features of iBet.com Casino is its high withdrawal limit. This feature allows players to take home significant wins without running into restrictive withdrawal ceilings—a vital aspect for high-stakes players.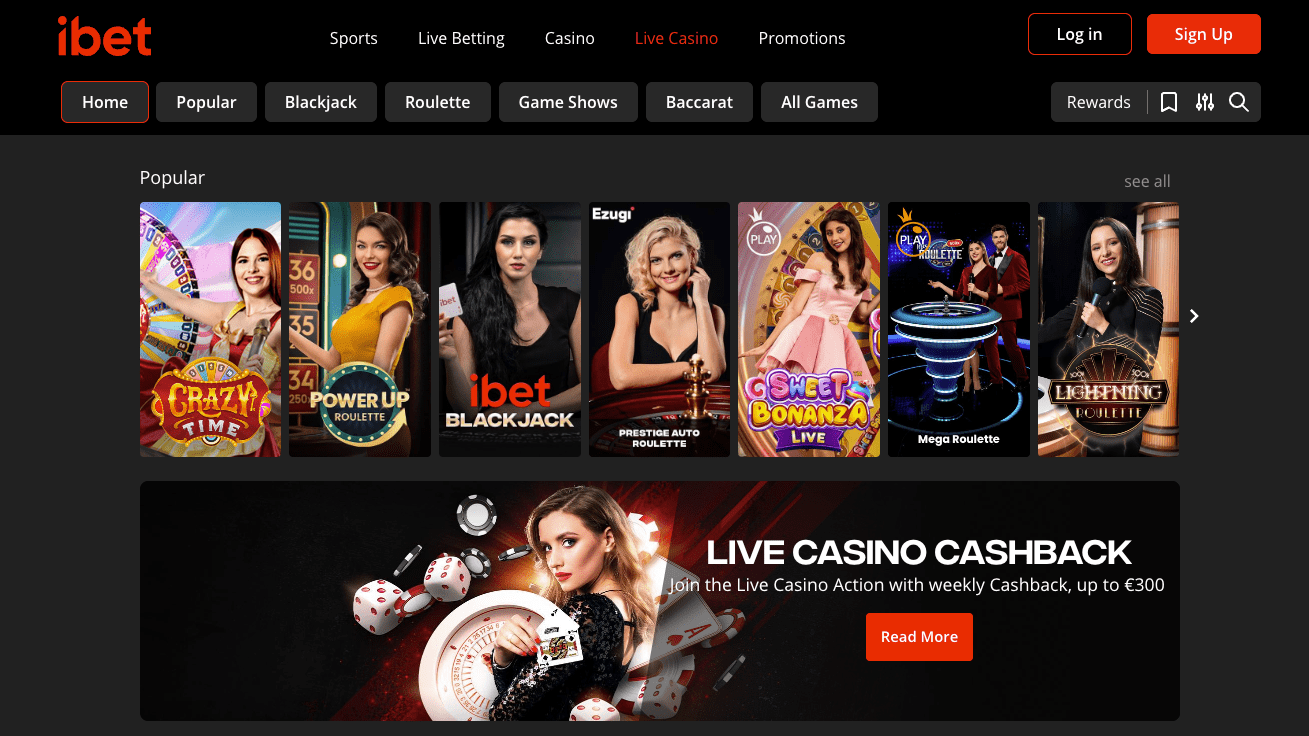 The casino's commitment to user convenience and satisfaction is evident in its support system. With a live chat service available 24/7, players can get immediate assistance with any queries or issues. However, do note that iBet.com Casino currently doesn't offer phone support, which might be a disadvantage for some users who prefer this method of communication.
Another aspect that adds to the appeal of iBet.com Casino is its wide array of supported payment methods. This makes depositing and withdrawing funds a seamless process, accommodating a variety of user preferences.
While the casino has many strong points, potential users should know about possible withdrawal fees. This might slightly dampen the appeal for some players, but overall, the casino's various merits far outweigh this minor setback.
iBet Mobile Version and Apps
Despite the increasing trend in the use of mobile applications in the online betting landscape, iBet bucks the trend, choosing instead to focus on providing a responsive and highly optimised mobile website.
This move is far from a drawback. On the contrary, iBet's mobile-optimized site ensures that users can enjoy a seamless betting experience on their mobile devices without downloading an additional application.
One of the perks of the iBet mobile site is its high level of responsiveness. It's designed to adjust and fit perfectly on any screen size, from the smallest smartphones to the largest tablets. This offers a convenient and efficient betting experience on the go.
Perhaps the most impressive aspect of iBet's mobile site is its full feature parity with the desktop version. Everything you can do on the desktop site - from creating an account, depositing and withdrawing funds to placing bets and cashing out - can also be done on the mobile site. The same broad array of sports and betting markets are available at your fingertips, ensuring you never miss a beat, no matter where you are.
In essence, while iBet may not have a dedicated mobile app, the platform's mobile-optimized site offers an intuitive, comprehensive, and responsive betting experience that rivals those of many dedicated sports betting apps.
FAQ
What is the objective of iBet?
expand_more
iBet aims to usher in a new era of sports betting and casino entertainment by providing an intelligent, transparent, and responsible gaming service.
How does iBet prioritise responsible gaming?
expand_more
iBet treats its customers as responsible adults and provides necessary tools to take breaks and set limits when required, promoting responsible gaming practices.
What are the available eSports sections on iBet?
expand_more
iBet offers three separate virtual sports sections: "CS:GO," "Overwatch," and "Starcraft 2," providing a wide range of virtual sports to bet on.
What is the iBet iCash Cashback feature?
expand_more
The iCash Cashback feature rewards users in real time during gameplay, ensuring transparency and avoiding hidden terms or wagering requirements.
What licensing and regulation does iBet have?
expand_more
iBet holds dual accreditation and operates under the license of Claymore Malta, a licensee of the Malta Gaming Authority (MGA). It is also recognised by the Nigerian Lottery Regulatory Commission (NLRC).
What payment methods are available on iBet?
expand_more
iBet offers various deposit methods, including credit/debit cards, Neteller, Skrill, Trustly, and bank transfers. Withdrawal methods include the same options, with varying withdrawal times.
Does iBet have a mobile app?
expand_more
iBet does not have a dedicated mobile app but offers a highly optimised mobile website that provides a seamless betting experience on various mobile devices.