Betpawa Sportbook
Updated 07 August 2023
Welcome to our comprehensive review of betPawa, one of the most popular online sportsbooks in the African market. Known for its user-friendly interface, diverse betting options, and competitive odds, betPawa has carved a niche for itself among sports betting enthusiasts.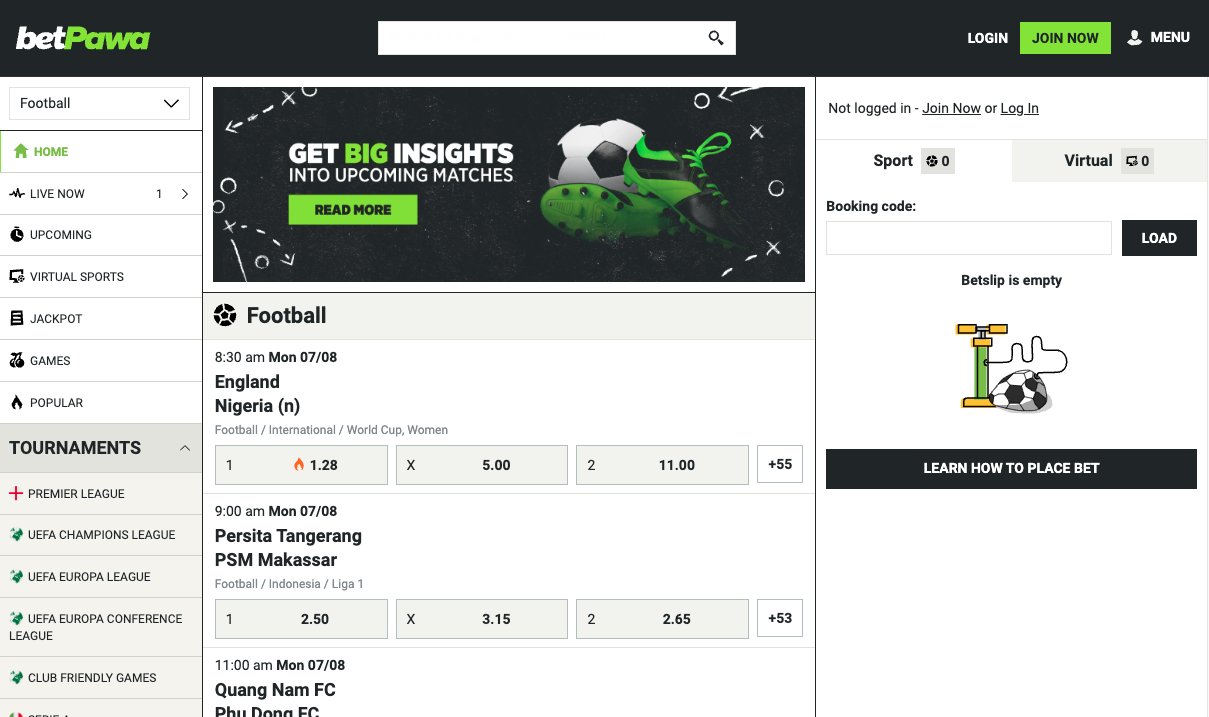 Whether you're a seasoned bettor or a novice just dipping your toes into online sports betting, betPawa promises an engaging and rewarding experience. In this review, we'll delve into the various aspects of betPawa's offerings, from its sports coverage and betting markets to its customer service and security measures. Join us as we explore what makes betPawa a go-to choice for many bettors.
What We Like About betPawa
Wide Range of Sports: betPawa offers a broad selection of sports to bet on, including football, basketball, tennis, rugby, and more. This diversity ensures that there's something for every sports fan.
Competitive Odds: One of the standout features of betPawa is its competitive odds. This means that bettors have the potential to win more on their bets compared to other sportsbooks.
User-Friendly Interface: The website is designed to be easy to navigate, even for beginners. This makes the betting process smooth and straightforward.
Live Betting: betPawa offers live betting, allowing bettors to place bets on games and matches currently in progress. This adds an extra layer of excitement to the betting experience.
Reliable Customer Service: betPawa has a reputation for providing excellent customer service. Their team is available to assist with any issues or questions, ensuring a positive experience for users.
What We Don't Like About betPawa
Limited Payment Options: One downside to betPawa is that it has fewer payment options than other sportsbooks. This could be a drawback for some users who prefer specific payment methods.
No Live Streaming: While betPawa offers live betting, it does not currently offer live streaming of games or matches. This means that bettors must rely on other sources to watch the games they've bet on.
betPawa Licencing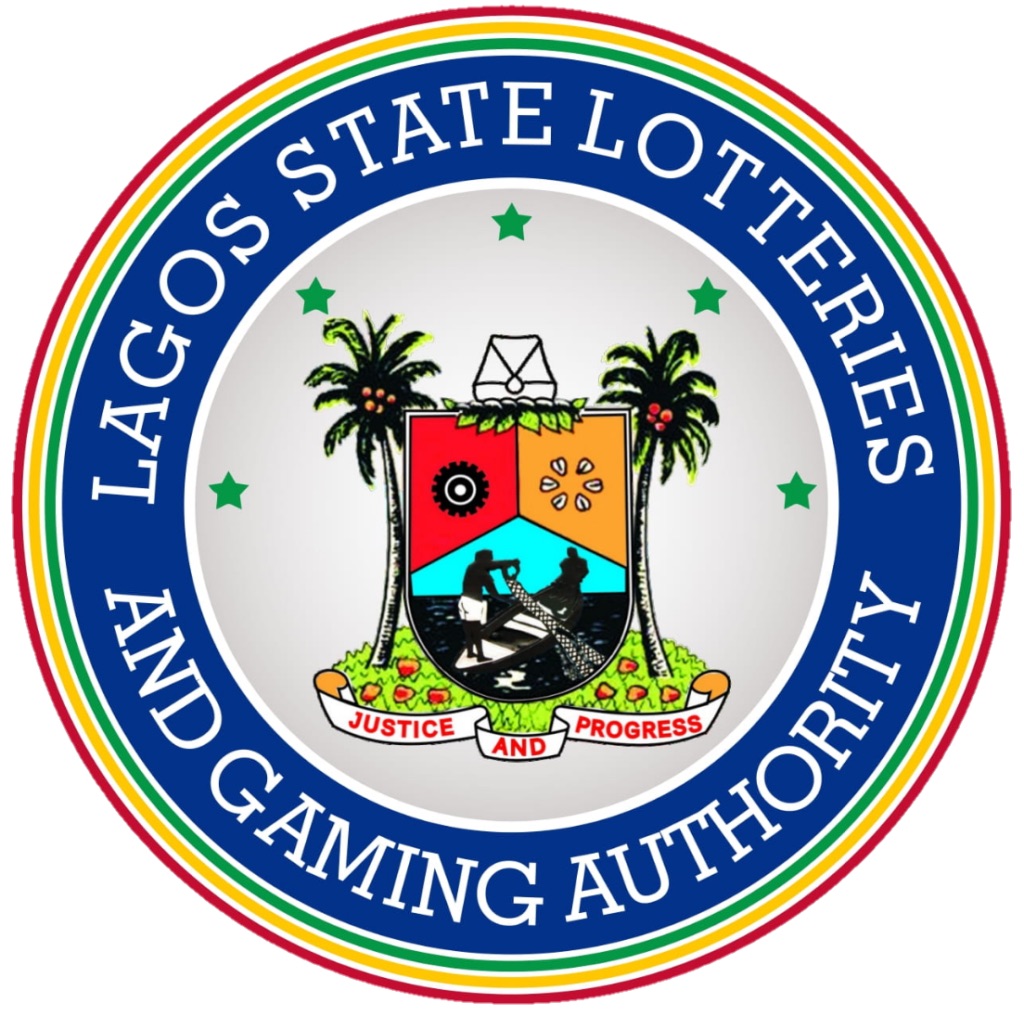 The bedrock of betPawa's relationship with its customers is built on trust. All your betting transactions and payouts are handled by Calgary Online Ltd, a company that operates under the strict regulations of The National Lottery Regulatory Commission (NLRC) and Lagos State Lotteries Board (LSLB).
Holding license number 00-3633, Calgary Online Ltd ensures the smooth operation of the betPawa brand in Nigeria. Additionally, the company is licensed by Softpawa Ltd UK, further reinforcing its commitment to adhering to the highest regulatory compliance standards.
betPawa Registration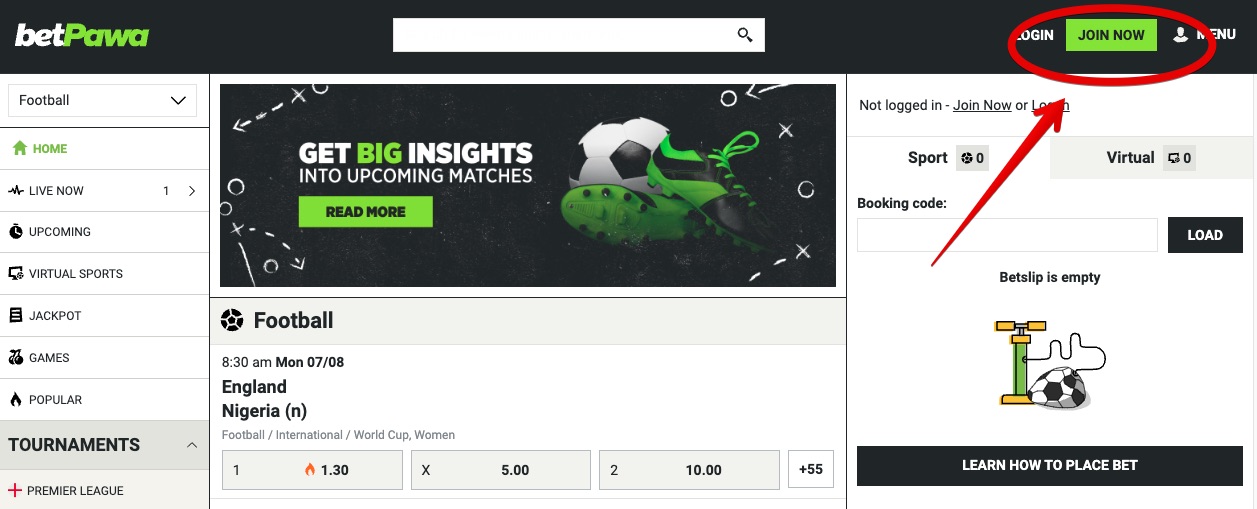 The registration process on betPawa is straightforward and user-friendly. Here are the steps:
Mobile Number: You'll need to provide your mobile number. This will be used for account verification and communication purposes.
Password: Choose a robust and unique password to secure your account. Remember to keep this confidential.
First Name and Last Name: Enter your first and last name per your legal documents. This is important for identity verification.
Location: Specify your current location. This information helps betPawa provide a more personalised service.
Acceptance of Terms and Conditions: By creating an account, you must agree to betPawa's terms and conditions. Read these carefully to understand your rights and responsibilities as a betPawa user.
Once you've entered all the necessary information and accepted the terms and conditions, you can submit your registration. After this, you'll receive a confirmation message, and you can start exploring the exciting world of sports betting on betPawa.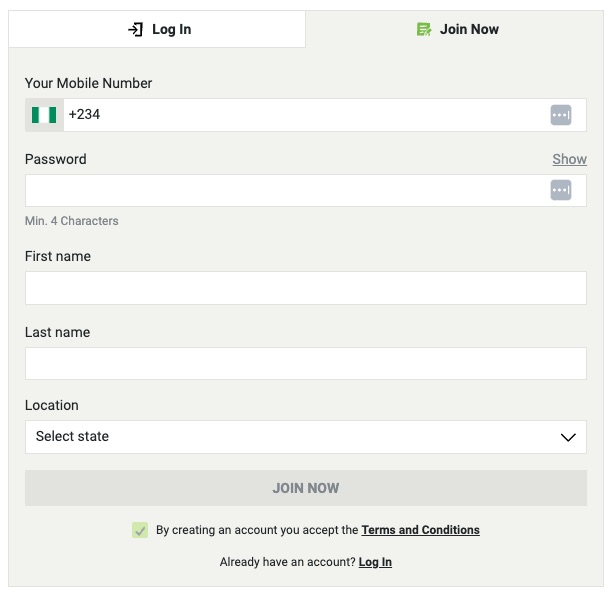 Deposits and Withdrawals on Your betPawa Account
Depositing Funds on betPawa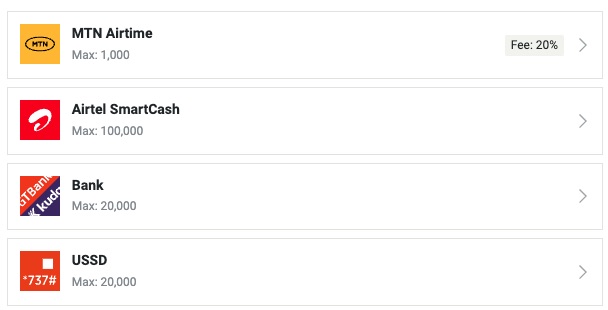 betPawa offers several deposit options to cater to the diverse needs of its users. Here's a brief overview of each:
MTN Airtime: This is a convenient option for those who use MTN as their mobile service provider. The maximum deposit limit for this method is 1,000 NGN of your local currency.
Airtel SmartCash: If you're an Airtel user, you can use the SmartCash service to deposit funds into your betPawa account. The maximum deposit limit for this method is a generous 100,000 NGN.
Bank Transfer: You can also deposit funds directly from your bank account. The maximum deposit limit for bank transfers is 20,000 NGN.
*USSD (737#): This option allows you to deposit funds using USSD codes. It's a quick and easy method, with a maximum deposit limit of 20,000 NGN. Please note that a fee of 20% applies to this deposit method.
Remember, the deposit limits are subject to change and may vary based on your location and each payment provider's specific terms and conditions. Always check the latest information on the betPawa website or contact their customer service for clarification.
Withdrawing Funds from betPawa.com
betPawa.ng holds the authority to withhold any Referral Reward payments if it is discovered that the Referrer has primarily introduced new account holders who either show no interest in sports betting or are unaware that their phone number is being utilised to generate reward payments.
To withdraw funds from your betPawa.ng account, follow these simple steps:
Click on the "Menu" button at the page's top right.
From the dropdown menu, choose "Withdrawal".
A list of banks will appear. Select your bank from this list.
Input your bank account number.
Specify the amount you want to withdraw. Please note that the minimum withdrawal amount is N1,000, and the maximum is N2,000,000.
After verifying all the details, click on "Pay me".
Remember, you can initiate a withdrawal request from your betPawa.ng betting account to your Bank account at any time. The platform processes client withdrawals seven days a week, ensuring you can access your winnings whenever needed.
Let's take a closer look at betPawa
betPawa has set itself a noble mission: to be a platform where all of Africa's dreamers can dare to dream bigger. It aims to create an environment where everyone has an equal chance to realise their dreams, with the only limit being their imagination.
Since its inception in 2014, betPawa has expanded its reach to 11 countries, turning countless dreams into reality across Africa.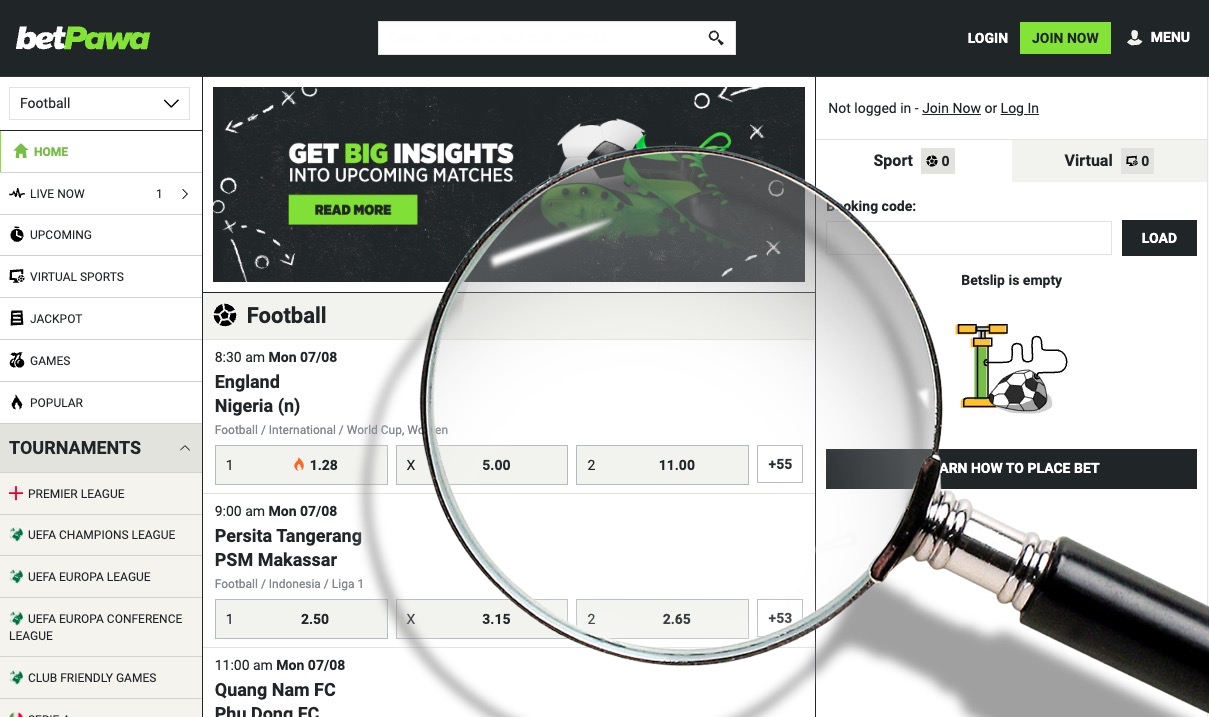 Changing Lives for the Better
betPawa takes pride in witnessing the positive transformations in the lives of its customers and their communities. Often, these transformations come from betting small, from as low as ₦1, and winning big with their 500% Win Bonus. However, betPawa is always exploring new avenues to help its users fulfil their dreams.
One such initiative was the Euros Final Giveaway, where 35 lucky customers won a brand new Samsung Galaxy A32 simply by placing a bet and entering a prize draw.
Hear it from the Users.
Romeo from Edo State shares, "I usually compare the odds with other bookies, and I've found that betPawa odds are consistently high. The Win Bonus is incredible."
Mayowa from Oyo State appreciates the convenience, saying, "The fact that you can deposit through MTN Airtime, quickly withdraw to your bank account, and get your money as soon as possible, is excellent."
Mathew from Lagos praises the quick payout, stating, "Fast payout is what I appreciate. I received my winnings without any hassle."
Customer Care and Trust are Paramount
betPawa is committed to providing timely assistance exactly when you need it. Support is available 24/7. You can reach out via call, email, Facebook chat, or even request a callback.
Trust forms the cornerstone of betPawa's relationship with its customers. All bets and payouts are processed by Calgary Online Ltd, licensed and regulated by The National Lottery Regulatory Commission (NLRC) and Lagos State Lotteries Board (LSLB).
betPawa is also deeply committed to promoting responsible betting, urging everyone to bet only what they can afford.
With betPawa, not only can you be confident of receiving full payouts when your bets win, but you can also expect instant payouts, receiving your winnings within just 3 minutes.
betPawa on TrustPilot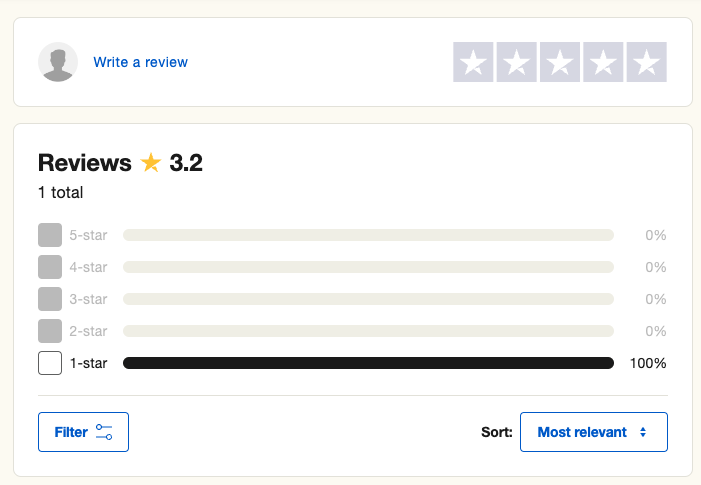 On the Trust Pilot review platform, there is only one review for betPawa, which states, "This guys are scam they don't pay after winning your placed bet...they are scammers scammers."
Please note that the spelling and grammar in this quote have been preserved exactly as they appear in the original comment.
However, it's important to remember that a single review, especially one that is negative, is not sufficient to draw any definitive conclusions about a company. The experiences of one individual may not reflect the experiences of all users. It's always recommended to consider a broader range of reviews and sources of information when evaluating a service or company.
betPawa Sportsbook
betPawa stands out in the online betting landscape with its extensive sportsbook, offering betting options across 3 categories: football (soccer), basketball.
In addition to sports, the platform focuses on betPawa also offers virtual sports betting. These computer-simulated sporting events are based on virtual football, where algorithms determine the outcomes.
The allure of virtual sports betting lies in its availability; these events can be bet on at any time, offering an exciting alternative for those looking for round-the-clock betting opportunities.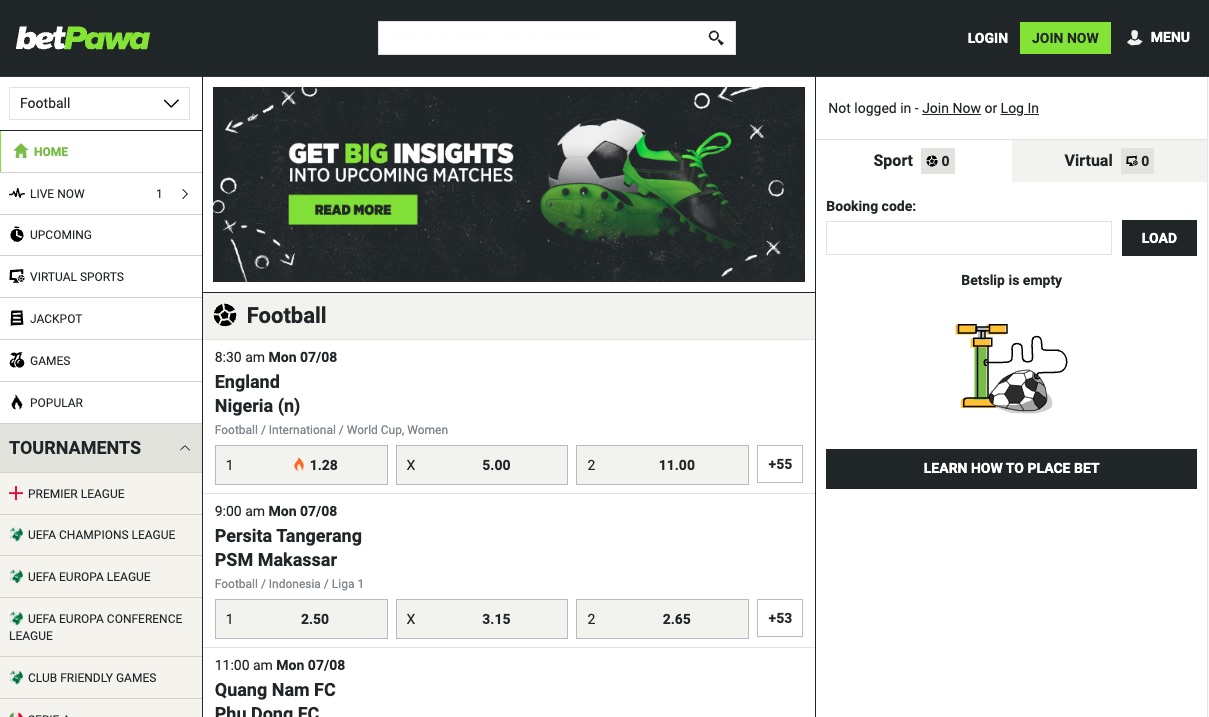 betPawa Football Betting
betPawa's sports betting platform stands out for its extensive and varied coverage. It offers betting opportunities on a wide array of leagues and tournaments from around the globe, including the English Premier League, La Liga, Serie A, and the Champions League.
Bettors can wager on many outcomes, from match results and total goals to individual player performances and real-time in-play events. The platform's user-friendly interface, combined with comprehensive statistics, aids both newcomers and experienced bettors make well-informed betting decisions.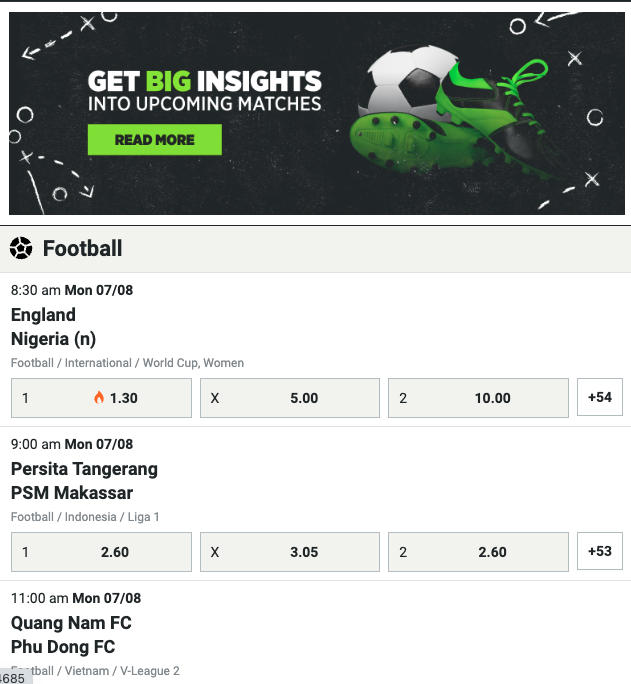 betPawa Basketball Betting
Betting on basketball at betPawa promises an exciting experience, featuring prominent leagues like the NBA, EuroLeague, and various national leagues. The platform presents betting options, including point spreads, over/under totals, and player-specific bets.
Moreover, betPawa offers live betting, allowing bettors to place their wagers as the on-court action unravels in real-time. With its comprehensive coverage and real-time updates, betPawa ensures a dynamic and immersive basketball betting experience.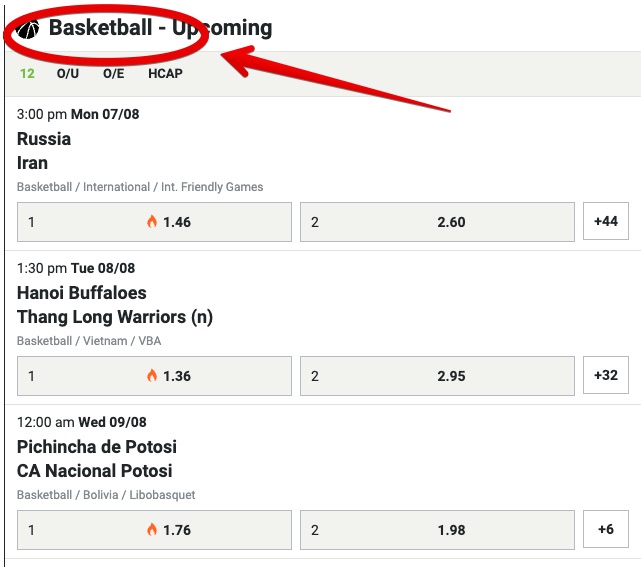 betPawa Live Betting
Live betting on betPawa provides a thrilling feature that enables bettors to stake their bets on events as they happen in real-time. This dynamic betting style offers a unique excitement as the odds shift in response to the live action in the game.
Whether it's soccer, basketball, tennis, or any other sport, live betting spans a variety of events. Bettors can make decisions based on the live action, adapting their strategies as the game evolves.
This feature is enhanced by real-time statistics and updates, equipping bettors with the necessary data to make informed decisions. betPawa's live betting platform is user-friendly and responsive, guaranteeing a smooth betting experience for all users.

betPawa Cash Out
Cashout is a feature that allows you to take a payout on your bet before the outcome is determined. Here's everything you need to understand about maximising your Cashout:
Cashout is a feature that allows you to take a payout on your bet before the outcome is determined. Here's everything you need to understand about maximising your Cashout:
How to Cashout
After placing your bets, navigate to 'My Bets' under the 'Menu' and open any betslip with the orange Cashout icon.
Click 'Request Cashout' to ask for a Cashout offer.
If you agree with the offer, click 'Accept', and the amount will be added to your balance.
You can request a Cashout offer from when you place your bet until it's settled. However, sometimes the offer may not be available due to the market status (unavailable) or event status (in fluctuation).
Once you receive an offer, you can accept it, but act quickly! The offer might be withdrawn due to the reasons mentioned above.
Market changes can cause the offers to increase or decrease. The closer your betslip is to winning, the higher the offer will be. However, if the changing state of the markets indicates a higher probability of loss, the offer size might decrease.
They say that Early Cashout there is unique. You can get up to 100% of your stake back before the first match on your betslip has started. Just follow the three steps above.
You can only Cashout each bet once, but there's no limit to how many bets you can make or how much you need to stake to Cashout.
betPawa Odds Policy
Odds on any outcome are subject to change over time, and these changes can occur rapidly, especially in live betting. Prices can fluctuate within seconds during a game, reflecting the events happening in real time.
If there's a price change between the time you attempt to place a bet and when we accept it, we will always notify you about the new price and ask for your confirmation to proceed with the bet. However, sometimes the prices change so swiftly that you may prefer not to confirm each time, but rather place your bet at the current offered price.
In such cases, you can simply check the 'Accept any odds changes' box, and we will place your bet at the price we offer at that moment, regardless of whether it has increased or decreased.
Please note: Once the bet has been accepted, the price will remain fixed on your bet slip and will not change.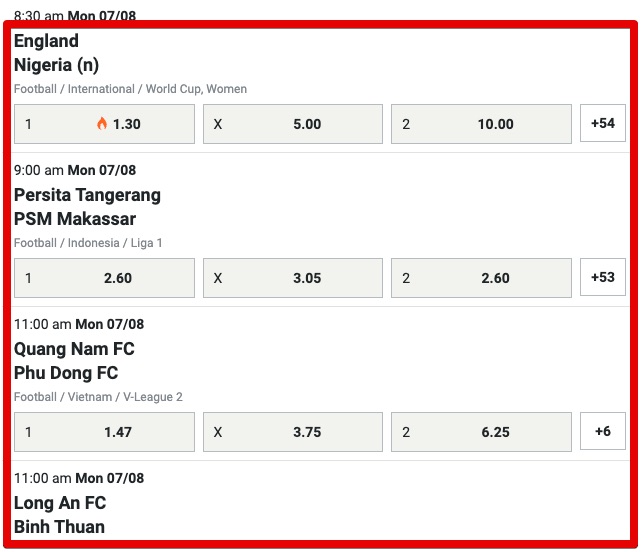 Virtual Sports on betPawa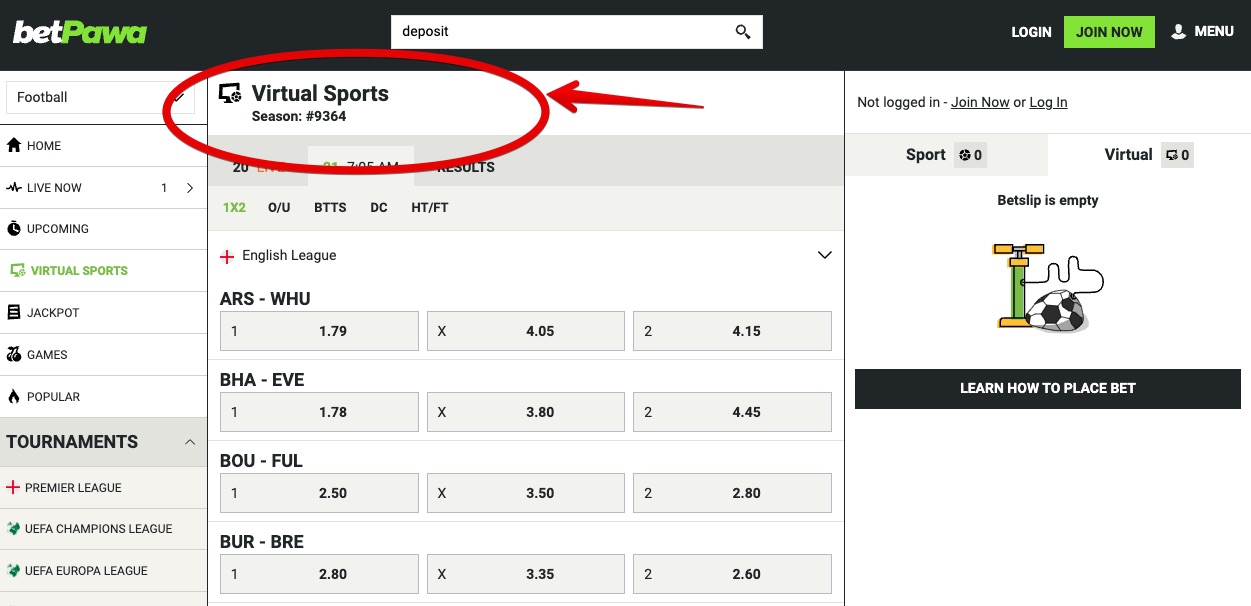 Virtual sports betting operates similarly to traditional sports betting, with the key difference being that the results are simulated using real data. With events from multiple leagues happening every 5 minutes, you can place bets at your convenience. betPawa's win bonus is available whenever you bet on three or more matches.
Betting on the Result (1X2)
The primary market you see when you click on a game is 1X2, a bet on the match result. It's straightforward:
1 - Home win
X - Draw
2 - Away win
Understanding Odds and Payouts
Decimal odds indicate how much you'll win for every 1 staked.
1 - ARS 3.00
X - Draw 2.50
2 - LIV 2.00
In this example, a 10 bet on ARS pays out 30 (10 x 3.00). Your stake is included in this total, so the profit is 20 (30-10).
Explaining the Other Four Markets
Over/Under: This bet is on whether there will be more or fewer goals than the stated number. If it's (2.5), three goals or more are Over, while two or fewer are Under.
Both Teams To Score: This bet is on whether both teams will score a goal. 'Yes' means both teams will find the net, and 'No' means at least one will score zero.
Double Chance: This is similar to betting on the result (1X2), but you cover two outcomes with one bet. 1X is a bet on a home win or a draw, X2 means a draw or away win, and 12 covers either team winning.
Half Time/Full Time: This bet is on half-time and full-time results. There are nine options. The character before the '/' covers the half-time result. The one after covers the full-time result. 1/1 means the home team leading at half-time and full-time, whereas 1/2 is them leading at half-time but losing.
betPawa Casino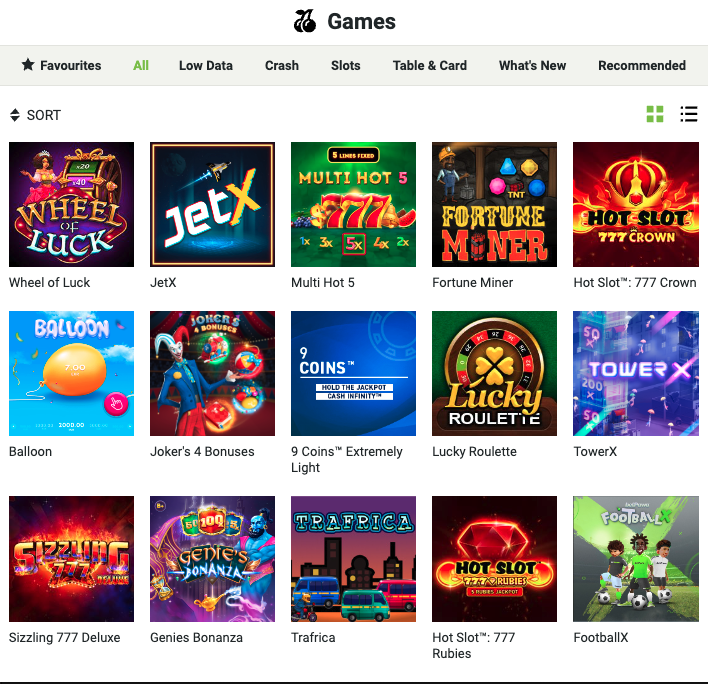 While sports betting is the main attraction at betPawa ng, the operator also offers a select range of casino games. These games are certified by a regulatory body, ensuring fairness in terms of returns.
The results of these games are determined by Random Number Generators, ensuring a fair level of unpredictability in the outcomes. At the time of writing, betPawa ng was in the process of expanding its casino range, but the current selection of games included:
Sweet Candy Six
Wheel of Luck
Fortune Miner
Lucky Roulette
Jacks or Better
Trafrica
They anticipate the casino product to grow, possibly including a live casino featuring real dealers and croupiers. Potential casino development areas include table games, slots, progressive jackpots, video poker, and blackjack. We recommend checking the 'GAMES' section on the main menu regularly to stay updated with the launch of new slots and table games.
betPawa Mobile Version and Apps
betPawa Android App

Do you own an Android phone? Make your betting experience smoother than ever by downloading the betPawa app, designed to help you bet small and win BIG.
With a tap on your phone, you can explore thousands of markets and be the first to know about new offers and products.
The app's navigation mirrors our website, ensuring an intuitive and familiar user experience.
Please note: the app is compatible with all phones running Android 4.4 or higher.
Visit the page https://www.betpawa.ng/app then click the button below to initiate your free download.
Once the download is complete, install it on your device.
betPawa Apple iOS App
Although betPawa does not currently provide a dedicated mobile app for iOS users, those using these devices are not left behind. betPawa's website is designed with a highly-responsive mobile version that can be accessed through any browser, including Google Chrome and Safari.
This ensures that iOS users enjoy a seamless and efficient betting experience on their devices, akin to a dedicated app. Simply open your preferred browser, navigate to the betPawa website, and you're ready to start placing your bets. The mobile website is optimised for user-friendliness, speed, and convenience, offering all the features and functionalities of the desktop site.
General Information
Website
https://www.betpawa.ng
Types of Sports
Football (Soccer), Basketball
Licenses
Issued by
Nigeria's National Lottery Regulatory Commission
Licensed Countries
Nigeria
FAQ
How do I register on betPawa?
expand_more
You can register on betPawa by providing your mobile number, creating a password, entering your first and last name, specifying your location, and accepting the terms and conditions.
What deposit options does betPawa offer, and what are the limits?
expand_more
betPawa offers several deposit options, including MTN Airtime (Max: 1,000), Airtel SmartCash (Max: 100,000), Bank Transfer (Max: 20,000), and USSD (*737#) (Max: 20,000, Fee: 20%).
How can I withdraw my winnings from betPawa?
expand_more
You can withdraw your winnings by going to "Menu", selecting "Withdrawal", choosing your bank, entering your account number, specifying the amount you wish to withdraw, and clicking "Pay me".
What sports can I bet on with betPawa?
expand_more
betPawa offers betting options across 23 diverse categories, including traditional sports like football, basketball, tennis, baseball, and cricket, as well as virtual sports and non-sporting events.
How does live betting work on betPawa?
expand_more
Live betting on betPawa allows you to place bets on events as they happen in real-time. The odds fluctuate based on the ongoing action in the game, and you can bet on various sports events.
What is the Cashout feature on betPawa?
expand_more
The Cashout feature allows you to take a payout on your bet before the outcome is known. You can request a Cashout offer at any stage from when you place your bet until it's settled.
Does betPawa offer a mobile app?
expand_more
BetPawa offers a mobile app for Android users running Android 4.4 or higher. The app allows you to explore thousands of markets with one tap and provides updates on new offers and products.