Betcity Sportsbook Overview
Updated 16 May 2023
Pros
check_circle
Vast variety of bets on 20+ gaming disciplines
check_circle
Competitive odds with an average margin of 4 to 6%
check_circle
Easy sign-up process
check_circle
Awesome mobile applications
check_circle
Guest account featuring games with virtual currency
Cons
cancel
Controversial bonus program
Betcity is an international bookmaker that has been operating since 2003. It offers over 20 sports, a welcome bonus, favourable wagering conditions, and a straightforward registration process.
The bookmaker provides a variety of offers on match statistics and competition outcomes, the option to place VIP bets with increased limits, and a guest account for playing with virtual money.
Betcity operates under a license from Curacao and supports two languages on its official website: English and Macedonian. On the main page, players can find a list of popular events, banners for top championships, sports categories, a search bar, a betting coupon, and various gaming sections:
"Betting List" - bets on upcoming matches;
"Live" - bets on ongoing games;
"Results" - outcomes of completed matches for the selected date;
"Statistics" - tournament tables and competition statistics;
"Supercombo" - football and hockey totalizers, unavailable since October 2020;
"TV games" - gambling games featuring live broadcasts and live dealers, etc.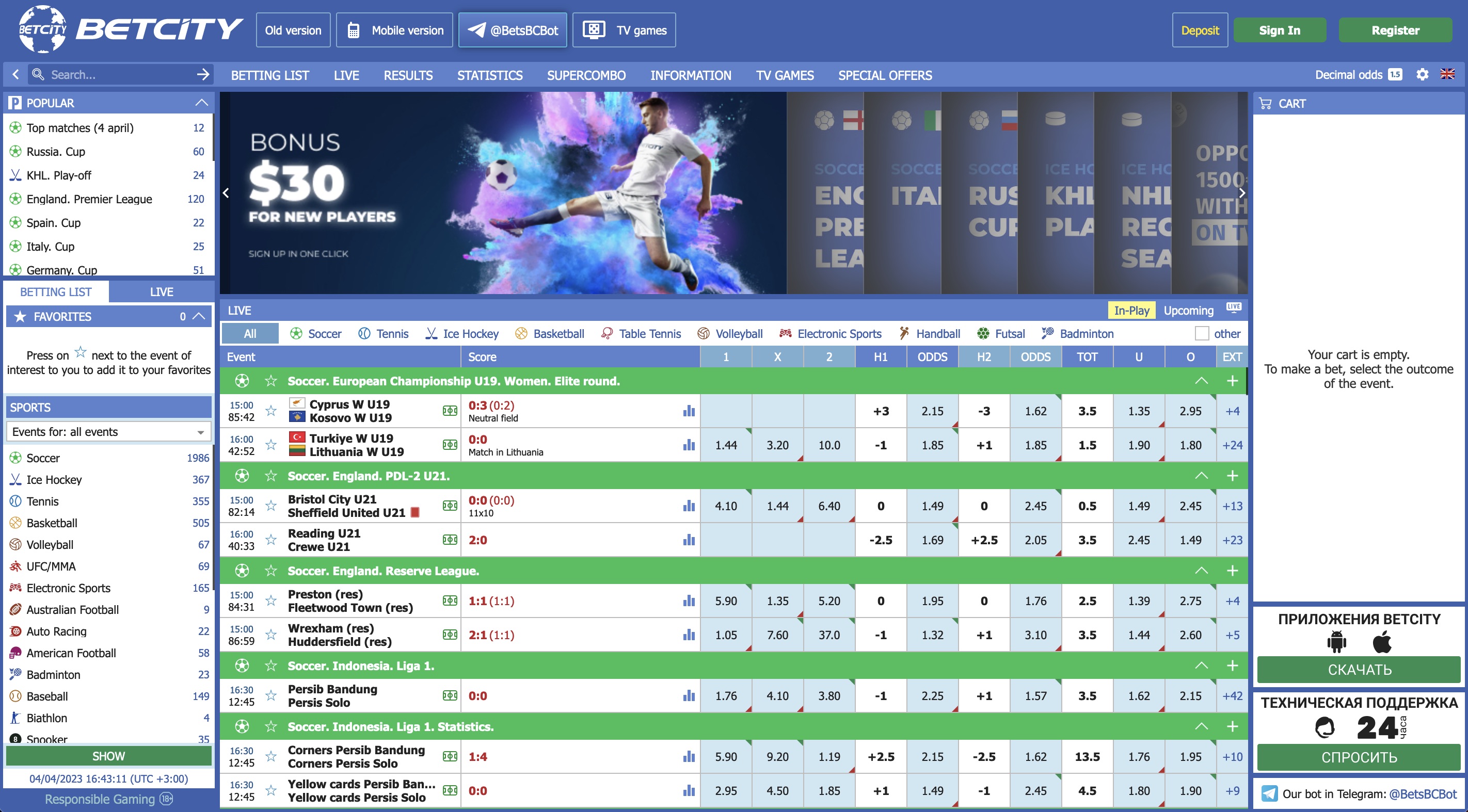 The website of the bookmaker enables its users to make bets on both sports and esports, manage their accounts, watch video broadcasts and infographics, use the search bar, and add events to their "Favorites."
In addition, customers have the option to select decimal, English, or American odds in the service settings, choose their time zone, and set their preferred main page layout.
Odds
The bookmaker offers competitive odds with an average margin of 4-6%. The level of odds varies depending on the discipline, tournament, and market.
For top matches, the margin is as follows:
Football: 2.5-3%
Hockey: 2.5-3%
Basketball: 3-3.5%
Tennis: 5-5.5%
Betting Line
At Betcity bookmaker, customers have the option to place bets on more than 20 popular and some lesser-known sports, including:
football, hockey, tennis, basketball,
volleyball, martial arts, UFC, baseball,
boxing, handball, darts, cricket,
rugby, floorball, and chess.
Additionally, users can place bets on political events, such as the success of the Democratic or Republican Party in US elections.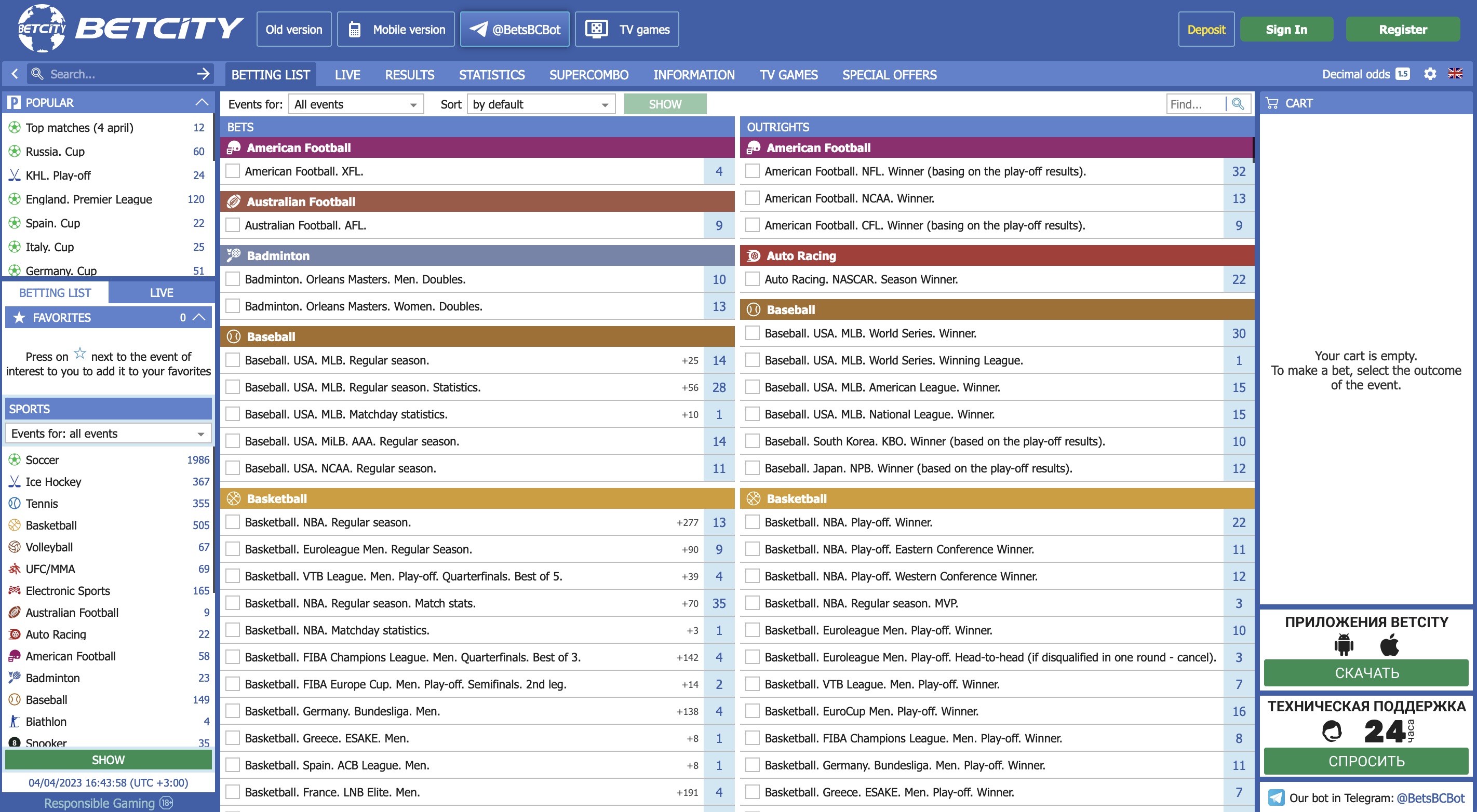 Betcity offers a comprehensive bookmaker's line that covers competitions at both professional and regional levels. For example, football in such countries as England and Australia is represented by 7-9 leagues.
In addition, Betcity provides various betting options such as primary and additional markets, time intervals, races to N goals, Asian markets, combined outcomes, and statistics. However, the number of wagering options available for top matches may vary:
for football, there can be up to 200 options,
while for hockey, there can be up to 150,
for basketball up to 100,
and for tennis up to 50.
On the bookmaker's website and in the app, users can place bets on long-term outcomes of competitions and make special deals.
Live Betting
In the live section, users have the ability to place bets on ongoing matches. The live betting options consist of primary and additional markets. For matches of medium and minor scales, there may be up to 100 different positions available.
For instance, in the Chinese football championship, live betting options include:
primary and double outcomes, totals, and handicaps,
there are also options for both teams to score, halftime/fulltime, exact number of goals, and exact score,
other options include outcome and total, outcome and a clean sheet, halftime results, results by halves, and both halves total 1.5 over or under.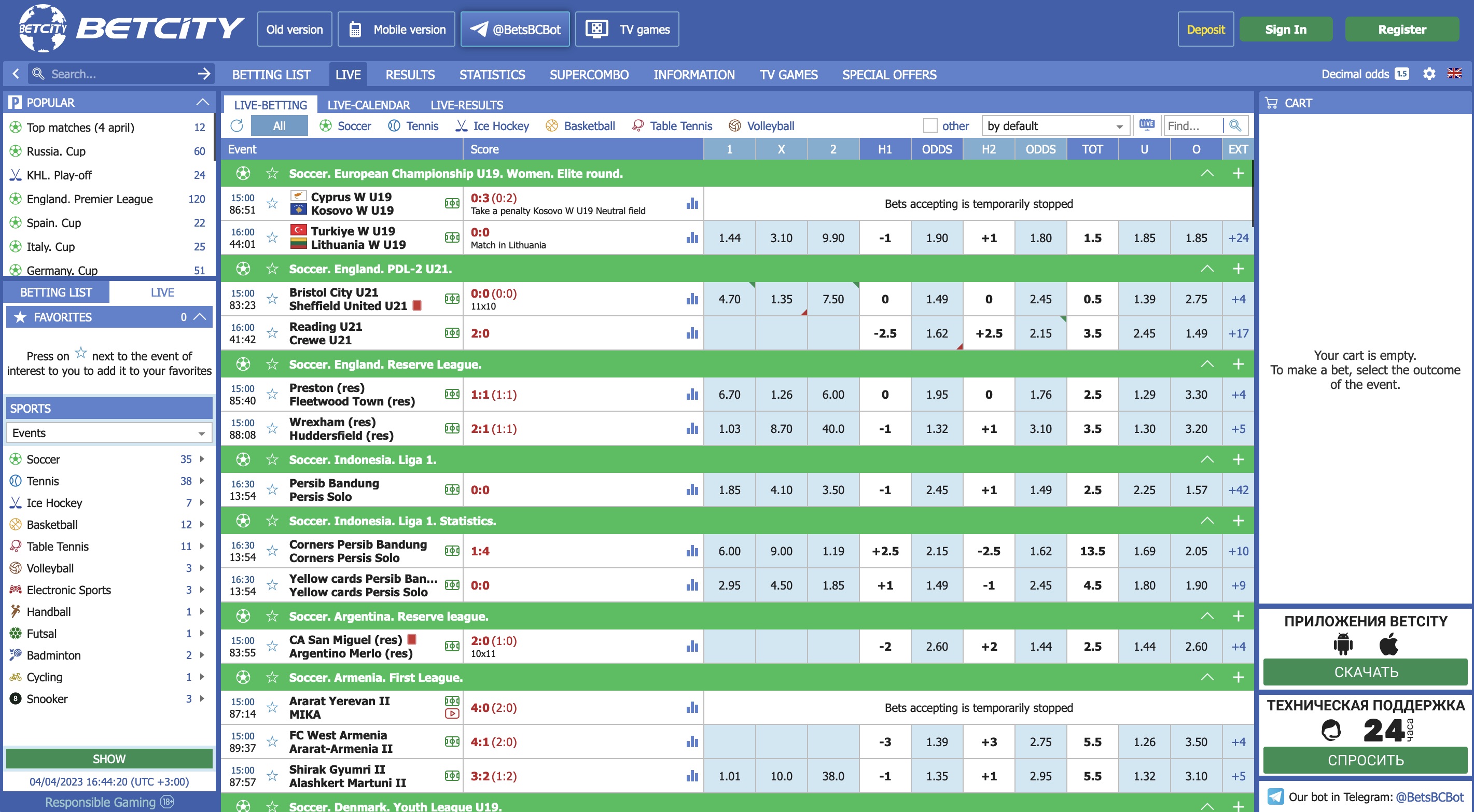 During live mode, users have the ability to view graphical broadcasts, online statistics, and video streams on third-party sites such as YouTube. These broadcasts are accessible to both guests and bookmaker clients.
If the odds increase, they are highlighted in green, while a decrease is shown in red. The odds are regularly updated every few seconds during live mode to provide users with the most up-to-date information.
E-sports
At Betcity, users have the option to place bets on a range of computer games, such as CS:GO, Dota2, League of Legends, Valorant, Starcraft, and Rocket League. The available markets for computer games are subject to change and typically consist of primary and secondary options such as:
outcomes, exact score, totals, and handicaps by maps,
as well as results by maps,
first blood, and races to N kills.
Additionally, users can bet on the first action on the map, such as the first Roshan and the first tower in Dota 2. Most live-mode matches are accompanied by esports streams on the Twitch.TV platform.
Tote
As of August 2022, Betcity does not offer a tote. However, prior to October 2020, players had the option to bet on various totes such as "Superexpress," regular football, and hockey totes, which had 14 possible outcomes. In order to win, players needed to correctly guess at least 9 of the 14 options. The payout amount was determined by several factors, including the amount of the bet, the number of correct predictions, the size of the pool, and the number of winners.
Casino
The bookmaker does not provide online or live casinos that offer slot machines, card and table games, or lotteries.
TV games
At Betcity, the TV games available are card and lottery games that feature live dealers and broadcasts. The hosts communicate with players in English, making it accessible to a wider audience. Popular games in this section include "Poker," "Battle," "Lucky 6," and "Andar Bahar."
Reliability
The international bookmaker is licensed under number 125546 from Curacao, and its managing company is registered in Cyprus. Several players have lodged complaints online regarding maximum limits, unjustified account blocks, and difficulties in withdrawing funds.
VP-Bet experts advise placing bets only with legal bookmakers who hold a state license. Clients of official bookmakers are legally protected and can resolve any disputes fairly in court.
Payment systems
At Betcity, users have the option to open an account using one of seven currencies, including dollars, euros, hryvnias, lira, and rupees. The payment methods available to users are dependent on the currency they choose. Additionally, deposits and withdrawals can be made without incurring any commission fees from the bookmaker.
Account Top Up
To add funds to their account, users must visit the "Account Replenishment" section, choose a deposit method, enter the payment amount, and provide the required information.
| Dollars | Euros |
| --- | --- |
| Electronic wallets such as Skrill, Neteller, ecoPayz, Jeton, and Perfect Money. | Electronic wallets, Skrill, Neteller, ecoPayz, Perfect Money, advcash, Kvitum |
| Cryptocurrency wallets Bitcoin, Ethereum, USDT | Binance wallet |
| Binance wallet | |
Funds Withdrawal
In order to withdraw funds, users must navigate to the "Withdraw from account" section within their account, select a preferred payment method, and provide the necessary transfer amount and details.
Users who have a dollar account are able to withdraw their winnings to internet wallets such as WebMoney, Skrill, Neteller, ecoPayz, Jeton, and Perfect Money. The minimum withdrawal amount for WebMoney is $2.
For euro accounts, funds can be withdrawn to Skrill, Neteller, ecoPayz, Jeton, Perfect Money, Advcash, and Kvitum e-wallets. The minimum payout amount for Skrill is 2 euros.
Deposit
| Option | Min Deposit | Max Deposit | Processing Time | Commission Fee |
| --- | --- | --- | --- | --- |
| Webmoney | $2 | $200 | instant | no fee |
| Skrill | €10 | - | instant | no fee |
| Neteller | €10 | - | instant | no fee |
| ecoPayz | $2 | - | instant | no fee |
| Perfect Money | $2 | - | instant | no fee |
| Visa | $10 | - | instant | no fee |
| Mastercard | $10 | - | instant | no fee |
Withdrawal
| Option | Min Withdrawal | Max Withdrawal | Processing Time | Commission Fee |
| --- | --- | --- | --- | --- |
| Webmoney | $2 | - | - | no fee |
| Skrill | €2 | - | - | no fee |
| Neteller | €2 | - | - | no fee |
| ecoPayz | $2 | - | - | no fee |
| Perfect Money | $2 | - | - | no fee |
| Visa | $10 | $8000 | 1-5 days | no fee |
| Mastercard | $10 | $8000 | 1-5 days | no fee |
Bonuses and promotions
In 2023, customers will have the opportunity to benefit from three bonus offers on the bookmaker's website and app:
A bonus of up to $30 or its equivalent in another currency is provided on the first deposit, which equals 100% of the payment. To receive the bonus, users must place bets from the principal balance that are five times the size of the welcome reward with odds of 1.30 or higher.
A bonus of 5% is given on winning accumulators of 4 or more outcomes with odds of 1.50 or higher. The bookmaker will credit the bonus to the user's bonus account.
Monthly cashback is available and ranges from 5% to 10% of the losses from the number of lost bets.
One of these offers involves entering a promo code in the deposit window to receive an exclusive gift. The bookmaker distributes these promo codes through thematic websites and social networks.
Customer support
Betcity's technical support can be reached by customers through the live chat feature on the website or by sending an email to [email protected]. The response time for the online chat is usually between 1-3 minutes, and the operators communicate in English.
In case of high traffic, the live chat feature may not be available, and players can use the feedback form as an alternative. The responses to these inquiries will be sent to the email address provided.
It is important to note that Betcity does not accept user requests via phone.
Registration
It is only possible to open a gaming account with a bookmaker once the legal age of 18 has been reached.
click on the "Registration" button.
Then, select the currency for your account and enter a promo code if one is available.
Finally, confirm your registration.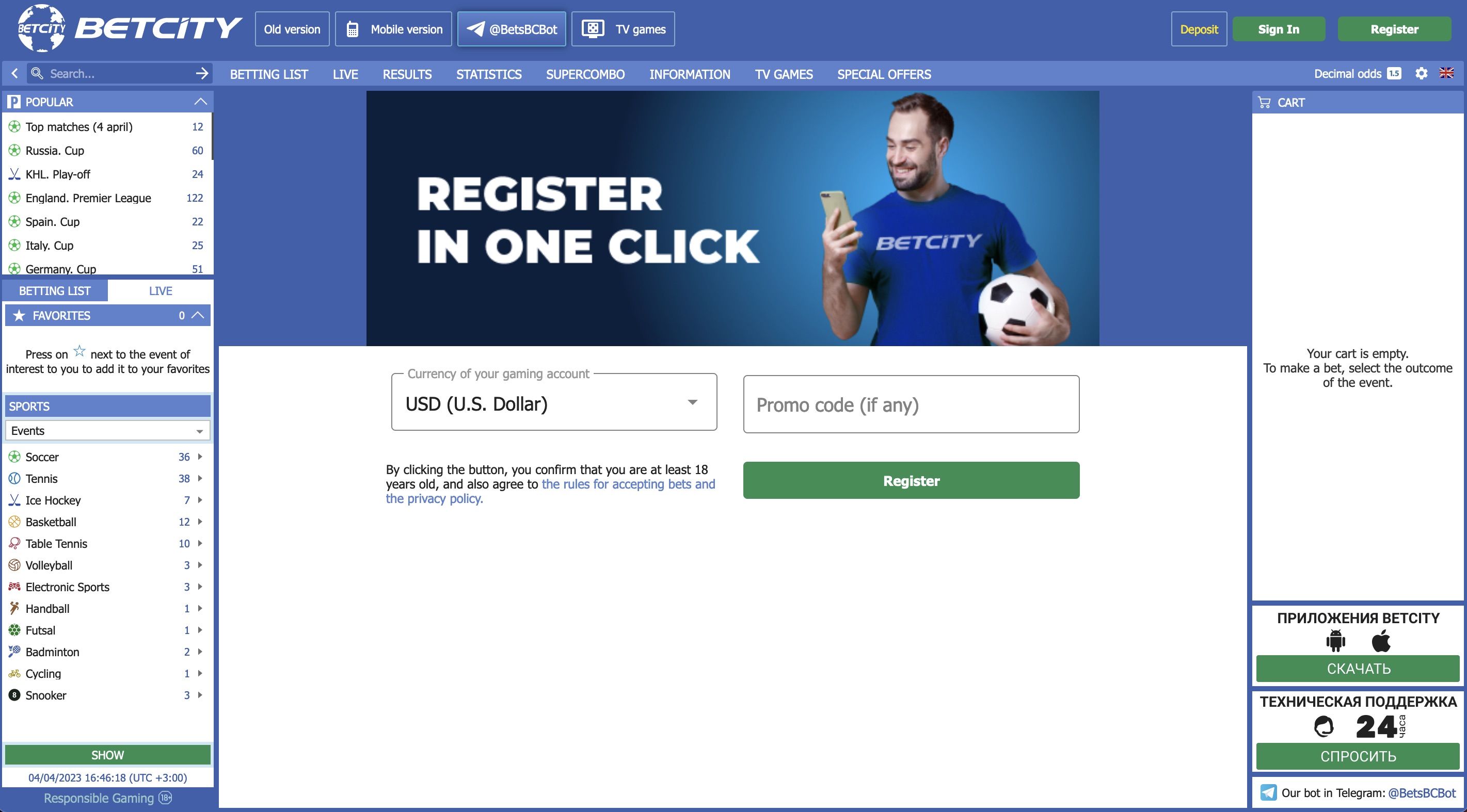 After successfully creating an account, users will receive their login and password information in a pop-up window. This information can also be sent via email.
To withdraw any winnings, users must provide personal and contact information in their profile. They must also confirm their phone number or email and upload a photo of an identity document along with a selfie.
In addition to the standard account, Betcity offers a demo account where users can play with virtual money. To access this feature, click on the "Login" button and select the "Guest entry" option. No deposit is required to play in the demo account, but winnings cannot be withdrawn.
Personal account
Users have the option to access their profile by entering their login credentials, phone number, or email address along with their password. The personal account features comprise of:
Users have the ability to add funds to their accounts and withdraw their winnings by utilizing the payment methods that are available. In order to complete their profile, users are required to provide personal and contact information and also undergo identity verification by submitting a photo of their identification document and a selfie.
Users can keep track of their activities on the platform by viewing their betting and transaction history.
Additionally, users have the ability to manage their account security settings, such as changing passwords, setting up two-factor authentication, and adjusting notification preferences.
In the coupon settings, users can specify their preferred bet amounts, enable the "1-click bet" option for faster betting, and choose actions when changing odds and early redemption amounts.
Mobile version
When users access Betcity from their smartphones or tablets, they will be directed to the mobile version of the platform. From there, they can:
place bets on sports and esports,
play TV games,
conduct cash transactions such as adding funds to their account or withdrawing their winnings,
make deposits, and watch live online broadcasts.
Additionally, they can review their betting and transaction history, view match results, and check competition statistics.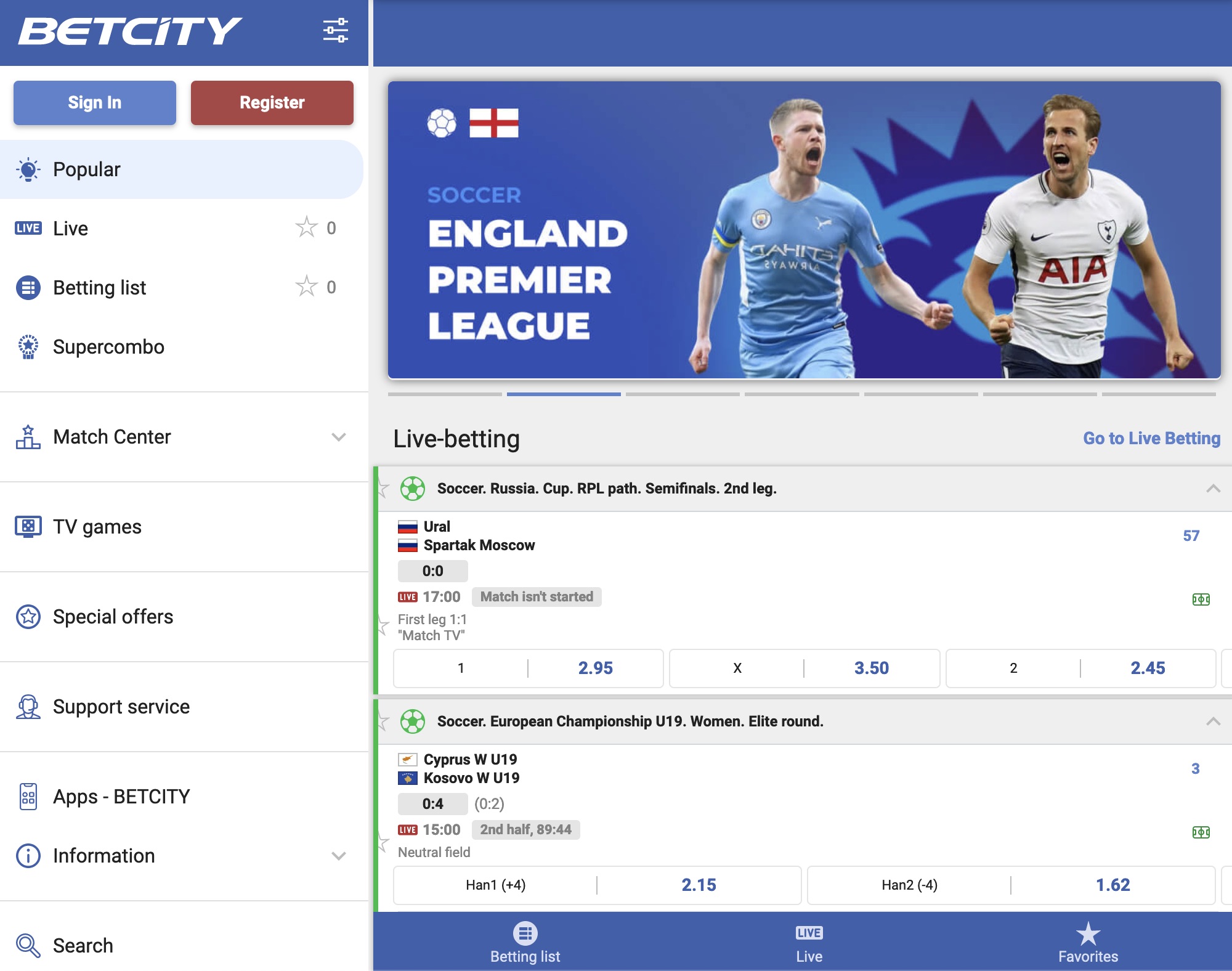 In the site settings, players have the option to select their preferred interface language, time zone, odds format, and theme.
Android App
For Android users, the Betcity mobile app can be downloaded on smartphones and tablets. The app offers both primary and secondary functions, and users can easily navigate through the "Line," "Live," and "Menu" buttons.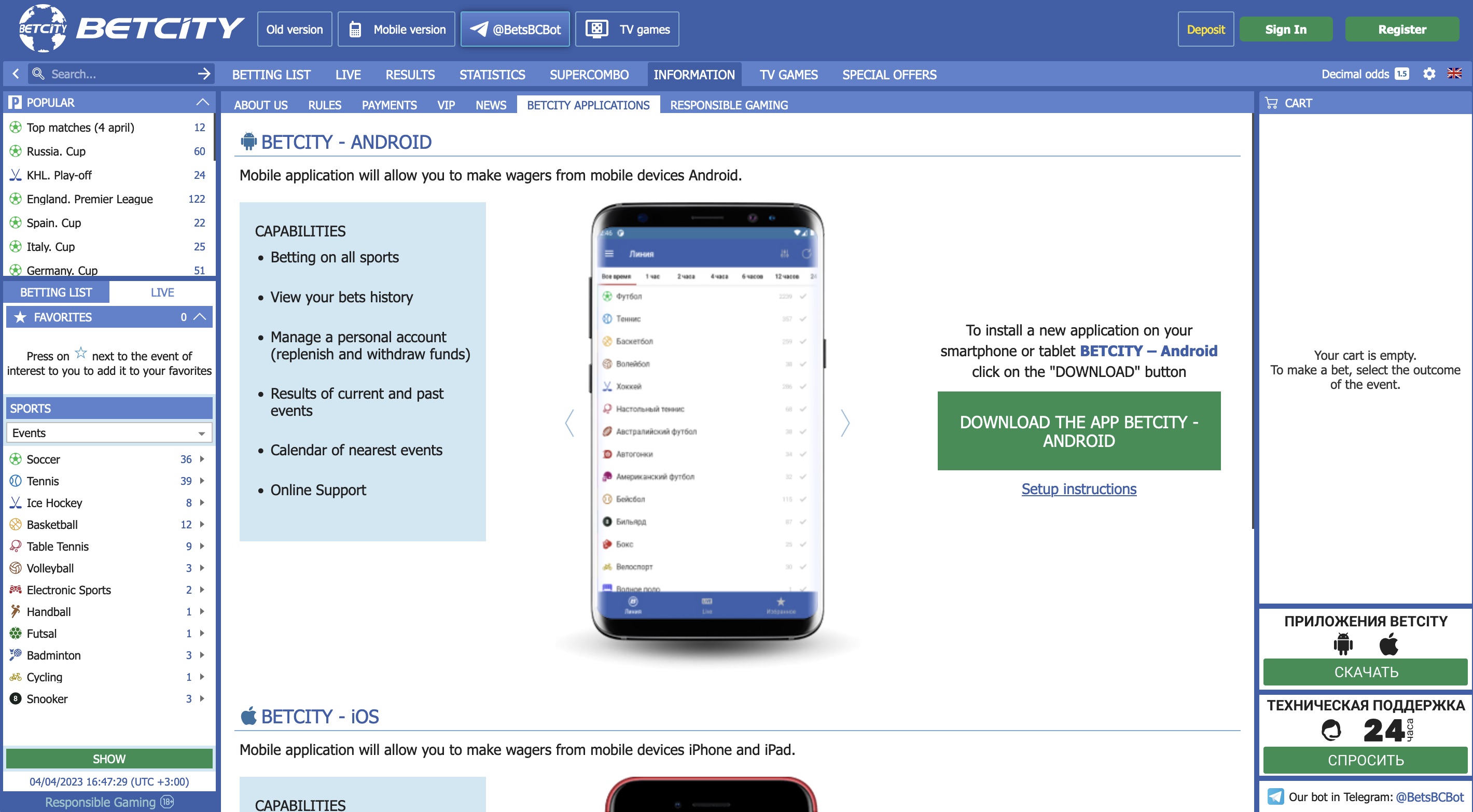 iOS App
The Betcity app can be downloaded on iPhone and iPad from the App Store. It has an intuitive interface and provides full desktop site functionality. Similar to the Android version, the Betcity app for iOS is not affected by provider blocking.
Cash Out
Betcity provides an opportunity for users to settle some bets before the events are finished. To utilize this option, users can follow these steps:
Open the "Current Bets" section in their account.
Choose the bet they want to settle early.
Confirm the sale.
Once the transaction is confirmed, Betcity will immediately credit the redemption amount to the user's primary balance account.
Express
In order to place an express bet on Betcity, users must follow these steps:
Navigate to either the "Line" or "Live" category.
Select the desired sport and championship.
Access the game schedule and choose at least two outcomes to add to the betting cart.
Enter the desired bet amount and confirm the transaction.
Additionally, users can request a VIP bet with increased maximum limits by using the betting coupon. Betcity will review the request and decide whether to approve or reject it within a few minutes.
General Information
E-sports
CS:GO, Dota 2, League of Legends, Rainbow6, Starcraft.
Types of Sports
Soccer, American football, Badminton, Baseball, Ice Hockey, Tennis, Basketball, Volleyball, UFC/MMA, Electronic sports, Austrian football, Auto Racing
Licenses
Licensed Countries
Curacao
FAQ
Is a passport required for registration with "Betcity" bookmaker?
expand_more
Betcity does not require a passport for registration. However, when a player makes the first withdrawal, they will need to provide passport information and upload scans of their documents to their personal account.
How fast are the bets settled at Betcity?
expand_more
The calculation of interactive bets in Betcity usually takes between 15-40 minutes, depending on the popularity of the event. However, in rare cases, the waiting time can be up to 24 hours.
Are there any complaints about the bookmaker Betcity?
expand_more
Customers of BETCITY have reported frequent website outages, sudden account lockouts, and delays in payments. However, user comments on independent sources on the Internet have also noted the advantages of the bookmaker, such as the availability of long-term betting lines and a large number of live broadcasts.
Does the bookmaker take responsibility for data confidentiality?
expand_more
The Betcity bookmaker guarantees the safety and confidentiality of users' personal data, and uses automated systems, organizational and technical measures to protect digital information.
Is there a tote?
expand_more
There is no tote at Betcity sportsbook