Home

chevron_right

Accessbet NG
Accessbet Sportsbook Review
Updated 26 June 2023
In the realm of sports betting, a platform that has rapidly ascended to prominence among Nigerian sports enthusiasts since its inception in 2016 is Accessbet. A product of TM Gaming Networks, LTD, this betting platform has skillfully captivated a significant portion of the Nigerian market.
What initially sparks the interest of many a punter is the enticing first deposit bonus. However, the remarkable diversity of sports offerings sustains their engagement and enhances the appeal of Accessbet. From football to tennis, basketball to horse racing, the platform offers an extensive range of sports to wager on, which further cements its allure.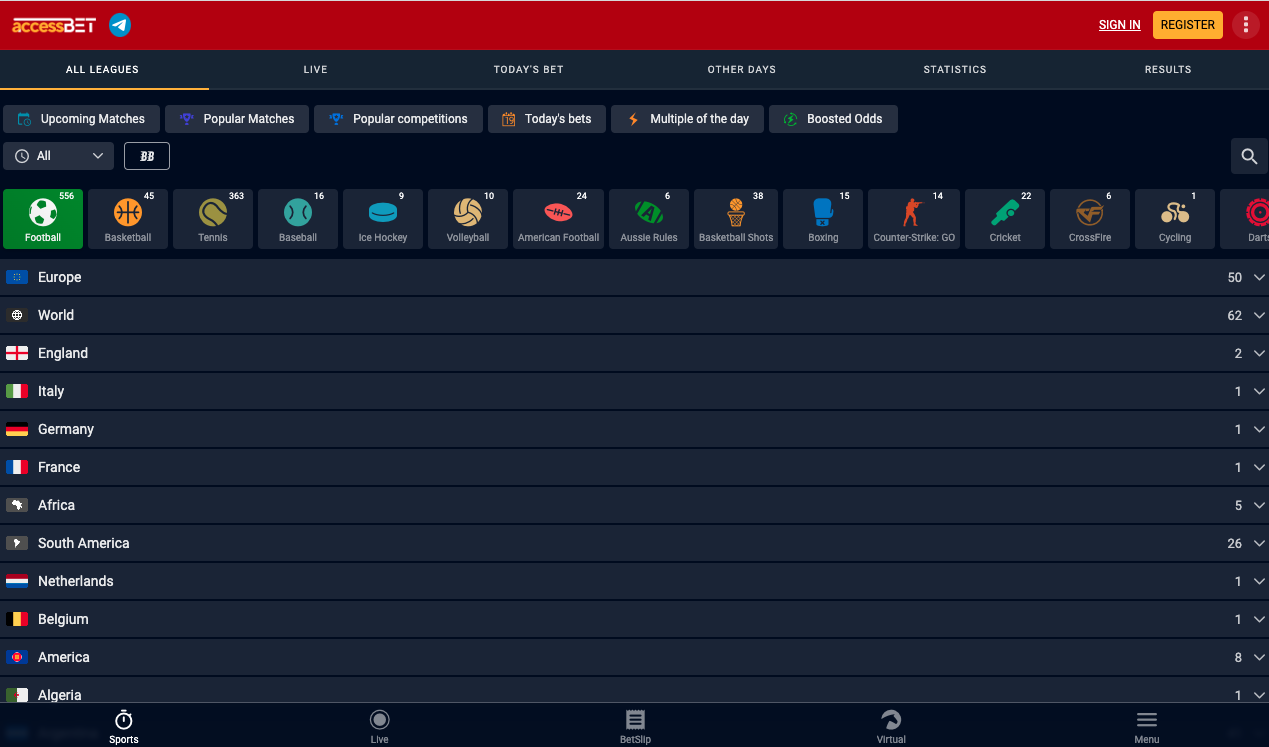 Beyond sports betting, Accessbet is also an avenue for additional earning opportunities. The platform expands its boundaries into casino games and virtual gaming, offering players an intriguing medley of gaming experiences.
With English as its primary language, the platform casts a wide net, catering to a broad spectrum of users. Furthermore, Accessbet showcases its global appeal by accepting deposits in multiple currencies - from the Nigerian Naira to the US dollar and the Euro - catering to an international clientele, despite its solid Nigerian roots.
What We Like About Accessbet

Wide Array of Sports Offerings
Accessbet hosts a remarkable range of sports, from popular global sports like football, basketball, and tennis, to more niche disciplines. This wide array provides something for every sports enthusiast, thus increasing its appeal.
Additional Gaming Options
Apart from conventional sports betting, Accessbet diversifies its offering by providing casino games and virtual gaming experiences. This diversification gives bettors additional options for entertainment and potential earnings.
Multilingual and Multi-Currency Platform
The platform operates in English, making it accessible to many users. Additionally, Accessbet accepts multiple currencies such as the Nigerian Naira, US Dollar, and Euro, accommodating an international clientele.
Attractive Initial Deposit Bonus
Accessbet entices new users with a lucrative first deposit bonus. This offer serves as a significant incentive for newcomers and might sway them towards choosing Accessbet over other platforms.
Rapid Market Penetration
Since its inception in 2016, Accessbet has swiftly gained traction among Nigerian bettors and beyond. This rapid growth is a positive indicator of the platform's reliable and efficient operations.
What We Don't Like About Accessbet
Younger Platform
Despite its rapid growth, Accessbet is relatively new in sports betting. As such, it might need more experience and trust that longer-established bookmakers have accrued over decades in the industry.
Potential for Improvement in Customer Support
Like any growing platform, Accessbet might have specific areas that require enhancement. One such area could be its customer support. Ensuring swift and effective customer support can further boost user confidence in the platform.
Accessbet Licencing
Accessbet, a trademark owned by TM Gaming Networks LTD, operates with a legitimate license issued by Nigeria's National Lottery Regulatory Commission (NLRC). This underscores its adherence to the legal and regulatory standards set forth for bookmakers in the country.
Furthermore, as a member of the Association of Nigerian Bookmakers, Accessbet is part of a professional community committed to promoting ethical and responsible betting practices within the nation. Therefore, bettors can confidently place their wagers, assured by the platform's commitment to regulatory compliance and industry standards.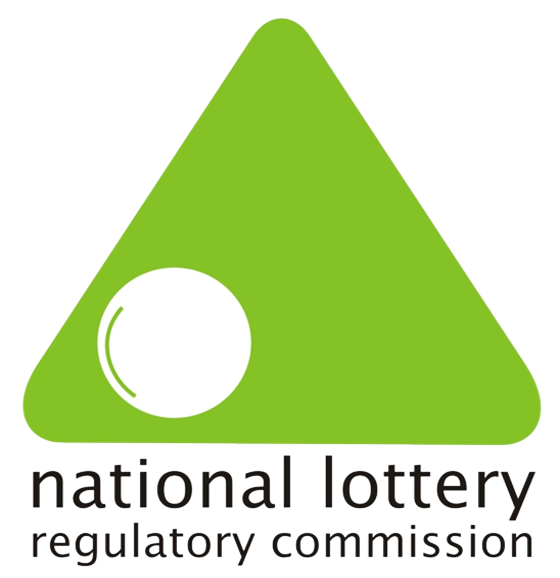 Accessbet Registration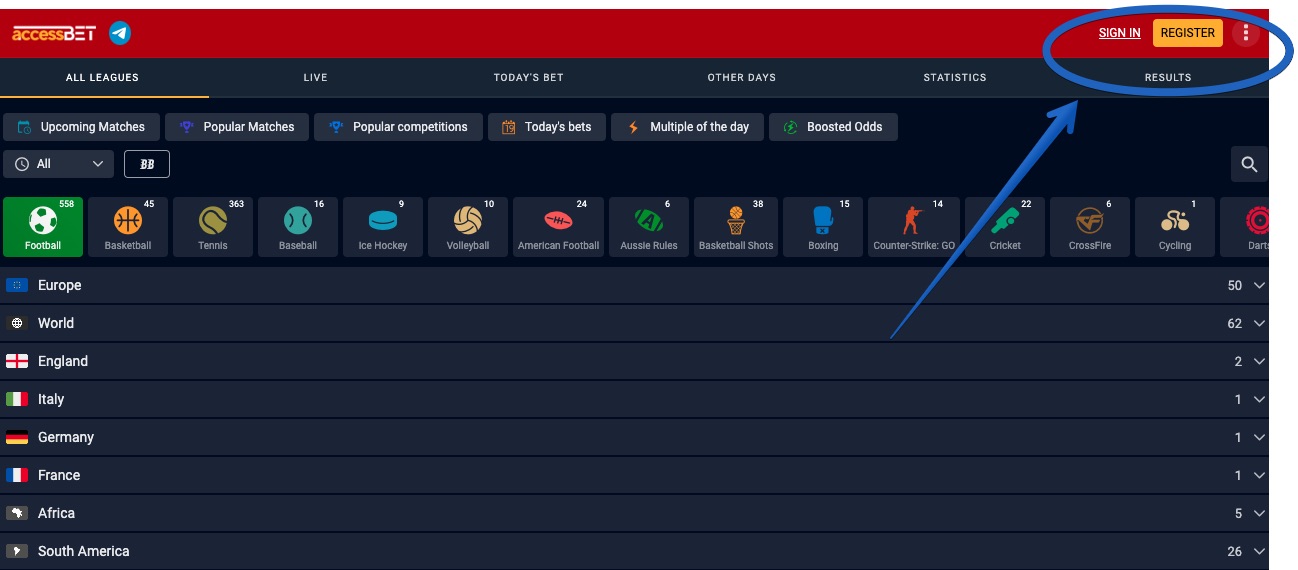 Registering for Accessbet is a streamlined process that takes no more than five minutes and is straightforward, allowing new users to join the platform and start betting quickly. The minimum legal age for registration is 18 years, or the legal age in your country. Here's how to go about it:
Step 1: Visit the Accessbet homepage and locate the "Register" button at the screen's top-right corner. Once clicked, a registration form will appear. In this form, you'll need to fill out several key pieces of information: a username, password, email, and mobile number.
Note that during this stage, there's an option to accept or decline the 100% first deposit bonus provided by Accessbet. If you wish to qualify for this bonus, tick the respective boxes.
Step 2: Once you've submitted the form, a registration confirmation email will be sent to your provided email address. This email contains an activation link necessary to complete the account activation process.
Step 3: Click on the activation link included in the email to automatically activate your account.
Step 4: With your account active, you can log in to Accessbet and begin exploring the vast array of available sports markets. If you opted in for the initial deposit bonus during registration, you can claim it by making your first deposit using any approved banking method.
This easy and quick registration process is one of the features that make Accessbet a user-friendly platform, ensuring that you can start betting with minimal delay.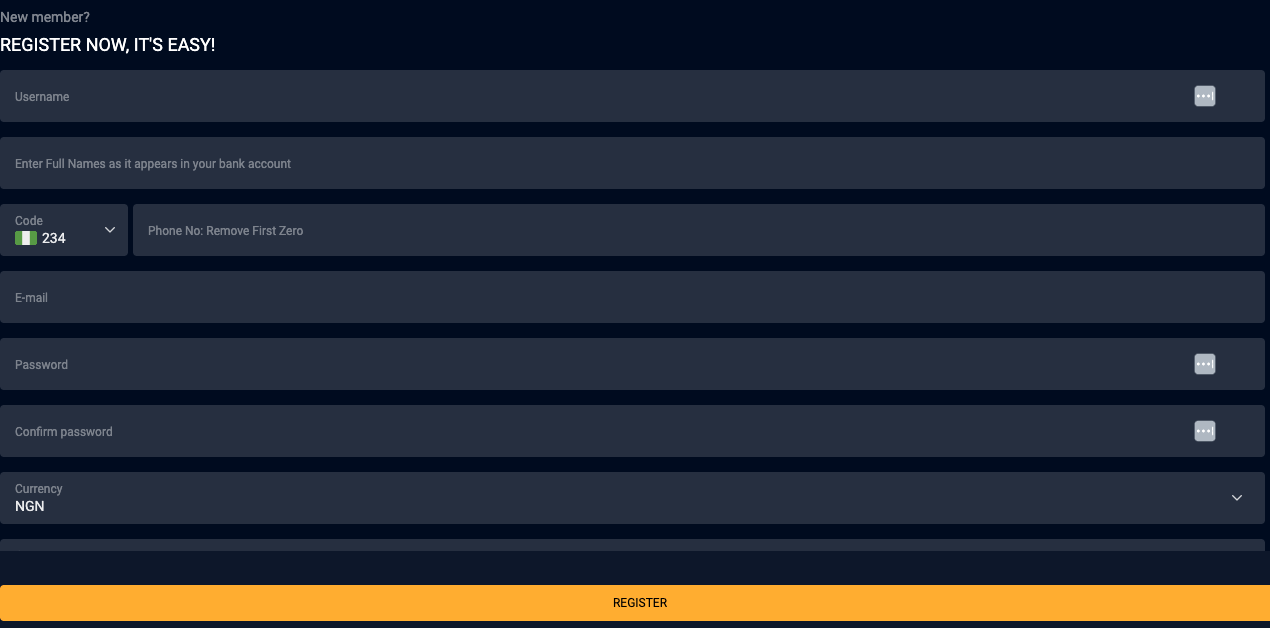 Adding Funds to Your Accessbet Account
Accessbet offers some of the most user-friendly and handy deposit methods for Nigerian users!
There are several ways to recharge your Accessbet account.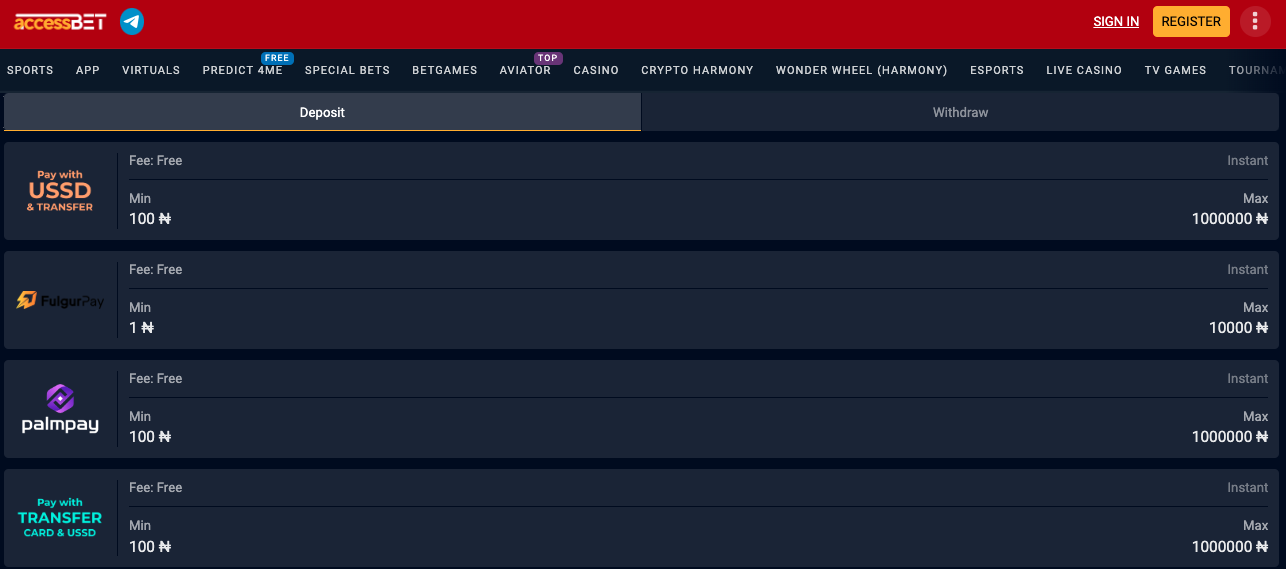 Accessbet offers an extensive list of deposit options, offering flexibility to its users and accommodating various preferences. Here are the options you can use to deposit funds into your Accessbet account:
Bank ATM Card: Use your bank-issued ATM card to deposit funds directly into your Accessbet account.
Banks (ALAT By Wema, GTB, and KUDA BANK): You can deposit funds from specific Nigerian banks such as ALAT by Wema, GTB, and Kuda Bank.
Paystack: Paystack, a popular online payment gateway in Nigeria, is also accepted for transactions on Accessbet.
Bank Transfer: Directly transfer funds from your bank account to your Accessbet account.
PayAttitude: PayAttitude, a payment solution that links a user's mobile number to their bank account for seamless transactions, can also be used for deposits.
USSD: Accessbet allows users to deposit funds using USSD codes. This is a convenient option, especially for users who may need consistent internet access.
VISA QR: You can deposit funds by scanning a VISA QR code. This option adds an extra layer of security as it doesn't require you to enter your card details physically.
Palmpay: Palmpay, a mobile money app, can be used for depositing funds into your Accessbet account.
FulgurPay: Lastly, FulgurPay, another online payment solution, is also available as a deposit option on Accessbet.
Some Payment Methods with the Limits
| | | | | | | |
| --- | --- | --- | --- | --- | --- | --- |
| PAYMENT METHOD | DEPOSIT MINIMUM | DEPOSIT MAXIMUM | TIME FOR DEPOSIT | MINIMUM WITHDRAWAL | WITHDRAWAL MAXIMUM | TIME FOR WITHDRAWAL |
| | ₦500 | ₦100,000 | Instant | N/A | N/A | N/A |
| | ₦500 | ₦100,000 | Instant | N/A | N/A | N/A |
| | N/A | N/A | N/A | ₦2,000 | Not stated | 2-5 Days |
These deposit options highlight Accessbet's commitment to providing a convenient and flexible platform, making it easier for users to engage with the various sports and gaming opportunities.
Let's take a closer look at Accessbet
It's time to delve deeper into Accessbet's offerings. In this part of our Accessbet evaluation, we'll scrutinise the sportsbook and other standout features on this betting platform!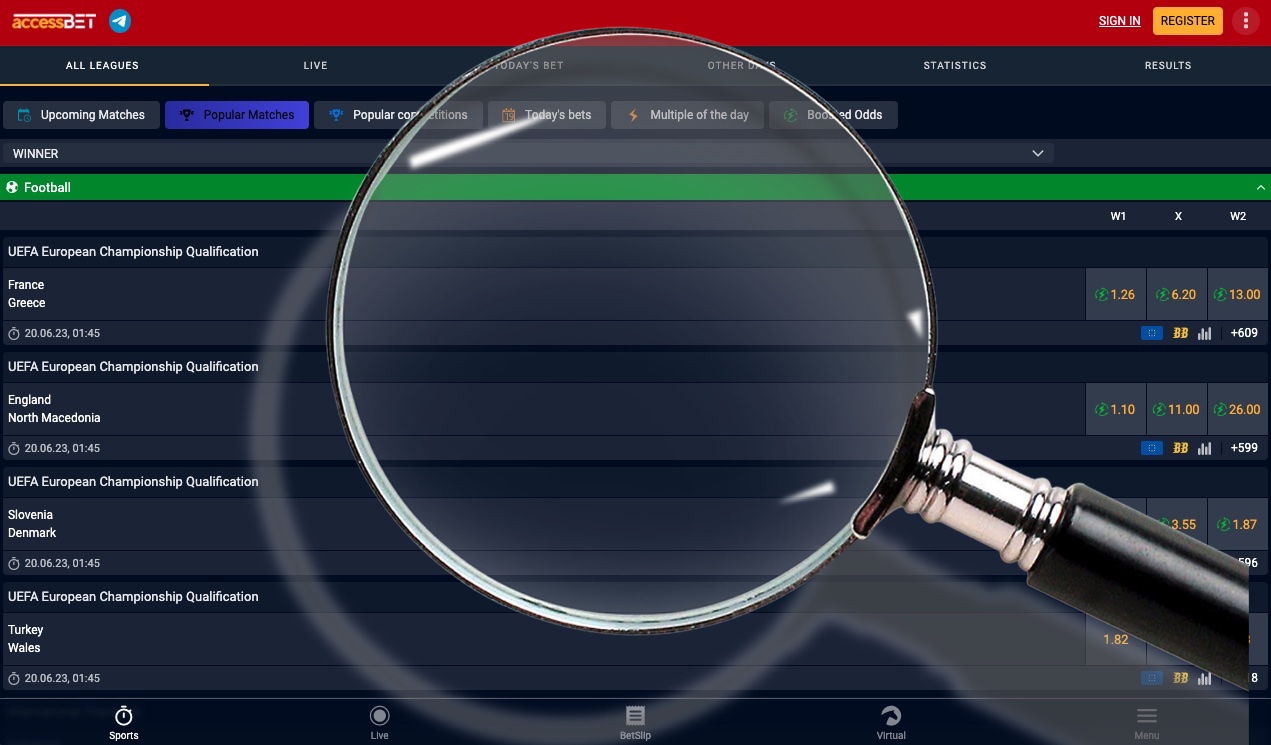 Accessbet Sportsbook
Accessbet's sportsbook emerges as a formidable destination for sports betting enthusiasts, featuring a robust selection of sports disciplines that caters to diverse preferences.
By providing an impressive array of betting options, from global favourites like soccer and tennis to the thrilling dynamics of live betting, the platform delivers a comprehensive sports betting experience. Whether a bettor wants to delve into the intricate strategies of a Champions League soccer match, immerse in the electrifying pace of a Grand Slam tennis event, or experience the adrenaline-fueled unpredictability of live betting,
Accessbet's diverse sportsbook serves as a versatile hub for these thrilling encounters. This inclusivity makes the platform a magnet for both seasoned punters and newcomers alike, further solidifying its reputation in the competitive world of sports betting.
Accessbet Football
As any high-quality sportsbook should, Accessbet offers a comprehensive football section covering various football events from around the globe.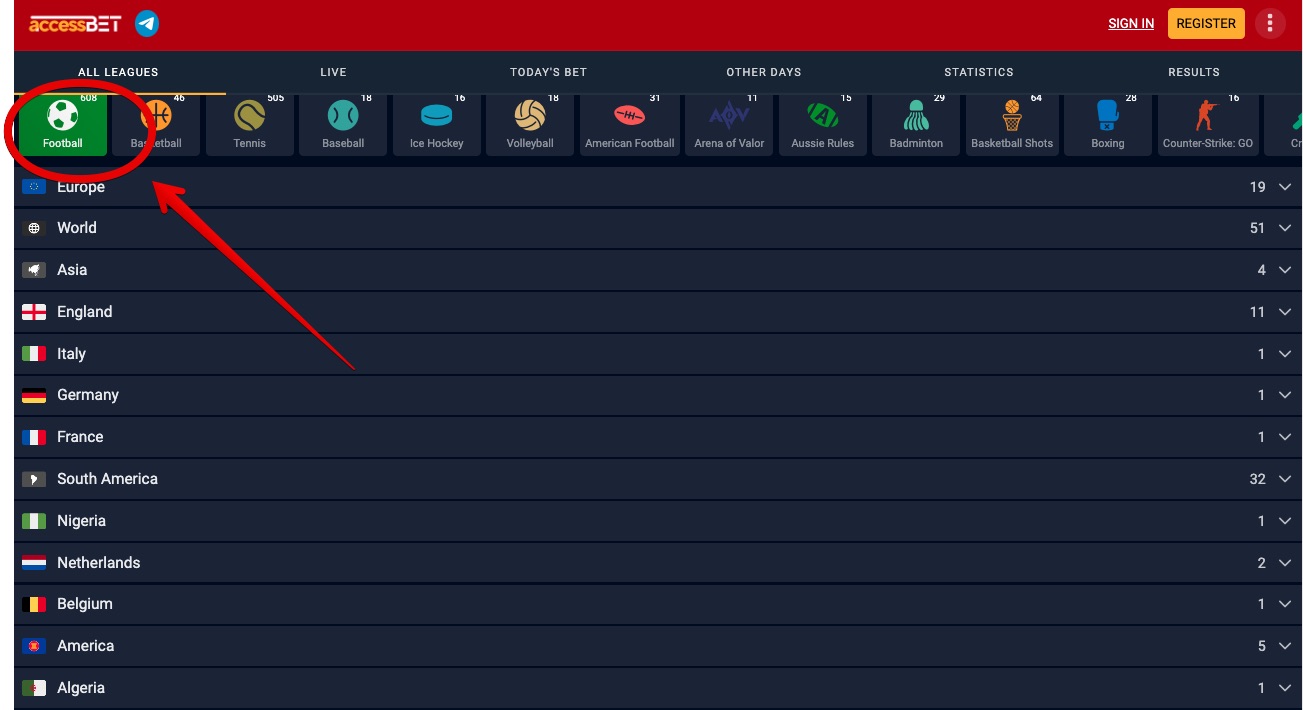 Soccer is undoubtedly the most popular sport for betting globally, and Accessbet ensures it is well-catered for on its platform. Users can place bets on various soccer matches from leagues worldwide.
This includes the English Premier League, UEFA Champions League, La Liga, Serie A, and Bundesliga. Punters can bet on various outcomes, including match winner, goals scored, first goal scorer, and even specifics like the number of corners or cards in a match.
Accessbet Tennis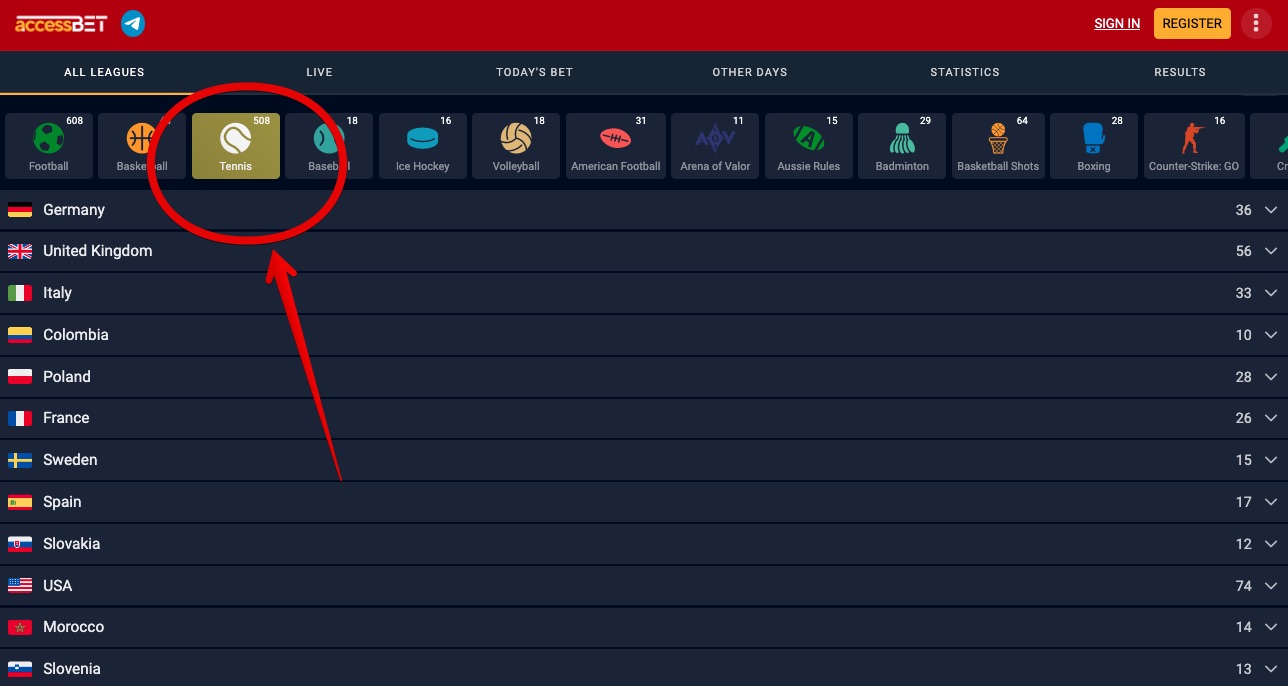 Tennis is another well-represented sport on Accessbet. The platform offers betting options on tournaments from the ATP, WTA, and ITF circuits, encompassing events throughout the calendar year.
Whether it's Grand Slam tournaments like Wimbledon, the US Open, or smaller tournaments, Accessbet provides a range of betting options, including match winners, set scores, and more.
Accessbet Live Betting
Accessbet truly shines with its live betting feature. This allows users to place bets on matches and games currently in progress.
The odds adjust in real-time based on the progress of the game. Live betting is available for various sports, including soccer and tennis.
It adds an extra level of excitement as punters can react to the live action and make betting decisions on the fly.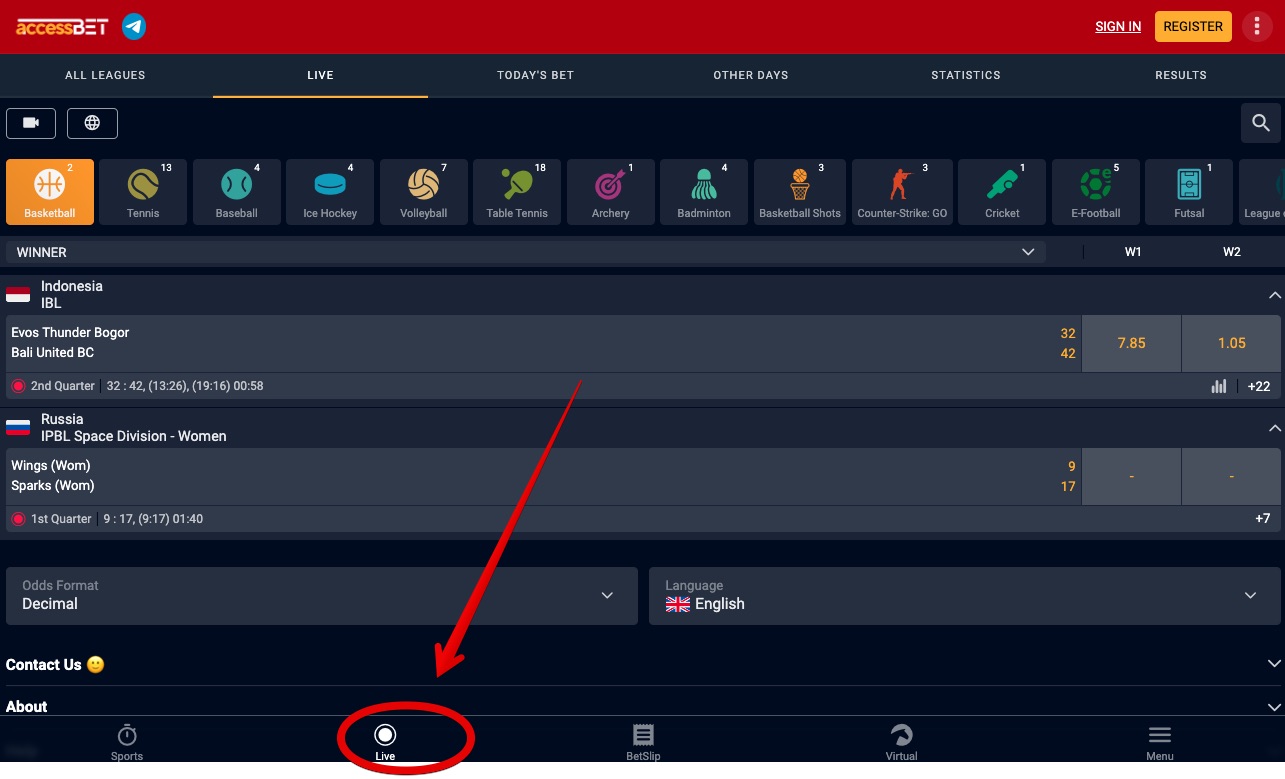 Virtual Sports Betting
AccessBET's diverse virtual sports offerings, with three separate sections dedicated to virtual sports, provide a wide range of options for bettors.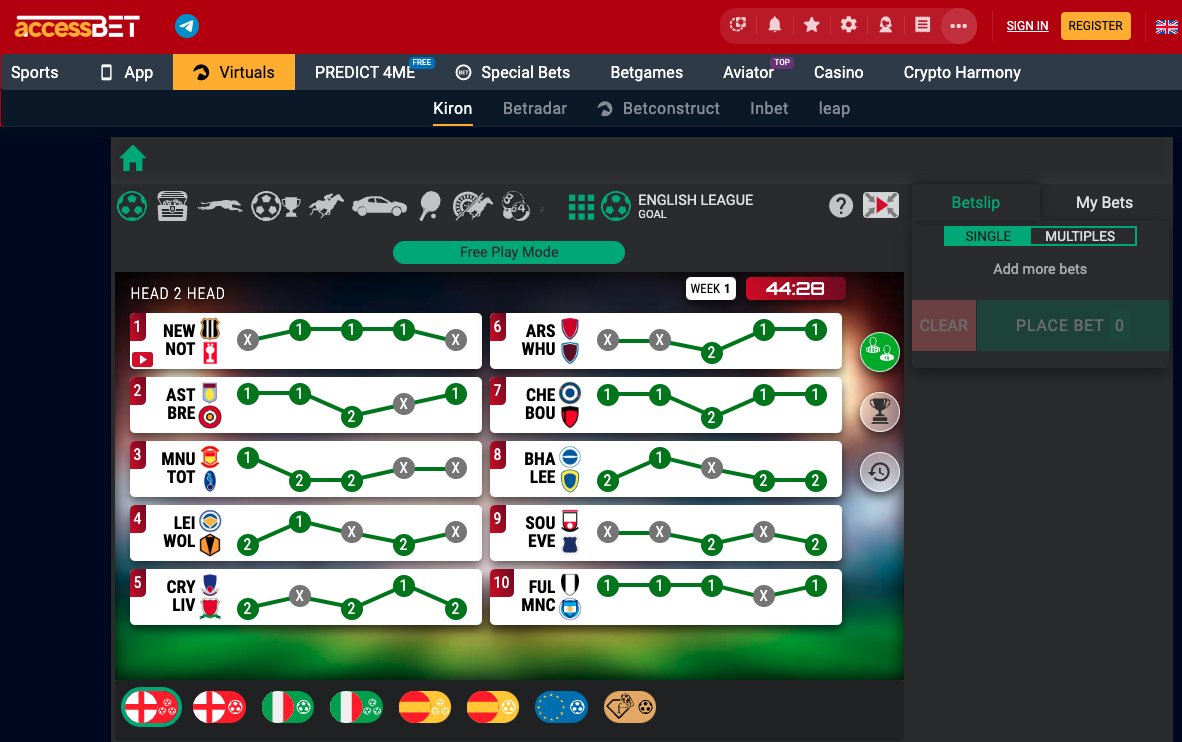 The inclusion of popular virtual sports such as football, horses, greyhounds, speedway, and motorbikes adds to the excitement and variety of the platform.
This allows users to explore different virtual sports simulations and find something that suits their preferences. With these options, AccessBET offers an enhanced virtual sports betting experience for its users.
Accessbet Cash Out
Accessbet offers an Early Cash Out option, a feature that amplifies the strategic aspect of sports betting, offering more control to bettors over their wagered stakes. This feature allows you to secure a profit or minimise a potential loss before the conclusion of the games on your bet slip.
Suppose you've placed a multi-event bet, and the first few events are successful. The Early Cash-Out option lets you claim potential winnings without waiting for the remaining games to conclude. Alternatively, if your bet isn't going as planned, you can use the cash-out option to recoup a part of your stake, limiting your losses.
This added flexibility puts more power in the hands of the bettor, allowing them to make dynamic decisions based on the live progress of their bets. However, it's essential to note that the cash-out value offered is subject to live market prices and can change rapidly depending on the state of play. It's also not guaranteed for every bet and may only sometimes be available, depending on the specific terms and conditions of Accessbet.
Listening to the streets, look at what people are discussing around on the famous local forum:

Accessbet Odds
Accessbet distinguishes itself in the crowded Nigerian bookmaker market through its competitive odds offerings. The platform's excellent odds provide a promising avenue for potential earnings, positioning it as a top choice among Nigerian bettors.
The platform accommodates single and multiple bets, enabling a versatile betting experience for users with different risk preferences. Single bets, involving just one selection, are suitable for those seeking a straightforward betting process, while multiple bets, combining several selections, cater to those pursuing potentially higher returns.
Interestingly, the odds offered by Accessbet demonstrate a particular trend - top-tier matches tend to have slightly lower odds than those of regional games. This deviation may be attributed to the higher predictability of outcomes in elite matches, which typically involve well-established, high-performing teams. Regional matches, on the other hand, can be more unpredictable and thus carry higher odds.
Accessbet Casino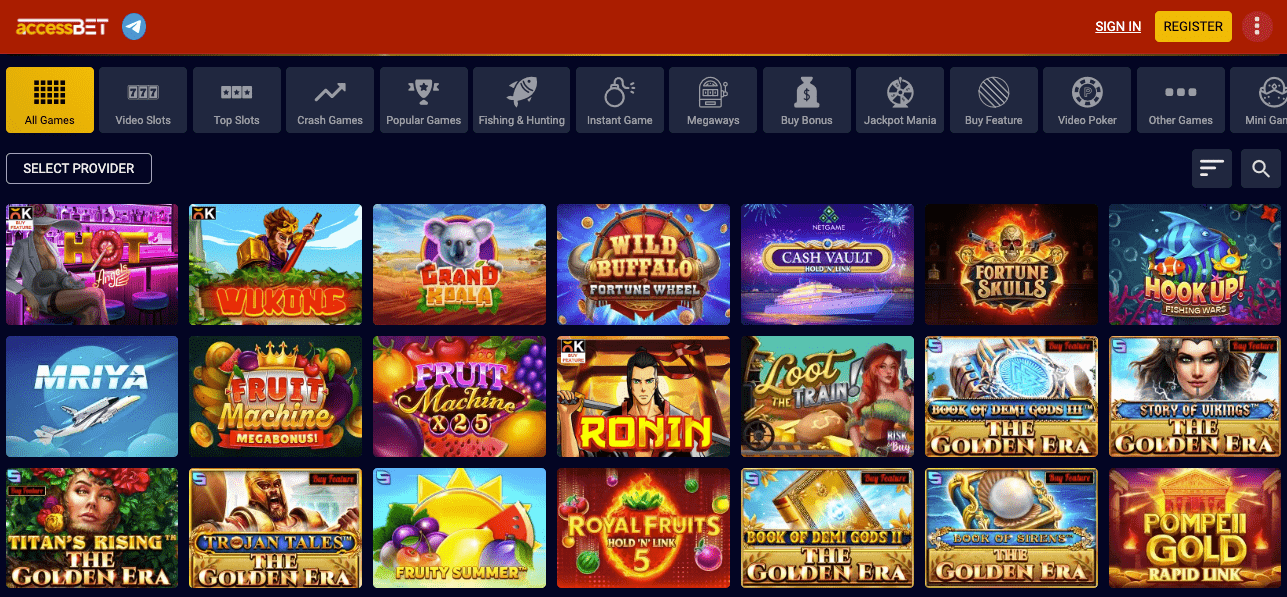 In addition to its comprehensive sportsbook, Accessbet also boasts an extensive Casino section for those seeking variety beyond sports betting. This platform offers a rich assortment of gaming options that cater to a wide array of preferences.
Video Slots: This section features various slot games with different themes, bonus features, and payouts. These games, known for their exciting visuals and gameplay, offer a thrilling casino experience.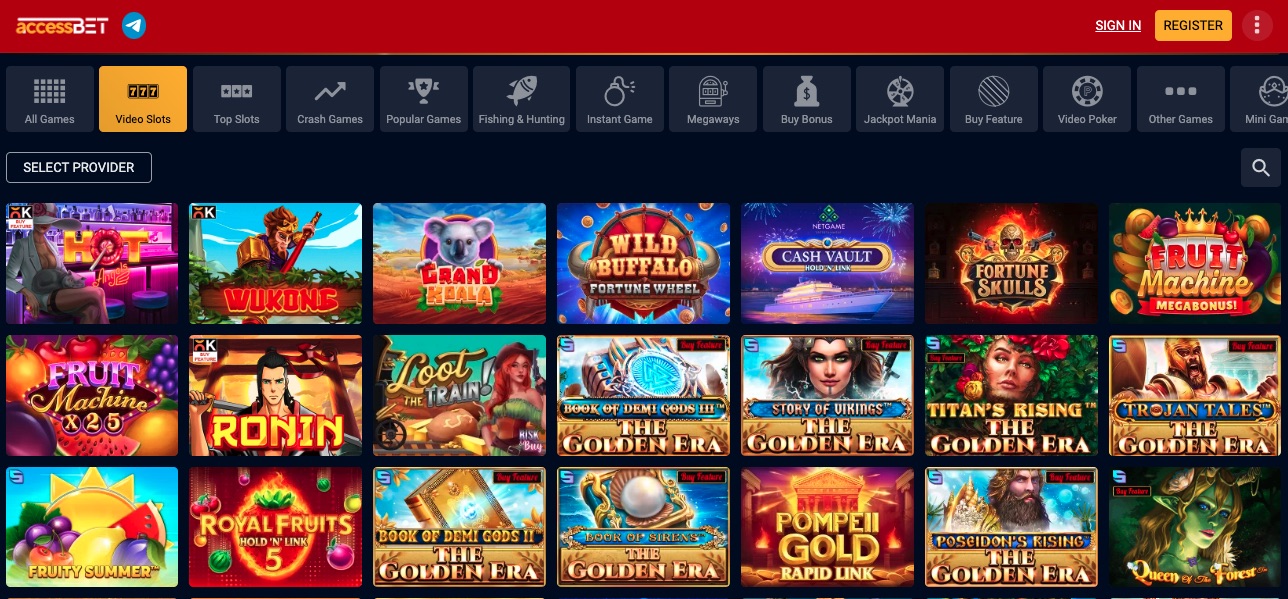 Top Slots: Here, you'll find the most popular and frequently played slot games, often chosen for their engaging gameplay and potentially high rewards.
Crash Games: A unique genre of games where players must cash out of a wager that could crash at any moment, testing their nerves and strategy.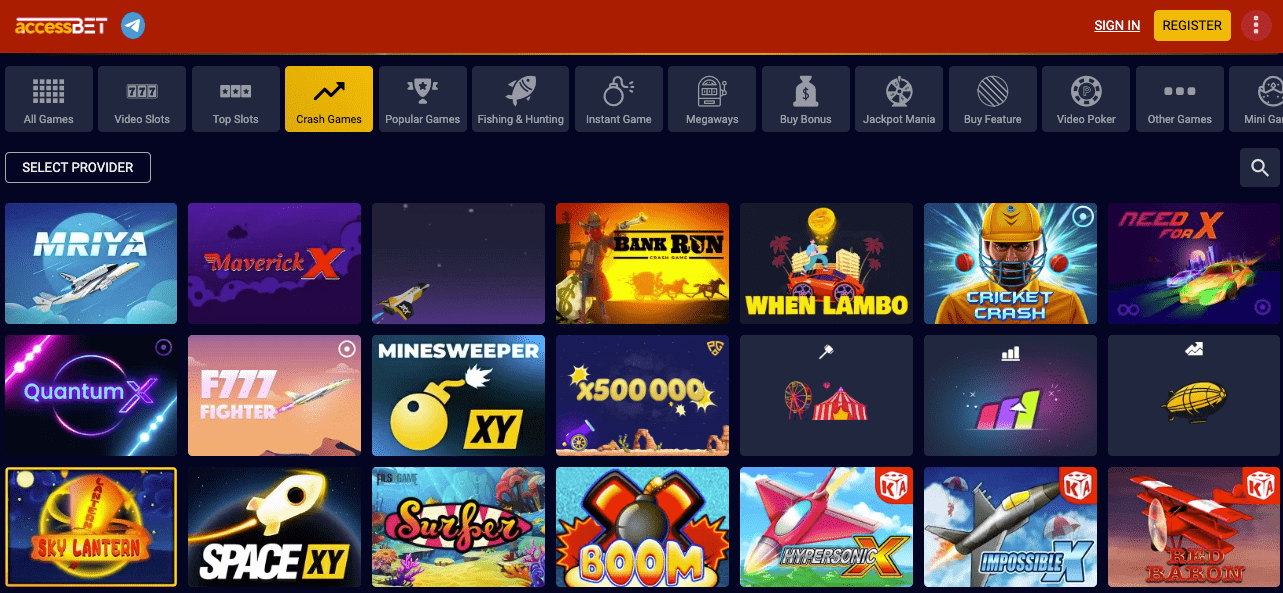 Popular Games: This section highlights the games that are trending or most played within the Accessbet community.
Fishing & Hunting: These are interactive games where players can virtually fish or hunt, adding a fun and different angle to typical casino gameplay.
Instant Game: These games provide immediate results, perfect for those looking for a quick game without having to invest a lot of time.
Megaways: A popular slot format that offers thousands of ways to win, adding an extra level of excitement to the gameplay.
Buy Bonus: These games allow players to buy special features or bonus rounds, enhancing their gaming experience and potential winnings.
Jackpot Mania: For those dreaming of the big win, this section features games that offer potentially huge jackpots.

Buy Feature: Similar to Buy Bonus, these games allow players to purchase special features to enhance their winnings potentially.
Video Poker: A digital version of the classic card game, combining slots and traditional poker elements.
Other Games: A diverse assortment of additional games to cater to all player preferences.
Mini Games: Quick, simple games that offer a fun, speedy gaming experience.
Accessbet Mobile App

AccessBet mobile app offers a clean, intuitive, and user-friendly design. The colour scheme used in the mobile app is similar to that of the website. The white background is blue and yellow, making the app visually appealing. The different sections of the betting platform, such as sports, live betting, and casino, are clearly labelled and easily accessible from the home screen.
The usability of the app is quite impressive. It is designed so that even a new user will find it easy to navigate. The layout is intuitive, with all the essential features at your fingertips. Everything is seamless and efficient, from checking out the latest sports events to placing a bet.
Moreover, the app has a quick loading speed, ensuring bettors don't experience any delay while navigating the platform or placing their bets. This is a crucial feature, especially for those who enjoy live betting.
AccessBet Mobile App Registration Process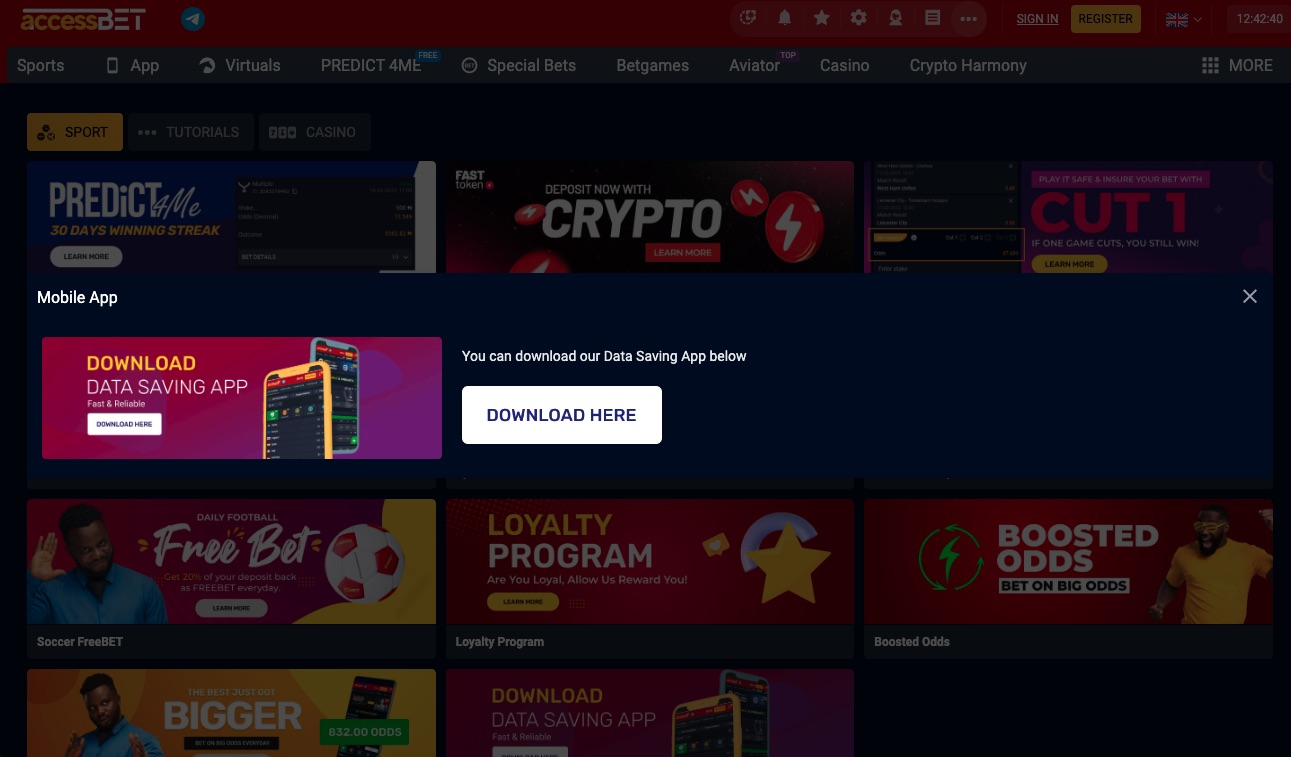 Registering for an account on the AccessBet mobile app is quite straightforward. Follow these steps:
Download and install the app on your smartphone.
Open the app, and you'll find the "Register" button on the top right corner of the screen.
Click on the button, and a registration form will appear.
Fill in the required details, such as your name, email address, mobile number, and password.
Once you've completed the form, click the "Submit" button.
You'll receive a confirmation email in your inbox. Click on the link in the email to verify your account.
After verifying your account, you can log in using your username and password.
Customer Support on AccessBet Mobile App
AccessBet has a strong customer support system and is readily available to help users with any issues or queries. You can reach out to them via the following channels:
Live Chat: The fastest way to get help is through the live chat feature, available 24/7 on the mobile app.
Email: If your query isn't urgent, you can write an email to the customer support team.
Phone: You can also call the customer support team for immediate assistance.
How To Withdraw Money On Accessbet
Withdrawing your winnings from Accessbet is straightforward. The available withdrawal methods are: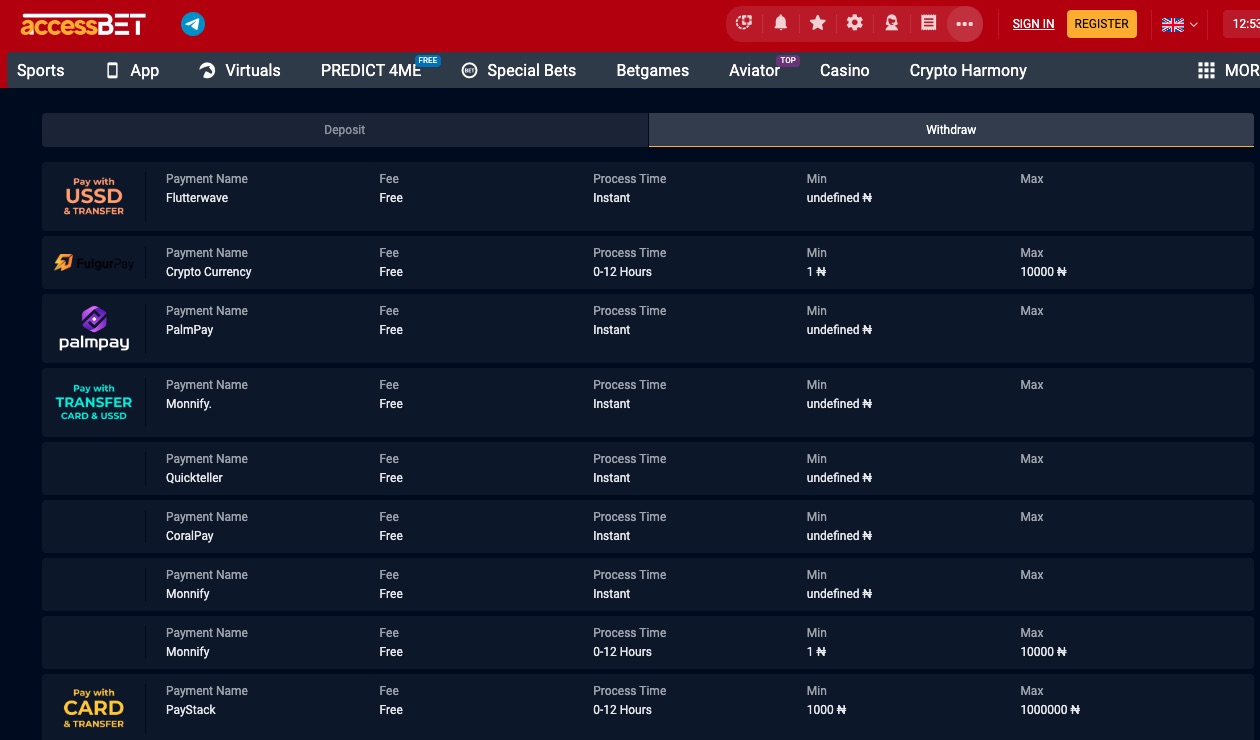 Accessbet continues to expand its withdrawal options by incorporating additional payment solutions. Here's an updated list of withdrawal methods available on Accessbet:
Bank Transfer: You can transfer your winnings from your Accessbet account directly to your bank account.
Quickteller: Quickteller, a popular Nigerian digital payment platform, is another method to withdraw funds from your Accessbet account.
Paystack: Paystack, an online payment gateway, is also supported by Accessbet for withdrawals.
ALAT by Wema Bank: For those who bank with ALAT by Wema, you can withdraw your winnings directly into your account.
GTBank: If you're a GTBank account holder, you can conveniently receive your winnings in your bank account.
Kuda Bank: Similarly, Kuda Bank users can have their winnings transferred directly into their accounts.
Coral Pay: Coral Pay, a Nigerian payment solution provider, is another withdrawal option available for Accessbet users.
Monnify: Another convenient withdrawal option for Accessbet users is Monnify, a payment gateway that simplifies and secures online transactions.
Flutterwave: Recognized for its reliable payment solutions, Flutterwave is also among the withdrawal methods on Accessbet.
USSD: You can withdraw funds using USSD codes. This unique feature is beneficial for those without constant internet access.
Palmpay: You can also use Palmpay, a mobile money app, for withdrawals.
FulgurPay: Finally, FulgurPay, an online payment solution, is available for deposits and withdrawals on Accessbet.
As always, it's important to note that while deposits are generally instant, withdrawal times can vary depending on the method used. Always check the specifics of your chosen withdrawal method to guarantee a smooth transaction.
FAQ
How do I sign up for an account on AccessBET?
expand_more
To sign up for an account on AccessBET, visit their website and click on the "Register" or "Sign Up" button. Fill in the required registration details, including your personal information, contact details, and create a unique username and password. Complete the registration process, and your account will be created.
What sports can I bet on at AccessBET?
expand_more
AccessBET offers a wide range of sports markets, including popular sports like football, basketball, tennis, cricket, rugby, and more. They also cover niche sports and events, providing a comprehensive selection of betting options.
Does AccessBET offer live betting?
expand_more
Yes, AccessBET provides a live betting feature that allows you to place bets on ongoing sporting events. You can monitor the live odds and make in-play wagers based on the changing dynamics of the game.
Can I bet on virtual sports at AccessBET?
expand_more
Yes, AccessBET offers virtual sports betting, which allows you to bet on virtual simulations of various sports, such as virtual football, virtual horse racing, virtual basketball, and more. These virtual events are generated by computer algorithms and provide a fast-paced betting experience.
Does AccessBET have a casino section?
expand_more
Yes, AccessBET has a casino section that offers a variety of casino games, including slots, table games, card games, and live dealer games. You can enjoy popular titles and experience the thrill of a virtual casino environment.
What payment methods are available on AccessBET?
expand_more
AccessBET supports various payment methods for deposits and withdrawals, including bank transfers, card payments, and e-wallets such as Neteller and Skrill. They provide secure and convenient options for managing your funds.
Is customer support available on AccessBET?
expand_more
Yes, AccessBET has a customer support team that can assist you with any inquiries or issues. You can contact their support team through email, phone, or live chat, and they strive to provide prompt and helpful assistance.